Heads up! We're working hard to be accurate – but these are unusual times, so please always check before heading out.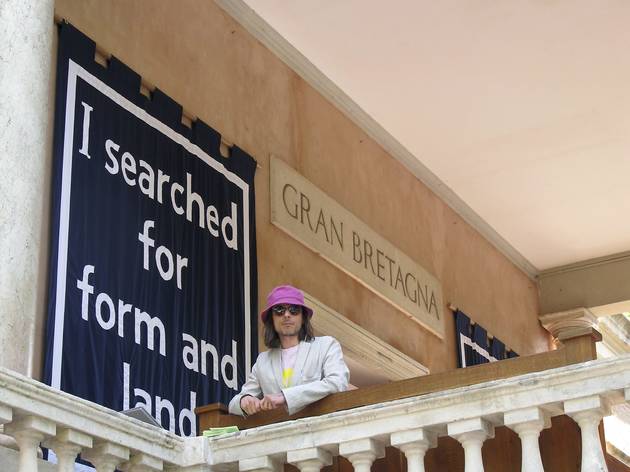 Meet the artist: Jeremy Deller
We caught up with the artist at the launch of his Venice Biennale British Pavilion
The Venice Biennale is art's Olympic Games and Eurovision rolled into one. Representing Britain this year is Jeremy Deller. We caught up with our magic man to talk tea, gifts and queuing.

What does it mean to be chosen to do the pavilion?
'Initially I was quite surprised; I wasn't expecting to be chosen. Often when you're asked to do things like this; a, you think why me? and b, what can I possibly do? Your mind goes blank and you have mild panic for a few minutes and then you settle down and think, actually I can do this. But was does it mean? It means more as these opening days go on and you realise that it's a very big deal. I knew it was a big deal, but for me it is just a big exhibition, on the world stage. I don't feel any responsibility to the UK even though the shows all about it. It's in a context where I know a lot of people will see it and so I'm trying to make a show that's quite open, friendly to the public.'
Did you have to approach it in a different way to past projects?
'Only because the architecture of the pavilion is very specific. 'English Magic' is an exhibition, it's not an event or a project outside a gallery. It's a very traditional environment, which I like, meaning I could do a traditional gallery show in my own way; paintings, drawings, lots of old objects, things you might expect to see in a gallery or museum. Most of the things I do, I do because I want to – I get the idea and I try to make them happen. Here it's a specific thing with a time limit, it had to be finished last week.
Were you given any strict criteria?
'One thing, don't do a show where people would have to queue.'
The archetypal British trait… much like the tea being served at the back of the pavilion.
'Well that's a simple pleasure. At my Hayward show I made a facsimile of a café from Bury market and people talked about that more than anything else I did, so I thought: well this obviously is really popular. The pavilion was a teahouse originally but that has nothing to do with why I did this, but I realised that it's a mild trap. It means people hang out, they sit around, they might read the catalogue, you hope, might read some other things, they might chat, and you end up giving people a pleasant experience among all this quite fractious material.'
Did you have a particular focus for the show?
'I was trying to make a big confusing messy sort of exhibition about Britain and its influence on the world and the levels of complexity in the country.'
Why did you want to bring Neolithic relics from the Museum of London to the watery shores of Venice?
'Well they were found on the watery shores of the Thames. It's thought they were given as gifts, even offerings to the Thames, because there so many of them have been found alongside the banks. I'm a great lover of history, I'm a total amateur, but I love those objects, what they symbolize, what they feel like. So, you can hold them in the exhibition – with supervision. I wanted to present them in an exciting, energetic way, so all the arrow heads go round the pavilion; it's like they are alive and the hand axes emanate colour and have aura's of energy around them.'
And visitors will get their own gift, by taking away a piece of work ...
'I like the idea of giving stuff away. We have a free poster and ink prints. It's part of a tradition of English aristocracy visiting Venice on the Grand Tour in the eighteenth century; they would leave with a drawing or painting, a scene in Venice. This is bit like the grand tour and I thought it was a nice thing for people to leave with a gift, one of them is an image of Morris and the yacht. I didn't realize quite it would be such a big deal, I thought they might think it was a bit infantile but for some reason but people love that sort of thing.'
The painting of William Morris throwing Roman Abramovich's giant yacht into the Grand canal?
'Yes, were you here in 2011? It literally shadowed everything. It took up people's consciousness. It was the only thing that people were taking about, they were horrified by it and I thought, let's kill it, let's destroy this stupid thing.
You've worked with many collaborators throughout your career and that was painted by one of them?
Yes it was Stuart Hughes, who does a lot of airbrush work and actually did a motorbike for Abramovich about 10 years ago, apparently. He usually works in a miniature but he likes working on big things so he did this. It's quite a challenge. He also did the St Heller mural as well.
I wondered how your collaborations might reflect on Englishness or Britishness?
'I don't think it does. It just reflects on my own incapabilities, my lack of any technical skill as an artist, traditional technique, which I'm very open about and Stuart has lots of skill and we work together to make artworks.'
The exhibition is going to travel back to the UK, will it take a different form when it does?
'Inevitably the architecture of the museums it's going to are not the same as the pavilion. For example in the William Morris Gallery in Walthamstow, we'll just take the Morris room, so that will look more or less the same. In Margate, the Turner Contemporary is a different space but also they have a reserve of Turners, so we can have Turner in the room with William Morris, which would be great, and his views of Venice, so that would be quite exciting.'
It's the first time the British Pavilion exhibition will have travelled, was it something you wanted to bring the exhibition back to the UK?
'Yes, absolutely, it should be seen in the UK because it's about the place. Some people will enjoy it and some people will not enjoy it but that doesn't bother me. It makes sense, you go to all this trouble, do this thing and show it in Venice but let's face it, even in the era of cheap flights, it's still a stretch for the general public to think, oh I'll go to Venice, this weekend. So it's right, it should be touring Britain – get your value for money.'