Best bars in London - Wine bars
Time Out's guide to the best bars in London with outstanding wine lists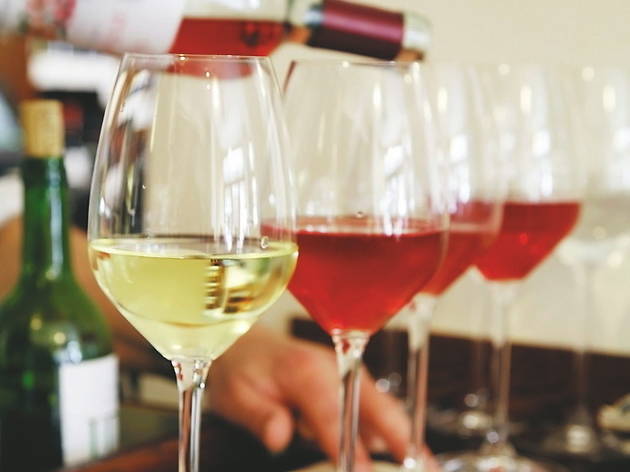 Red, white, sparkling, dry – whatever you fancy there are plenty of bars serving great wine in the capital. It's not all about craft beer and cocktail bars, after all. From stylish wine bars to vino taverns, our critics have rounded up the best bars in London with outstanding wine lists. Think we've missed a great wine bar in London? Let us know in the comment box below.
London's best wine bars
This exciting collaboration between sommelier Xavier Rousset and executive chef Agnar Sverrisson (their second, following haute cuisine restaurant Texture) is focused on wine, but has much more attention on food than the average wine bar.
Book now
Read more
KWR is thoroughly modern in using dispensers to keep wine fresh for longer, so allowing single glasses to be served and thus facilitating experimentation.
Book now
Read more
The name 'Mission' doesn't refer to a position, or even a crusade to save souls. It is a homage to California where the wine country is littered with Spanish Missions: the first sacramental grape was called The Mission. This Mission – named after the San Francisco neighbourhood – is a big step up for Michael and Charlotte Sager-Wilde (of critically acclaimed wine bar Sager & Wilde).
Book now
Read more
Coming from the pair behind the wine mag of the same name, Noble Rot is an old-school hangout with a soul that is very much still alive. Cracked stone floors, dodgy brown furniture and vineyard-themed frescos are a throwback to the former site of Vats and the food is as classic and unpretentious as the surroundings - we're still swooning over a stunning piece of monkfish in a tangy white wine sauce. Warm, knowledgeable staff are lovely, while in the front the room, the boisterous spirit of a wine bar is very much alive – hardly surprising, given the affordability of the list (with a sizeable by-the-glass offering kicking off at £3 for a 75ml 'sampler', or bottles from £20).
Book now
Read more
The Quality Chop House carries deliberate echoes of its 19th-century origins by offering 'a chop and a glass'. Wine rather than ale is the main draw now (though Kernel beer is offered). There's a wine shop alongside the bar and dining room, with plenty to interest both casual sippers and serious imbibers.
Book now
Read more
In the 90s and Noughties, 'ABC' – Anything But Chardonnay – was the term used to describe a movement that avoided the obvious, the mass-produced, the populist. More than a decade later, in a city that's now brimming with exciting and unusual wines to try, there's no excuse for ordering the usual. Pop down to The Remedy for some proper excitement in your glass.
Read more
With its good looks and pooch-friendly policies, this Hoxton wine bar (a Shoreditch pop-up gone permanent) has plenty going for it. Not to mention a flat-rate £20 mark-up per bottle.
Read more
The term 'vin naturel' – natural wine – was revived in France during the 1980s to describe a process of 'natural' fermentation, with minimal intervention in the viticultural process. Terroirs in London pioneered a similar approach in 2001, and soon had branches, as well as imitators – Toasted is the latest in the Terroirs tradition.
Read more
A second outpost from the crew who opened The Truscott Arms gastropub in Maida Vale, The Truscott Cellar has a vaguely nautical vibe with suspended storm lanterns and cabin-like booths. A backlit wall of resting bottles tells you the list of reds, whites and rosés, which is tip-top. Most come by the glass and the food menu is compact, offering cold meat or cheese boards plus a few hot plates and puds.
Read more
Find more bars and pubs in London
Sponsored listing
Kensington Wine Rooms
This Kensington restaurant and wine bar is one of three London spots from a group specialising in all things wine. Here you can sample more than 40 wines by the glass, as well as more than 150 bottles, from worlds old and new.  There's a pre-pay card system in place (a bit like an Oyster card), with wines by the glass are served from Enomatic wine dispensers, with pour sizes including 25ml, 125ml and 175ml. Wines come with detailed notes and are organised by helpful headers such as 'heavyweights', 'crisp & dry' and 'aromatic'. A number of natural wines are available, too. There's a European slant to the food menu, with options ranging from foie gras with onion chutney and brioche, tuna tartare and scallops with cauliflower purée, pancetta and samphire to char-grilled racks of lamb, fillet steak with hand-cut chips and aubergine and mozzarella ravioli with cèpes, pine nuts, baby red chard and parmesan.