This weekend there are plenty of Burns Night celebrations to get on board with, Harry Potter quizzes to be won and wintery walks to be had thanks to TfL's annual programme of city strolls. Have a mighty fine few days with all the events we've found below.
Things to do
Camley Street Wassail Awakening Party, Alara Wholefoods Warehouse, TONIGHT, free. Feeling the bleakness of the season? Time to get yourself a nineteenth-century English pick-me-up: a drink from the wassailing bowl and an encouraging song to the apple tree that produced it.
The Ultimate Harry Potter Pub Quiz, Escape the City, TONIGHT, £10. Fans of The Boy who Lived should sign-up sharpish for this quiz that'll sort the squibs from the star wizards amongst you. We'd recommend picking your team wisely as we're sure the night will attract some major Potter obsessives who'll be swatting up as if their O.W.Ls were just around the corner.
Ceilidh Club Burns Night, Hammersmith Town Hall, Fri-Sat, £34.65, £22 concs. London's biggest Burns Night event, with three hours of energetic ceilidh dancing and a buffet dinner of haggis, neeps and tatties, plus all the appropriate extras such as piping in and addressing the haggis.
Burns Night at Hootananny Brixton, Hootananny, Sat, free before 10pm, £4 after. Celebrate Burns Night with mighty, medieval rock band Soar Patrol at this high-energy evening of Scottish fun. The kilt-clad lads will be providing the perfect soundtrack for dancing into the early hours.
Winter Wanders, various London locations, Sat-Sun, free. More than 40 free guided walks will take place over this weekend which aims to feed us all some chilly-but-fresh air as we explore London by foot. There are six new walks for 2016 including a design-focussed strut to support TfL's Transported by Design programme.
Kentish Town Lock Open Day, Regents Canal, Sat-Sun, free. These free family open days take place at a busy spot on London's canal network where the lock gates, which have been there since the 1980s, are being replaced with shiny new ones. The Kentish Town lock has to be drained in order to fit them, meaning the chamber is free for visitors to walk along, admiring the 200 year-old brickwork as they go.
The Adventure Travel Show, Olympia London, Sat-Sun, £10 one day, £15 weekend, free under-16s; adv £8/£12. This large-scale show is just the excuse you need to get bitten by the travel bug and book yourself a new long-haul adventure.
The House of Schmutter Festival, Rich Mix, Sun, free. Celebrate Jewish culture both past and present at this day-long festival championing the Yiddish East End.
…or check out more events happening in London this weekend.
© Richard Ehrlich
Eating and drinking
Dinerama, Shoreditch Yard, Fri-Sat, £3, free before 7pm. Street Feast's Shoreditch street food mecca is back for 2016. The two-storey site features 15 different food vendors space for up to 1,000 hungry visitors, with benches and floor space to settle in on as you watch the punters chatting (and, let's face it, queueing) below.
A Wine Tour of Medieval London, various London locations, Sat, £28 + booking fee. Led by historian and broadcaster Dr Matthew Green, this wine-tasting tour uncovers the sights, sounds and tastes of medieval London.
…or check out the latest restaurant reviews.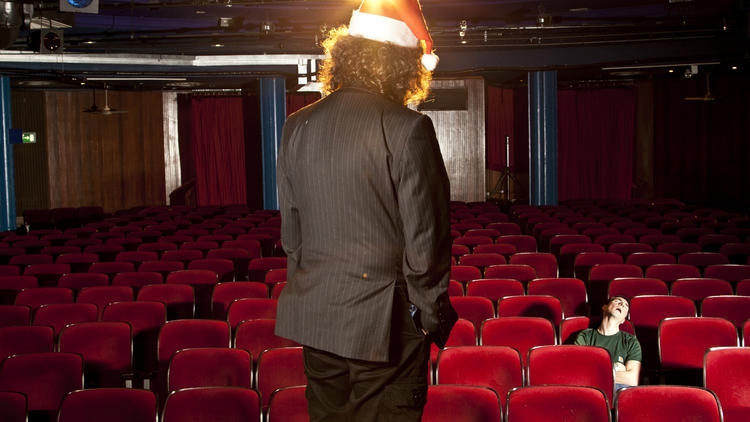 © Rob Greig
Comedy
Jerry Sadowitz – Card Tricks and Bile, Leicester Square Theatre, Fri-Sat, £19.50. Bile-spitting master magician, comedy genius and raging psychopath Jerry Sadowitz gives 'offensive' a whole new meaning. For this limited run at the Leicester Square Theatre, he's showing off his card magic skills rather than his enraged stand-up, performing expert slight-of-hand.
Nish Kumar: Long Word… Long Word… Blah Blah Blah… I'm So Clever, Soho Theatre, Fri-Sat, £15, £12.50 concs. Time Out favourite Nish Kumar earned a Foster's Edinburgh Comedy Award nomination for his latest solo offering. The show – which has a title so long we won't bother typing it again here – is full of smart, thought-provoking, relevant comments on the post-election political landscape.
Robert Newman: The Brain Show, Soho Theatre, Fri-Sat, £15, £12.50 concs. The erudite comic's back with a new show, 'The Brain Show', exploring whether some grand claims made by neuroscience are true via proper scientific facts and whimsical comedy. You'll laugh and learn at a Rob Newman show.
…or check out all the critics' choice comedy shows.
© Christophe Agou
Live music and nightlife
Tindersticks, Rough Trade East, TONIGHT, free w/wristband. Stuart Staples and his (not so merry) men perform their noir-ish and lugubrious ballads, either lushly orchestrated or stripped-back and downbeat, but always balancing on a knife-edge of dark humour and brooding romanticism.
Burns, Baby, Burns!, St John-at-Hackney Church, Fri-Sat, £35-£49. A riotously fun Burns Night party, featuring a traditional three-course supper, ceilidh and whisky bar.
The Maccabees, O2 Academy Brixton, Fri-Sat, £27.50. Battersea's finest are back, bashing out their radio-friendly indie rock full of angular riffs, south London accents and infectious, anthemic tunes.
The Playground presents Com Truise + Jackson and His Computer Band, Koko, Sat, £13.50-£17.50. Glitchy electronica guy Com truise relays his trippy synth business at The Playground's first 2016 event, with further forward-thinking bleeps and beats from French house Jackson and His Computer Band, garage-dabbling duo Leatherette and more.
Burning Down The House, VFD, Sat, £5, £3 before 10pm. Bored of nodding your head to tastefully dull house music? This new east London night aims to give Dalston's nightlife scene a kick up the arse with the best songs of the '80s plus a side-portion of disco, funk and glam, and the January edition is a special celebration of David Bowie.
…or see all the parties planned this weekend.
Film
The Stars Look Very Different Today: A David Bowie Tribute, Genesis Cinema, Sat, £6. He revolutionised fashion, performance and of course music, but David Bowie made an earth-shattering impact on cinema too. So it's hardly surprising that several London cinemas have chosen to mark his passing by hosting special screenings of his finest work on film.
Close-Up on Michael Haneke: 'Benny's Video', Close-Up Film Centre, Sat, £10. This retrospective tribute to the icy godfather of European cinema continues with his stark 1992 study of youthful disaffection.
'Labyrinth' Masquerade Ball, Prince Charles Cinema, Sun, £13.50, £11 concs. If you're in the mood to savour the lighter side of Bowie, several venues including Hackney Picturehouse and the Prince Charles Cinema will also be revisiting his most beloved film, Jim Henson's whacked-out fantasy in which the starman appears – sneering, hugely bewigged and impressively courgette-trousered – as the villainous Goblin King.

Or at the cinema...
Room ★★★★☆ Brie Larson is harrowing as a young mother abducted and trapped in a shed for years.
The Revenant ★★★★☆ Leonardo DiCaprio battles the elements – and a ferocious bear – in this fierce, elemental western from 'Birdman' director Alejandro González Iñárritu.
Creed ★★★★☆ In this low-key boxing drama, Sylvester Stallone is on impressive form as the ageing Rocky - now playing mentor to a new generation of fighters.
…or see all of the latest releases.
© Manuel Harlan
Theatre
The Rolling Stone, Orange Tree Theatre, Fri-Sat, £15. 'The Rolling Stone' is packed with lines that sing, slaps that sting and scenes that will break your heart. In a similar manner to Chris Urch's first play, 'Land of Our Fathers', this award-winning script combines the political and personal to phenomenal effect.
This Will End Badly, Southwark Playhouse, Fri-Sat, £12-£18, £12-£16 concs. An intriguing trio of stories about lost young men from rising star Rob Hayes.
Cirque du Soleil: Amaluna, Royal Albert Hall, all weekend, £41.26-£221. Pity the performers in Cirque du Soleil. When they're not doing jaw-droppingly impressive things on stage, the minutiae of ordinary life – like popping to the shops for milk, say – must be incredibly boring.
…or see our theatre critics' choices.
This week's best new art
Bridget Smith: The Eye Needs A Horizon, Frith Street Gallery, Fri-Sat, free. The magic of cinema – minus the popcorn, and the film – is evoked in the Essex-born artist's latest exhibition.
Chantal Joffe, Victoria Miro Mayfair, Fri-Sat, free. The British artist, whose figurative paintings always convey a powerful sense of presence, presents new work – a mix of family portraits and studies of writers including Anne Sexton, Sylvia Plath and Robert Lowell, from photographs reproduced in biographies.
Saul Leiter: Retrospective, Photographers' Gallery, all weekend, £3, adv/concs £2.50, adv concs £2. An overdue retrospective of the late, great US lensman Saul Leiter (1923-2013). Defying his father's wish that he should follow in his footsteps by becoming a rabbi and scholar, Leiter instead immersed himself in art history, escaping to New York in his twenties to pursue a creative career.
London Art Fair, Business Design Centre, all weekend, £20, £14 adv. Returning to the Business Design Centre for its twenty-eighth edition, the London Art Fair presents a varied programme of Modern and contemporary art.
…or see all London art reviews.
And finally
Win... tickets to an immersive dining experience at Burger & Lobster or a London experience with the National Maritime Museum
Grab... £25 on-stage tickets to Jamie Lloyd's 'The Maids' at Trafalgar Studios - exclusively with Time Out
Book… these gigs while you still can
Best of the blog
King's Cross tube station has the highest level of crime on the Underground
Check out this dreamy drone footage of south London in the snow
Seven signs you're addicted to black coffee