Whether you're excited or freaked out that March has come around so quickly, here are some great ideas to kick off the first weekend of spring. Whether you fancy celebrating London's most famous playwright's 400th anniversary at the Barbican, or making Mother's Day chocolate boxes for that (most) important woman in your life, there are tons of things to keep you occupied. You can thank us later.
Mother's Day chocolate box workshop
Things to do
King's College Piano Concert, Strand Campus, TONIGHT, £20. Help to raise funds for the King's College Skin Cancer Team at this concert by two young, international, concert pianists as well as a world premiere, two piano concertino.
Society of Imaginary Friends Soiree, Karamel Restaurant, Wood Green, TONIGHT, free. A family-friendly show that works as a test-bed for professional musicians, comedians and poets to try out new material.
Walk In Her Shoes, London Bridge, Sun, free. In honour of women who have to walk miles every day to provide their families with the bare essentials, CARE International have organised another walk with Helen Pankhurst, granddaughter and great-granddaughter of the famous suffragettes.
Asia House Fair, Asia House, Mayfair, Fri-Sun, free. For an eighth year, Asia House will be transformed into a bustling bazaar of Asian craft, design and street food.
The Sample Sale, Victoria House, Bloomsbury, Fri-Sun, £5. The team behind DesignJunction have convinced a bumper number of designers to clear out their warehouses and give shoppers the chance to deck out their houses stylishly with up to 70% off retail price.
Mother's Day Chocolate Box Workshop, Museum of Brands, Packaging and Advertising, Sun, free with admission. This super sweet workshop gives little ones the chance to design and make chocolate boxes for their mums this Mother's Day.
Bullshit Shakespeare's London, City of London Information Centre, Fri-Sun, free. This weekend, tour guides will be running amok with funny untruths and imaginary facts about the UK's greatest export - William Shakespeare.
Barbican Shakespeare Weekender: Play On, Barbican Centre, Sat-Sun, free. Party hardy with the Bardy this weekend. There'll be stage-fighting, pop-up performances, sonnet inspired tattoos as well as much, much more.
Shakespeare Son et Lumiére, Guildhall Yard, Mansion House, Fri-Sat, free. To mark the 400th anniversary of the bard's death, Guildhall library and Guildhall School of Music and Drama have teamed up for a sparkling evening of sound and light.
Astronights, Science Museum, Fri, £180. Settle down for a snooze amongst the Science Museum's brilliant displays at this adult-only sleepover. Price includes drink on arrival and three-course meal as well as activities throughout the evening.
Mini Rumpus: Under the Sea, The Vaults, Waterloo, Sat, £8-£12. The kids won't know what hit 'em with this day-long, family-friendly, underwater party. Babies go free.
…or check out more events happening in London this weekend.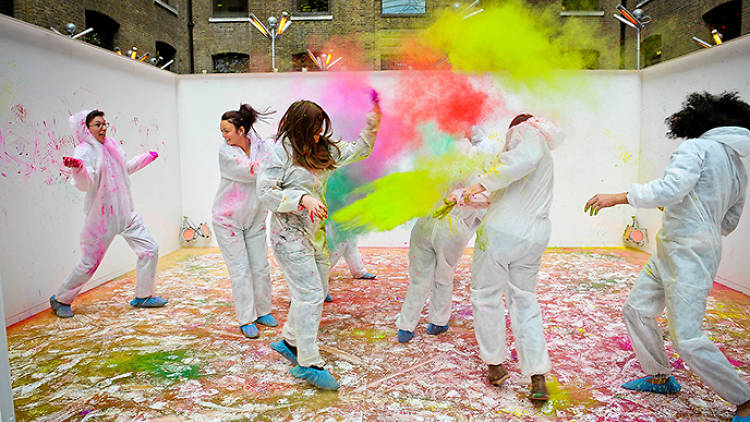 Cinnamon Kitchen House of Holi
Eating and drinking
Hox Cup Sake Bar, Hoxton Grill, Fri-Sun, free. Natsuki Kikuya, founder of the Museum of Sake has brought together 20 different varieties of sake and created a 20 metre-long paper bar for one weekend only at the Hoxton Grill.
Cinnamon Kitchen House of Holi, Cinnamon Kitchen, Aldgate, Fri-Sun, £15. Leave winter behind with bursts of colour at the Cinnamon Kitchen House of Holi, which returns for 2016. A Holi-inspired cocktail and canapé menu will also be included in the cost price.
London Shell Co, Camden, Sat, £40 lunch, £60 dinner. Climb aboard this fancy, floating supper-club and indulge in award-winning wine and seafood.
Fermented and Wild, Apiary Studios, Bethnal Green, Fri-Sat, £49. Tuck into three-courses of fermented goodness, courtesy of L'atypique. Treats include perfectly pickled accompaniments and yeast-fermented wine.
KinoVino, Palm 2, Hackney, Sat, £40. An evening that pairs film with food: this latest event focuses on Greek food and the rom-com Shirley Valentine.
…or check out the latest restaurant reviews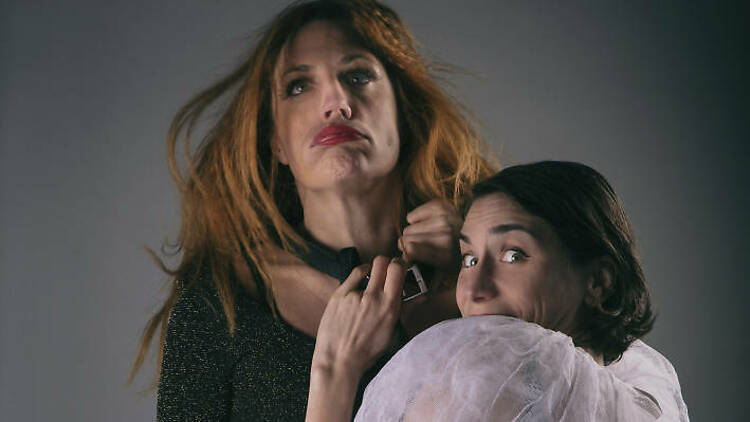 Twisted Loaf: Stale Mate
Comedy
Old Jewish Jokes, The Albany, Great Portland Street, Sun, £5. One of the UK's best live Jewish comedians performs some of his favourite Kosher gags.
Twisted Loaf: Stale Mate, Soho Theatre, Fri-Sat £10-£12.50. Bizarro comedy duo Libby Northedge and Nina Smith combine physical comedy, clowning, performance art and dark humour.
Trygve Wakenshaw: Nautilus, Soho Theatre, Fri-Sun £12.50-£17.50. A ridiculously funny, hugely inventive 75 minutes of clowning and mime with a subtle vegan message.
Sara Pascoe's Literary Salon, Book club, Shoreditch, Sun £5. Erudite stand-up and TV regular Sara Pascoe hosts this series of literary salons, featuring book themed jokes, readings and audience participation.
…or check out all the critics' choice comedy shows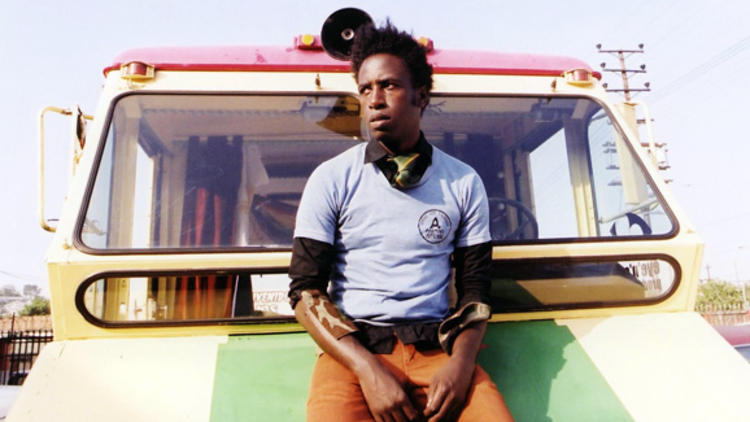 Saul Williams
Live Music
Richmond Upon Thames Music and Drama Festival, Fri onwards, free. 85 music-orientated events including baroque, jazz, choral and drumming take place in the poshest, greenest area of London.
Leona Lewis, London Palladium, Soho, Fri-Sat, £42.50. Still the biggest solo star to break out of the 'X-factor', Leona Lewis returns to her home city for her first tour in recent years.
Saul Williams, The Garage, Highbury, Sun, £20 adv. Charismatic rapper, spoken word poet and actor puts his expansive, intelligent, lightening-fast rhymes to music.
Label Mates, Various venues, Hackney, Fri onwards, £30. Ten nights of up-and-coming bands, curated by some of the best indie record labels out there.
…or take a look at all the live music events in London this weekend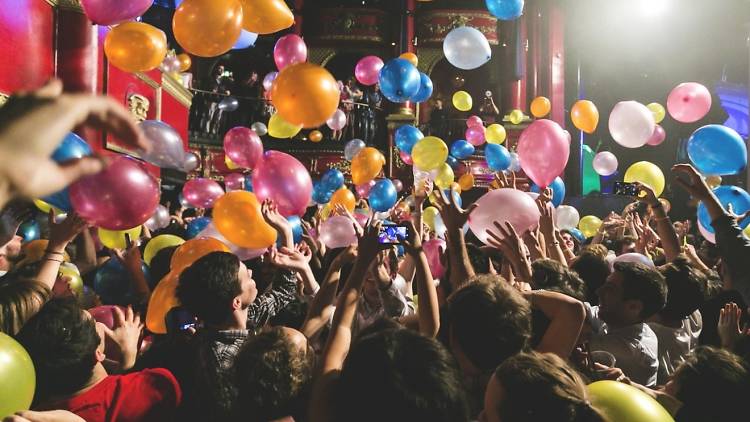 Buttoned Down Disco
Nightlife
Buttoned Down Disco, KoKo, Camden, Sat, £10, free before 10.30pm. A hugely popular indie disco night that mixes trendy indie anthems with banging dance floor fillers and a few guilty pleasures thrown in for good measure.
Horse Meat Disco, The Eagle, Vauxhall, Sun, £6. A long standing residency from the obscenely funky Horse Meat Disco crew.
WetYourSelf, Venue, Farringdon, Sun, £15, £7 NUS, £5 earlybird. Resident DJs crank up the spacey disco, minimal house and dubbed-out techno, plus ace special guests are on hand to help behind the decks.
Coffin Dodgers Disco, The Phoenix, Mayfair, Fri, £8, £7 adv. With a strict over-28s door policy, say goodbye to fresh-faced youngsters filling the dance floor and shuffle to your heart's delight to indie, pop and rock tunes.
To The Laser Cave, The Laundry, Hackney, Fri, £15. This warehousey party in East London combines tacky, 70s B-movie with high energy disco, cosmic house and electro.
Soundtracks, The Monarch, Chalk Farm, Sat, £2-£5. DJs spin hits from a number of films, including both cult classics and major blockbusters.
…or see all the parties planned this weekend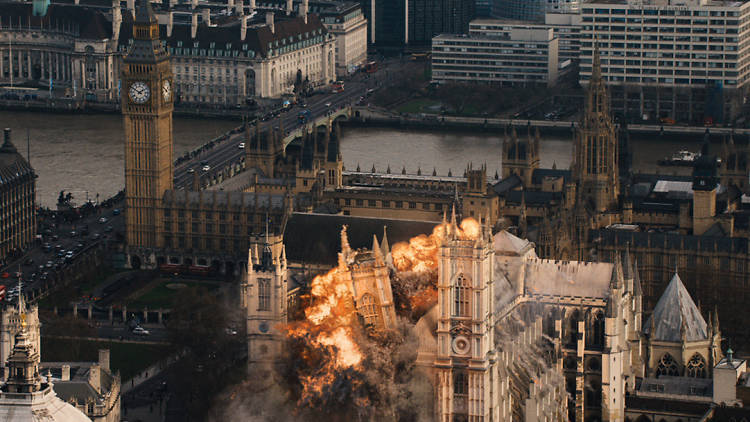 London Has Fallen
Film Events
Sun Cinema, LUSH, Oxford Street, Sat, free. The Oxford Street branch of LUSH is bringing smell-o-vision to London with a free, scented cinema.
Silver Scream Sleepovers, London Bridge Experience and Tombs, Sat, £59-£199. The London Bridge Experience and Tombs are keeping their doors open to it's scariest characters for sleepovers that promise maximum shivers and minimum luxury, kicking off with a horror film.
London Asian Film Festival: I Am Nojoom, Age 10 and Divorced, Regent Street Cinema, TONIGHT, £20. Back for it's eighteenth year, the London Asian Film Festival screens Indian indie cinema. This years opener is a stark presentation of what it is to be a child bride.
Girls in Film Double Bill: Annie Hall and Blue Jasmine, House of Vans, Sun, free. More terrific films from the shoe-shop-turned cinema's 'Girls in Film' series.
Or at the cinema...
Hail, Caesar! ★★★★☆ The Coen brothers reunite with George Clooney and haul in an all-star cast for this left-field comedy set in 1950s Hollywood.
London Has Fallen ★★★☆☆ In the equally ludicrous sequel to 'Olympus Has Fallen' Gerrard Butler saves our fair city from those gosh-darn terrorists.
Truth ★★★★☆ Robert Redford and Cate Blanchett get into journalistic hot water in this news room thriller.
…or see all of the latest releases
Four Play
Theatre
Four Play, Theatre 503, all weekend, £15, £12 concs. An odd mix of the insightful and the smutty in this gay relationship comedy.
The Maids, Trafalgar Studios, Fri-Sat, £29.50-£52.50. Phenomenal acting in this revival of Jean Genet's violent classic.
Beyond the Fence, Arts Theatre, Fri-Sat, £15-£49.50. This computer generated musical kind of wins you over with the weight of it's clichés.
The Patriotic Traitor, Park Theatre, Fri-Sat, £16.50-£25, £18.50 concs. Laurence Fox and Tom Conti star in this creaky but worthwhile drama about Charles de Gaulle.
…or see our theatre critics' choices.
James Coleman
Art
James Coleman, Marian Goodman Gallery, Soho, Fri-Sat, free. Uprooted flowers and mechanical soundtracks feature in this pioneering artist's two new film installations.
Armand Boua: Les Zinszins, Jack Bell Gallery, Soho, Fri-Sat, free. The street kids of his hometown are the subject of this Ivory Coast artist's paintings.
Botticelli Reimagined, V&A Museum, Sat-Sun, £15. Bringing together the biggest haul of Botticellis seen in London for decades, this exhibition is not only a chance to marvel at the originals but also to examine the artist's influence on art, film, photography, fashion and design.
…or see all London art reviews
And finally...
Win... a complete spring cycling package or the perfect art weekend in London with Tate Modern.
Grab... £15 tickets for 'All Or Nothing' at the Waterloo Vaults.
Book… these gigs while you still can.
Best of the blog
101 fabulous things to do this March.
Ten yummy spots for Mother's Day afternoon tea in London.
Hot tub cinema club has launched a Kickstarter to reopen the old Hackney picture palace.
A London food blogger is crowd funding to open up a café in Covent Garden.