Now, we like cocktails and we like chocolate, but which is better? There's only one way to find out! Fiiigh… er, we mean splosh them together in a choctail obviously, and what better time to do that than the holy cocoa festival that is Easter? Here are eight of the best you can slurp down this weekend.
An indulgent mix of Bacardi Carta Blanca and Orange Curaçao paired with Mozart White Chocolate Liqueur and chocolate bitters, plus a rich egg yolk foam and chocolate orange rim. I love you hunny bunny. Available until Mar 28
@Bentleys_london
What else is there to say? It's a mojito plus smashed-up bits of Creme Egg. Remember to call an ambulance before ordering this calorific concoction.
You'd be mad not to order the Easterical. White and dark chocolate liqueur and almond milk with a hefty dark rum and banana liqueur kick. Available until Mar 28
This vodka martini is flavoured with essence of orange and cocoa, and a flash infusion with maple wood chipping smoke. A touch of class. Available until Mar 28
Bunny Alexander, Piquet
A twist on a classic, combining velvety smooth chocolate cream with Grand Marnier orange liqueur, orange syrup and Crème de Cacao for the perfect melt-in-your-glass cocktail. Available until Apr 3
Forget Smarties and Maltesers, these Easter eggs are filled with proper grown-up dessert (and booze). Three branches of The Botanist (Broadgate Circle, Sloane Square and One Canada Square) are offering a selection of tangy raspberry brûlée, a creamy tiramisu and passionfruit and vanilla martini. Available until Mar 28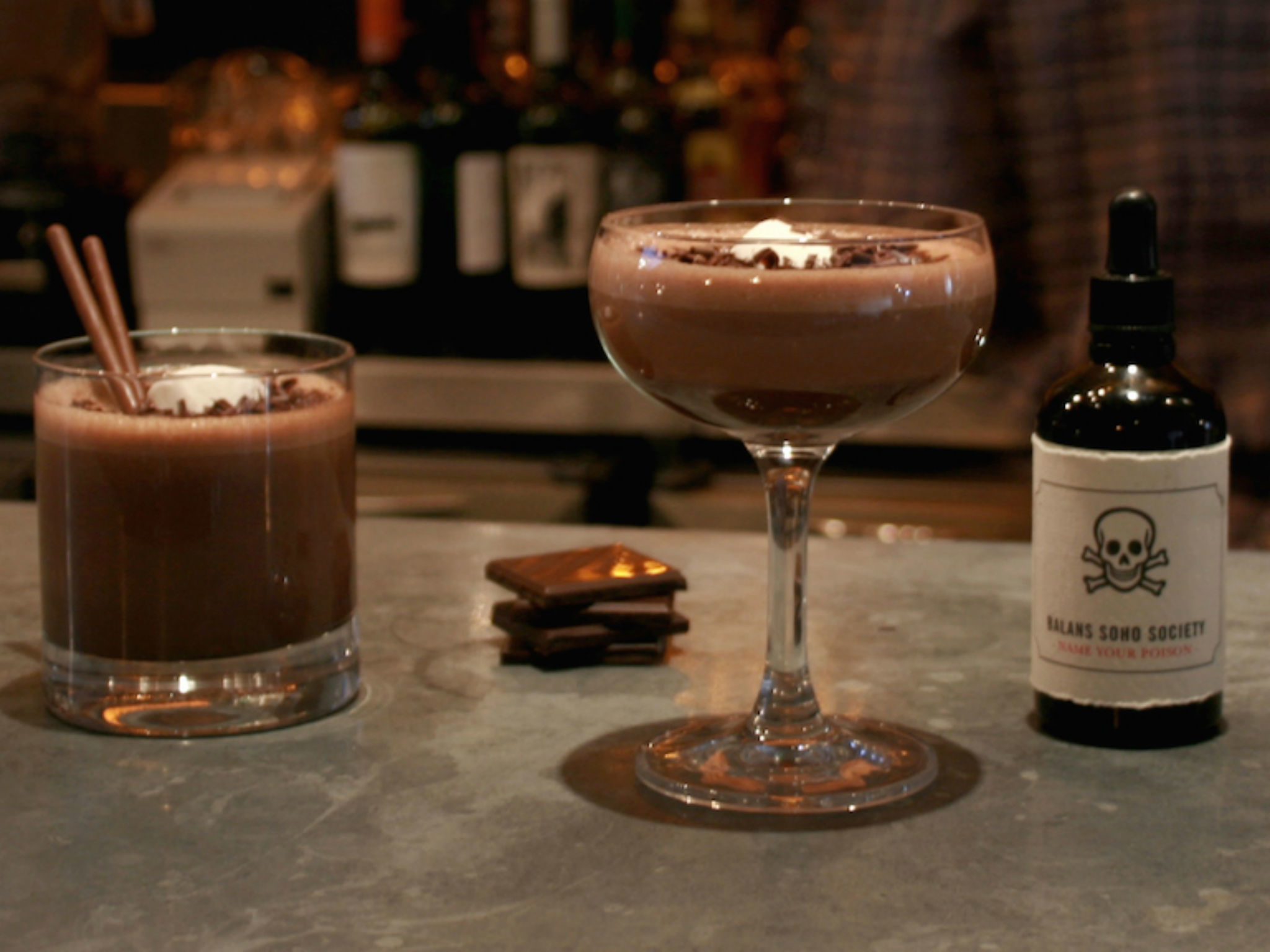 Poisoned Hot Chocolate, Balans
Don't be put off by the name – this is hot chocolate taken to new heights with double measures of Amaretto, Cointreau or Baileys, topped with liqueur-soaked marshmallows and dark chocolate shavings. Available until Apr 3
A caffeine-heavy pick-me-up in cocktail form: vodka, coffee liqueur, salted caramel, espresso and chocolate bitters, served double-strained and chilled in a large chocolate egg. Book at Bread Street for Easter Monday and get one on the house. Available until Mar 28