Parklife isn't just for grown-ups, y'know. Sure, parks are great places for adults to lounge about in and drink Red Stripe, but they're even more fun for little 'uns and families. We've rounded up the best events and activities for children happening across London's many parks over the summer. So pack a picnic, grab the sun-block and head out to those gloriously green pastures.
1. Kenwood Dairy Open Day
Kids and grown-ups can dress up as eighteenth-century dairy maids and, erm… piggery boys (okay, this means you're looking after pigs, but #thepast). It's a drop-in that looks at how they used to make cheese and butter for Hampstead Heath's posh Kenwood House. Take churns, kids! Kenwood House. Aug 6, 11am-3pm. Free.
2. Gorilla Circus Flying Trapeze School
Covering a whole host of kid-bait, the Gorilla Circus Flying Trapeze School teaches kids as young as eight aerial tricks in the open air. Two-hour classes are available for absolute beginners, alongside courses for more confident acrobats. Then you'll be set for life: their oldest participant is 78. Well played, sir! Regent's Park. Various dates and times until Sep 10. From £25.
Regent's Park © The Royal Parks
3. Tree Tales with Vanessa Woolf
Brilliantly named, considering she works in a wood, London storyteller Vanessa Woolf presents a session of folk tales, crafts and music, inspired by the new Bronze Oak Grove installation in Kensington Gardens. There's ice cream too. Italian Gardens, Kensington Gardens. Aug 4 and 25, 3pm and 5pm. £5 per child, accompanying adult free.
4. Discovery Day: Meadow Madness
If your kids can't get enough of bogs, swamps, swarming insects and general creepy-crawliness, make tracks for this drop-in day of back-to-nature fun. In the heart of the city, little naturalists can also try arts and crafts. The 'madness' presumably refers to what they will try and sneak home in their pockets. Royal Parks Foundation Education Centre, Hyde Park. Aug 2, 11am-3pm. Free.
5. Art in the Park
All ages, abilities and schools of aesthetic thought are invited to join this interactive day of arts and crafts, inspired by the natural patterns and textures of St James's Park. You can also share your feelings about what urban green spaces mean to you by making a placard. Get drawing, painting and photographing, and play your part in a new exhibition at the nearby Mall Galleries, 'Parks: Our Shared Heritage'. No little conceptualists, please. No one likes a show-off. St James's Park. Aug 9, 11am-3pm. Free, booking required.
6. Big Campfire
This evening event (suitable for ages eight-plus) takes place in a sprawling National Trust park. It's basically all the best bits of camping (fires, marshmallows, bats) and none of the faff (driving for hours, failing to pitch your tent, terror). There will be games and stories, stargazing and the rural tradition of going home on the Northern line. Morden Hall Park. Jul 22, 6pm-10pm. £10.
7. Lloyd Park Pollinators
Not a pub rock revival band, this day highlights the wonderful creatures that run the pollen-based ecosystem of this east London park: bees, bugs and butterflies. There's also a craft session to create prints inspired by local artist and textile designer William Morris, who wasn't a pollinator, but did nice wallpaper. Lloyd Park. Jul 25, 10am-1pm. Free.
8. BeachEast
Enjoy a day at the beach without leaving London. This vast urban sandpit features a paddling pool, 25 rides and attractions, bars, sports areas and a serious amount of sand – a thousand tons, in fact, guv. Queen Elizabeth Olympic Park. Jul 21-Sep 2, Mon-Fri noon-9pm, Sat-Sun 10am-9pm. £2, free for under-threes.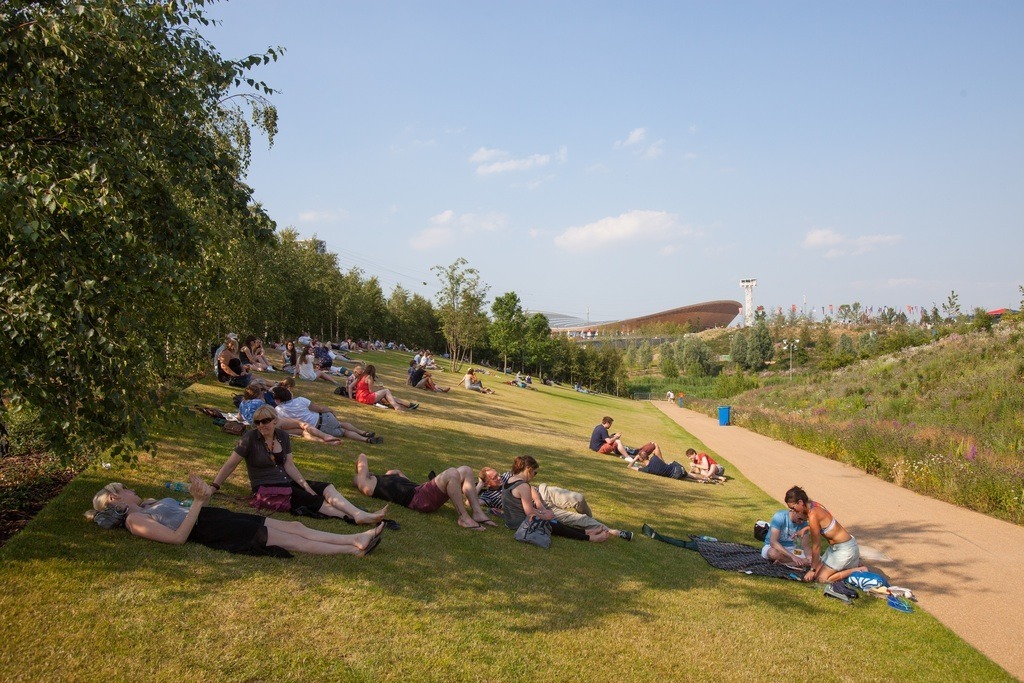 Queen Elizabeth Olympic Park
9. London Recumbents
If you or your kids fancy the idea of cycling but are put off by the fact you can't do it lying down, then have we got a day out for you! London Recumbents hire out a range of kooky bikes in the lovely Dulwich Park (and Battersea Park) for both children and adults. There are recumbents (obvs), where you are supine, plus tandems, side-by-sides and Nihola bikes, which have child-carrying baskets on the front. Sort of like a naughty step on wheels. Dulwich Park. Daily, 10am-5pm, last hire 4.30pm. £10-£20 per hour.
10. Greenwich Park Bandstand concerts
Fans of Quality Street, 'Yellow Submarine' and other campy psychedelic frivolity know that nothing beats a bandstand. Introduce kids to their delights at this series of free Sunday afternoon concerts, with big band talent from across south London. Take off your shoes and dance in the park, like it's 1968, maaan. Greenwich Park. Sundays until Aug 27 (plus Aug 28), 3pm. Free.
Looking for more fun stuff to keep the kids happy? How about 101 things to do in London with kids?
Find more alfresco action in our guide to outdoor London.