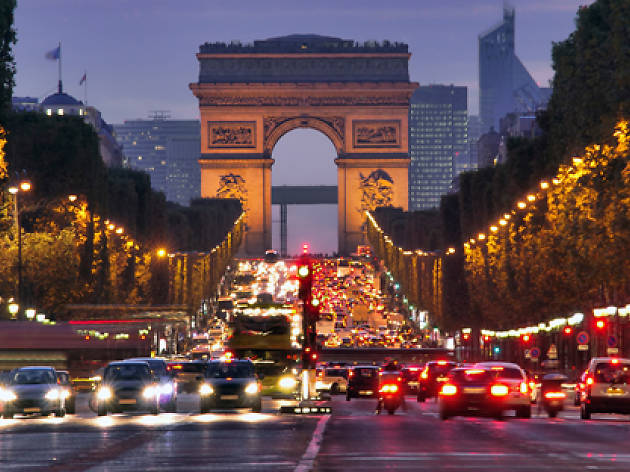 Be spontaneous in Paris
Time Out and Booking.com sent a foodie blogger to Paris to discover new flavours and experiences. Here's how he got on…
Armed with just his travel tickets, the Booking.com app on his mobile and a list of challenges, Yin & Yang blogger Aaron Howes set off to find out if the world's cuisine capital still held any culinary surprises for him. It did! Read on and be inspired to take your own tasty journey into the unknown, or discover ten fabulous hotels and activities in Paris. Plus from July 7, don't forget to enter our fabulous wing-it weekend competition.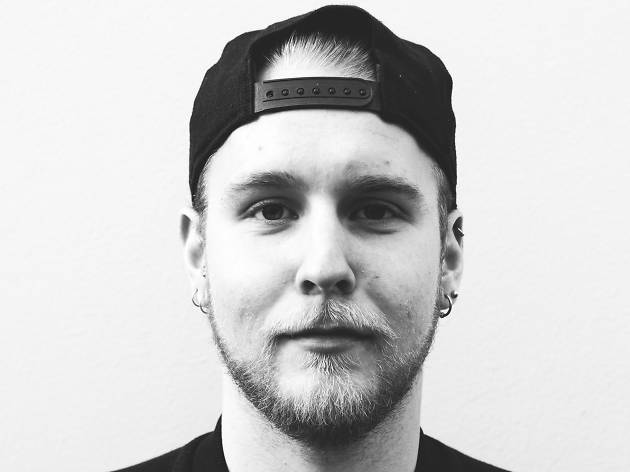 Yin & Yang is a London-based blogging collective with several regular contributors, including Aaron Howes, seasoned traveller and intrepid foodie. Time Out and Booking.com set Aaron a series of food and drink-related challenges to see what amazing experiences he could root out at his mystery destination (Paris) in one spontaneous weekend.
The aptly named Grand Pigalle Hotel might be familiar to Wes Anderson fans, it's rather alike it's similarly named fictional counterpart in Budapest. While it may be smaller, less pastel palleted and in a different city, it feels just as quirky and the constantly positive attitude the staff uphold is refreshing.

I didn't have much time when booking, as in I had to secretly book a hotel on my phone while at work about four hours before I was due to board my train into the city. Fortunately the booking.com app let me filter a search of Paris hotels to fit my budget and book a room in just a few really basic steps. Customer reviews are essential for me, so I made my selection based off of what customers had rated most highly on the app, which led me to the Grand Pigalle Hotel.
My room was exactly what I needed after hours of walking and working all day, the balcony let me watch the sunset over the Parisian rooftops, the atmospheric lighting helped me to relax and the big comfy bed made drifting off to sleep no problem at all. I rather enjoyed the bluetooth speaker too from which I could blast music in the early hours of the morning as I prepared for the day ahead.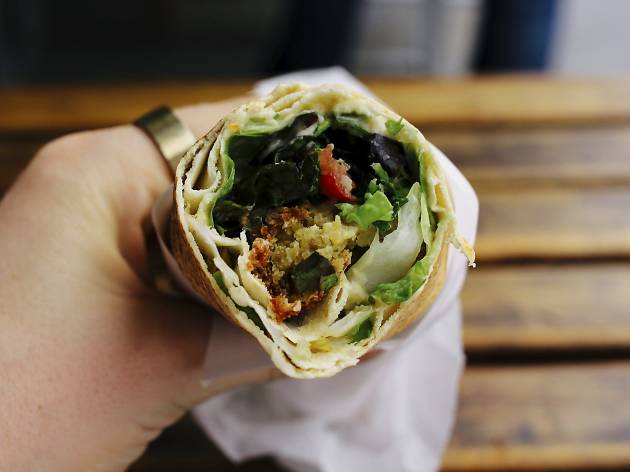 The challenges begin... Find and try a local dish
When you've eaten everything from chicken feet to fried tarantula, finding something you haven't eaten before is tough. French cuisine is globally renowned and tourists love to get their first taste of frogs' legs and snails when they visit. Instead, I paid a visit to Le Marché des Enfants Rouges, a little food market I came across, where I thought I might be able to try some street food. Those working the Lebanese food stand were hard at work making salads, houmous, pastries and meat dishes. To my delight, they put together a falafel wrap for me, despite not being open to customers yet.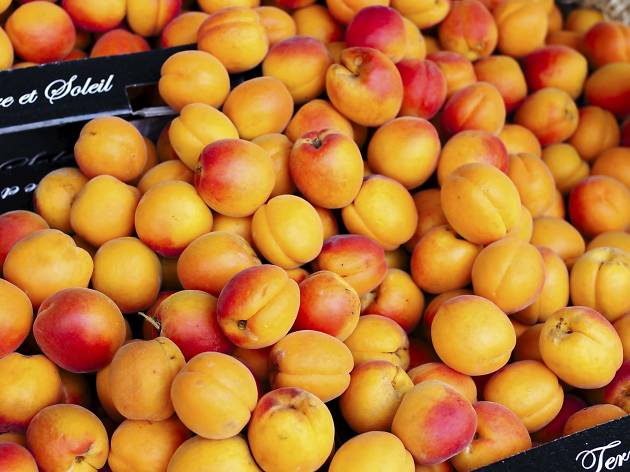 The options available at the market were enough to keep anyone happy and give you plenty of chances to try something new. I spotted Mexican, Japanese and Italian food and a burger stand that I begrudgingly didn't have room to try. The decision to divert into the little market meant I got to smell all the cooked meats, cheeses and fresh fruit and vegetables, which looked beautiful in all their seasonal colour. The apricots were some of the most wonderful I've seen, with their little red blush.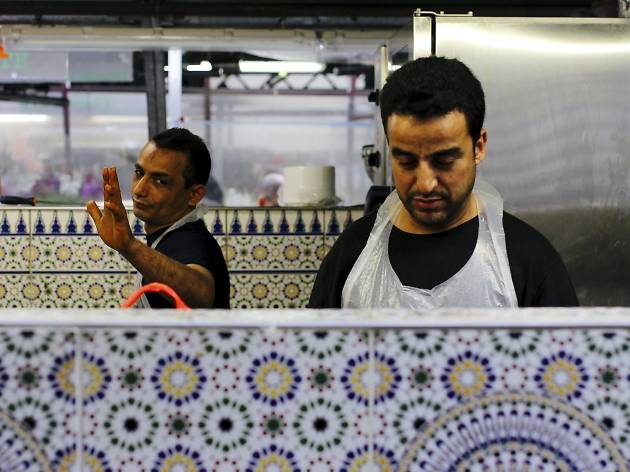 In trying new food, you might just make a friend too. Locals are often excited to find out you've never tasted something before and they're the first to serve it up to you. The team behind my falafel wrap took pride in their cooking, as did the chef at Ito, a Japanese restaurant located near my hotel. We chatted about Japan while I ate my ramen and sipped my sake. Wherever you go, it's worth trying local and international cuisine – foreign chefs may put an exciting twist on it that's like nothing you've tried.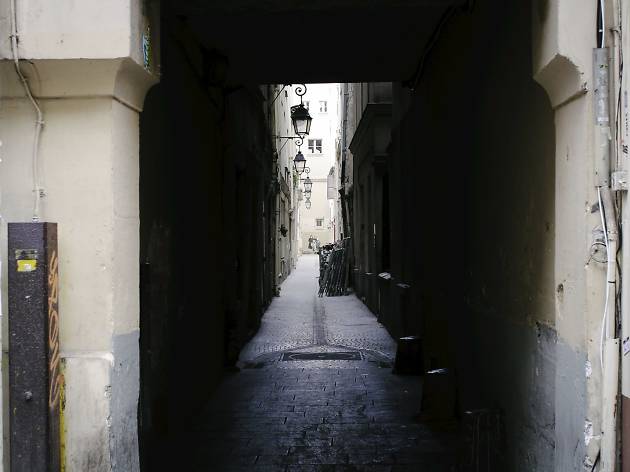 In order to thrill yourself a little and ultimately get a taste for adventure, sometimes you've got to dive down those scary little alleyways and fake a little fearlessness. The reward is the chance to dine somewhere quirky, where few other travellers have been, and come out of there with a great story to tell. Maybe you'll find a centuries-old haunted pub or a local restaurant with a bubbling pot of something delicious. Do you dare sit down and eat with the regulars? Wing it and see what happens, you'll never know unless you try.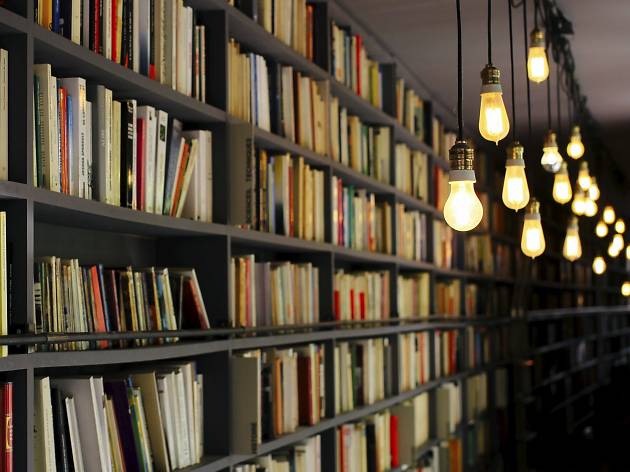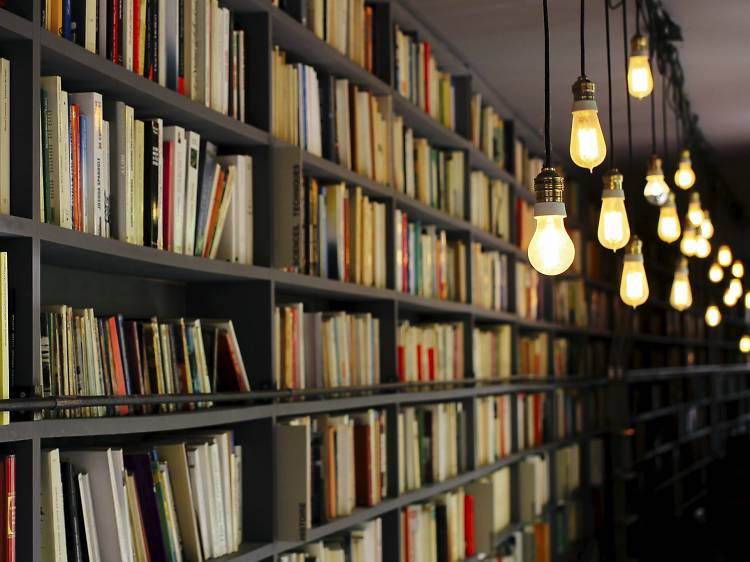 Café and canteen Merci is full of more than just history, it's also brimming with science, fantasy, magic, wildlife and tales of the future. That's because this wonderfully relaxed haunt doubles up as a library, with an entire wall dedicated to books from top to bottom. You're welcome to have a read and there's even a ladder to help you reach the higher shelves. Perhaps blasphemously, I slumped into a chair and pulled out my Kindle. The hum of conversation provided the perfect atmosphere and backdrop for a good read.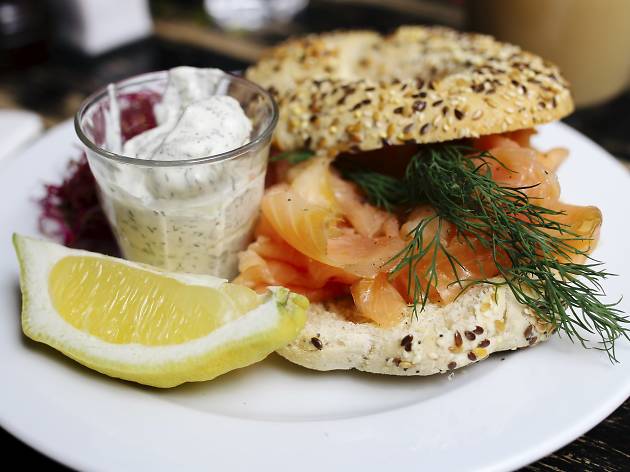 Of course, I wasn't just here to enjoy the books, I wanted to enjoy the food too. French bread is always exceptional and French bagels are no different; add to that the ultimate bagel filling, smoked salmon and cream cheese, and you have a party. A very subdued party in a book-themed café with me as its only guest. But I digress – the food here was on a par with the rest of the experience and the setting certainly made for an intriguing lunch.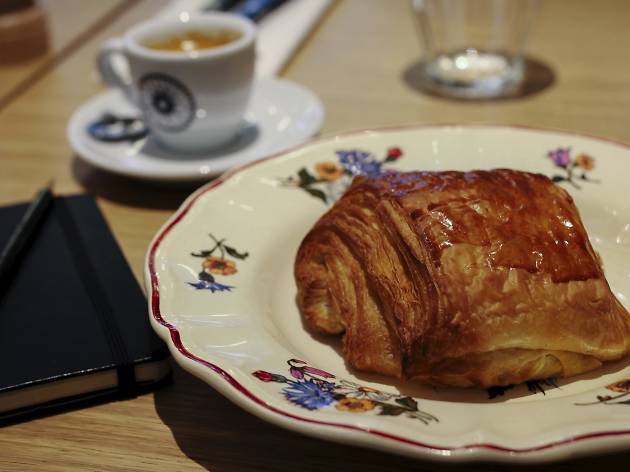 Find a coffeeshop with breathtaking views
On the hunt for a picturesque breakfast stop, I realised I'd gone out a little too early and very little was open. Add to this the fact that I was now a little lost and I had a bit of a conundrum on my hands. The wonderfully pleasant Maison Plisson saved the day with its delicious pain au chocolat and re-energising coffee; it also had a little grocery store next door by the same name, full of goodies.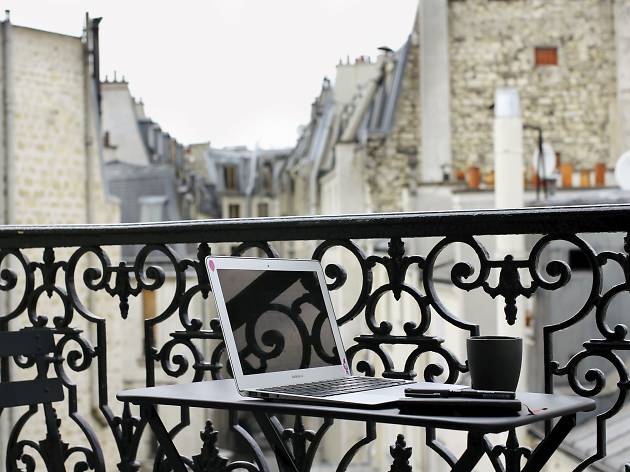 Returning to my hotel, I realised that coffee with a view was in front of me the entire time. Thanks to Booking.com, I was staying at the Grand Pigalle Hotel, a spot in the heart of the Pigalle action and with easy access to the rest of the city. My room came with a fifth-floor balcony with great views along the street and over the nearby rooftops. With plenty of work to do, I set my laptop up at the little balcony table and ordered a coffee to my room. With some music in the background and the sun setting before me, I was free to complete all my tasks before dinner.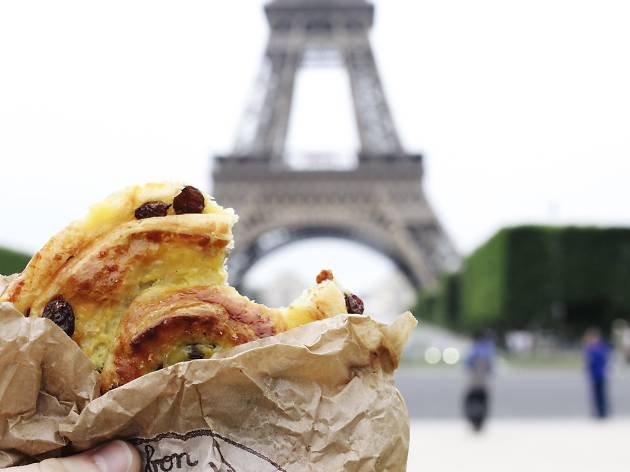 On my final morning, with summer beginning in the city, I decided that instead of finding breakfast with a view, I'd find a view and bring breakfast. Enter… the iconic Eiffel Tower! If you can't find pastry in Paris, you're probably in a different city – in Paris it finds you. So with a quick patisserie stop along the way, I made my way to the Eiffel Tower and sat myself down on the grass. A deliciously sweet breakfast with a view, at no extra cost. If only I could do this every morning!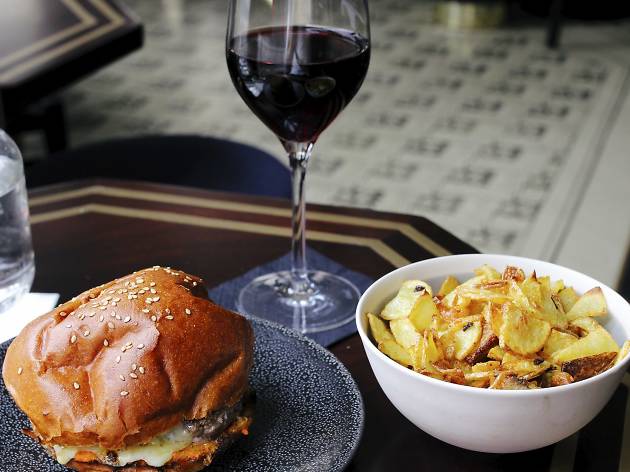 Order a glass of the local tipple
Running out of time as I was checking out on the last day, I had to find the local tipple. Fortunately, French wine is available in every restaurant in Paris, but the most 'local' place was the bar at the Grand Pigalle. Booking.com's suggested hotel saved the day again, and it just so happened to be brunch time. Beef, cheese and a warm bun seemed like the perfect accompaniment to my glass of red. One glass was enough though, I had a train to catch!
Top-rated hotels on Booking.com
How to find and confirm your ideal place to stay with the Booking.com app