The 50 best bars in Hong Kong
From cocktail dens to pubs and saké joints to wine bars, here are the best bars in Hong Kong to visit right now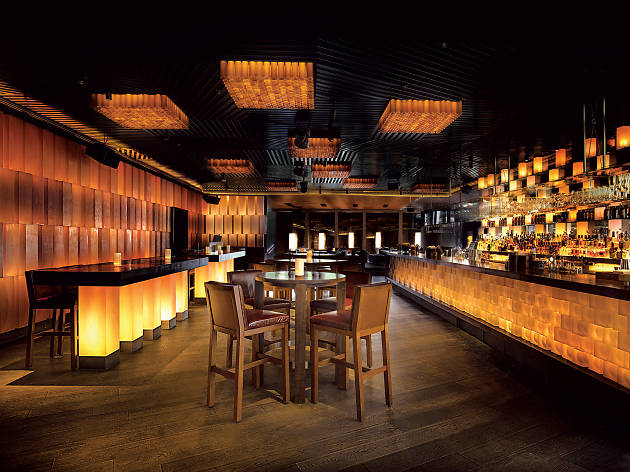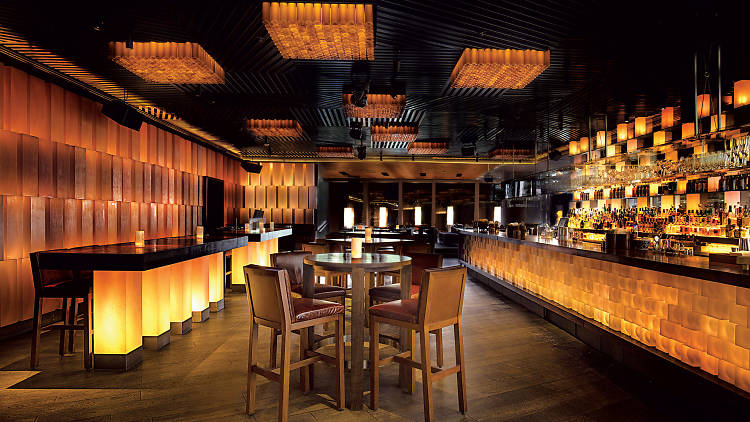 We're spoilt for choice in Hong Kong. Our famously crowded city is stacked and packed with great bars, especially in bustling neighbourhoods like Central and Wan Chai. Whether you prefer to relax over a craft brew, a single malt, a glass of red or a classic cocktail, Hong Kong has an amazing bar guaranteed to have you ordering 'just one more round'.

Let's get started. And if we miss your favourite, let us know in the comments.
Hong Kong's 50 best bars
49
It's easy to be sniffy about hipsters and their craft brews, which is why it's such a joy that Drunkerland is so unpretentious about its offerings. And what offerings – more than 100 brews from across Belgium, Japan, the UK, the US and our very own Hong Kong.
Read more
47
An osteria and enoteca, with a greater focus on the wine bar side of things, 121BC is a Sydney import that's adapted well to Hong Kong – the extensive wine list is again curated by Giorgio De Maria, who was awarded Gourmet Traveller's sommelier of the year for his work with 121BC Sydney, so it's no surprise.
Read more
46
China's 'fire water' doesn't have a great reputation outside of the Mainland but Deng G is doing stirling PR to soften the often brutal spirit's rep. The strong collection on offer here results in cocktails with surprising fruity notes and original flavour combinations.
Read more
44
The tasty Korean comfort food on offer at Edition is hard to resist – the spicy kimchi fries and chicken wings are top tier bar food – but the range of house infused soju are equal winners. Pick from fruity options like lemon and strawberry, or more savoury flavours such as genmai or chrysanthemum tea.
Read more
Hong Kong's 50 best bars
40
A cosy space, Le Quinze Vins offers patrons a long list of French labels as well as serving traditional cheese and cold cut platters and other wine-enhanced nibbles. The number of bottles on offer is extensive but the by-the-glass options are none too shabby.
Read more
39
Despite the city's plethora of high-end Japanese restaurants, a good saké bar is hard to find. Saké Beya Masu is one of the best and certainly one of the most welcoming. The location is like something straight outta Kyoto and both the range of saké and small bites are top notch.
Read more
37
A friendly neighbourhood joint on Peel Street that offers a decent selection of IPAs alongside the usual cocktail suspects and a fairly robust whisky selection, Bobby's Rabble is one of the best value spots for an unpretentious drink in Central and Sheung Wan.
Read more
36
Better known for its pretty fab Italian food, Pirata also serves up a mean series of cocktails. The drinks menu is small but focused and nearly everything on it is a winner, whether the fruity Dolce & Banana or the fiesty Germano Mexicano made with mezcal and fresh ginger. Did we mention there's a dedicated vermouth bar, too?
Read more
35
The gentrification of Sai Ying Pun was officially underway when Ping Pong popped up in the neighbourhood. A stylish Spanish-style gin bar in a former ping pong hall, the space is gorgeous. Thankfully, just as much thought has gone into the drinks as the swish interior.
Read more
33
An intimate and always buzzing space on Hollywood Road, La Cabane is a great space for anyone seeking an extensive wine list – 350 different wines from France and the New World sourced directly from individual wine makers and nibbles (the kitchen is open until 11pm).
Read more
31
Whisky@Stables transports you to the Victorian era for an enjoyable dram a two. There are more than a hundred different types of whisky available – from Scotland, Japan, Taiwan, Sweden and India – and the cocktails are highly accomplished.
Read more
Hong Kong's 50 best bars
30
A small spot on Hollywood Road beneath the escaltor, what Rummin' Tings lacks in space it makes up for in spirit. Speaking of which, the rum selection is here is ace. Whether it's dark, white or gold you're hankering for, you're sorted here.
Read more
29
With bars like Kowloon Taproom, T.A.P, and The Oak Crafted Yau Tsim Mong is officially the place to be in Hong Kong for craft beer. Best of the lot is this place, a cosy, modern and robustly stocked little beer joint that requires no gimmicks to succeed. If you're keen on good brews in a pleasant, unfussy atmosphere, make The Madhouse your regular.
Read more
28
Probably Lan Kwai Fong's most hidden bar, Brickhouse is also one of the neighbourhood's best. The short list of cocktails, pisco sours and all, might not be much to write home about, but the extensive list of tequila on the other hand...
Read more
26
Tucked away on the ninth floor of The Loop building on Wellington Street, I Know John is something of a hidden gem serving up craft cocktails, gourmet hotdogs and niche wines and whiskies. If the libations don't win you over, the friendly staff are sure to.
Read more
25
If the many super serious cocktail bars littering Central feel too crusty, Honi Honi is here to help. Specialising in tiki drinks, this Wellington Street hangout is a Polynesian beach bar getaway in the heart of the city. The bar is home to the city's largest collection of rum and the excellent tiki drinks, served in adorable vessels, have made this spot perpetually popular.
Read more
24
In contrast to the traditional aesthetic of The Pottinger hotel and The Envoy itself, the drinks at this other Antonio Lai venture are decidedly futuristic-retro, offering avant-garde millilitres of meticulously measured, shaken and stirred concoctions. The drinks are some of the most eye-catching in all Hong Kong – the Dinosaur, a combination of vodka, Godiva chocolate liqueur, fresh milk, Milo ice ball and Milo powder served in a cracked dinosaur egg, is a stunner.
Read more
23
Angel's Share may be a whisky bar but its merit doesn't end at the fact that it has an extensive range of whiskies in stock. The cocktails, too, are fab, whether it's a tweaked old fashioned you're after or something more original.
Read more
22
Bitters & Sweets is a far more adventurous proposition that Lan Kwai Fong just down the road. Head mixologist Derek Tsui has prepped a creative menu that includes cocktails like the Snickers (a mix of peanut butter vodka, amaretto, frangelica and cocoa) and February 21st (Campari, pink grapefruit and rose ice). Don't skip the desserts, though – the smores are a definite winner.
Read more
21
Mezcal is suddenly a thing in Hong Kong and Coa is one of the agave spirit's best evangelisers. The space is pleasant, even if we've seen industrial chic done a 100 times before, but it's the extensive mezcal and tequila menu where the bar shines. Home to the most extensive and in-depth collection in the city, there's simply no better place to head if you fancy either spirit or a cocktail based on them.
Read more
Hong Kong's 50 best bars
20
An upmarket cocktail bar located in the realm of Hong Kong's least discerning drinkers, in Lan Kwai Fong, Employees Only is helping to raise standards in the neighbourhood. Not only are the drinks of a high standard, the convivial bar staff make it one of the few decent bars in the city where you can have a solid conversation with your bartender.
Read more
19
Hong Kong is stuffed with good whisky bars but, lately, a number of gin specialists have popped up. Way ahead of the curve all along has been Antonio Lai's Origin. The focus on gin is no gimmick, with an array of tantalising cocktails making good use of the spirit, such as the Green Hornet, made using pandan leaf-infused gin, and the Basil Smash, that features basil-infused gin and bitters.
Read more
18
Housed next to the Police Married Quarters (PMQ) in Central, Aberdeen Street Social is the most ambitious project by the team behind 22 Ships and Ham & Sherry. With a mix of custom classics – think a mezcal old fashioned or an upside-down martini – as well as complex specialities that feature ingredients like blackberry agave, thyme salt, malted soy milk and Lactobacillus casei, Ab Street Social never fails to surprise or delight.
Read more
17
Tradtionally a location more often considered when hungry rather than thirsty (chalk that down to the shadow cast by culinary director Tom Aikens), The Pawn has begun winning serious plaudits for drinks. Credit for that belongs to bar manager Tunny Grattidge's recent revamp of the Wan Chai heritage spot's drinks menu. Using botanicals from the venue's rooftop garden, the drinks run the gamut from light and refreshing to bold and arresting.
Read more
16
Another of Antonio Lai's projects, Quinary is decked out like an immaculate factory, with concrete-floors, filament lighting and meshed gates. The bar originally made a name for itself in 2012 serving up some pricey, though excellent, drinks. These days, the prices are standard among the city's top bars but Quinary still remains a cut above when it comes to the quality of its cocktails.
Read more
15
From day one The Woods has justifiably enjoyed a reputation for hardcore, experimental mixology. With a menu bursting with specialist liquors, house-cured ingredients, infusions and hybrids of all kinds, ordering up a drink here is always an exciting proposition. If you're tired of the classics, head down to The Woods.
Read more
14
Long established as one of the best bars in Hong Kong, if not Asia, the cocktails at Lobster Bar are measured perfectly and the beers come in frosted pewter mugs to add an exceptionally classy touch. No staid hotel bar – the establishment is house in the Island Shangri-la – Lobster Bar is constantly evolving, ensuring it stays among the best of the best.
Read more
13
This buzzing, two-floor bar and Japanese restaurant has outposts in Europe, Asia, the Middle East and the USA, such is its quality. There's a well-stocked bar of Japanese sakes and whiskies. But it's bar development manager Arkadiusz Rybak and his knack for visually appealing cocktails that's landed Zuma in the upper eschelons of Hong Kong's bar scene.
Read more
11
With its grungy aesthetic The Pontiac is almost unique within Hong Kong's upscale cocktail scene. But it's not just the dive bar vibes and rock heavy playlist that have made this Old Bailey Street spot such a popular destination. The drinks are spot on, especially the classics, and the staff are among the most fun and engaging in the city.
Read more
Drinks with a view
Whether you're planning a special date night or just looking for somewhere in the clouds to get away from it all, these are Hong Kong's best rooftop bars.
Read more