Heads up! We're working hard to be accurate – but these are unusual times, so please always check before heading out.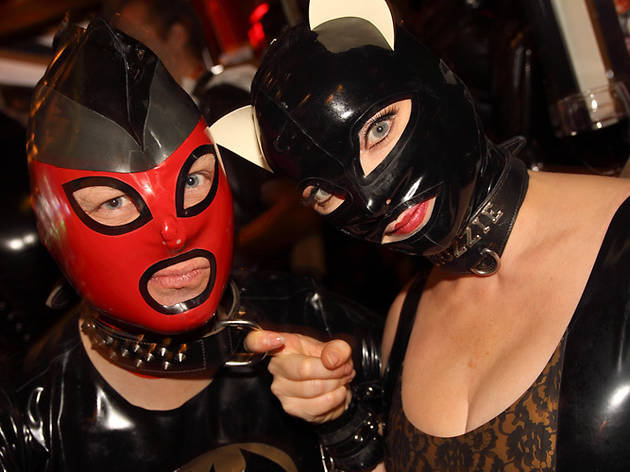 1/13
Rubber Cult is the UK's only total rubber event – nothing but latex is worn by guests, staff, models in the fashion shows, and performers in the cabaret. The club space incorporates photography and exhibitions from artists specialising in rubber-themed images. There is rubber fetish play equipment, a rubber dungeon, and rubber medical installations. Music is kept low so that attendees can chat about their love for rubber. From total incapsulation outfits to itty bitty bikinis, you can don what you like – so long as it's made of rubber. There's even a shining service to make sure your rubber is polished and so shiny that it makes Mr Sheen green with envy; silicone sprays are banned, as with so many people walking around in rubber, they could make floors and surfaces dangerously slippery. 

Basically, Rubber Cult is all about RUBBER. Got that? We'll stop rubberting on about it then.More information here.Photo: John Fuller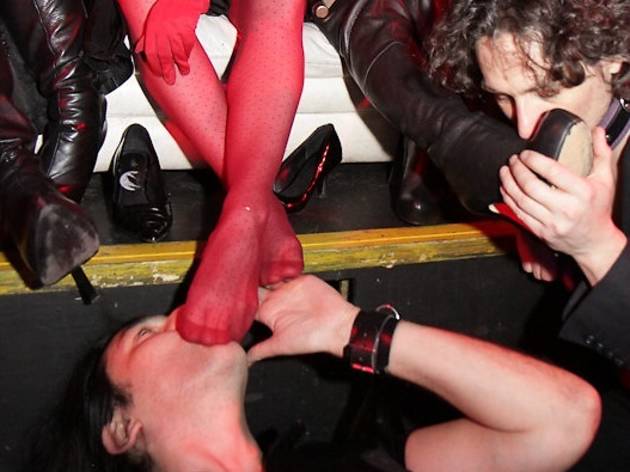 2/13
Good evening, and welcome to the Female Worshipping Forecast. General synopsis at Club Pedestal: a night that centres around the enjoyment and entertainment of females, where the girls are truly on top, and where submissive men come to serve, spoil, wait upon, bow before, give foot massages to, bring glasses of Champagne for, do the bidding of and generally act as willing slaves to dominant women. Extremely friendly, empowering and indulgent for lasses, and ball-shrivellingly brilliant for subby boys. 

Weather: Thundering paddle and cane blows are likely to rain down upon the bottoms of gents using the 15+ pieces of dungeon equipment, which are spread across the club. Some are in the DJ rooms, so that strikes can be synced in time to the beats of the music, while others are in quieter spaces, where the crisp thwack of a whip being cracked against a bumcrack can be fully heard and savoured. Visibility: Look out for the House Slaves, who wear distinctive red collars, and who are on hand to cater to the wishes of all female guests – whether that includes bringing them strawberries or polishing their boots using their shoe shine kits. Gale warning: 'Gail Warning' would be a great name for a drag or burlesque artist, and Club Pedestal frequently features live acts such as boylesque troupes, comedians and kinky performers, as well as 'Best Dressed Man' competitions where dominatrixes judge which of the men-maggots have tried the hardest to please them with their costumes.

 Sole: If you're into having women walk all over you – literally – then try the trample cage, where goddesses in high heels stomp upon the prone bodies of grateful male wretches.

 Dogger: No, that's a different fetish entirely.Visit the Club Pedestal website for details of upcoming events.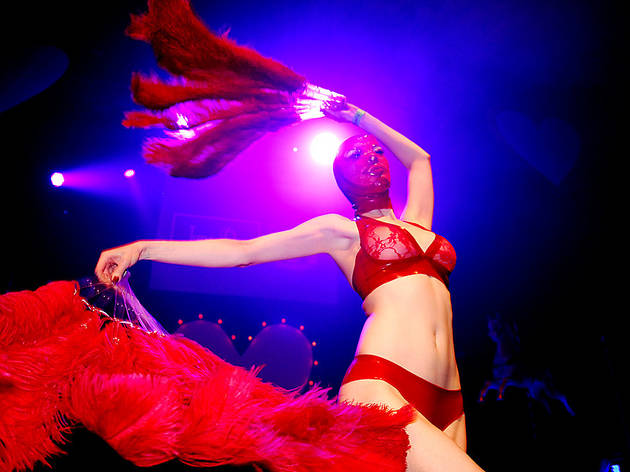 3/13
The big one. The world's largest fetish and fantasy club, started in 1990, a visit to Torture Garden (affectionately referred to as TG) is considered a rite of passage for those wishing to explore and expand their sexual horizons. It's worth going just to look at the fashions; the dress code states that attendees shouldn't even bother queuing for entry unless they're wearing something that would turn heads and elicit stares on the street, so partygoers' costumes will have your eyes on stalks (although that's not where the 'Garden' name comes from; it's a reference to a dark French novel about a sadist who likes to watch such horrors as flayings and crucifixions, juxtaposed against a beautiful outdoor setting in China). 

Music is varied, more smoothly mixed than a masterchef's crepe batter, and guests actually dance in addition to playing in the dungeons and dark rooms; look out for TG founder David on the decks, as well as manager Charlotte and the excellently energetic Rockit Riyad. The stage shows are the stuff of lewd legend: Dita von Teese made her UK debut at TG; there are frequently hardcore body modification and manipulation demonstrations featuring everything from extreme piercings to contortion to people being suspended from ropes attached to hooks poked through their skin; and it's not uncommon to see fireworks been set off from performers' orifices, paint and milk being shot out of vaginas, and lasers shining from the bumhole of a trapeze artist. 

There's all sorts growing in the Torture Garden. We could make all manner of sexual/gardening puns about rooting and shooting here, but we'll just say that TG offers top class alternative adult entertainment in spades.For full listings, visit www.torturegarden.com.Photo: Dafydd Owen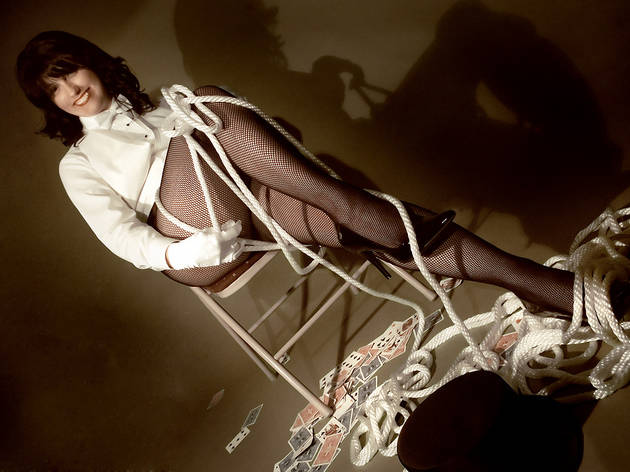 4/13
Into shibari – the Japanese art of rope bondage? Then you're bound to enjoy Bound: a bi-monthly event featuring shibari performances from international artists, skill-exchange workshops, and a chance for new tying talent to showcase their skills on stage and get constructive, supportive feedback. 

The evening was founded by Esinem – London's premier rope bondage expert, who haute couture fashion designer Tom Ford consulted when developing his bondage dress collection, and whose work features in one of Primal Scream's music videos. If you want to learn to 'speak tie', he's your guy. Bound is an event it's easy to get wrapped up in…For information on upcoming events, visit the ESINEM website.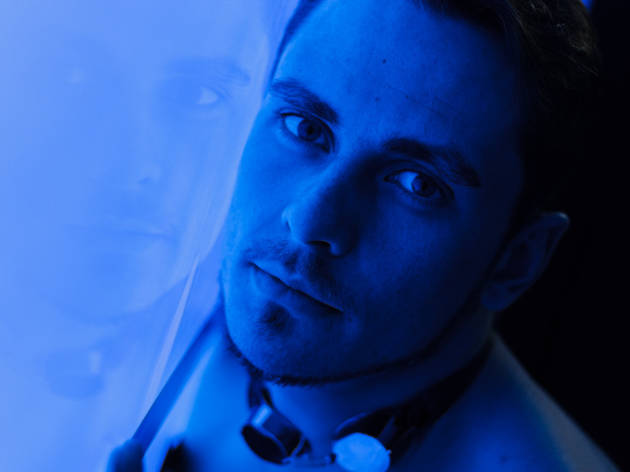 5/13
London's biggest and busiest gay sauna, Chariots Shoreditch is a bit like a leisure centre with club lights and sex. A pleisure centre, if you will. It boasts a heated swimming pool, two spa pools, a 30-man sauna, two large steam rooms, group showers, various chill out areas and a gym – basically, a lot of different ways to get wet and hot. Bathing suits are optional, so feel free to hang out with your wang out, take a skinny dip (or a beefcake plunge), or just relax by the water and watch the bathing beauties. If you're after a bang, you're likely to have more luck at Chariots than with a sauna-off…sorry, a sawn-off shotgun, but things can get as intensely wild or stay as mild as you like. 
 You can call ahead and book a professional massage, and the Chariots team also host weekly testing clinics to help you ensure you're playing safe. In addition to the Londoners heading there in search of hook-ups, a lot of out-of-towners opt to head to Chariots instead of heading to a hotel, as it's open all night and cheaper than a Holiday Inn, so it's a good place to meet new faces. There are additional Chariots' in Vauxhall (the second-biggest gay sauna in London), Waterloo, Limehouse and Streatham. Forget "swing low" – swing by one of these sweet Chariots venues and you're almost guaranteed to be cumming before you carry yourself home.Read more about Chariots Shoreditch.Photo: Michael Tuck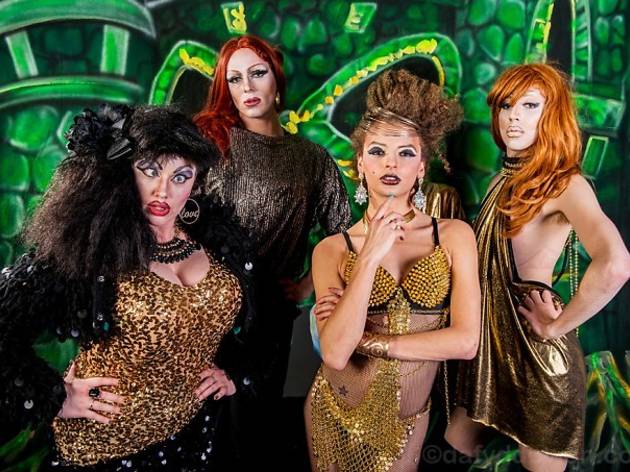 6/13
Nothing to do with curly hair styling (although you may well get to see lots of people's short 'n' curlies), Kinky Salon is a "arty sexy party" that's really quite unlike any other adult offering in the capital. It's non-profit, run by volunteers, and is an extremely inclusive, progressive, creative affair. 

Each event has a different theme; the venue is decked out with sets, cosy cubbyholes, play spaces and hot tubs, and all partygoers are required to wear relevant fancy dress. Outfits don't necessarily have to be overtly seductive though, and imaginative ridiculousness is encouraged. The idea is that silly, conversation-starting costumes act as good ice-breakers, create a relaxed sense of fun, remove the pressure on people to look conventionally 'attractive', and help to craft an atmosphere that takes guests away from the day-to-day and is thus liberating. This mental freedom is more likely to lead to sexual freedom – although nobody has to do anything they don't want to. Almost anything they do want to do, though, is likely to be encouraged and celebrated within Kinky Salon's 'playspace'. 

There's a strong community vibe: attendees often bring sweets, stickers or little toys to give to each other as gifts, or show off their personal party tricks in the open mic-style cabaret. There's always full access to welcome those with disabilities, and whether you're LGBT, queer, asexual or straight, you're welcome. Everything and everyone is accepted. And this acceptance makes Kinky Salon exceptional.For information on upcoming events, visit the Kinky Salon London website.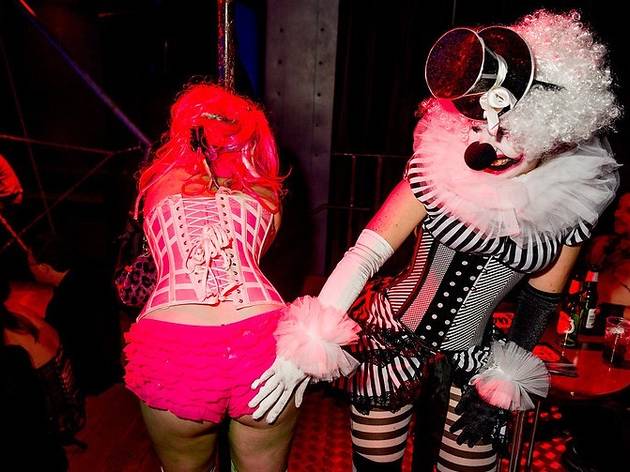 7/13
Get your rocks off while listening to rock. Or industrial, punk, metal, 80s, alternative anthems – anything but the standard fetish club staples of hard house and funk. Club Antichrist is an extremely friendly kink, dancing and live music event that's fiercely and loyally loved by the young and smiley crowd it attracts. It has an informal and fun party vibe, featuring live bands – from steampunk groups and comedy ukulele troupes to gothic, hardcore or vocal harmony acts – and performers ranging from the silly (Smurf burlesque) to the stunning (fire hula hooping, magicians, bellydancing with swords) to the shocking (catheter shows, a chap wearing a dead swan on his back, and a bloke being covered in cold vegetable soup and fisted before having certain parts of his anatomy sewn together with a needle and thread). 
 Every night opens with the now legendary 'Satan's Strip Show': an amateur striptease where anyone can take to the stage and perform either a practiced or impromptu routine in return for £50… but only if they get 100% nude. The uproarious, supportive applause that greets each participant reflects Antichrist's accepting, body positive outlook and community spirit. The last time we attended, a man on crutches dressed as a rasher of bacon performed a dance that involved spanking himself with a spatula and spinning his man-sausage in a helicopter dick finale. Afterwards, we felt strangely compelled to go and buy a hot dog from the food stand in the main room.

 There's a dungeon and play areas; a couples' darkroom; happy hours at the bar; ushers carrying trays of free sweets, condoms and lube; and a themed photobooth. If you find some other fetish clubs a bit serious or snooty, Antichrist is the antidote.For event listings, visit: clubantichrist.com.Photo: MarcusT Photography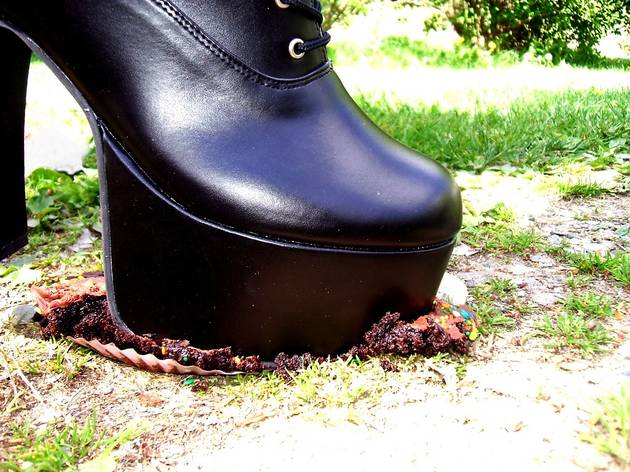 8/13
Club Subversion is a long-running monthly kinky/BDSM play and dance event hosted by Mistress Absolute (a woman so supremely dominant that the sole reason gravity exists is to help men drop to their knees before her), and Bobette – a 'girly-boy' club photographer who's documented the kink scene for decades and whose camera has seen things that'd probably make the Marquis de Sade need a sit-down, a sugary cup of tea and a paper bag to breathe into. With a strict fetish dress code, Subversion provides delectably infernal dungeon equipment, medical-themed areas for those who want to play doctors and nurses, a couples' room, chill out zones and even dressing gowns for those who want to nip out for a cig without flashing their exposed tittytittybangbangs or freezing their latex-clad wangdangdoodlehammers off. A top notch team of House Mistresses, Masters and Subs ensure that both seasoned players and novices have a mouth-watering, gusset-dampening good time. Sub//Version 2 is a bi-monthly, play-only take on Subversion without the DJs, and where slightly more relaxed dressing is fine. Smart, all-black attire will get you through the door. With so much on offer, it's 'version on the ridiculous not to try either night at least once.For details of upcoming events, visit the Club Subversion website.Photo: Tanya Dawn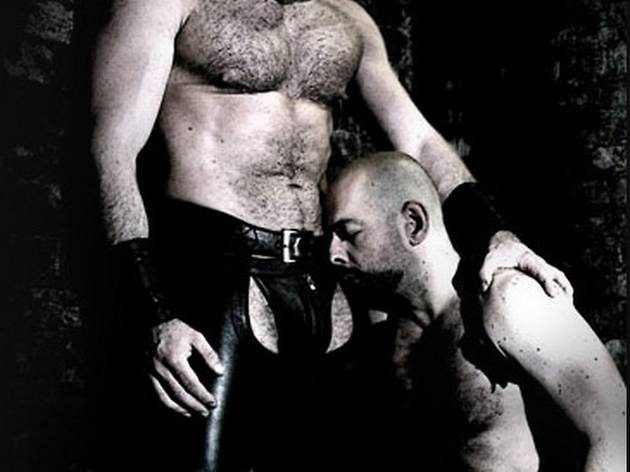 9/13
If steel toecaps make you moist, head to The Hoist. This infamous nightspot is at the harder end of the gay fetish scene, and has a very strict dress code. You absolutely will not be admitted unless you're wearing boots – although footwear is optional at their Stark Bollock Naked events (the biggest nude parties in Europe) and trainers are allowed at Nearly Bollock Naked nights, as are shorts, boxers and jock straps. Limited pairs of boots are available to borrow, so you might just be a shoe-in to gain entry if you head to the club on a whim.

 There are specific evenings to cater for those into fisting, skinheads, spanking, uniforms, suits, leather latex, sportswear and neoprene. Attractions include gogo dancers and X-rated floor shows, porn cinemas, cruising play mazes, and – next door – Bar Berlin, which only lets the first 69 men in the queue come in to lap up the wet zone and sneaker 'n' sox play pit. 

Expect a thrillingly dark, sleazy atmosphere and an intensely sexual time, whether you're into bears or stripping bare.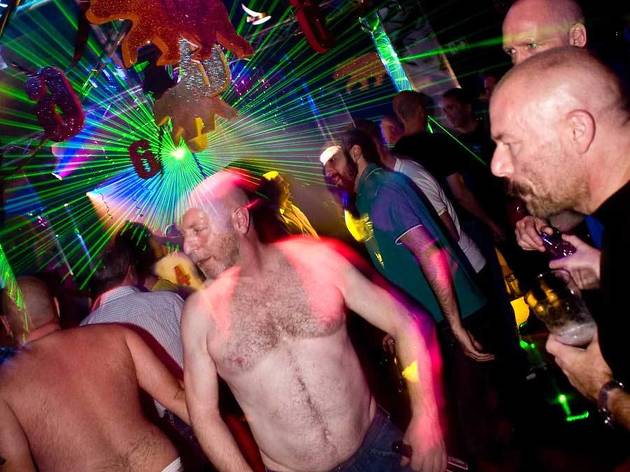 10/13
XXL is a weekly men-only club for bears, cubs, chubs, muscle bears and the guys that love 'em. Value for money and welcoming to all ages and backgrounds, with a zero-attitude door policy, it's been running for 14 years and still isn't even remotely out of breath. 

If you're into rugged builder types, their 'Construction' nights will have you getting hard over guys in hard hats. Their 'Tattoo' evenings are great if ink is your kink. XXL also stage one-off parties with themes like 'Bearbarella', and even have their own free Grindr-style app that helps you connect with fellow partygoers and like-minded blokes. 

So, should you give it a go if this is your cuppa? Do (muscle) bears shit in the woods?For event listings, visit: www.xxl-london.com.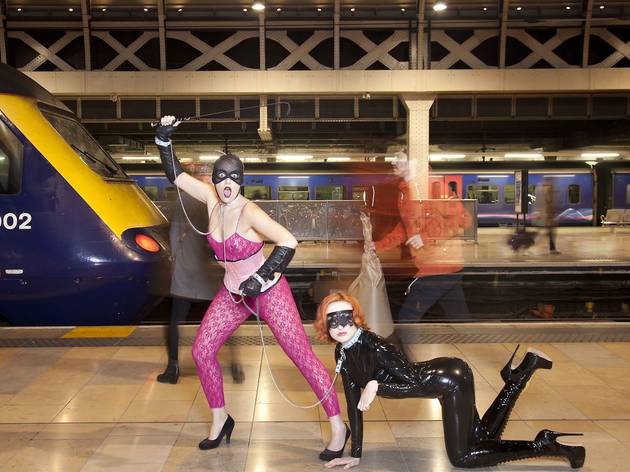 11/13
Killing Kittens events take their name from the saying that 'Every time you masturbate, god kills a kitten.' If that were true, the RSPCA would have shut down KK's decadent, hedonistic sex parties a long time ago, as a whole lot of tugging and rubbing goes on at them – plus a great deal of sucking, licking, flicking, moaning, groaning, pumping, humping, and people going down on each other goes down, too. 
 KK is aimed at 'the sexual elite': if you want to attend, you have to apply for approval before you can buy a ticket: a process that includes sending photos of yourself for assessment. The club claim that they 'don't want supermodels – just people who take care of themselves' in order to maintain an exclusive, indulgent, 'Eyes Wide Shut'-type atmosphere (and attempt to weed out weirdos). 
 They also aim to be 'female-oriented': no single men are allowed to the parties, which take place at a variety of penthouses and swish London locations, and women are very much in charge of making advances to initiate play. There's a posh 'masked ball' feel to events (and plenty of unmasked balls on display, too); guests don fine lingerie, suits or eveningwear; oysters and champagne are served; and rooms are lit by candles and chandeliers, with luxury sex toys and condoms provided.

 Since their establishment in 2005, the Killing Kittens crew have branched out into a number of different ventures. 'Silver Kittens' parties welcome over 45s; 'Sankktuary' retreats offer sensual yoga, tantric breathing exercises, erotic speed dating and seriously hot hot tubs in the Essex countryside; 'Bookklub' workshops held at venues such as Chelsea lingerie boutique Petits Bisous lecture on topics such as G-spot stimulation; cabaret nights feature fire burlesque acts and risqué performers; and then there's Torture Kittens – a collaboration with fetish club Torture Garden that incorporates dungeon equipment and more of an S&M flavour. It's the cat's whiskers.For event information, visit: www.killingkittens.com.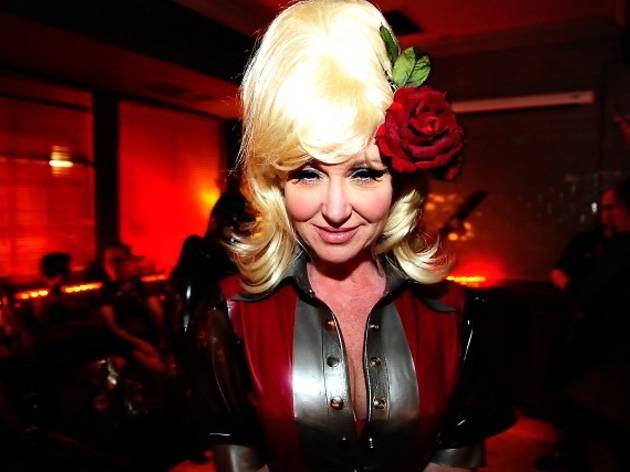 12/13
TONY BETTS
Run by indomitable domme and famous long-time London fetish face Miss Kim, Club Rub is a very friendly, down-to-earth kink night for those who like their events without snobby pretence. Well-behaved single fellas are welcome; DJs play a house soundtrack to accompany the sounds of pounds, smacks, and whacks; and there's always plenty of play equipment such as swings and slings from which to dangle yourself and your wangle, stretchers to stretch out on while a mistress wraps you from top to toe in restrictive clingfilm, and pommel horses on which to be pummeled. 
 Each outing of Club Rub is themed (think Pirates & Wenches or Doctors & Nurses), and Miss Kim always gives tonnes of innovative, affordable costume ideas on her website, so you don't have to spend a tonne to look the part. Check out her tips on how to make a gimp mask from a silk scarf – it's not just rubber at Club Rub.The next Club Rub is on Jan 24 at The Garage. For full event listings, visit: www.club-rub.com.Photo: Tony Betts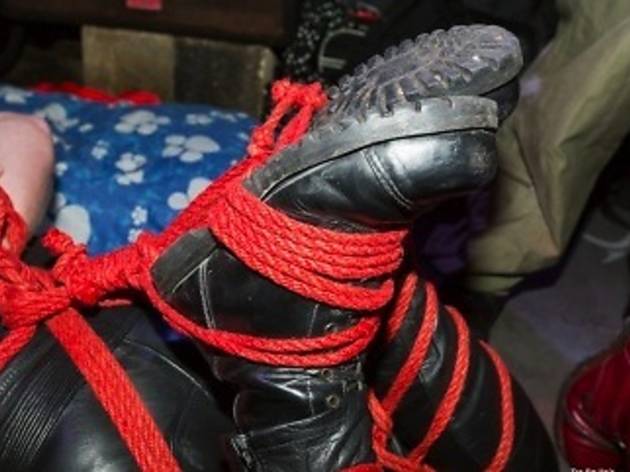 13/13
This cheap and rear-ful gay/queer club, located beneath Central Station bar by Kings Cross (which conveniently offers affordable bed & breakfast if you're coming from out of town), caters for practically every fetish in the book with an array of regular themed nights. For starters, there's the raunchy 'Paunchy' – an evening for big-bellied men and the guys who admire them. 'A.B.C – Adult Baby Club' is for folks into wearing diapers and sucking dummies (people of any gender and persuasion are welcome to this one), while 'S.O.P.' is for those into watersports. Jetskis entirely unnecessary. 'Dirty Heels' ticks the very specific box of being aimed at men who love to wear stilettos without being "devoid of their masculinity"; it's fine to dress in lingerie or a suit, but wigs, make-up, and anything to 'transvestite-esque' is a no-no. Well, if the shoe fits, we suggest you get down to The Underground and enjoy strutting around in it.For event information, visit: theundergroundclub.net.
Adult nights out in London
Searching for some seriously sexy club nights and specialist parties? From steamy saunas to full-on fetish nights, here's our guide to the sexiest nights in London
If you're looking for adult nights out in London, you won't be disappointed. Whether you're into fetish nights, kink nights, BDSM nights, rubber nights, leather nights or gay adult nights, the capital has you covered. Here's our pick of the grown-up London clubs that are fun, friendly and as full of surprises as a glory hole. Fasten your seatbelts... it's going to be a bumpy night.
Support Time Out
We see you're using an ad-blocker. Ad revenue is Time Out's main source of income. The content you're reading is made by independent, expert local journalists.
Support Time Out directly today and help us champion the people and places which make the city tick. Cheers!
Donate now