Claudia O'Doherty – Pioneer review
Pleasance Courtyard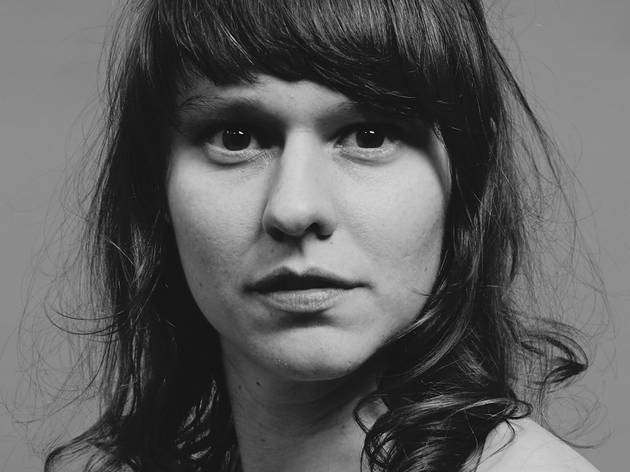 If we had to describe Claudia O'Doherty in one word (luckily we don't, see below) it would be 'ambitious'. Last year, her serious-piece-of-theatre-that-goes-wrong, 'The Telescope', was a risky concept that massively paid off and bagged her a Foster's Edinburgh Comedy Award nomination. This year's offering, 'Pioneer', might not be as conceptually ambitious, but she's upped the stakes technically.
Using two projectors – one onto a backdrop, the other onto a gauze screen at the front of the stage – the quirky Aussie's able to interact with hologram-like versions of herself for 'An Evening with Claudia O'Doherty'. If there's a message, it's that the show's 'expensive', thanks to being sponsored by electronics company Pioneer, who have been 'incredibly hands off'.
The theme for the hour is, essentially, Claudia herself, and her lust for showbiz success. She adopts a super-confident, faux-arrogant persona, who's too self-obsessed to notice her own obnoxious arrogance, but she's more than willing to sacrifice her art for a big sponsorship deal.
Strangely, it's a messier show than 'The Telescope', but it's much funnier: 'Pioneer' is packed full of sharp, unexpected jokes, and O'Doherty somehow manages to be irresistibly charming through her utterly charmless persona. Almost inevitably, there are a few technical hitches in tonight's show, and not all the effects work seamlessly. But you certainly won't see anything else quite like 'Pioneer' on the Fringe: it's intriguing, inventive and just the right side of peculiar.
See 'Claudia O'Doherty – Pioneer' at the Edinburgh Fringe
The latest Edinburgh Fringe comedy reviews
It's near impossible not to have a good time at this disco with a comedy twist
Read more
A hugely impressive debut show crammed full of inventive ideas
Read more
The king of British anti-comedy's back with more shambolic brilliance
Read more
Munnery's sequel to 'Fylm-Makker' is as inventive as ever
Read more
Sophisticated, beautifully written misanthropy from a superb newcomer
Read more
MOR observations about rage from a mild-mannered comic
Read more
An ambitious slow-burner that just about pays off
Read more
Honesty and heart behind self-loathing silliness
Read more
A smart, assured debut from a refreshingly nonchalant, deadpan talent
Read more
Show more
See all Edinburgh Fringe comedy reviews