Heads up! We're working hard to be accurate – but these are unusual times, so please always check before heading out.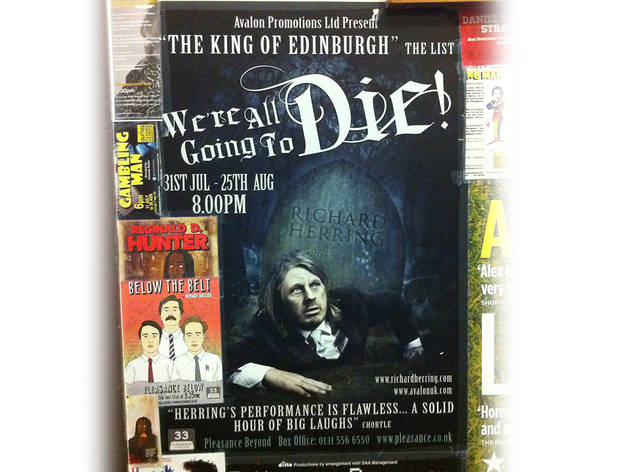 1/8
The title hits you straight away, with 'Die!' smacking you right in the face. It's only when you look closer that you see Richard Herring's name engraved on the tombstone. Perhaps not having your name clearly visiable is a hindrance when trying to sell a stand-up show, but we loved it.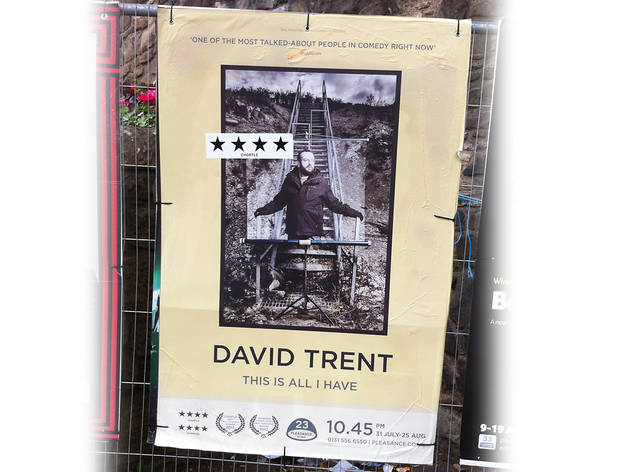 2/8
Another wonderfully subtle design. The simple font used for Trent's name and show title don't distract from the fun optical illusion taking place in the photograph.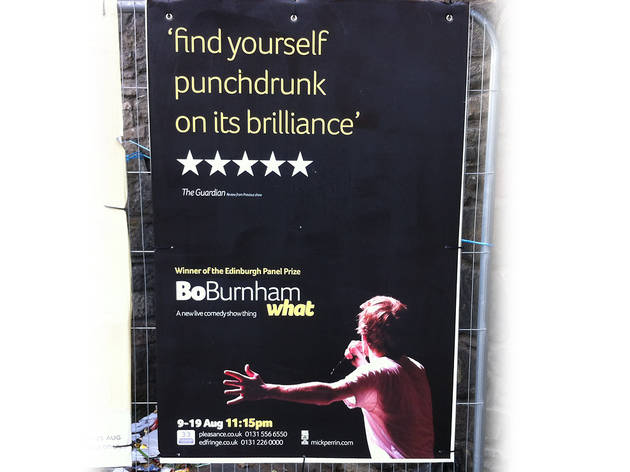 3/8
Simple, but effective. One massive quote from a five-star review, and an on-stage picture that doesn't even show Burnham's face. We took this poster to mean, 'Just trust us, this will be good'. And it was: read our review of Bo Burnham – What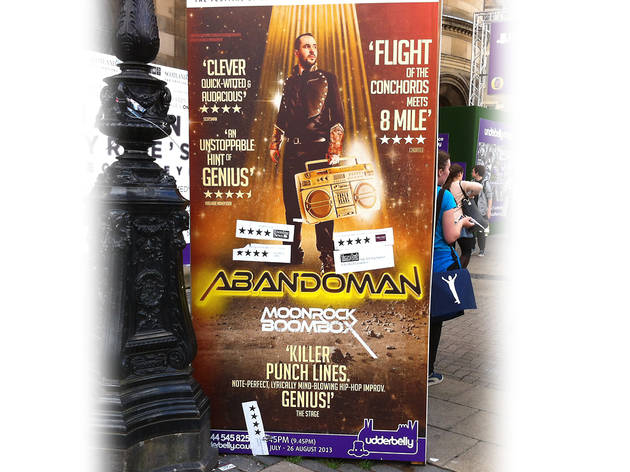 4/8
Everyone loves a space theme, that's a fact. Rob Broderick of Abandoman looks like he's about to be beamed up into the cosmos in this epic poster. Good work.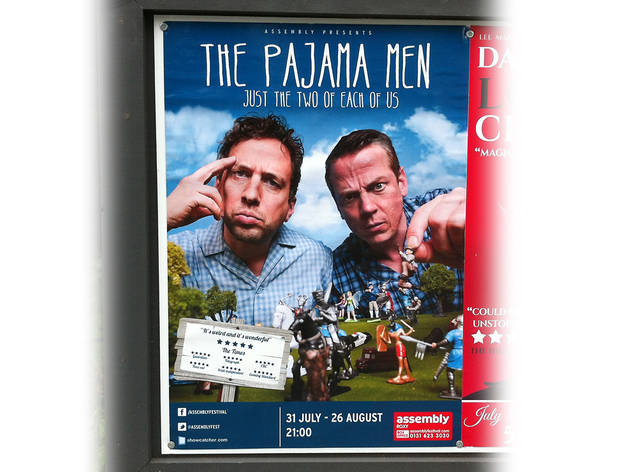 5/8
US physical comedy duo The Pajama Men are famous for seamlessly switching between characters. You could say they're in total control of their own little world… Oh, look, that's kind of in control of their own little world in their poster…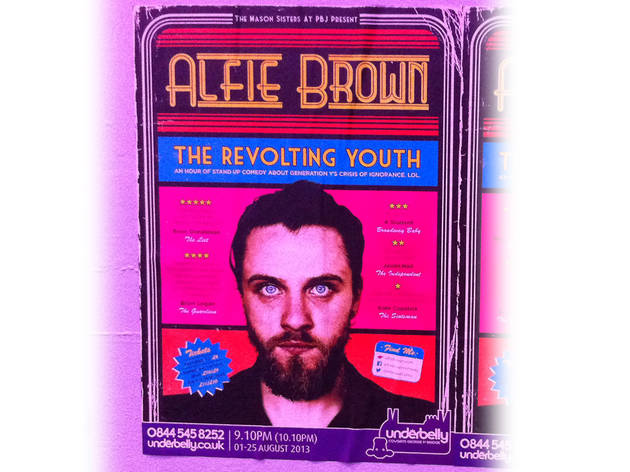 6/8
The juxtaposition between the friendly, jukebox-esque neons and Brown's slightly menacing face make it difficult to quite work out what kind of show this is going to be. Then you read the show title… and then the press quotes, ranging from one- to five-stars, and you realise Brown's deliberately saying 'I'm not for everyone'. He's not, but we love him.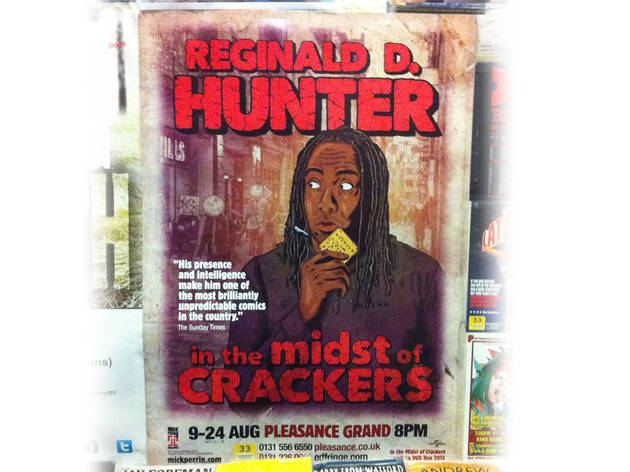 7/8
Well, this is just plain funny, right? A cartoon version of Reggie D, nibbling on a cracker, mocking the deliberately provocative title. Excellent.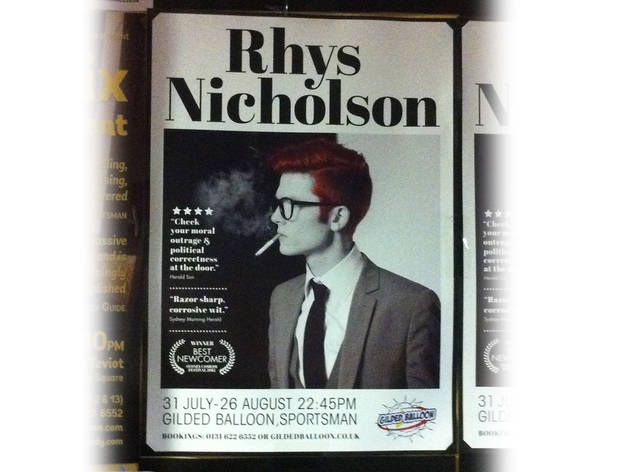 8/8
How classy. Neat font, sharp suit, Cary Grant-esque pose… It feels like you should take your mum to see Rhys Nicholson. You shouldn't, his stand-up's as filthy as they come (no pun intended).
Edinburgh Fringe 2013: the best (and worst) comedy posters
The great and the not-so-great of 2013 festival poster art

Yes yes, all that matters in Edinburgh is whether you have a good show, you receive positive reviews, word-of-mouth spreads, etc etc. But, let's face it, more punters at the Edinburgh Fringe will catch a glimpse of a comedian's poster than will ever see that comic's show.

Posters and flyers are crucial at the Fringe: some acts pay through the nose to have their image plastered across the city, and we hate to think about the amount of trees cut down so that thousands of flyers can be dumped in a bin at the end of August.

During our visit this year, we snapped any posters that particularly caught our eye, both good and bad. Flick through the galleries below to see our picks of the best (and worst) posters from the 2013 Edinburgh Fringe.