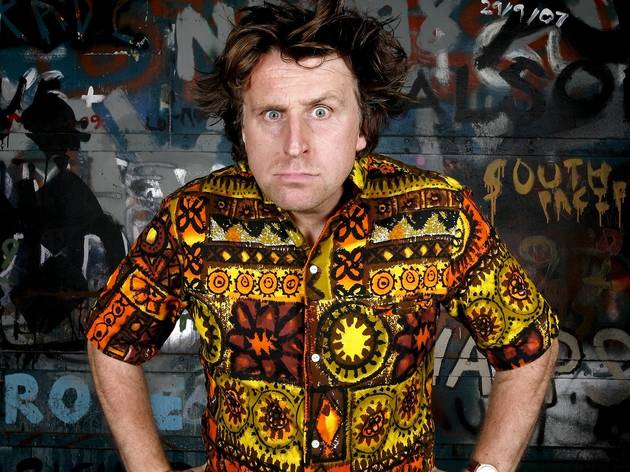 Fluffy observations, uninhibited outbursts, long-form storytelling… they're all very well. But let us not forget the purest, and sometimes most effective, form of stand-up: the good old-fashioned art of one-liners.
A raft of crafty jokers are visiting our city this year, but this week king of the zinger-slingers, Milton Jones, is in town, whipping Hammersmith into hysterics every 20 seconds with his surreal, elegantly written bon mots.
The 38-year-old 'Mock the Week' star has a joke on just about every subject imaginable. Don't believe us? We fired ten topics over to the loud-shirt-wearing gag man, and he shot back with ten one-liners from his joke vault…
Crime
'Years ago I used to supply filofaxes for the mafia. Yes, I was involved in very organised crime.'
Hobbies
'Recently I've been attending meetings of Eavesdroppers Anonymous – not that they know!'
Yorkshire
'The Grand Old Duke of York – he was a manic depressive. Well, when he was up, he was up…'
Health
'As a child I had a medical condition that meant I had to eat soil three times a day. Lucky my older brother told me about it, really.'
Litter
'Keep Britain Tidy – chop off Norfolk and Cornwall!'
Holidays
'Recently I went on a ballooning holiday – I put on four stone!'
France
'I can't even count to ten in French: un, deux, trois, quatre, cinq, six, sept… Aarrgghh! Sorry, I've got a huit allergy.'
Old people
'We live in an uncaring society. I was in the park the other day watching an old man feed the birds, and after a while I thought to myself: I wonder how long he's been dead?
Literature
'Hopefully I've got a book coming out soon. Shouldn't have eaten it, really.'
World War II
'My grandfather is always saying that in the old days people could leave their back doors open. Which is probably why his submarine sank.'
Snap up exclusive discounts in London
Time Out's handpicked deals — hurry, they won't be around for long...