Tim Key introduces a poem you can personalise
The multi award-winner pens a poem exclusively for Time Out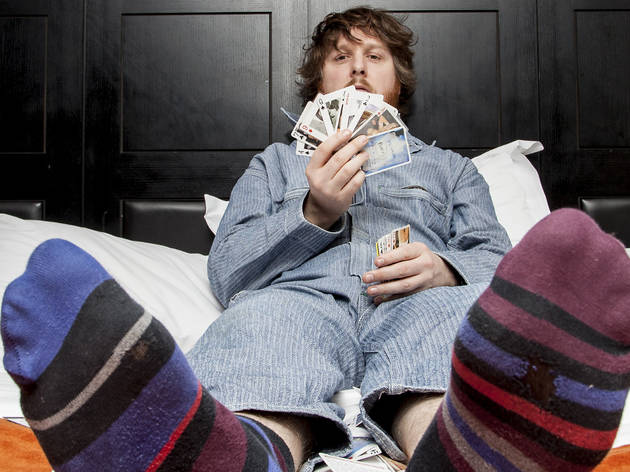 'Time Out's Comedy editor Ben Williams asked me to write a poem that people could personalise for themselves, which I – as a poet – thought was an affront. I did it, though. I don't think people will really enjoy it or think it's that personal, and because of my struggles to personalise it, I feel the rhythm is a bit screwed. Add in the fact that Time Out has a big readership, and this is a disaster.' Tim Key, 2014

Chris/Anne/Luther/Candice/a flamingo/someone else/I/Warren/your own name/Liz decided to gather some onions.

He/she/it/was fed up with his/her/its damn boss/pupils/workload/long thin legs/wife/situation.

She/it/I/the flamingo took a cab down to the fields and put on their onion gloves.

In front of Chris/Anne/this person/the flamingo/whoever/Annabel there was a gigantic field that rolled away between the hills and down towards the pea-green lake approximately 1.5 miles away.

Chris/Louise/Max/a Swedish guy/Sandra/a different flamingo/Keith/no one/you/me/it doesn't matter/Diane waded into the onions.

It was raining.

The person/bird filled their bucket and the water soaked their jumper/feathers through.

Sodden and shivering, the flamingos/Chris and Anne/you/insert your name/Paul Scholes/Chris stood by their/his/its onion bucket and attempted to hail cabs.

They would not stop, though. All of the cabs drove right past you/_______ .

Latest comedy features
'They want to extend the Northern line, but I think this is Morden adequate.'


Read more
The twee comedian and 'Harry Potter' star draws Time Out a few London-themed drawings
Read more
The hellraising US stand-up and Time Out favourite picks his favourite fellow comics
Read more
The Foster's Award nominee talks us through some hidden gems from his record collection
Read more
Musical comedians pick their favourite tracks by the king of musical parody
Read more
A scruffy, bearded man who plays to rooms packed with lefties. Is Liam Williams the comedy Jeremy Corbyn?
Read more
As part of the #TimeOutTakeover, reader Jen Wakefield meets sketch troupe Minor Delays
Read more
The Australian comedian has turned spiritual guru in his latest show. Here, he gives Time Out a quick relaxation lesson
Read more
This year's Foster's Edinburgh Comedy Award-winner. But what made this new show the funniest at the Fringe? We speak to the Aussie absurdist
Read more
Show more
See more comedy features