London's Christmas sandwiches ranked worst to best
Like it or not, lunchtime is about to get a whole lot more festive. Here's our run-down of the Yuletide sarnies to savour and swerve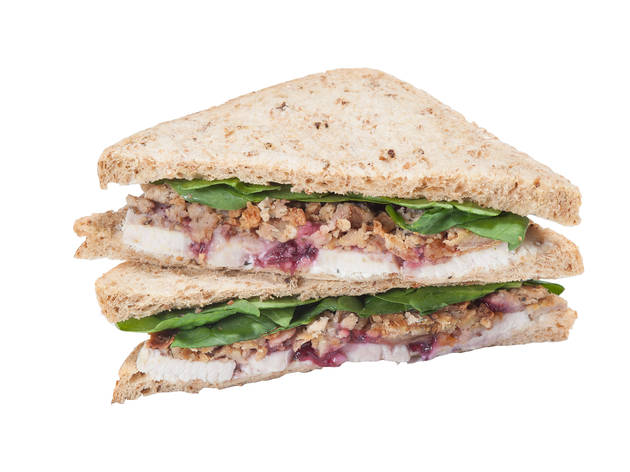 Christmas Sandwiches. These days, they're more synonymous with this wonderful winter holiday than attempted infanticide and passing out half-cut in front of 'The Great Escape'. And, my God, are there a lot of them kicking around.
To save you wasting valuable calorie allowance on some cheer-free, anaemic excuse for an Xmas sanger, we've done the decent thing and performed a taste test of 22 of them: because nothing screams 'Christmas' like piling the contents of an entire festive lunch into a carbohydrate wrapper. Hark! We're going to be sick.
RECOMMENDED: For more festive fun read our guide to Christmas in London
Christmas sandwiches ranked
22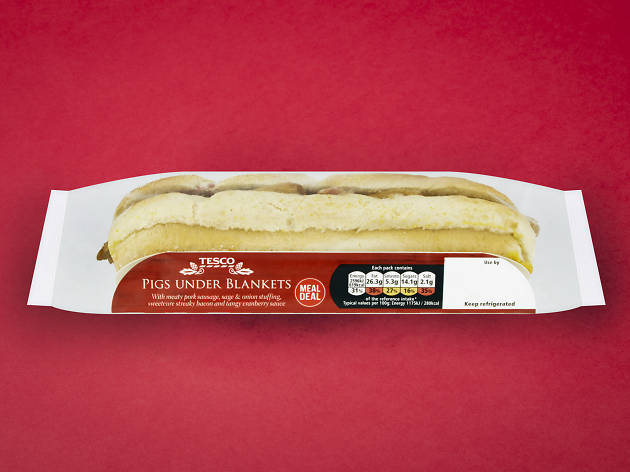 © Andy Parsons
Tesco: Pigs Under Blankets Sub
£2.35
Sausage sandwiches are nice. So are jam sandwiches. The way that this sanger slathers on sweet cranberry so thickly it's like it's trying to create a sausage/jam hybrid snack? Not so much.
21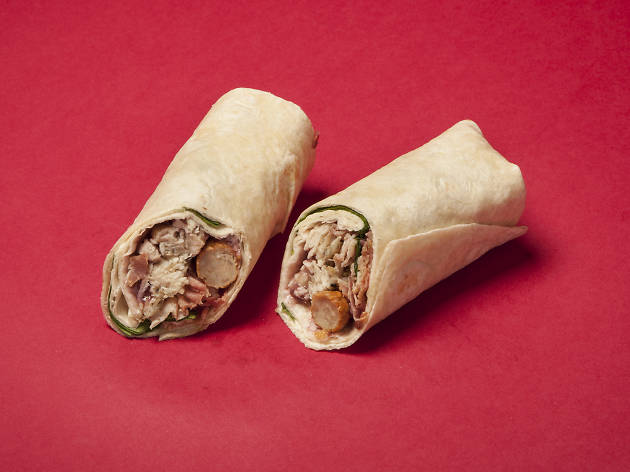 © Andy Parsons
Sainsbury's: Christmas Lunch Wrap
£2.35
More curious jam/sausage interplay, this time interspersed with mysterious orange bits and placed inside a wrap. Some people have very strange ideas indeed about what constitutes Christmas lunch.
20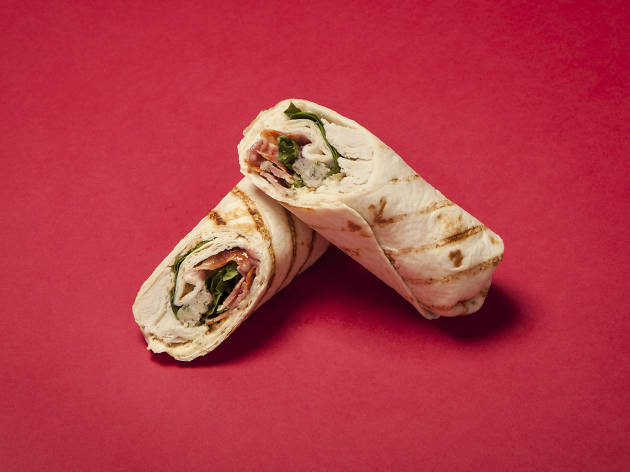 © Andy Parsons
M&S: Turkey Wrap Sandwich
£3
Given that Christmas is all about over-indulgence, eating a tortilla wrap does not exactly scream: 'Break out the sherry! IT'S JESUS TIME!' That said, this is a herby, colourful attempt at a Christmas wrap with a decent amount of filling.
19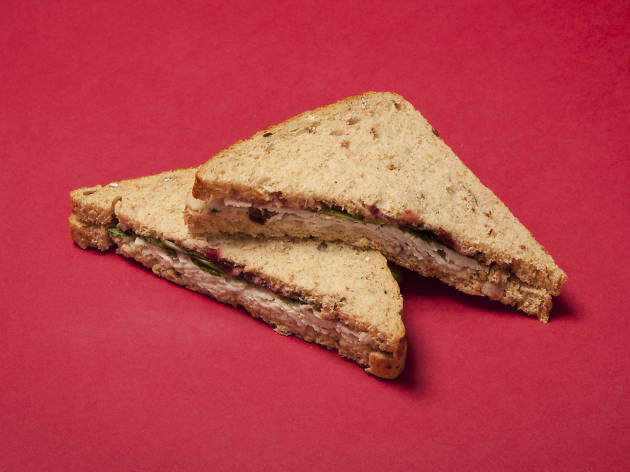 © Andy Parsons
Tesco: Turkey and Trimmings Sandwich
£2.35
The alarming way this glistens suggests that it has just been used as a mattress by a troupe of slugs, but it's actually a solid, sausage-heavy meat-fest that's like the meeting point between Christmas and a greasy spoon. A dirty sandwich, but one we kind of enjoyed.
18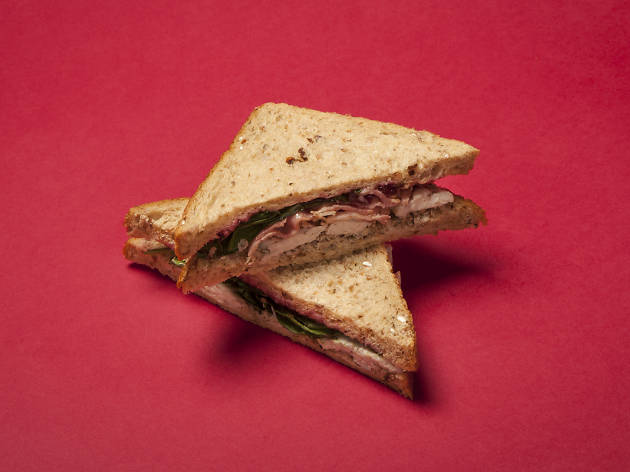 © Andy Parsons
Sainsbury's: Turkey Feast Sandwich
£2.35
'Fine', 'normal', 'standard': these were the comments of our tasting panel on a sandwich that is perfectly okay to eat. Not exciting, but not bad either.
17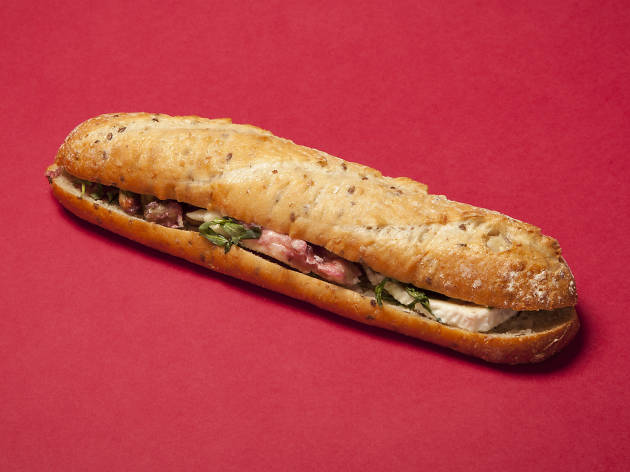 © Andy Parsons
Pret: Brie and Cranberry Baguette
£3.50
Ah, Christmas: that special time of year when people stuff bits of pistachio into French cheese then slather them with cranberry sauce. Right guys? No? Us neither. Still, this combo of creamy brie, tangy cranberry and the pleasing crunchiness of pistachios is pretty nice – if not particularly festive.
16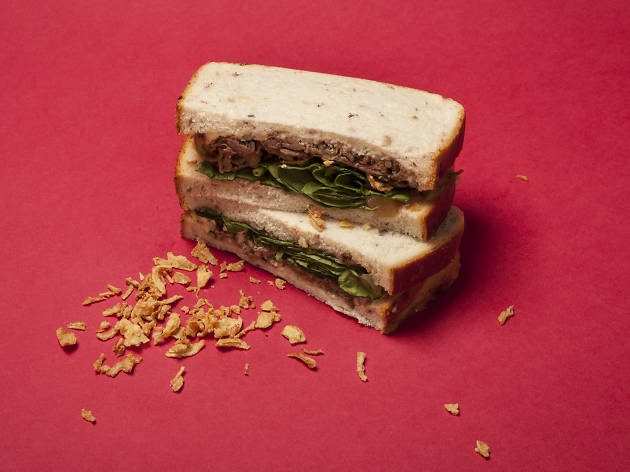 © Andy Parsons
Waitrose: Christmas Steak and Stilton Sandwich with Crispy Onions
£4.25
In a maverick attempt to combine lunching with DIY, this sarnie comes with its own plastic bag of onion bits to sprinkle on the sandwich. And, frankly, we liked it. We liked it A LOT. Especially as it combines it with a strong kick of Stilton. Would've been a lot higher up the rankings if it weren't for the inclusion of an utterly bizarre quince chutney.
15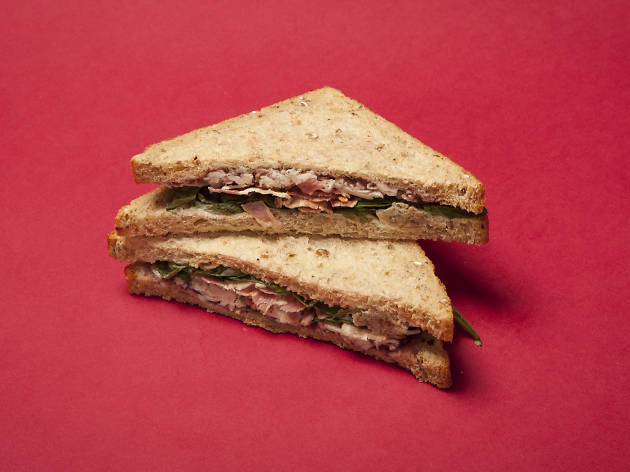 © Andy Parsons
Waitrose: Christmas Turkey, Stuffing and Bacon Sandwich
£3.20
As reliably Christmassy as pairs of unwanted socks and every bit as exciting. There is turkey, there is stuffing, there is bacon: it's a leftovers sandwich. Solid without being brilliant.
14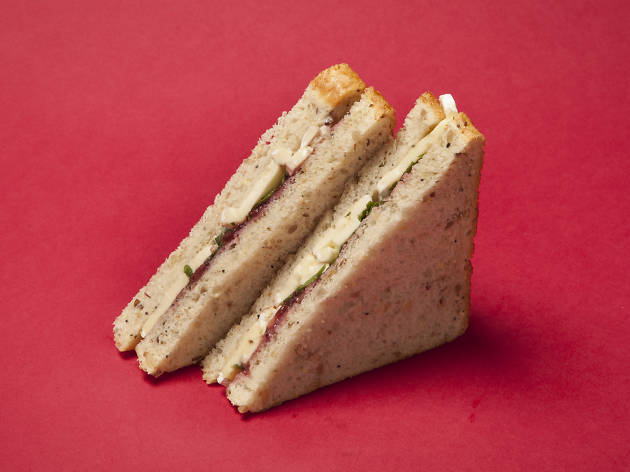 © Andy Parsons
Sainsbury's: Brie and Cranberry Sandwich
£2.20
For some people, nothing says Christmas like a perfectly fine cheese sandwich. Or at least that's what we assume the rationale is behind this brie-based sarnie being classified as a Christmas product. Decent, but not hugely exciting.
13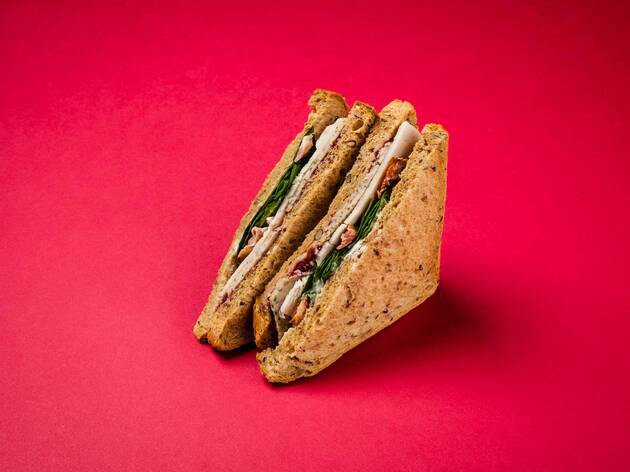 © Andy Parsons
Crussh: Festive Turkey Feast Sandwich
£3.95
First things first: this sandwich is way too expensive for our liking. That aside, it's a solid leftovers package featuring a decent slab of stuffing, bacon and a nice bit of cranberry to offset the meaty richness. We'd say that it could do with a bit of mayo, really, but it's a dairy-free affair, so perhaps that's a bit unfair. Fine. Absolutely fine.
12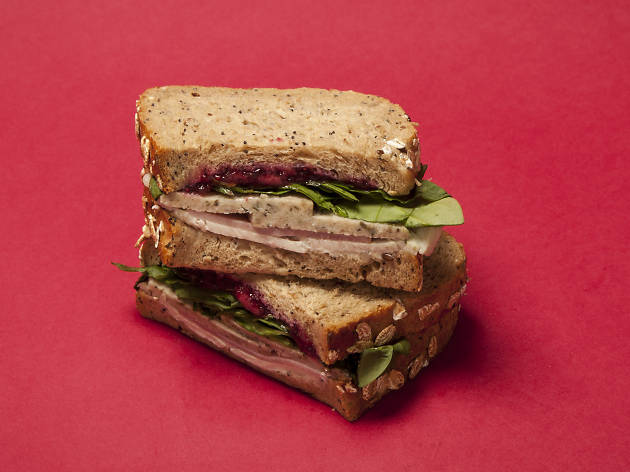 © Andy Parsons
Eat: Festive Full Works Bloomer
£3.95
Apparently Eat have never heard the old saying about not fixing things that ain't broke. This year they've stopped making far and away their best Xmas sandwich – the festive full works baguette – and have also decided to tinker with the formula of their meat-packed bloomer version. Now, alongside the smoked ham, stuffing and turkey there's a strange, lingering, clovey, bitter aftertaste. This is still a solid sandwich, but it's definitely less enjoyable than it used to be. Which is a real shame.
11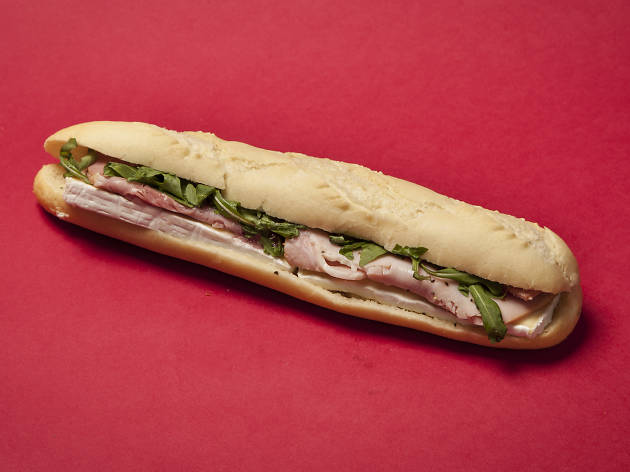 © Andy Parsons
Eat: Ham, Brie and Cranberry Baguette
£3.50
Thankfully the only change Eat has made to this festive fave is to add some smokiness to the ham. And so vast are the hunks of brie in this baguette that you could use them as house bricks, although we'd rather eat them. The soft, squidgy baguette did leave us feeling a bit dirty, but so what? This is office party season: 'tis the time of year to feel a bit grubby.
10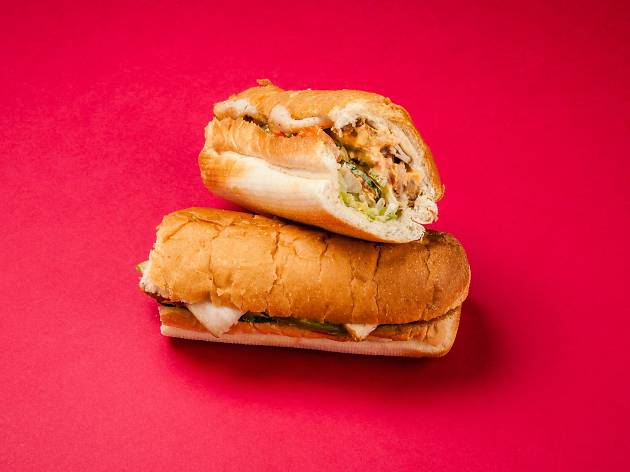 © Andy Parsons
Subway: Festive Feast Deluxe
From £3.50 for a six-inch sub (prices vary dependent on franchise)
It's always a bit difficult to review a Subway sandwich, because exactly what veg/sauce/salad goes into it varies from person to person. But that aside, this is a meat-fest of a sandwich: packed with so much turkey, stuffing, sausage and bacon that there's more animal than a Muppets drum solo. We like.
9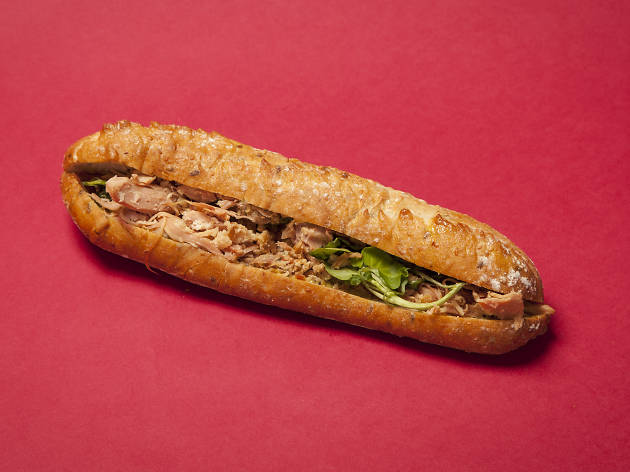 © Andy Parsons
Pret: Ham Hock, Stuffing and Apple Baguette
£3.99
This sandwich sounds like it was created by a stoned student: it teams watercress with stuffing, combines apples with mustard and then tops the lot with fat flakes of ham. It is, however, a flavour-packed triumph of tangy, meaty awesomeness. Now if you'll excuse us we're off to find a student, ply them with cannabis and then employ them as our personal sandwich chef.
8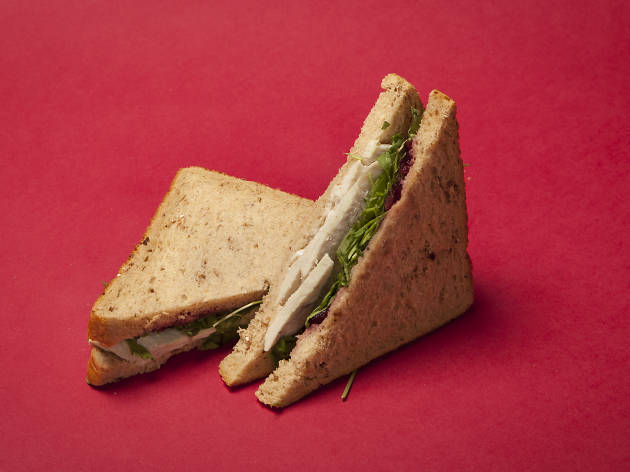 © Andy Parsons
Eat: Butter-basted Turkey and Cranberry Sandwich
£3.35
Call the newspapers! We've found some turkey that actually tastes of something! It's also packed with a generous layer of zingy cranberry sauce and more greenery than Snoop Dogg's ganj bag. Clean, fresh and flavoursome.
7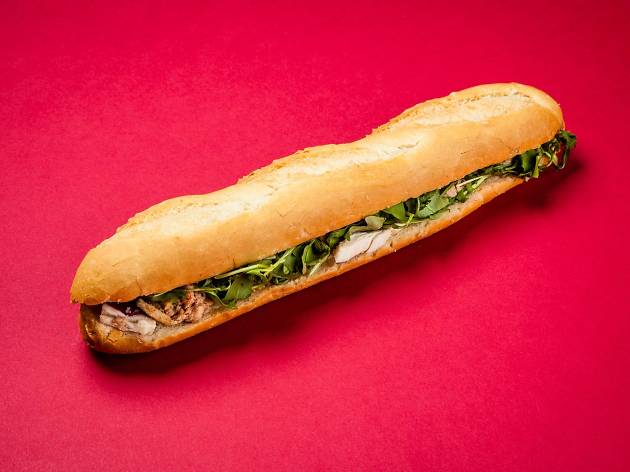 © Andy Parsons
Eat: Turkey, Stuffing and Crispy Onions Baguette
£3.95
After years of rave reviews for the crispy onions in Pret's Xmas sandwich, Eat decide to get in on the act by pouring some on to a layer of turkey and stuffing and whacking it into a baguette. There's a good reason for it, too: there's something brilliant about adding a crunchy tang to a festive lunch. Don't get us wrong: it's definitely not as good as Pret's sandwich. Nor is it as good as Eat's discontinued festive full works baguette, which this replaces. It's pretty damned good, though.
6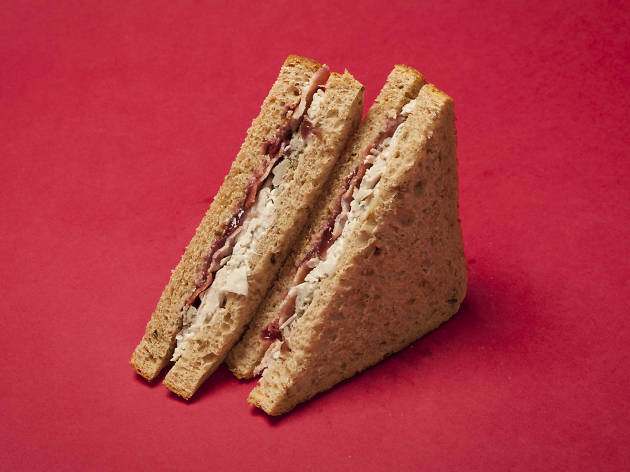 © Andy Parsons
M&S: Turkey Feast Sandwich
£3.50
This throws festive treats at you like an absent parent trying to bribe its kids with prezzies. Hefty layer of turkey? Yep. Generous helping of stuffing? Sure. Bacon, mayo and chutney? Yip. Gift-wrapped and left under a Christmas tree? Sadly not. But that's the only thing we can find to dislike about this fat, meaty, squidgy mouthful.
5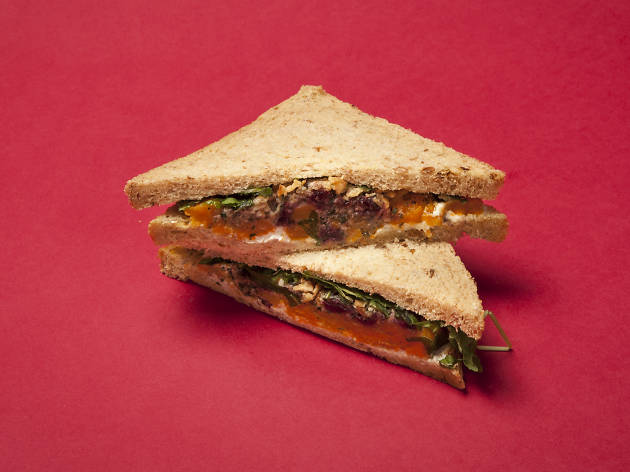 © Andy Parsons
Pret: Veggie Christmas Lunch Sandwich
£3.50
If we ran the 'Veggies Against Grim Ingredients at Noël Awards', we'd give Pret a lifetime achievement gong for their efforts in making Christmas meals a less crappy affair for vegetarians. Every year we love the riot of flavours involved in teaming roasted butternut squash, crispy onions and Christmas nut pesto with a yogurt dressing. Admittedly, we'll never run the aforementioned committee, mainly because its acronym would be 'Vagina'.
4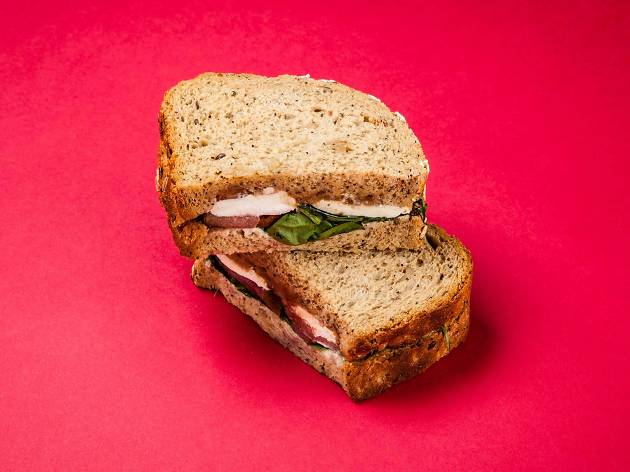 © Andy Parsons
Eat: Goat's Cheese, Pear and Date Bloomer
£3.95
Granted, the combo of goat's cheese and 'red wine mulled pears' sounds a bit like someone dropped a dessert on to a cheeseboard. But this is a veggie Xmas sandwich: they're always a bit odd. And more importantly, the multiseed bloomer is packed with so much rich, creamy goat's cheese that this is that rarest of things: a veggie Xmas sandwich with a bit of christmassy decadence about it. Yum.
3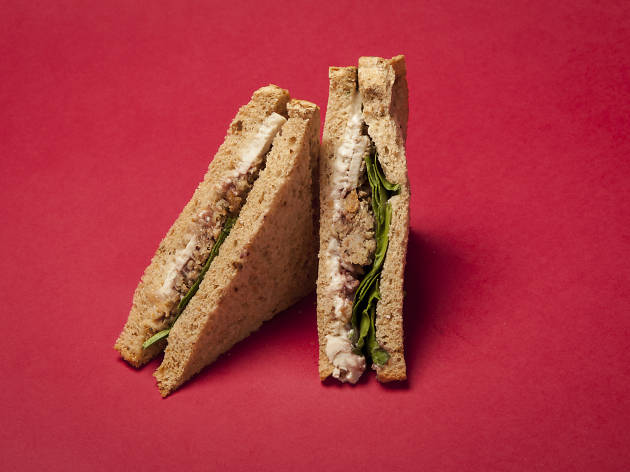 © Andy Parsons
Pret: Christmas Lunch Sandwich
£3.75
This bread-based turkey treat is such a reliable bringer of festive joy is that it's basically the Father Christmas of sandwiches. We also cannot express how much we love those crispy onion bits. We'd say that this sandwich has left us thinking about adding them to our actual Christmas dinner, but we'd be lying.
2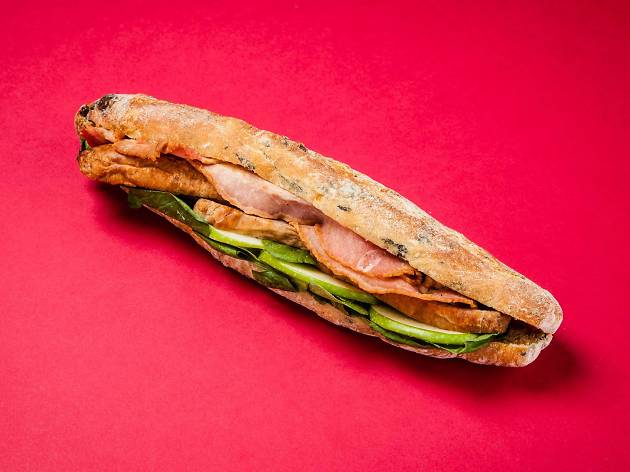 © Andy Parsons
Paul: The Cosy Christmas Pig Baguette
£4.50
A few years ago, Paul didn't even make Xmas sandwiches. Now it's so good at it that it seems it can't create one without it shooting to the top of our best sandwiches list. This 'take on the traditional pigs in blankets' may have a couple of slightly odd ingredients – slices of raw apple, and an apricot and sage baguette, but it's unbelievably delicious. Seriously, we're not sure we've ever tasted such delicious pork in a shop-bought sandwich before. And – in case this list didn't give you a clue – let us tell you: we've tasted a LOT of sandwiches.
1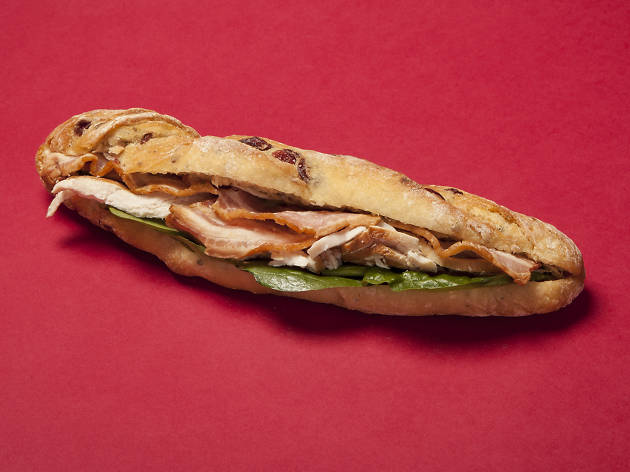 © Andy Parsons
Paul: Dinde de Noël Baguette
£4.65
In case you're not tipped off by the £4.50 price tag and a name that sounds like something Hercule Poirot would shout when angry, this is one posh sandwich. It is also absolutely delicious: the beautiful artisan baguette is studded with cranberries and the turkey is pepped up with smoky bacon and a lovely spot of horseradish sauce. The finest festive sandwich in London bar none. Encore, s'il vous plait!
Read even more on festive food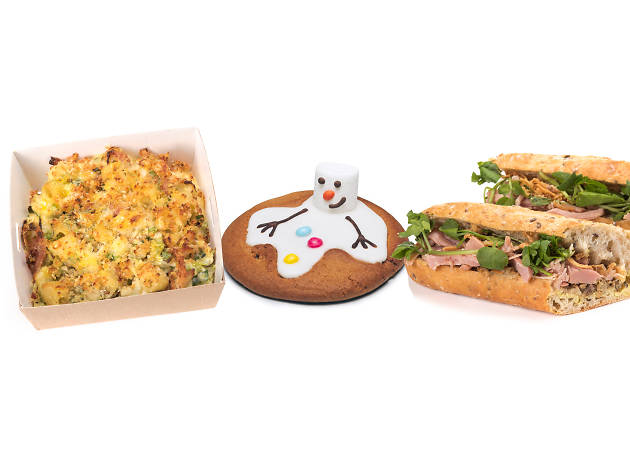 Remember that time we ranked all 32 Pret-A-Manger sandwiches from worst to best? It was a big day for the internet, but this pioneering piece of journalism didn't pass without upset. Among the major complaints was that we'd left out the Christmas specials, a concern voiced by people who'd clearly put no thought towards the logistics of taste-testing a Christmas sandwich in the middle of bloody spring. Well, today we're putting that oversight right, by rating not only Pret's seasonal sarnies, but all their other festive foodstuffs, too. So have at 'em, and leave us a comment to let us know about the Christmas specials you rate and hate.