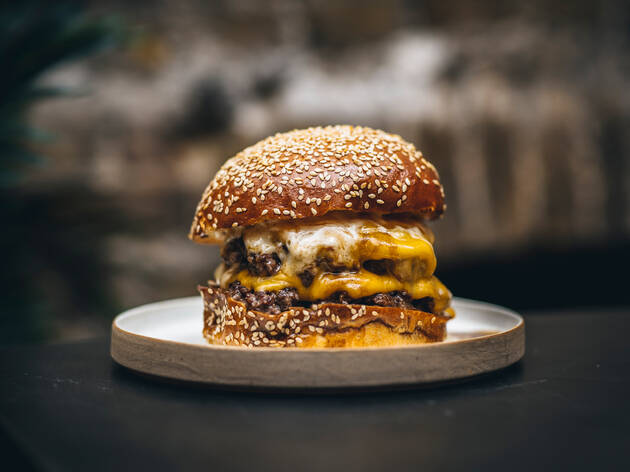 London's best burgers
Burgers are the food trend that'll live forever. Here's where to find the very best in London
Fancy a burger? Of course you do. It's the food trend fave that'll never die. But not all burgers are born the same. Lucikly, we've done the hard work of trying and testing London's top patties to find you the ultimate taste sensations wedged between brioche. London's best are utter meaty marvels: juice-seeping, humming with flavour and far more complex in creation than they're ever given credit for. Here, in our (not so) humble opinion, are the best burgers in town – either being flipped in London restaurants or available on delivery.
The best burgers in London
Dexter cheeseburger, £10.50
If you only order one thing at this small dining room at the Compton Arms in Canonbury, make sure it's the bona fide, utterly brilliant cheeseburger. It's the stuff of dreams, a sloppy, messy thing comprising of a thin and juicy chargrilled patty made from Dexter beef, with accompaniments in the shape of melted cheese, burger sauce and finely minced onion – plus a heap of sweet pickles like something your granny would make. You'll be swooning after the first mouthful.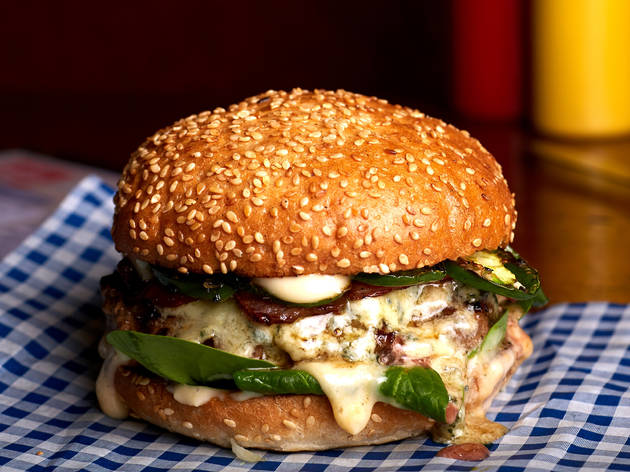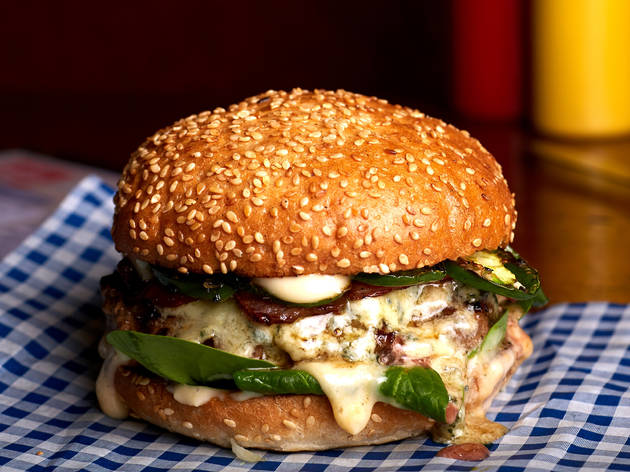 El Chappo burger, £9.95
The nomadic Lucky Chip is currently doing its thang at Islington's vibey Old Queen's Head and at Netil Market from Wednesday to Sunday, serving up burgers that taste like a party in your mouth. There are specials on the menu, but of the regulars, the fiery El Chappo gets our vote. Here, an already excellent patty is topped with smoked bacon, jalapeños, aioli and blue cheese. Scorchio!
The Candy Bacon Flipper, £7.50
Flippin' 'eck, these burgers are good. Juicy, roughly chopped patties of 28-day aged chuck beef comes perfectly cooked and properly seasoned. Ball-shaped meat mounds are squished down while on the grill, giving patties those delicious seared edges. The buns are soft, bouncy brioche. Toppings, meanwhile, run from the classic (pickles, lettuce, slices of processed US cheese) to the inspired (crisp pieces of streaky bacon candied in maple syrup, or slices of hot-and-sweet pickled red jalapeños). But it's the Dirty Barbie with candied everything – bacon and onions – that we keep coming back to Victoria Park Market and Brockley Market for.
The Cheeseburger (single patty version), £9
As street-food supremos, the Burger & Beyond boys pride themselves on ageing and butchering the best home-reared meat, and now they've brought all their expertise to a bricks-and-mortar restaurant in Shoreditch. Their burgers are officially cooked medium and despite the temptation to double up, a single patty is more than sufficient in its sturdy sesame brioche bun with essential additions. We couldn't fault the gloriously sloppy bacon butter burger either, stacked with crisp pancetta, molten American cheese and burnt butter mayo.
Venimoo burger, £12.50
It's a double patty party at Highland-loving restaurant Mac & Wild, but not like you'd find anywhere else in town. A beef patty and a venison patty cuddle up together inside a brioche for one hell of a meaty mouthful. Melted cheese, pickles, béarnaise and caramelised onions add to the flavour invasion, and those who want even more meat for their money can order candied bacon for £2.50. Let the game begin.
Venue says Try our Venison topside steak, chips & glass of house wine or beer for only £19 pp (available 7 days/week, can't be used with other offers).
Double cheeseburger, £10
There are just a few tables at Bleecker's Spitalfields Market home, so don't expect much in the way of comfort or ambience. But what you will discover is a stripped-back but hugely satisfying formula for the all-American burger. Show-stopping dry-aged beef cooked pink is complemented by Bleecker's secret sauce that tastes every bit as peppery as McDonald's' Big Mac mayo (but more upmarket, obvs). Maximise on that meat with a double cheeseburger. Seeded buns are toasted to perfection, mopping up those excess patty juices without ever compromising your vice-like burger grip.
The Blacklock burger, £10
Blacklock's third chophouse inhabits a classic Shoreditch warehouse space and the menu is – not surprisingly – heavy with chops (skinny little chops, medium chops and large off-the-bone beauties). It also has an unexpected ace up its sleeve in the shape of the Blacklock burger. You won't see it on the menu, but just ask for it by name and your server will nod knowingly. Inside the soft sesame bun, you get a juicy patty loaded with sliced gherkins and onions caramelised in vermouth, plus a slug of mild sriracha-laced burger sauce. Don't forget a side order of crispy beef-dripping fries.
The Goodman burger, £16
Looking for all the world like some rich old grandfather's study, the polished Mayfair branch of the Russian-owned steakhouse chain brings Manhattan to Mayfair with its well-upholstered, well-aged look and truly excellent grass-fed beef from both sides of the Atlantic. Steaks are headliners, but don't ignore the stellar beefburger – a super-juicy patty with the usual additions (lettuce, pickle, tomato, onion), plus a heap of crunchy, thick-cut fries.
Japanese wagyu beef mini burger bun, £9
This Chelsea sibling of the acclaimed Marylebone sushi spot ain't cheap, and you'll pay a pretty penny for its cutesy wagyu mini burger buns, but these little beauties are damn fine to eat. Intensely flavoured, Josper-grilled beef from pampered cows is slotted into a perfect brown bun with teriyaki sauce, sesame and some crunchy baby gem lettuce. For an extra three quid, you can have your burger pimped up with foie gras mousse.
Bacon cheeseburger, £8.90
Forget about the French dips and dive deep into the burger list. The bacon cheeseburger holds a beautifully charred-on-the-outside, pink-on-the-inside patty in its middle, topped with molten cheese and crisp smoky bacon, not to mention long slivers of gherkin, burger sauce and shards of raw cabbage (a smart move: crunchier than lettuce, but with a peppery note). This is all snuggled into a rich, of-the-moment brioche bun. Ooh la la.
Belly Connection burger, £8.50
These nomadic meat masters have been plying their trade around Kerb's markets (and currently in Camden) for years now, building a cultish rep for gutsy, leftfield bites (the clue is in the name). A case in point are its awesome Heartbreaker burgers. The Belly Connection version is a truly inspired dish, with a patty made from 50 percent ox heart and 50 percent dry-aged, native-breed beef (sourced from Bermondsey's finest, The Butchery), topped with 24-hour cooked pork belly, gorgonzola, pimiento mayo, pickled red onions and lettuce.
Smokey Robinson burger, £9.75
As you'd expect from the name, the burgers here come with both a properly cooked patty and a rich brioche bun, but the real star turn is the use of own-made mayos and relishes. The Smokey Robinson, made with smokey P&B mayo, jammy caramelised onions and crisp bacon, is so good it deserves to be in a burger hall of fame. Fries are of a rustic ilk: skin-on, hand-cut thin chips with flecks of rosemary salt. Top tip: if you don't want to dine in, P&B's DIY kit has paved the way for burger-flipping from home.
Dead Hippie burger, £9.50
Burger god Yianni Papoutsis, who first wowed us with his creations from the back of a van, opened his first grill-and-booze bar in 2011, and the sloppy, juicy burgers are as knock-your-socks-off as ever. There's ground chuck steak in each one, and all manner of toppings available: chilli, bacon, mushrooms… you get the picture. But our out-and-out favourite remains the Dead Hippie, where two thin, double-stacked patties are anointed with melted cheese, tangy gherkins, finely diced onions and a secret sauce so addictive that, if you didn't know better, you'd think it had crack in it.
Tribute burger, £11.50
This chain has more than two dozen London branches – most of which are back open again – but never fear, HB hasn't lost its sheen. We still love the signature Honest burger (with its super-sweet red onion relish), but our all-time fave has to be the Tribute. It has American cheese, French mustard, bacon, pickles and a patty made from 35-day dry-aged British chuck steak. Chips are hand-cut and rosemary-salted and there are some not-too-shabby options for veggies, such as the Southern-fried courgette and sweetcorn fritter with chipotle mayo in a bun.
Drapers cheeseburger, £13.50
Ah, The Drapers Arms. As pretence-free, cosy neighbourhood pubs go, this Islington stalwart is one of the best, not least because of its ace seasonal food menu. The cheeseburger is a lunch-only item (not Sun) and isn't a perma-fixture on the menu, but is well worth schlepping out of work or your home office for when it makes an appearance. It's a thoughtfully sourced little pile that includes a bone-marrow-laced patty made with aged beef from The Butchery, house burger sauce, smoked cheddar and pickled red onion rings, all crammed into a St John demi-brioche bun. A pub grub classic, done marvellously.
Smoke Shack, £7.50 (single), £10.75 (double)
'Oooooh, but it's better in America!' I hear you whine. Well pipe down! That may be true, we concede – no idea why, mind – but Shake Shack's UK eateries do absolutely dandy stuff too. A case in point: the signature Smoke Shack burger. It's a regular cheeseburger (already delish) topped with Applewood smoked bacon, piquant peppers and creamy, sweet, slightly spicy ShackSauce, served up in a little waxed paper jacket. The millennial's Big Mac, basically.
Find more burger restaurants in London