The top ten restaurants in London
You've seen our list of the 100 best restaurants in London, now discover which ones made it into our top ten – the very best of the best
By

Time Out London Food & Drink
|
Narrowing down our favourite restaurants in London seemed like a tough task to begin with. But then we remembered which kitchens turn out the very best dishes that leave us drooling on the tablecloth and which venues deliver a level of service usually reserved for Michelin star restaurants. Read on to find out which of our favourite places to eat – including old favourites and hot new restaurants – made it all the way into Time Out's top ten restaurants in London.
The top ten restaurants in London
Restaurants, North African
Price: Mid-range
When to go: It's most fun at dinner, but you do need to go early to get a seat – try 5pm on a rainy Tuesday.
What to eat: Anything from the tandoor (such as the naan bread) or the grill (such as the charred octopus, which is the best in London).
Price: Mid-range
When to go: When you need some proper 'drinking food' with a proper kick.
What to have: Red-hot smokin' Thai barbecue, a bowl of lardo fried rice and as much booze as you can manage.
Price: Blowout
When to go: When you want slick service and a big-ticket menu without the formality.
What to have: Shareable jars and killer cocktails kick things off in style.
Price: Mid-range
When to go: As early as poss if you don't want to stand in line for hours – although it's totally worth the wait (itself made more bearable if you order in-queue drinks and snacks).
What to have: How to choose... It's all so good. Mix classics such as the impeccably runny-centred tortilla with more adventurous regional dishes and going-going-gone specials such as carabineros (flippin' gigantic, bright red prawns).
Price: Mid-range
When to go: When you think you've tried and tasted every dining concept that London has to offer. Been there, barbecued that? Think again.
What to have: As much as your body can handle – it's all sooo good. But don't miss the tacos with soy-cured beef, if those smoky, sweet and fiery gems are on the menu.
Venue says New breeds of cow are coming in every week – come and find out which is your favourite…
Restaurants, Contemporary European
Price: Affordable
When to go: Whenever you like: you can actually BOOK. The best 'counter' is the main one, but on a sunny day, the alfresco tables ­– a stone's throw from Clapham Common – are a nice people-watching option.
What to have: The mind-bogglingly good 'nduja with cultured cream and sour potato flatbread: the best £4 you'll ever spend.
Price: Affordable
When to go: When you want to say to your mouth, 'you SHALL go to the ball!'
What to have: The bone marrow varuval (a sort of dry, bone marrow curry for spreading over a buttery roti), plain hoppers and any of the curries (tip: order an extra curry instead of several chutneys).
Price: Affordable
When to go: When you're after a Latin dance party on your palate.
What to have: The Don Ceviche (sea bass chunks in citrus with a scattering of red chilli and soft, diced sweet potato) is the winner in the world of raw fish.
Price: Mid-range
When to go: When you fancy Indian food without Indian-restaurant clichés – any here come courtesy of nostalgia for the British chop house.
What to have: The malted kulfi dessert – intensely flavoured malted ice cream topped with caramelised banana and salted peanuts. Pass the smelling salts…
Find more restaurants in London
How many have you eaten at?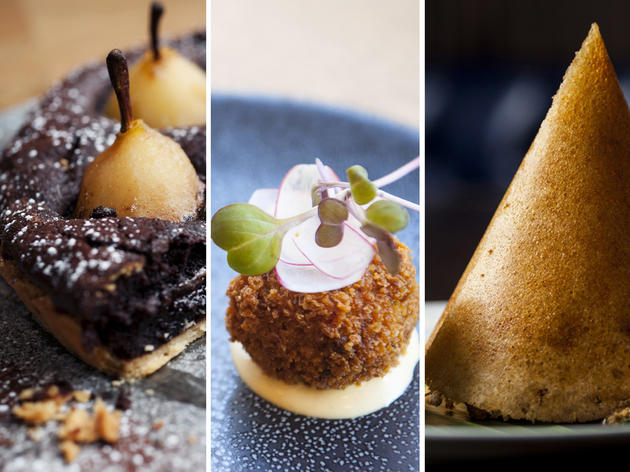 We can all be a bit competitive when it comes to dining out in London. That's why we've assembled a checklist for you to work out just how many of London's best restaurants you've been to. Take the test and share your score to see if you're the king or queen of London's dining scene.