Jazz events in London
Looking for great live jazz in the capital? Here are London's best upcoming jazz gigs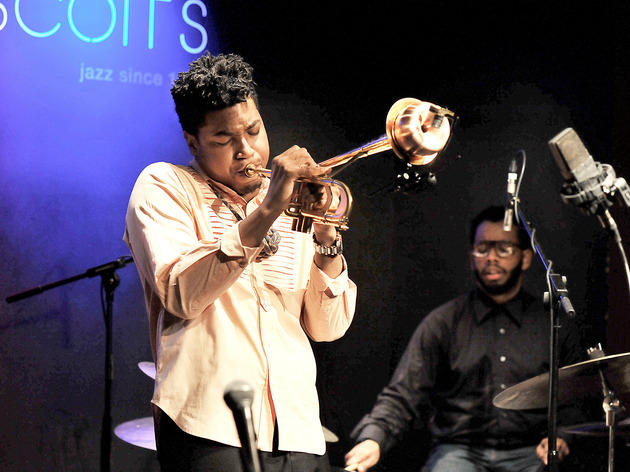 As one of the world's great jazz cities, London is a great place to catch live jazz. From huge international stars to new talent and the annual EFG London Jazz Festival, London's jazz venues have got it all. Here are our top picks from London's calendar of upcoming jazz events.
The best jazz in London
Powerful jazz-funk quartet packed with session aces including Massive Attack/Kylie bass guitarist Winston Blissett, Incognito guitarist Tim Cansfield and Sax Appeal/Jools Holland saxophonist Derek Nash.
Read more
Brilliant Anglo-Hungarian jazz songwriter Williams leads this regular classy jazz and R&B vocal night, with high profile singing stars dropping by for the odd guest spot. Always a fun atmosphere, it's a great night to check out the iconic Soho club and hear some always-virtuosic vocal displays.
Read more
Kit Hesketh Harvey, three-decade veteran of Kit and the Widow, is back with his accompanist, the composer-pianist James McConnel. Prepare for erudite Cowardesque ditties, impeccable delivery and a dash of filth.
Read more
Hard-hitting, drum-led modern jazz from sticksman Mark Fletcher, exploring a fusion-edged mix of classics from the likes of Weather Report, Pat Metheny and Michael Brecker. The band also features keyboardist Jim Watson and trumpeter Freddie Gavita.
Read more
Halfway between J Dilla and Brad Mehldau, jazz-fusion pianist Glasper is one of a kind. With his band he mixes fluent technique with a peerless understanding of fractured hip-hop rhythms, favouring compact, minimalist chord sequences and hooky themes. Listen out for the percussive fireworks between Glasper and drummer Chris Dave.
Read more
Mixing his fluent technique, which can sound a little Brad Mehldau-ish at times, with a peerless understanding of fractured hip-hop rhythms a la his mentor, the late, great J Dilla, pianist Glasper is one of a kind. Improvising around melodic fragments in the same way a DJ would cut and loop a sample or beat, it's the fireworks between him and explosive drummer Chris Dave that really set his gigs alight.
Read more
See more jazz gigs in London
Sponsored listing
The Blues Kitchen Camden
This lively, contemporary bar-diner on the main Camden drag celebrates American musical heritage in song (live shows, DJs, free harmonica lessons), spirits and sustenance. The food is all-American in spirit and substance, with barbecue and burgers featuring prominently. Though you can, if you insist, order a 'superfood salad.'  There are around 50 bourbons in a variety of categories, some used as bases for cocktails. Rarer types (Blanton's Gold, Sazerac 18-Year-Old Rye, Woodford Reserve 1838 Sweet Mash) go for a tenner or more, but otherwise you'll be paying £3.50 to £6. 'America's native spirit' is how Kentucky bourbon is described, with Ancient Age and Evan Williams typical examples; Tennessee, 'the first cousin of Kentucky', is honoured with a full suit of Jack Daniel's labels.   
Venue says: "Free birthday bubbly for parties booking in for drinks at Blues Kitchen Camden on Friday nights. Get in touch for more details."