The best drag shows and nights in London
Discover the best of the glamorous and decadent London drag scene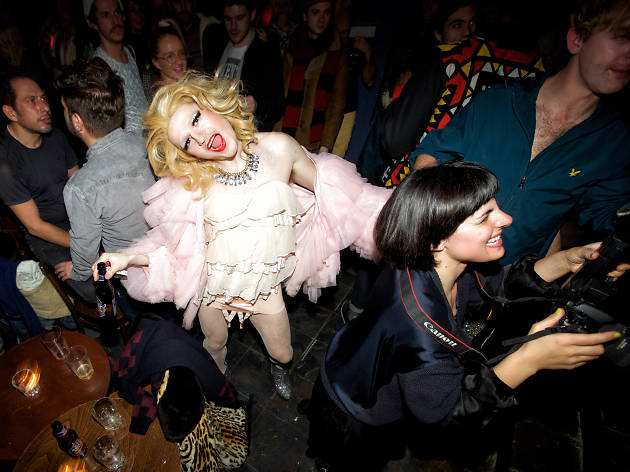 London has an abundance of gay bars and queer clubs, but where's the best place to party with drag queens and kings? We round up the best drag club nights and shows taking place across the city.
Recommended: The new face of London drag
The best drag nights in London
Sink the Pink's mission to queer the norm continues with their Savage nights at shabby east London strip club Metropolis. In fact, they've been so successful they've just gone bi-weekly, on Friday and Saturday. Expect top DJs along with androgynous drag stars pole-dancing on stage.
Read more
Weekly queer cabaret night Bar Wotever is the very definition of inclusive. Showcasing everything from drag to live music to spoken word, the event turned 11 in March 2016 with a show that featured a burlesque performer covering themselves in cream.
Read more
Lipsync 1000 is an annual lip-syncing competition that brings together new drag queen talent from across London. This year's entries include hula-hooping and tap-dancing routines, and a queen swiping left and right on a giant Tinder screen. Get there early: there have been queues even to get into the heats. It's followed by drag king competition Man Up which starts in the first week of May.
Read more
The Family Fierce are to the north London cabaret scene what Sink the Pink are to east London nightlife. A diverse drag collective featuring biologically female queen Lolo Brow, bearded queen Maxi More and punk princess Ruby Wednesday, they host a raucous weekly cabaret extravaganza featuring live performances and audience lipsync battles.
Read more
Discover gay Soho
Soho is home of London's main gay scene and remains most visitors' first port of call, whether for drag nights or mingling. It's centred around Old Compton Street, where you can take in a singalong at the Green Carnation nightclub or down louche cocktails at bars like Shadow Lounge. Let Time Out give you the lowdown on gay Soho.
Read more