14 OTT doughnuts that are worth the sugar crash
From wacky hybrids to beetroot dough, we sampled the most elaborate doughnuts in town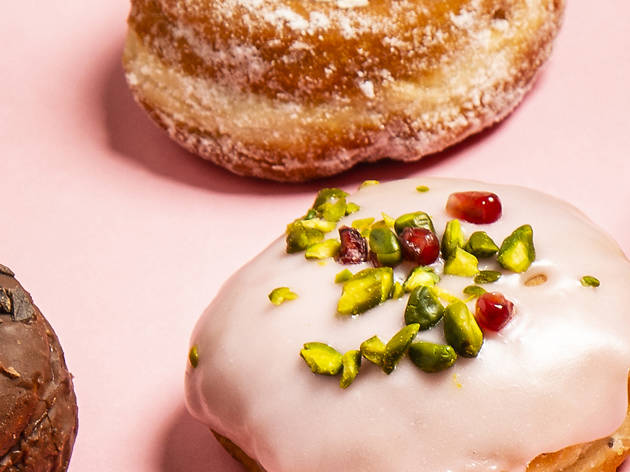 By

Time Out London editors
|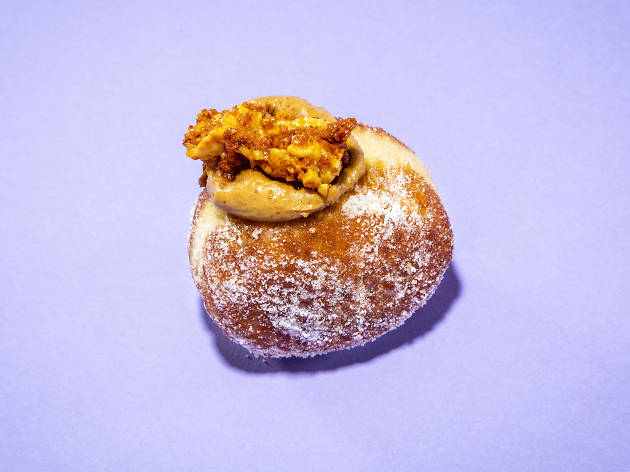 Restaurants, Street vendors
£3
They say
'Deluxe caramel crème pâtissière, lightened with whipped cream and topped with shards of bittersweet honeycomb.'
We say
'This totally tastes like crème caramel. We expected it to be a lot sicklier than it was: it was delicious!'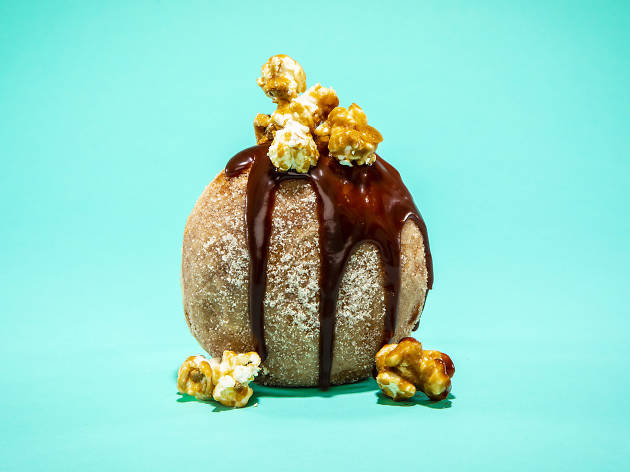 £3
They say
'Filled with vanilla custard, drenched in salted caramel and topped with salted caramel popcorn.'
We say
'This looks like a proper doughnut. The popcorn is crunchy and the actual doughnut is light and dreamy (though the sauce is too bitter). Nice custard: good oozing.'
Venue says Friendly Sunday cafe with delicious coffee, cakes and pastries. We also offer a fully bespoke cake, canape and wedding cake service.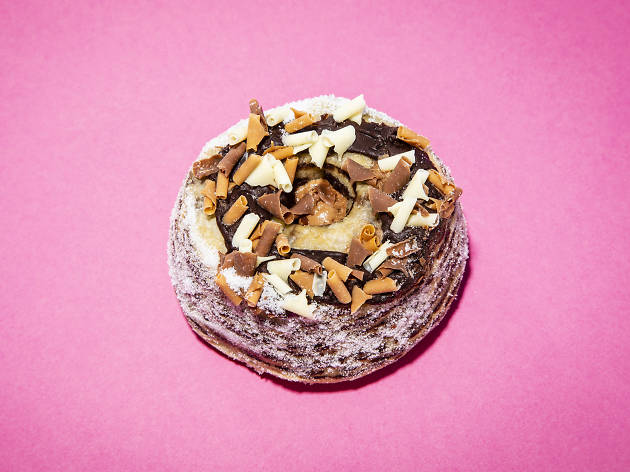 £3.75
They say
'Layers of plain and chocolate croissant dough filled with chocolate buttercream and finished with chocolate ganache.'
We say
'This tastes like the past. It's super-chocolatey with lots of layers, like a Viennetta. It kind of reminds us of school puddings, in a good way.'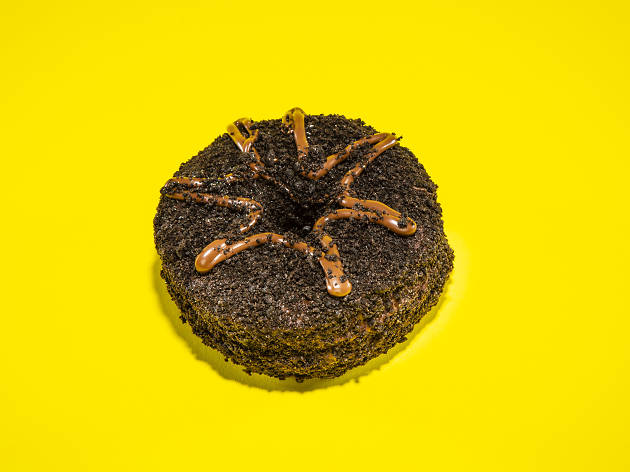 £4.50
They say
'Chocolate-glazed doughnut with Oreo crumbs, Nutella and glitter.'
We say
'It looks like it's coated in potting compost but it tastes great: it's really indulgent. Clearly more doughnuts should involve Oreo crumbs.'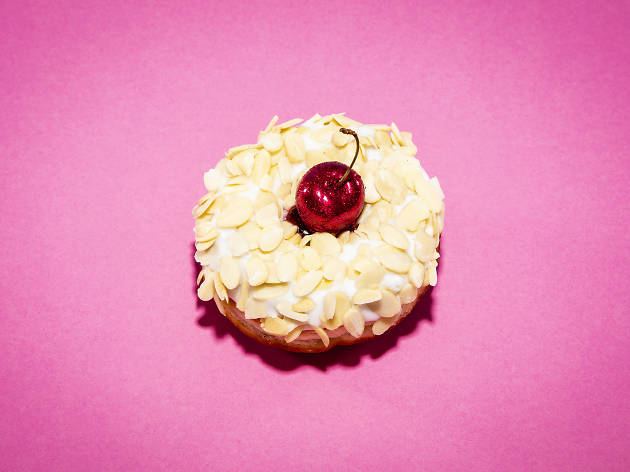 Bakewell Tart at Vicky's Donuts 
£3.70
They say
'Raspberry jam filling, almond icing, almond flakes and a cherry on top.'
We say
'This is exceedingly good. Way better than a Mr Kipling – and we bloody love those. The sparkly cherry looks amazing too: this is a disco doughnut and no mistake.'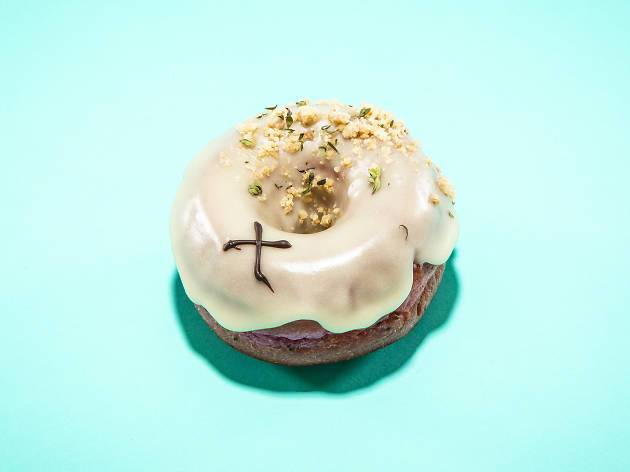 £3.95
They say
'Our pink beetroot dough gets a vegan makeover, dipped in a tangy lemon-thyme glaze and finished with vanilla crumble and lemon thyme.'
We say
'As connoisseurs of the vegan doughnut, we can confirm that this is an A-plus, cruelty-free creation. We're also really into the fact that it's pink. Vegan and fun!'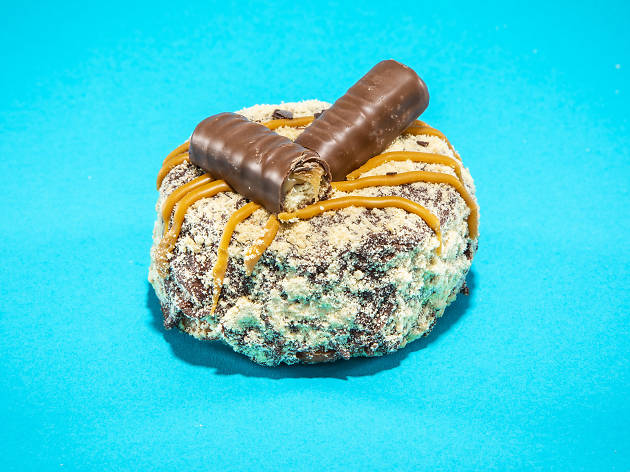 £4.50
They say
'Chocolate glaze topped with biscuit crumb, chocolate flakes, caramel drizzle and a Twix.'
We say
'Despite the inclusion of the underrated Twix, this is the least sweet of all the doughnuts we tried. The caramel's a bit lacking but the Harry Potter pun is a nice touch.'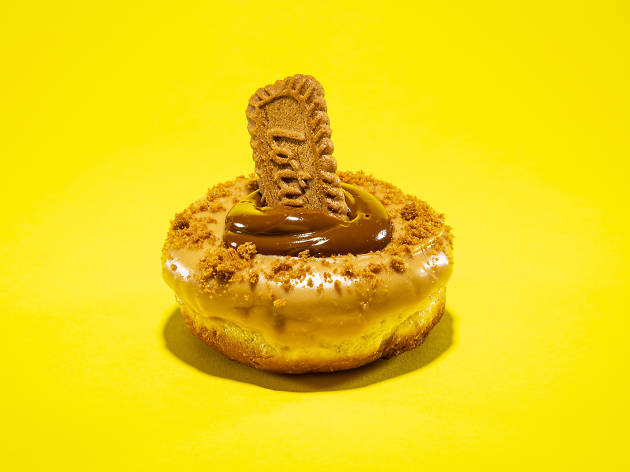 Dulce de leche at Vicky's Donuts
£3.80
They say
'Salted caramel glaze, Speculoos crumbs, salted dulce de leche filling, topped with a Biscoff.'
We say
'Aesthetically pleasing, dense and delicious. We are dulce de lecherous over this heavenly doughnut. We're not sure we could eat a whole one, but we'd have a go.'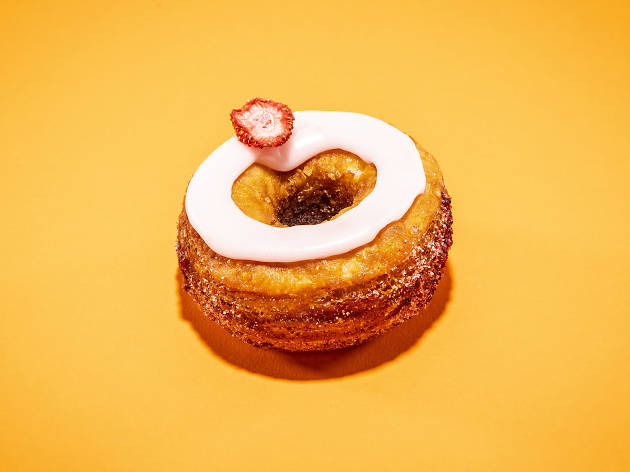 £4.50
They say
'It's filled with homemade strawberry jam and creamy cassis ganache with blueberry sugar: a perfect balance of fruity flavours.'
We say
'The middle is basically an Innocent smoothie, which means it's really messy to eat. Still, a monstrous, hybrid delight. Get in my face!'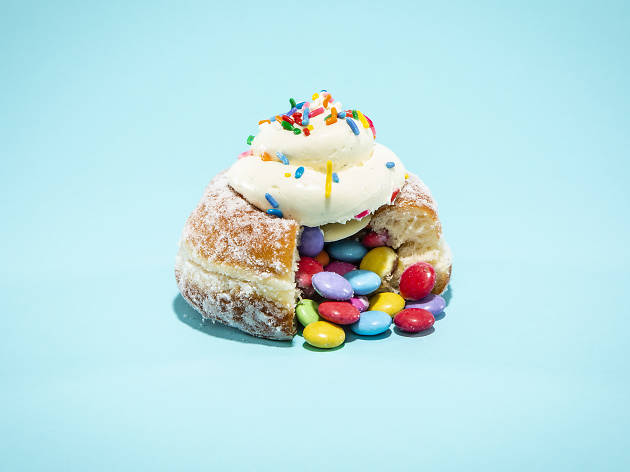 Pinata doughnut at Vicky's Donuts
£4
They say
'White chocolate cream filled with mini chocolate beans.'
We say
'Full of surprises, this is like something a toddler dreamt up. Remember when they used to put loose Smarties in Easter eggs? Vicky is keeping the loose Smarties concept alive! The buttercream is amazing and we would happily eat
it on its own with a spoon.'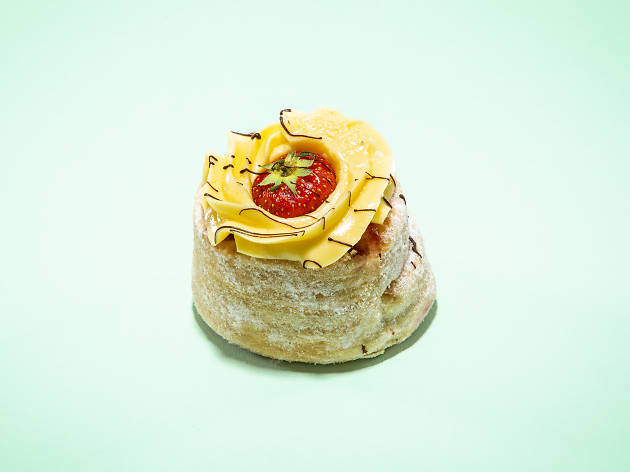 Strawberry Creme at Dum Dum
£3.75
They say
'Croissant dough filled with strawberry preserve and finished with a vanilla butter cream and topped with fresh strawberries.'
We say
'Tastes like a deep-fried scone. It's very buttery. Violently buttery.'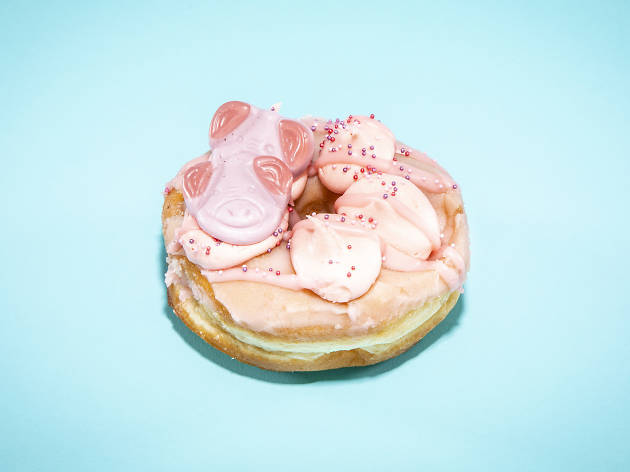 £4
They say
'Strawberry glaze with strawberry butter cream, topped with pink sprinkles and Percy Pigs.'
We say
'This little piggy has a strong look, although possibly conceived by a toddler. It's adorable though quite an overload of sugar. Might make your molars ache a bit.'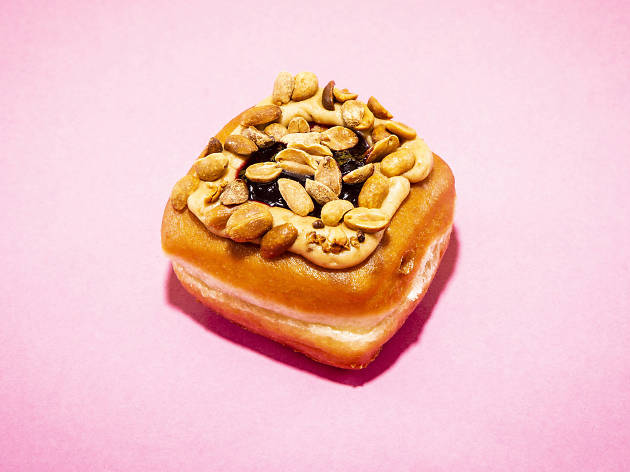 £3.80
They say
'An unfilled square sourdough topped with a thick, indulgent, dark roast peanut butter glaze and our homemade, tangy blackcurrant compote with a sprinkling of toasted peanuts.'
We say
'It's like a giant, deconstructed peanut butter and jelly sandwich. Reminds us of school packed lunches.'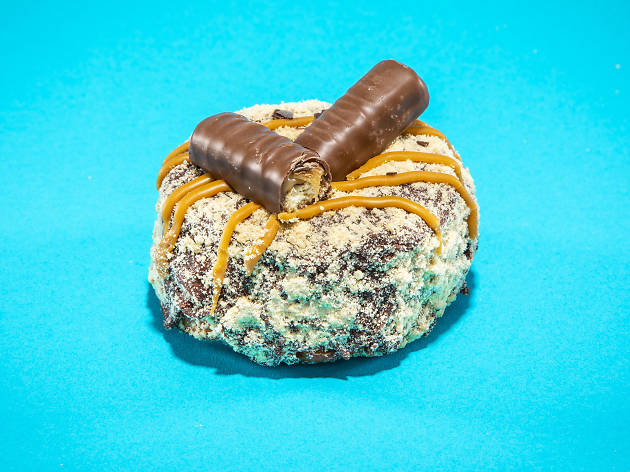 £4.50
They say
'Chocolate glaze, topped with peanut butter, and Reese's Peanut Butter Cups.'
We say
'We're suckers for the salty-sweet peanut butter taste and this has lived up to our dreams. It's salty and delicious.'
Snap up exclusive discounts in London
Time Out's handpicked deals — hurry, they won't be around for long...