The best ice-cream sandwiches in London
Forget your typical bread and butter; these sandwiches place ice cream between dreamy layers of cookie, cake and the like. Grab a spoon or get sticky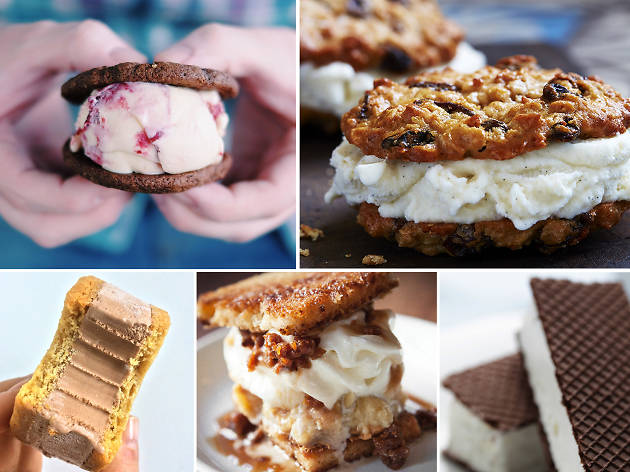 Ice-cream sandwiches were once the calorific preserve of New Yorkers, but these frozen treats have started making an icy impact on London's best ice-cream parlours, restaurants and cafes. It's a dessert or sweet treat sent from the heavens, with signature scoops of ice cream wedged between cake, cookies or wafer biscuits. While the rest of the capital catches up, here are our favourite frontrunners already serving swoon- (and occasionally spoon-) worthy ice-cream sandwiches.
Ice-cream sandwiches in London
Find more phenomenal ice cream in London
Are you tired of eating the same old ice cream, with only the 'how long to brain-freeze' game to keep things interesting? What you need is a hand-picked list of the best signature flavours, from the capital's finest ice-cream makers, so you can spend all summer sampling and judging them for yourself.
Read more
Sponsored listing
Foley's
We all know the feeling: you're being led to your seat by the waiter, only to glide by that dream table. I gazed across the room longingly at the buzzy spot at a counter that overlooked a cute tiled bar and backed onto a lively Soho street. Luckily, the food at Foley's was interesting enough to distract me from such injustice. Billed as 'Modern World' food, it's more like contemporary Asian fusion with a few twists and turns. Puffed lotus seeds – Bombay mix-esque and as moreish as a bag of nuts – arrived as sustenance while we perused the concise small-plates menu. Not a bit like Colonel Sanders' recipe, the popcorn chicken was a breaded escalope roulade scattered with teeny mushrooms, chorizo and corn; somehow comforting and original at the same time. Trend boxes were ticked with the Middle Eastern-spiced chunk of cauliflower, given a satisfying lift by the cool labneh and a copious scattering of smoked peanuts. Tuna and octopus ceviche, possibly the best-balanced plate of the lot, came nestled in an endive 'taco' – a genius use for the otherwise baffling bitter leaf. Black sesame mayo, wiped round a plate of grilled octopus and minced pork, was intense with addictive umami, but this regrettably obliterated any other flavour. Coco Chanel said that before leaving the house you should look in the mirror and take one item off. Foley's might want to do the same with their ingredients. Less might just be more. That's not to deny the culinary balls needed to create such dishes;
Venue says: "Every Sunday our head chef Mitz Vora and his team will host our intimate 'off-menu' tasting sessions for up to 10 guests at a time!"