The best ice-cream sandwiches in London
Forget your typical bread and butter; these sandwiches place ice cream between dreamy layers of cookie, cake and the like. Grab a spoon or get sticky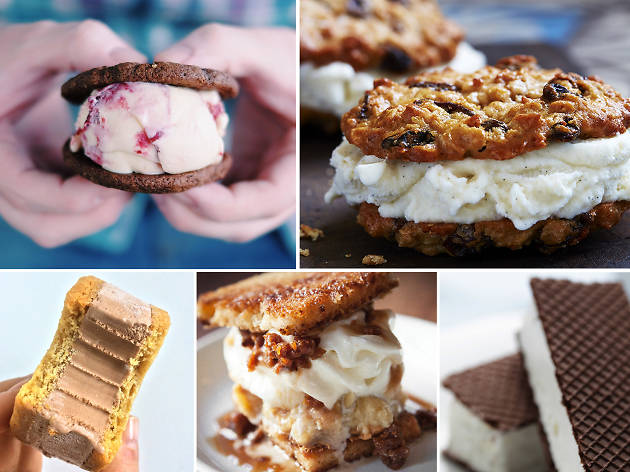 Ice-cream sandwiches were once the calorific preserve of New Yorkers, but these frozen treats have started making an icy impact on London's best ice-cream parlours, restaurants and cafes. It's a dessert or sweet treat sent from the heavens, with signature scoops of ice cream wedged between cake, cookies or wafer biscuits. While the rest of the capital catches up, here are our favourite frontrunners already serving swoon- (and occasionally spoon-) worthy ice-cream sandwiches.
Ice-cream sandwiches in London
Find more phenomenal ice cream in London
Are you tired of eating the same old ice cream, with only the 'how long to brain-freeze' game to keep things interesting? What you need is a hand-picked list of the best signature flavours, from the capital's finest ice-cream makers, so you can spend all summer sampling and judging them for yourself.
Read more
Sponsored listing
The Diner
The Soho branch of a chain of nine London venues evoking – yep, you guessed it – the classic US diner. That means an aesthetic nod to the '50s, mostly from booth seating, Chuck Berry posters and menu items advertised on a retro marquee.  The food is diner fare too, albeit with plenty of dude-food influence. Expect, then, buttermilk pancakes, breakfast burritos and baskets of wings, corn dogs and tater tots with bacon and jalapeno alongside baby back ribs, fried pork and waffles and a large range of burgers and hot dogs. Desserts include a raspberry ripple cheesecake and banana splits. The drinks list offers a good craft beer selection, including drops from Camden Town Brewery, Beavertown, Brooklyn and Lagunitas. Hard shakes, cocktails, hard teas and a few wines also feature but if you're looking for drinks-that-double-as-desserts then a Snickers shake (three scoops of chocolate ice cream, Nutella, peanut butter and maple syrup) should just about do it.