Cheap eats in Soho, London
Find the best places for cheap food and the best budget restaurants and cafés in Soho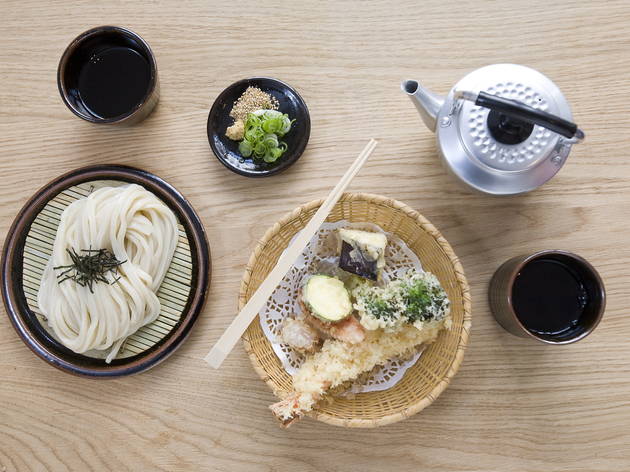 Soho's restaurants run the gamut from sleek and chic to fuss-free. Yet behind all the glitz and ritz of Soho are options of places to dine without breaking the budget. Try tasty Korean food at
Bi Bim Bap
or a hearty Italian meal at
Princi
. Whatever you fancy, Time Out has recommendations for great food on the cheap and good-value restaurants and cafés in Soho.
This diminutive, dimly lit room beside the veg stalls of Berwick Street Market was one of the places that signalled, when it opened in 2005, the increasing influence of Antipodean coffee culture in London. It was hugely popular from the outset. Coffee has always occupied centre stage here, and while espresso drinkers have sometimes been disappointed, our latest visit was a resounding success.
Read more
Conceived by restaurateur Alan Yau more than a decade ago, this original branch of Busaba Eathai attracted queues round the block when it opened in Soho. These days, Yau has only a minority share, and Busaba has become a ten-strong chain – but it's still not your average Thai joint. The dark, handsome interior combines teak wood, incense and dimly lit lanterns.
Read more
One of the Soho outposts of the classy Fernandez & Wells 'food and wine bar' mini-chain.
Read more
A little sister of the other Gail's scattered across London, this branch of the artisan bakery is fighting its corner, quite literally, in Soho. The interior decor is a product of the same white/red/grey palette of its siblings, and the zinc-topped counters and exposed lightbulbs parading around the perimeter of the room remind you that Gail's is taking its arrival in W1 seriously.
Read more
If Spanish hams are your thing, check out this first branch outside Spain this chain of high-quality jamonerías. This Soho outpost is asmall, no-frills place, with a slicing counter and display cabinets upfront and simple seating up back. Local colour is provided by the manySpanish-speaking staff and customers – expats suffering withdrawalsymptoms, no doubt.
Read more
Houmous may be nothing more than cheap student-fuel to many, but this humble chickpea paste is elevated to something altogether more delicious in the hands of Hummus Bros. The original Wardour Street outlet is still spartanly decorated, despite a ten-year refit, with communal tables and big windows – with queues of office workers snaking into the street at lunchtime: scenes replicated at the Holborn and Cheapside branches.
Book now
Read more
There are few more affable temples to nostalgia than this cluttered café, its brick walls covered with '80s memorabilia – from record sleeves of celebrated movie soundtracks (Back To The Future, St Elmo's Fire) to a T-shirt bearing the surnames of the original Breakfast Club actors. Finding a weathered wooden table on which to perch isn't easy at lunchtime, but it's the best way to fully appreciate the similarly sigh-inducing range of comfort food.
Read more
Poised at the top of Wardour Street, Brgr.co's first branch outside Lebanon opened to a mixed reception. In a city in the throes of street-food hysteria, it doesn't curry any favours by plastering a theory of 'BRGRology' all over the placemats. Small burgers, made from the cheapest cuts, start at a very reasonable £4.75. Ordering them is more difficult, with the staff schooled in the art of upselling expensive specials and gourmet alternatives.
Book now
Read more
Yalla Yalla continues to produce its hit formula of superior Lebanese cooking in a casual setting. Its self-styled 'Beirut street food' resonates with the upbeat informality of these dinky Soho premises; we've found the quality to match that of much pricier restaurants. Diners cram on to faux-rustic tables at lunchtime, while others nip in for takeaway wraps – filled with everything from falafel to spicy sujuk sausage – from the pre-prepared selection behind the counter.
Read more
This quick-fix open all-week spot has taken fusion to a new level with new-fangled spins on South African bunny chow - Durban's comforting curry-in-a-loaf staple. After selling bunnies from a food truck and then a pop-up in Shoreditch, the team who set up Bunnychow have switched its allegiance and turned the dial down low on its South African roots.
Read more
Jerk City takes the idea of not changing a winning formula maybe a little too far. We'd say the menu hasn't changed in years, but it's more likely that it hasn't changed since the place opened. The decor and furnishings still feel like the student-flat section of an Ikea showroom.
Read more
Falafel-filled pittas are the star at this global vegetarian fast-food chain. White or wholemeal pockets, crammed with crunchy falafel, are handed to customers, who can then top them off with a choice of garnishes from the buffet. And what a feast for the eyes this salad bar is: from pickles and olives to bulghur wheat salad, shredded red cabbage and a huge selection of sauces – it's easy to overfill your pitta.
Read more
Sponsored listing
Tapas Brindisa Soho
Decor at the Soho branch of Brindisa feels more than a little chain-like: understated and functional, with dark wood furnishings and deep red walls. But this is noticeable only during quiet periods, of which there are few, and is merely a backdrop to the consistently enticing and well-executed menu. A lunchtime 'platter' for two showcased what's still great about Brindisa tapas, yielding a selection of well-balanced dishes featuring superb ingredients and demonstrating a pleasing avoidance of the standard-issue stodgy or deep-fried fare of many a tapas bar. Our seven dishes included excellent ham croquetas (smooth creamy filling with tender morsels of ham, encased in a crisp exterior); zesty leaves, flecked with walnuts and nutty manchego; and a round of morcilla topped with sweet caramelised onions and roasted peppers. This added up to generous amount of food, and an extra dish of lightly fried monte enebro cheese drizzled with honey was superb, but entirely superfluous. Brindisa deserves its continuous footfall and always seems to come up with the goods, be it for an informal lunch or a smart dinner date.  
Venue says: "Monday cellar sessions – Spanish Atlantic Coast wines. Every Monday enjoy stunning wines for an amazing prices at Tapas Brindisa Soho."