Heads up! We're working hard to be accurate – but these are unusual times, so please always check before heading out.
London's best burritos
Nothing slays a hangover like a meat-stuffed, salsa-laced burrito. Here's where to get a great one in London
Cheesy, spicy and usually massive, Mexico's answer to the sandwich is alive and well in the capital. Whether you're after a vegan one, and organic one, or one stuffed with chips – London's restaurants, cafés and street food stalls will provide. We're blessed to be living through a burrito boom, people. Below, we've rounded up the very best.
The best burritos in London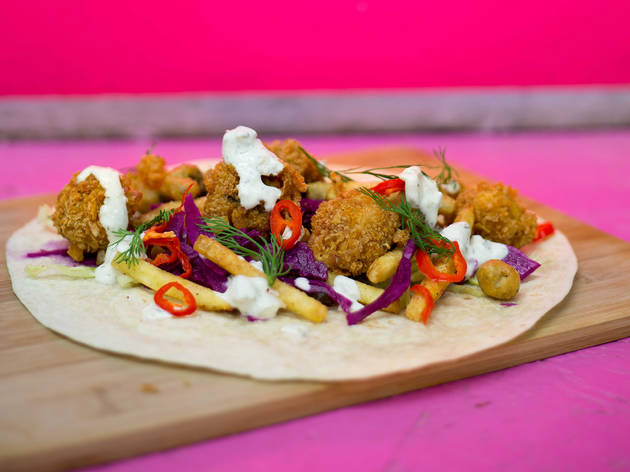 Given that their fish tacos are made from tofu, it's no surprise that the vegan crusaders at Club Mexicana have a few tricks up their sleeves when it comes to burritos. Instead of pulled pork, they use BBQ pulled jackfruit which is crammed in with a miraculous melange of black beans, guacamole, pink pickled onions, salted chillies and more besides. As well as presiding over London's first vegan pub, CM can also be found at Kerb Camden and Dinerama (check @clubmexicana for confirmation).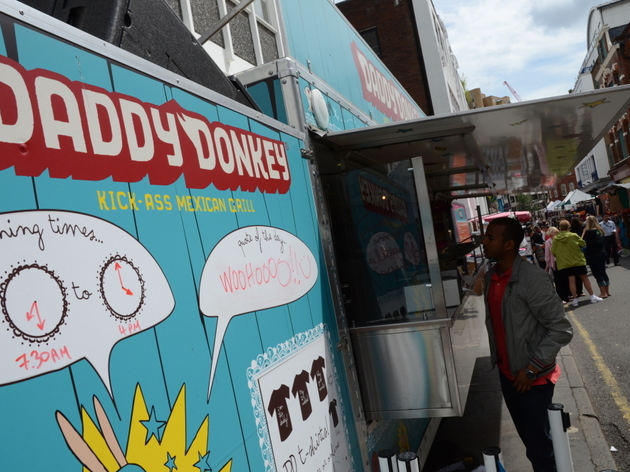 Billed as a 'kick-ass Mexican grill', this one-time street stall still has that old takeaway feel, but the quality's consistent – try a 'naked burrito' (sans tortilla) or the signature Daddy D with a choice of five fillings. The combinations are virtually endless – and so are the queues (although the line moves quickly, thanks to DD's ultra-efficient production line and its bang-on burrito-builders).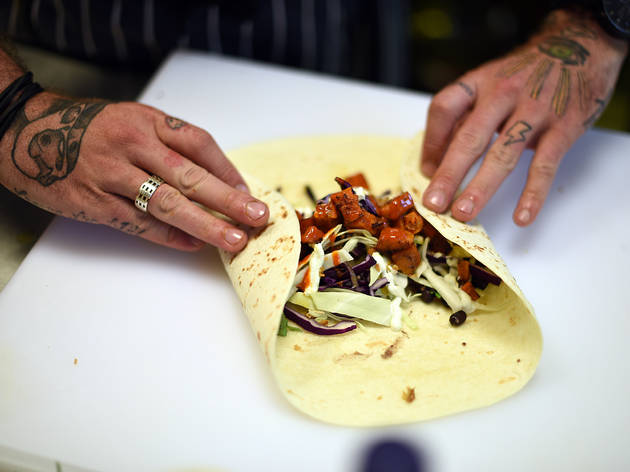 Now holed up in SheBu, this permanent reboot of street-food hero Matt Paice's perambulating van has evolved from zealous veggie to likeable omnivore – and it's an all-round cracker. What to eat? The Korean-style chicken tacos are winners, but we suggest bagging a burrito stuffed with pork belly and crackling or roasted sweet potato and feta, plus some lethal 'death sauce IV' – if you dare. No cash, no bookings, but plenty of smiles all round.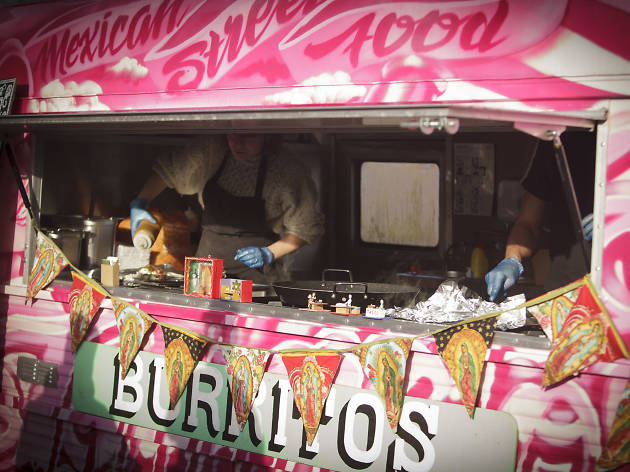 © Toby Allen
It may be old hat these days, but sometimes only a big, fat burrito will properly fill your belly. Luardos' versions are stuffed with flavour – the chicken option is poached with garlic and bay leaves, the pork slow-cooked with fennel and orange, while traditional pico de gallo, guacamole, crunchy lettuce and Monterey Jack cheese all join in to make this a food fiesta. Find Luardos at street-food pitches including Kerb King's Cross, Whitecross Street and Brockley Market (check @Luardos for confirmation).
Mexico City comes to Charing Cross in the shape of this please-all rendezvous, which serves tourists and office workers by day and assorted revellers by night. All the usual suspects are lined up here, so check out the hefty burritos – perhaps cochinita pibil (slow-roasted pork marinated in achio paste, orange juice and lime) or the veggie version made with seitan. Perfect with a dollop of homemade chipotle mayo and some Mexican slaw on the side.
Burrito fans have their own mini menu at Mestizo – a smart restaurant/bar that references the mixed-race descendants of the conquistadors. Spanish influences loom large, although the aforementioned rice-flour wraps are in the classic mould – filled with chicken mole, beef tinga (with tomatoes and chipotle chillies), pastor (spiced pork with pineapple) and various veggie options, plus beans, rice, jalapeños and sour cream. To drink, give in to the vast array of tequila cocktails and straight shots.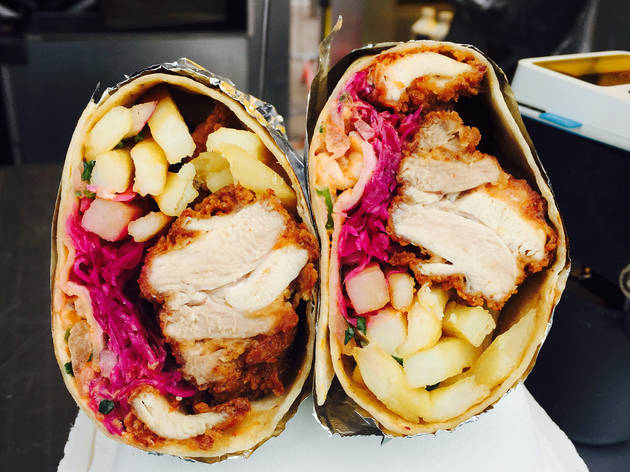 'It's a burrito, Jim, but not as we know it.' Instead of the so called 'Mission' wraps (filled with beans, rice and other goodies), maverick street-food vendor Taco Dave serves up 'Californian' burritos – popularised in San Diego and stuffed with French fries, no less. All we can say is that they're weirdly good. Find Taco Dave's street-food stands at Kerb King's Cross and Kerb Gherkin (check @TACO__DAVE for confirmation).
As the London flagship of 'the world's leading organic and natural grocer', this one-stop Aladdin's cave boasts an entire floor of proper dining facilities. American expats come here in droves – especially for the super-sized bad boys served at its dedicated burrito bar. These whoppers are probably the largest in the capital (as you'd expect form a US-owned outfit), so choose your filling from an authentic line-up that naturally includes the classic chipotle chicken riff.
Still hungry?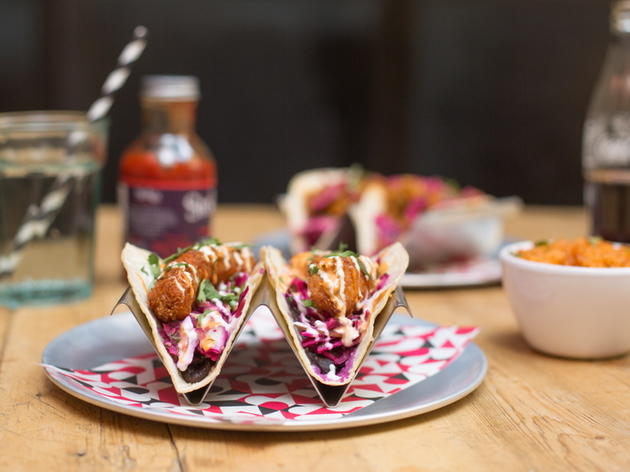 These joints will tacover your life.