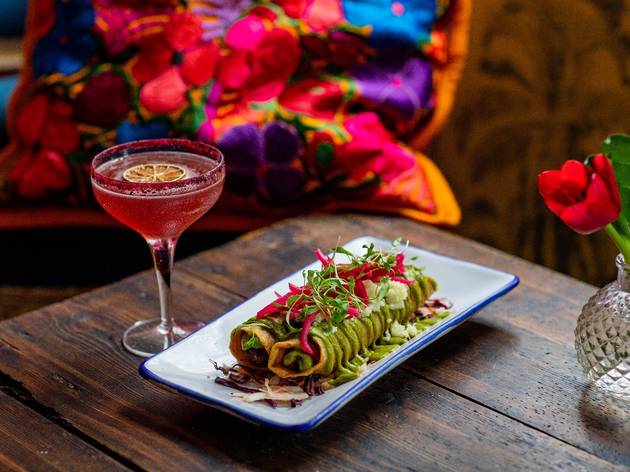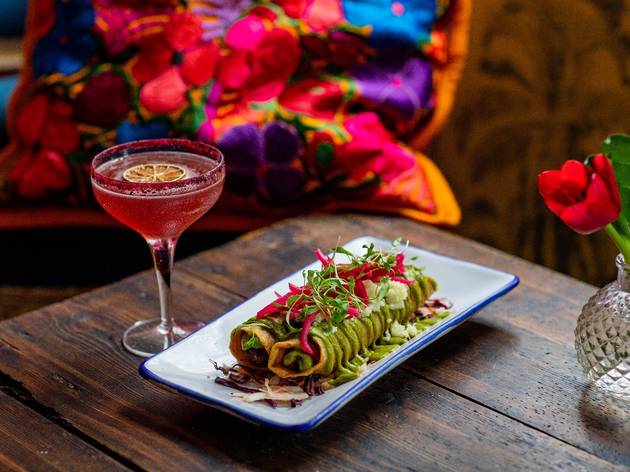 1/14
2/14
3/14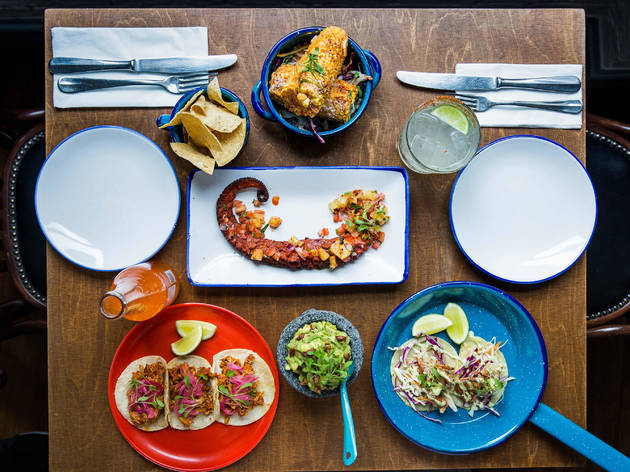 4/14
5/14
6/14
7/14
8/14
9/14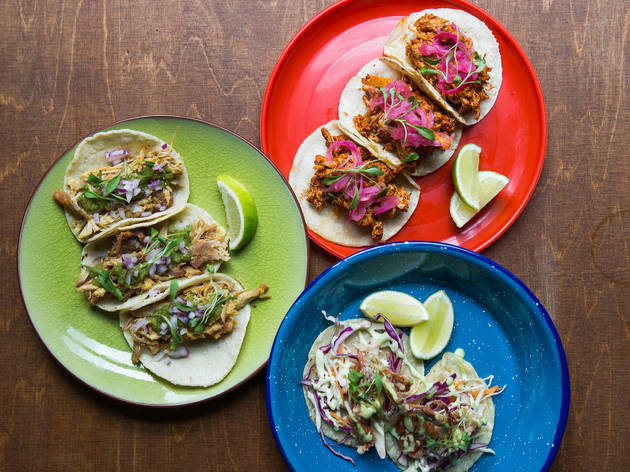 10/14
11/14
12/14
13/14
14/14
Time Out says
A homely Mexican restaurant relocated from Shoreditch to Borough.
I'll admit it. I was underwhelmed by the first Santo Remedio, the one in Shoreditch. Sure, it was vibrant, but it also came with underseasoned food and two-track service (you know, the kind that's great if you're friends, family or famous; not so much for the rest of us plebs). Just five months in, it closed. But let's write that off as a bad, clammy-handed dream. Because the new incarnation, relocated to Borough's Tooley Street (opposite the Unicorn Theatre), is everything I wanted the original to be – that is, brilliant.
Low-lit and inviting, it has a humble, homely feel: patterned cushions on the seats, dark turquoise faux-shutters on the walls, easy-listening Latin grooves in the air. There are no airs and graces: they use the same glasses for their flickering tealights as they do for serving water. Staff make you feel like family. A glass was smashed and they somehow made us feel like it was their fault (it really wasn't). I loved them.
Better yet, the kitchen is on sparkling form. The guac with grasshoppers is on the menu again, so I gave it a second chance. I'm so glad I did. It was still a chunky, creamy, generous portion, but this time with pep and punch in the pot, including minced red onion, fresh coriander, chilli and lime. And salt! It was delicious. The insects perched on top are tiny, immaculately preserved specimens, looking suspiciously like something stolen from a Victorian museum's pinned insect collection. They're novelties, really, the Mexican equivalent of scattering seeds on your salad (only they taste more like the dust from tea leaves), but they're fun. The guac also came with homemade topotas, aka baked tortilla triangles, seasoned enough to make you smack your lips , but with an intense taste of corn. They were, er, a-maize-ing (sorry).
Then there was a wholemeal quesadilla, its health credentials crushed by having been filled with cheese, folded and fried. Each bite brought home a fat blob of chewy, salty, satisfying queso, the kind that when you pull it apart, creates pale, stringy straps that you'd want to take a photo of, if you weren't too busy stuffing it into your mouth.
But wait: there's sophisticated stuff too. Like the 'aguachile rojo', a Mexican-style ceviche. Picture a plate of prawns, elegantly sliced down their middles and swimming in a glittering pool of joy: the sharpness and kick of lime juice and chilli, the sweetness and crunch of fennel, apple and pomegranate seeds. All served on a single oversized totopo that you can pick up and direct to your mouth, like an edible flying saucer.
Most of what I ate was excellent. Fatty-sided lamb chops came nicely charred, with a tangy mole. Even a plain bowl of refried beans was great. Only the too-dry pork taco, like a Latin bacon sarnie gone wrong, got a major thumbs-down. I'll overlook it. Because, when you also factor in the service, style and value for money, Santo Remedio is a gem. In fact, roll out the mariachi band: this is one of London's best Mexican restaurants.
Santo Remedio says
Santo Remedio is a modern Mexican restaurant with a beautiful upstairs Mezcal & Tequila bar situated minutes from London Bridge station, Borough market and Bermondsey St.

We use traditional Mexican cooking techniques to create authentic and inspired dishes from Mexico's homes, markets and celebrations. We use speciality chillies, herbs and unique ingredients from Mexico alongside fantastic local produce.

Dishes include Guajillo Tuna tostadas, guacamole with grasshoppers, soft shell crab with Serrano chilli mayo and 8-hour braised short rib with Oaxacan Mole Negro. A selection of award winning Mexican wines, beers and cocktails including our famous classic margarita, Mezcals and Tequilas are among the drinks we serve.

Edson Diaz-Fuentes, Chef Patron, is from Mexico City and creates dishes from his home city and extensive travelling in the Yucatan, Baja California and Oaxaca, where he spent time at the critically acclaimed Casa Oaxaca, one of Latin America's 50 Best restaurants.

Santo Remedio has been named as one of London's best restaurants and London's best Mexican restaurant in the press.

Set over two floors we can provide private hire of our upstairs, Mexican feasting menus for groups in our upstairs dinning room or our cosy ground floor back room is perfect for couples, or catching up with friends.

Whether for a quick lunch where we offer our lunch menu, pre-theatre dinner, or celebratory dinner and cocktails we look forward to welcoming you to Santo Remedio soon.
Details
Address:
152 Tooley Street
London Bridge
London
SE1 2TU

Transport:
Tube: London Bridge
Price:
Dinner for two with drinks and service: around £100
Menu:
View Menu
Contact:
Do you own this business?