London's best street food
Our guide to London's best street food delivers everything you need to know about the city's top on-the-hoof eats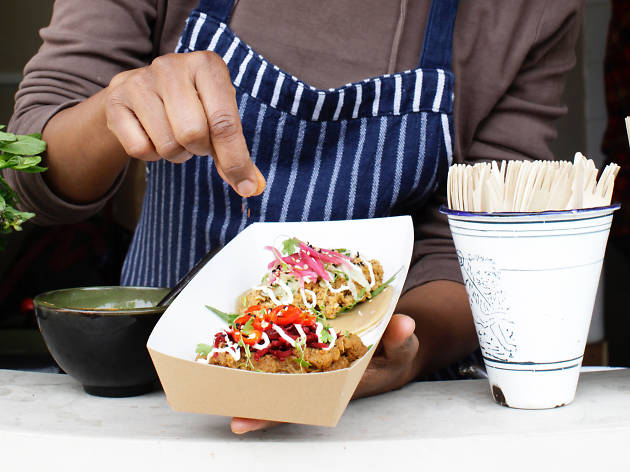 Forget Michelin, some of the best food in London is dished up on the street, and eaten with a plastic fork. If you're a foodie on a budget street food is here to save you. From vegan to-fish tacos, to tea-brined chicken strips, to Kim-Kardashian-inspired koftas, we've rounded up the cream of the crop. Pack wet wipes.
RECOMMENDED: Find London's best street food markets and food halls
London's best street food
Sponsored listing
Books. Covers.You know what to do. Or, rather what not to. Yet it's hard not to get a bit judge-y over somewhere that has both a silly name and (ugh) a 'concept'. The one at Talli Joe, splashed across signage, website and menus, is to offer 'Indian half plates + full drinks' (don't you just mean 'small plates' and, er, 'drinks'?). What's more, when I walk in, I can't help but clock the lights are too bright, the air con too cold. Not a great start. But guess what? This new regional Indian 'small plates and cocktails' joint (because that's what Talli Joe actually is) gets two crucial things right: the food and service. This is bright, bold cooking designed to enchant both tastebuds and soul. One of my favourite dishes was the Goan pork and 'offal' curry, made mostly with shoulder and belly meat, but also enough heart and liver to give it an exceptional depth of flavour and texture. Also excellent was a crab 'scotch egg', the warmly spiced crustacean's meat wrapped around a soft, almost-runny quail's egg, its yolk the colour of marigolds. For something more prosaic, try the seafood curry. I loved it that, simmering in the mild, fragrant sauce, were not just prawns, koli and squid, but a handful of drumsticks – no, not the cluck-cluck kind, but the green veg variety traditional in south Indian cooking (picture hard-skinned celery sticks: you scrape out the soft, mild flesh and put the rest aside). It's this commitment to spot-on sourcing that gives Talli Joe its edge. Ca
Venue says Have you booked a brunch date yet? Get 90 minutes of spicy plates, good vibes and bottomless prosecco every Saturday at Talli Joe, noon-3pm.