London's best doughnuts
Londoners have fallen back in love with these humble balls of fried dough. We took the sugar hit and scouted out the city's top six doughnuts
Fashionable fillings, Instragrammable toppings and a dizzying array of doughs – these sweet treats have stolen the cupcake's crown as the most in-demand dessert. So undo that top button and sink your teeth into our selection of London's six best doughnuts.
RECOMMENDED: The best ice-cream sandwiches in London
They say: 'We launched as a market stall on Leather Lane in 2014 and specialise in handmade hybrid sourdough – resulting in a stronger crumb and bread-like texture, which absorbs less oil when fried.'
We say: Imagine if a pot of ambrosia, cocoa powder and those foamy banana sweets got together and had a lovechild – voila, you have the Sea Salt Caramel Banana. The name doesn't quite match the flavours (the sea salt appeared to be MIA) but we quickly got over our it and allowed ourselves to be swept up by the chaos. Some serious alchemy goes into making the dough, which is malty, not overly sweet and remains a talking point in the Time Out office.
Perfect for: Willy Wonka fans.
They say: 'As the only artisan baked (not fried) doughnut franchise in the world, our lower fat content and all-natural ingredients have made us a favourite with bodybuilders and athletes.'
We say: After years perusing French patisseries, Paul Hurley, ex-partner at Dunkin' Donuts, set out on a mission to condense his towering creme brûlée croquembouche into a doughnut – and boy, did he smash it. There's a satisfying crack to the glossy burnt sugar topping – eat it upside down to avoid getting it stuck in your gnashers. With its feathery dough and rich custard, it's no surprise that this is the only doughnut stocked in Harrods. That's right – this is seriously posh patisserie.
Perfect for: classier doughnut nuts.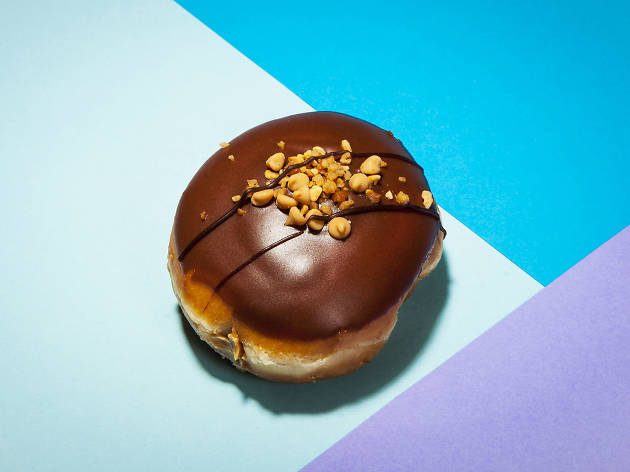 © Andy Parsons
4. Reese's Peanut Butter at Krispy Kreme (£2.10)
They say: 'When our Hotlight sign is on we are making up to 3,000 doughnuts an hour – still using the same secret recipe we started with in 1937. All are hand-dipped, hand-sprinkled and hand-piped with decorative finishes.'
We say: Alright we admit it, we didn't want to this like this Krispy Kreme creation but we really, really do. With dough that sticks to the roof our your mouth in just the right way, salty peanut creme and a layer of bitter chocolate on top, it felt like a very naughty PB sandwich on white bread.
Perfect for: big kids.
They say: 'That tangible yeasty flavour is the result of a long proving time – and the dough is lightly flavoured with lemon zest for a distinctive and delicate taste.'
We say: Don't let the name fool you. There is nothing saintly about St. John's Lemon Curd. It's oozing with citrusy sweet custard and carpet-bombed in sugar, so we recommend a bib – or even better, full-body cling film. Just the sort of thing you might need after a marathon, but perhaps not ideal if you've eaten in the last five hours.
Perfect for: the sweet-toothed.
They say: We use locally sourced ingredients to make, glaze and fill our artisan products by hand. 'I Make Honey Moves' is filled with toffee custard then topped with chocolate drizzle and crushed Crunchie.
We say: Scary-sickly on first glance, this ring is in fact a perfectly balanced combo of chocolate, old-school caramel and oozing toffee custard. Perhaps not a breakfast or mid-morning bite, but definitely one to tackle when you're looking for a sugar hit. Ignore the name: the only honey we could find came courtesy of the honeycomb Crunchie on top. We suggest something more accurate, like 'How to Put Yourself in a Sugar Coma'.
Perfect for: Those who aren't faint-hearted.
They say: 'Our doughnuts go through 24-hour bulk fermentation before being fried in an old-fashioned fryer. Someone then turns each one with a metal spoon – a LOT of love goes into making them.'
We say: Former head of bread at St. John Justin Gellatly has crafted an edible time machine. One bite of his Raspberry Jam bobbydazzler will transport you to simpler times, when you didn't have to worry about tax returns or body-hair removal. The eye-poppingly bright raspberry filling is just the right side of sour and that pillowy dough makes it feel almost virtuous. We salute you, Justin, for ignoring the double-glazed fancy pants frills and making a great classic great again.
Perfect for: nostalgia fans.
Support Time Out
We see you're using an ad-blocker. Ad revenue is Time Out's main source of income. The content you're reading is made by independent, expert local journalists.
Support Time Out directly today and help us champion the people and places which make the city tick. Cheers!
Donate now