London's best restaurants for vegetarian food
These days, London's veggies are spoilt for choice with a handful of top-notch vegetarian restaurants featuring handsome meat-free menus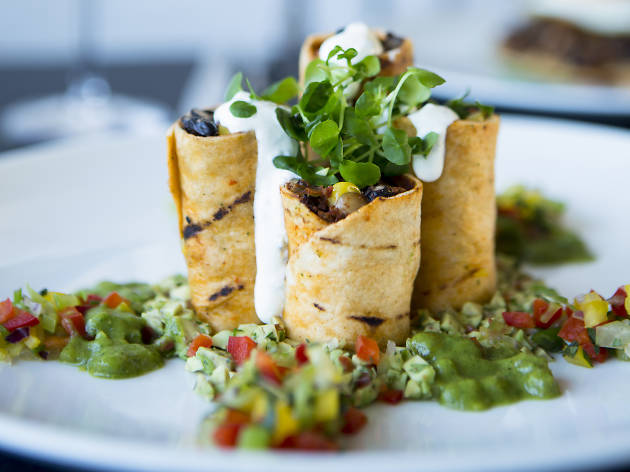 Limp lettuce and tasteless tofu are a distant memory for London's vegetarians. From the very best restaurants in London to London's best cheap eats, check out the crème de la crème of London's veggie scene. Do you agree with the choices? Use the comments box below or tweet your suggestions.
Find great vegan restaurants in London
When it comes to vegan-only restaurants, London has got herbivores covered. But what about when you're eating as a group, and only some of you are vegan? Do you all go to a vegan café, or do you all go somewhere mainstream but boring, where your vegan chum has to eat yet another 'veggie-side-as-main-course'? The answer of course is neither. Find hand-picked mainstream restaurants, covering cuisines from Japanese and Thai, right through to Peruvian, which 'cater for all'.
Read more
Sponsored listing
Carioca
This Brazilian restaurant on Brixton's Market Row gets its name from what residents of Rio de Janeiro are sometimes called. So, as you might expect, the focus is on Brazilian food and drink.  During the day maize muffins are served, topped with options such as poached egg, pulled braised beef, fried plantain and black bean stew (the 'copacabana') and pan-fried chorizo slices with capers, a tapenade of sun-dried tomatoes and bell pepper (the 'carioca'). After 5pm it's dishes such as feijoada and favela cantagalo – a dish of braised beef slow-cooked with bell peppers, onions and spices, and served with white cabbage 'slaw, crispy sweet potato, fresh chilli and watercress salad over a fried cassava rosti.   A snack menu features traditional coxinhas (chicken croquettes), honey-glazed chorizo and chicken wings. There's now another branch over in Croydon.  
Venue says: "Cheapest meal free, every Wednesday from 6pm."