London's best restaurants for vegetarian food
These days, London's veggies are spoilt for choice with a handful of top-notch vegetarian restaurants featuring handsome meat-free menus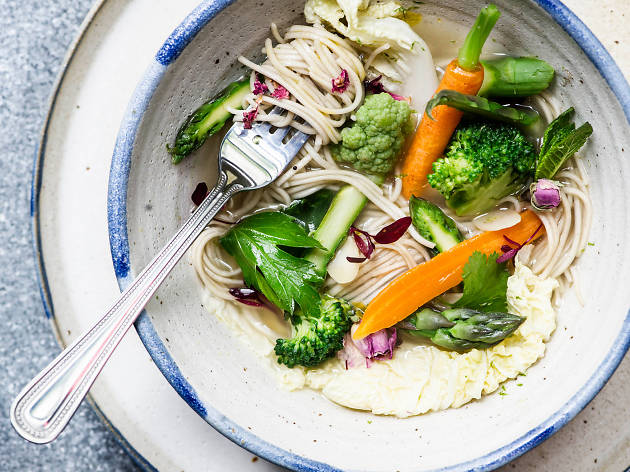 Limp lettuce? Tasteless tofu? Fear not, the bad old days of London's vegetarian restaurant scene are over. Now, meat-free diners have an extensive array of the city's best restaurants, street food stalls and cheap eats to sate themselves with. Hell, it might even convert a dedicated carnivore or two. Look below for Time Out's round-up of the crème de la crème of London's veggie scene.
Do you agree with the choices? Use the comments box below or tweet your suggestions.
Find great vegan restaurants in London
When it comes to vegan-only restaurants, London has got herbivores covered. But what about when you're eating as a group, and only some of you are vegan? Do you all go to a vegan café, or do you all go somewhere mainstream but boring, where your vegan chum has to eat yet another 'veggie-side-as-main-course'? The answer of course is neither. Find hand-picked mainstream restaurants, covering cuisines from Japanese and Thai, right through to Peruvian, which 'cater for all'.
Read more
Sponsored listing
Henrietta Restaurant
Just what is it that makes this fair maiden so special? Is it her laidback, effortlessly cool service? Her laidback, effortlessly cool vibe? Or her food which, given the setting, is improbably impressive? A bit of all three? Ding-ding, you win. It's no surprise, really. Henrietta is the first restaurant in aeons from brilliant, boundary-breaking chef Ollie Dabbous ('da-boo', but you knew that). He's in the process of closing his first two gaffs, leaving him – for now at least – to focus all his attention on just one baby: this one. It is a hotel restaurant, yes, but one with soul. The boutique building – a knock-through of two Covent Garden townhouses – is the latest from the boys behind the Experimental Cocktail Club and hip hangout Le Grand Pigalle in Paris. And perhaps that's why, on the night of my visit, it felt like a place to kick back, to unwind. There was a carefree, summery vibe, evoking an upmarket Mediterranean villa. Walls are pale and festooned with mirrors; floors are hexagonally tiled; there's a soft-toned fresco of a 'big cat' on the ceiling. Because who doesn't want a cat on the ceiling? Staff had passion and personality. They even had the odd facial piercing (tatts may be an obsolete barometer of a venue's un-uptightness, but cheek studs are still fairly progressive). They knew the menu inside out; one even promised, with a wink, that a dish would, yes, be 'life-changing'. He was talking, of course, about the madeleines. People get weirdly excited about