Heads up! We're working hard to be accurate – but these are unusual times, so please always check before heading out.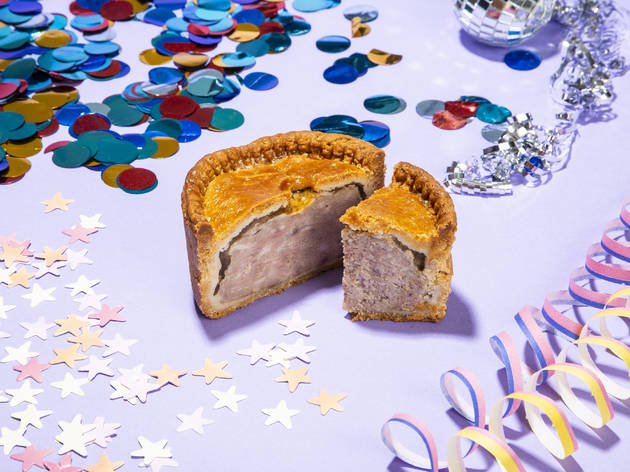 8 decadent pies that'll see you through a cold London winter
We could all do with a bit of comfort food right now. From sweet to savoury, meaty to vegan, here's our pick of the best pies in the city
Slice through the history of London and you'll see pies galore: they were name-checked in Samuel Pepys's diaries, infamously filled with human flesh in the London legend of Sweeney Todd, and a staple meal for the working classes of the East End in the nineteenth century. Bottom line: Londoners love a pie. Here are the best in the city.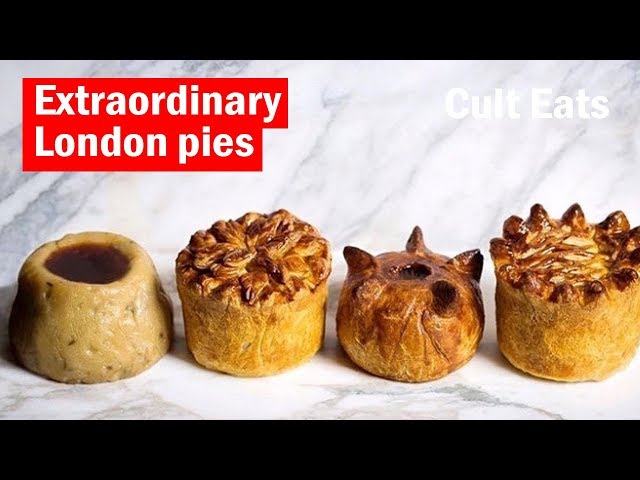 London's best pies
A year on from its launch, London's first fully vegan pie shop Young Vegans continues to wow Camden's hungry hordes with its meat-free marvels. We love its traditional steak-and-ale number, but for sheer carby comfort it has to be the katsu curry pie. Panko-coated seitan 'chick'n' cutlets are smothered in a rich Japanese curry sauce and encased in Young Vegans' signature glossy pastry. You can get it with a mountain of mash, but this one's best with the dunkable fries. £7 (with mash or fries and gravy).
You'd have to be a real birdbrain not to order a slice of Chicken Shop's apple pie after your chook. Deep-filled with cinnamon-scented, caramel-sweet apple chunks and sitting pretty under a rustic lid, it appears at the table in a huge enamel dish looking like it's come straight from the serving hatch at the Double R Diner in 'Twin Peaks'. Got kids? Drop them off at one of the Balham branch's free two-hour masterclasses and they'll learn how to make a miniature version. Sweet! £6 a slice
While most lemon meringue pies fall squarely into the kitsch camp – the dessert equivalent of Frenchie from 'Grease' – Balthazar's lemon meringue pie is altogether more chic. A kind of tarte au citron with an elegant meringue swirl, it comes with a dusting of icing sugar and a jug of blueberry compote. And because this is an establishment of quality, it even recommends a drink to pair with it – a glass of Acqua di Cedro grappa. Fancy. £8.50 a slice.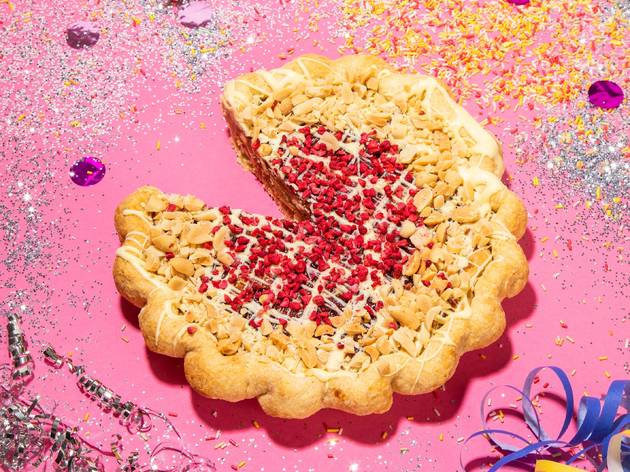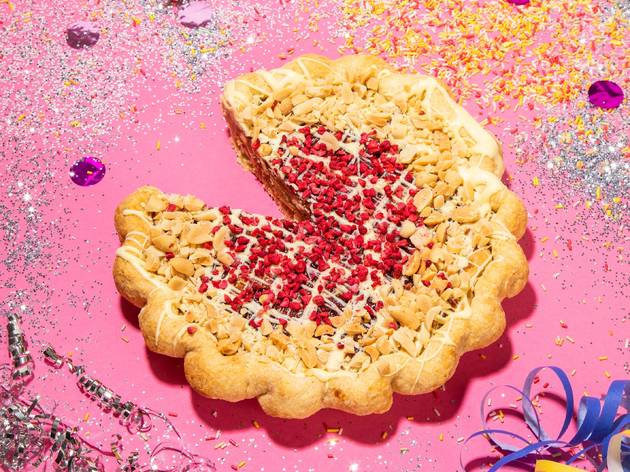 The American sweetheart worth the sugar crash
At Victoria Park Market, the slice is definitely right. Street food sellers A Pie Party do a brisk trade every Sunday in fully-loaded single servings: there are seasonal specials (well hello, there, s'mores pie), and regulars include a mammoth cookies and cream one. The PB&J pie is on all year round, and it's a work of evil genius: a chunky crust with a luxe praline-meets-blondie filling, bedecked with crushed peanuts, freeze-dried raspberries and a white-chocolate drizzle. There's no chance you won't be back for seconds. £4.
Calum Franklin is pastry's Michelangelo, and the Holborn Dining Room is his Sistine Chapel. Each pie he sends out of the dedicated Pie Room (you can book it for private events: a shortcrust-themed wedding, anyone?) is a 'grammable masterpiece, but his favourite – and ours too – is the vegetarian potato, comté and caramelised onion pie. With its burnished crust, melting middle and wafer-thin layers of perfectly cooked spuds, it's got it all. Double points to you if you order a side of chips. £20.
Venue says Welly Wednesday is back! Our infamous beef wellington served for dinner every Wednesday
The name may be tongue-in-cheek (we're hoping roll-out plans include a 'Pie Barnet' and a 'Kilburn Pie Road'), but the team at Piebury Corner is deadly serious about pies. The match-day favourite (their main shop is not far from the Emirates Stadium) specialises in bakes that look as fancy as any pâtisserie pithivier but pack a serious flavour punch – don't miss the ox cheek and venison, with its gorgeously rich, sticky gravy. Save space for the extras: you can request three different types of mash, two kinds of minty crushed peas and, er, a sausage roll on the side. £5.30.
You might need a crust fund (boom!) to tuck into one of these beauties, but it's 100 percent worth saving up for. The Guinea Grill, one of Mayfair's few proper pubs, is famous for its steaks – but it also does a delightful line in pastry. A fixture since the days of bowler-hatted bank managers, its steak, kidney and mushroom pie is made the old-fashioned way, with shredded suet in the crust for miraculously light, golden results. Don't be put off by the kidney element: it's offally tasty. £18.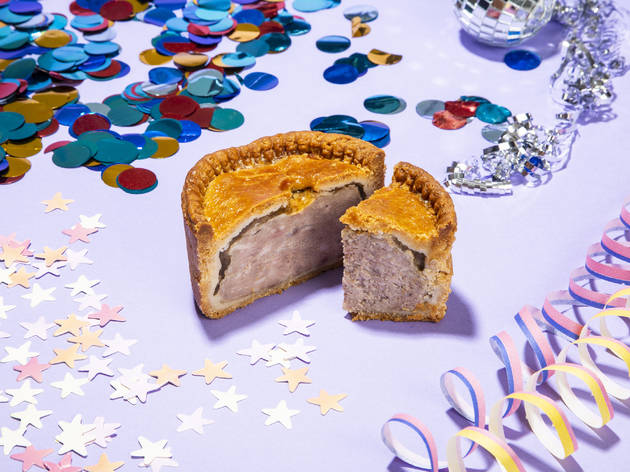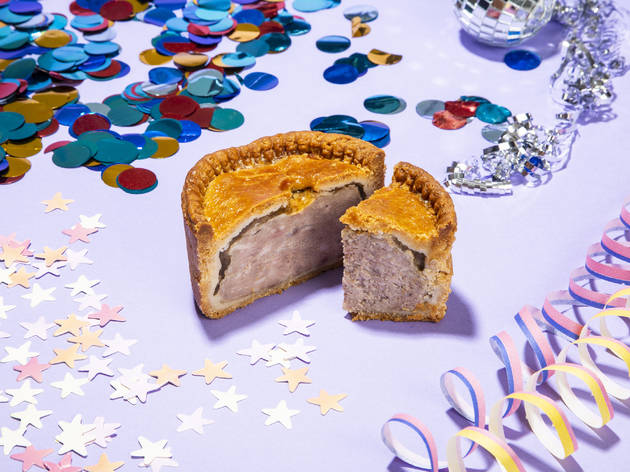 Andy Parsons
The absolute best pork pie in London
There's a time and a place for supermarket pork pies (it's 2.37am, standing directly in front of the fridge with your shoes in the other hand), but for something a bit more special, head to Borough Market, where butcher The Ginger Pig turns out its sensationally upper-crust pork pie. The rare-breed pork filling is outstanding, as you'd expect, but this is a true ensemble piece, from the tender, flaking pastry to the flavourful jelly. Keep an eye out for seasonal specials like black pudding with caramelised onion. £6.50.
Find even more pies in London
From Kensington to Kennington, Lewisham to Leytonstone, Time Out has visited London's remaining traditional pie and mash shops. These are some of the city's best suppliers of the original British fast food, so grab a table and get stuck into pie, liquor, mash and even eels.