London's best furniture shops
Get inspired with the capital's finest interior and homeware shops
Does your home look more flatpack than fabulous? You don't need an interior designer on hand to turn your pad into a showhome. Trick it out with a few key pieces from these unusual furniture stores, including antique shops and indie homeware boutiques.
Furniture shops in London
Venue says: "Don't miss our first Art, Antiques & Design Flea Market on Church Street, September 24."
13-25 Church St, London, NW8 8DT


At Alfies Antique Market your vintage handbag comes with a few words about its provenance, and a spot of gentle hunting is often rewarded with a genuinely rare piece of furniture. A rambling network of four floors, the indoor market houses some 75 clued-up sellers providing a discerning selection of jewellery, clothing, homeware and decorative items predominantly from the nineteenth and twentieth centuries.
Read more
72 Loampit Hill, London, SE13 7SX


South-east London's premier treasure trove of furniture is easy to spot from the road - the lifesize metallic model of Predator is a slight giveaway. Inside what feels like a giant shed hang a variety of chandeliers. The far back wall, covered by stacks upon stacks of paintings and prints in mismatched frames, can't be seen from the doorway because of the sheer volume of wing-backed chairs and dressers.
Read more
Rugby Street, London, WC1N 3QT


It's always a tight squeeze in this petite boutique just off Lamb's Conduit Street. But despite its diminutive scale, there's plenty packed in at Ben Pentreath, from kitchenware and stationery, to cushions and candles. True, this place is an ideal gift destination, but as you're buying your mate a gorgeous glass tray lacquered with a vintage map of London, you just might find yourself stocking up on those trendy Kilner jars you suddenly need.
Read more
Imperial House, Jasper Rd , London, SE19 1SJ


There are more than 15 dealers selling across four storeys at this warehouse-style showroom. Each floor has its own character: if you like artily arranged mid-twentieth-century furniture, head down to the basement; if its Victorian antiques you're after, negotiate the tangle of chests, tables and accessories on the first floor.
Read more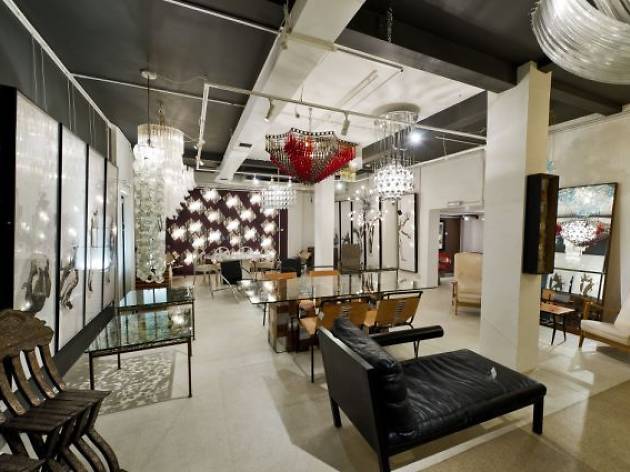 Decoratum
31-33 Church St, London, NW8 8ES


A stone's throw from Regent's Park, Decoratum has often been described as a museum or a gallery purely because of the its attention to detail in regards to the layout of the store. Aesthetically pleasing, Decoratum showcases some of the best quality original vintage furniture from the '50s, '60s, '70s and '80s, and is a favourite among interior designers and private collectors.
34 Short's Gardens, London, WC2H 9PX


A bright, sunny shop in the heart of Covent Garden, selling a mix of contemporary homewares from a wide range of up-and-coming designers. The owners support young designers through their 'Do Masters' programme, which handpicks design school graduates to sell through the store, and gives them a generous profit return.
Read more
Unit 3B Regent Studios, 8 Andrew's Road, London, E8 4QN


This tiny retro furniture and design emporium is hidden just past Broadway Market and beside the canal, in a ground-floor unit of artists hub Regent Studios. Crammed with artfully presented vintage furniture and curios such as retro alarm clocks, desk lamps, stylish coat stands, framed insects, animal skulls, shopkeepers' display cabinets, classic tins and bottles, old typewriters, as well as a selection of framed contemporary art.
Read more
197-199 Stoke Newington High St, N16 0LH
This store recycles locally sourced wood and furniture, to make rustic-looking new pieces. Everything on sale represents something diverted from landfill, but you wouldn't necessarily know it - a styish floor lamp (£180) is made from a doorframe, a hip little block lamp (£55) is made from an old pallet. There are cheap buys too - a simple book stand is just £8.
Read more
196 Tottenham Court Road, London, W1T 7LQ


Heal's may be the grand old dame of interiors stores, but its happy combination of excellent sourcing, helpful staff and a layout that's constantly being reinvented means it manages to stay relevant. Heal's commitment to sourcing new designers is impressive, while established names such as Orla Kiely, Clarissa Hulse, LSA and the Designers Guild are also well represented among the mirrors, rugs, bedlinen, clocks, cushions, art and photography available.
Read more
85 Redchurch Street, London, E2 7DJ


This store sells the sort of things everybody would have had in their kitchen or pantry 60 years ago: functional domestic goods. There is also a small range of classic vintage clothing (work jackets, aprons) and some old-fashioned gifts for children, such as a pinhole camera kit and vintage-style satchels, plus a range of notebooks. Labour & Wait also has a small concession inside Dover Street Market.
Read more
Show more
Looking for home ideas?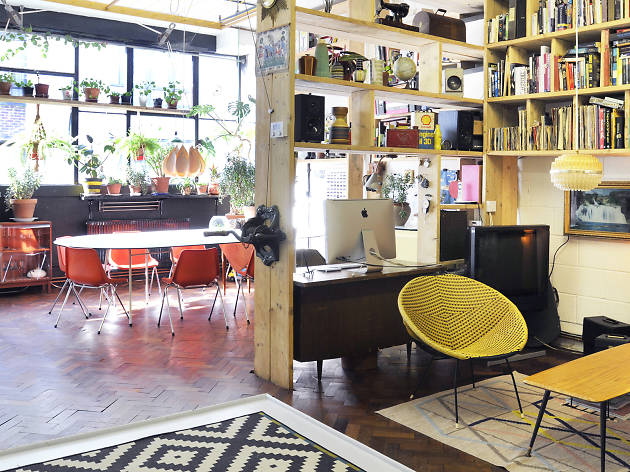 Homes and property in London
Looking to pimp your rented pad? Or have you finally saved enough pounds to take the plunge and buy a home in the capital? Whatever your housing situation, get tips and inspiration for London living with our guide to homes and property in the city.