Acton area guide
Explore all the corners of Acton to find its best restaurants, pubs, parks and things to do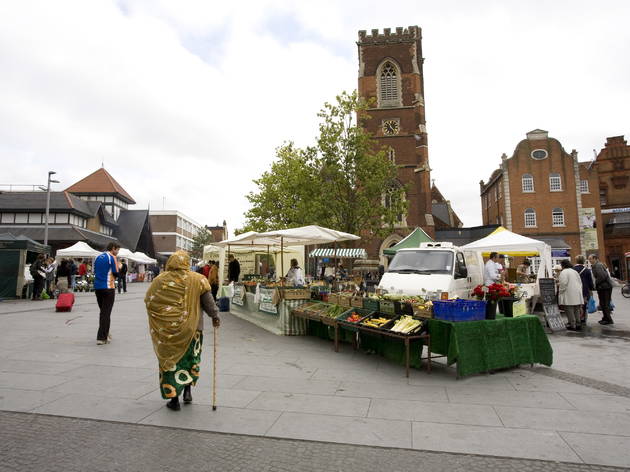 Acton folk love a good park. Gunnersbury Park is gorgeous and houses a museum which was the one-time residence of the Rothschild family, but if you want to keep it super-local, head to Acton Park. During the autumn it's one of the prettiest green spaces in west London, with a chilled café, tennis courts, playgrounds and even a bowling green with a pavilion. Then, head to Acton Market (Crown Street), every Friday to Sunday, where you can pick up weird jams, fresh bread, local art, and some proper fruit and veg. For shops, walk up Churchfield Road, where you'll find English Butchers (manned by an Aussie called Tim), Park and Bridge, an awesome little wine shop, and the brilliant unnamed antique store.
Sponsored listing
The Life Goddess Store Street
More of a kafeneon than taverna, this new Bloomsbury deli is worth a visit just to peruse the many Greek food products and small-producer wines for sale. If you decide to linger, there are printed menus in the airy dining space – but it's easier just to go to the counter, point and order, as you would in Greece. There are more types of Greek filled pies than there are Greek islands; this version of spanakópitta has dense flaky pastry but a light spinach filling. A greek salad had all the right constituents in exactly the right amounts, and was only let down by some under-ripe, northern European tomatoes. The koulouri bread (sesame covered 'bagels') is a savoury snack worth trying, chewy and pliable. The greek coffee can be ordered sweet, without sugar, or – if you're not sure – 'metrio', which is medium.  
Venue says: "Our aim is the harmonious coexistence of Greek hospitality and Greek healthy diet. Enjoy Greek wines, pastries and our in-house deli!"
You might also like