Heads up! We're working hard to be accurate – but these are unusual times, so please always check before heading out.
London's top ten TV detectives
From 'Sherlock' to 'Ripper Street', our tribute to the small-screen sleuths that keep our streets safe
London's first and finest detective is ferociously intelligent, staggeringly patronising, yet somehow still lovable and admirable. If writer Steven Moffat, the latest to bring Conan Doyle's archetype to the screen, can make sense of Benedict Cumberbatch beating death at the end of the last series, it'll match the finest intellectual coups of Holmes himself. But the success of 'Sherlock' proves that the best characters should make sense to any audience in any age.
Any of you slags wondering why he's not top of the cops can, quite frankly, shut it. The '70s rozzer against which all others are measured, Regan boozed, smoked and 4 hung out with Dennis Waterman, upon whom he sometimes called to beat up a suspect. Reprehensible, of course, but he got results. John Thaw, who played Regan, would later head for the more sedate environs of Oxford to do crosswords, listen to opera and solve the odd crime as Inspector Morse.
With an eyepatch, a flying car and a theme tune proclaiming him the fastest, the greatest and the best, DM had to be here somewhere. So what if never managed to nail his nemesis, hoarse-voiced toad Baron Silas Greenback? He saved us from a vampire duck, a dragon called Jones and serpentine supervillain Mac the Fork. Who else on this list can say that?
That Helen Mirren's DCI is the only woman on the list is an indictment of screenwriters and commissioners alike. But it's hard to think of another London woman who has been a truly memorable copper in her own right, as opposed to a sidekick or a foil to a bloke. Too bad, as Mirren is unforgettable over the show's 15-year run, depicting Tennison's journey from ball- breaking trailblazer to defeated alcoholic veteran.
Like his obvious inspiration, Jack Regan, the Gene Genie started out in Manchester ('Life on Mars') before hitting the Smoke. Hunt was a camel- coated Regan for the postmodern age: a grizzled sex symbol who turned political incorrectness into an art form. On paper, we should have hated him, but Philip Glenister's career- defining performance ('Dinnertime! I'm 'avin' 'oops!') made that impossible.
In using his fictional gumshoe to solve the greatest mystery of all – that of the self – Michael Gambon's bedridden writer is a detective unlike any other on the list. Not least because he was also suffering from a hideous skin disease and hallucinations of his doctors performing 'Dem Bones' and other classics from the Jazz Age, and miserably enduring the chaste attentions of Joanne Whalley's stunning nurse. A TV landmark.
Even the best-loved character in 'The Bill' couldn't sustain a spin-off show for more than one series (although Burnside did nail drug smugglers, the Russian mafia and Paul 'Just Good Friends' Nicholas). But, given that he had Shane Richie for company on screen, that may have been a blessing in disguise for actor Chris Ellison, who now has a sideline in unmissably eccentric painting (check his work out at
www.christopherellison.co.uk
).
His catchphrase is: 'Something's not right.' And it's the very wrongness of Idris Elba's troubled DCI that makes him so formidable. Luther's demons are palpable thanks both to Elba's almost comically tortured turn and the extraordinary levels of collateral damage during his cases. Expect friends and colleagues to get another rough ride when he returns for a final series this year.
The crimes were petty, the talkings-to stern and the kettle generally on when Jack Warner's bobby on the beat was doing his rounds. PC George Dixon was originally bumped off by Dirk Bogarde in 1950 movie 'The Blue Lamp', but he was resurrected for TV in 1955, a calmer copper in a series so genteel it barely reflected the realities for the Met Police. Warner said his last 'Evenin' all' in 1976, aged 80.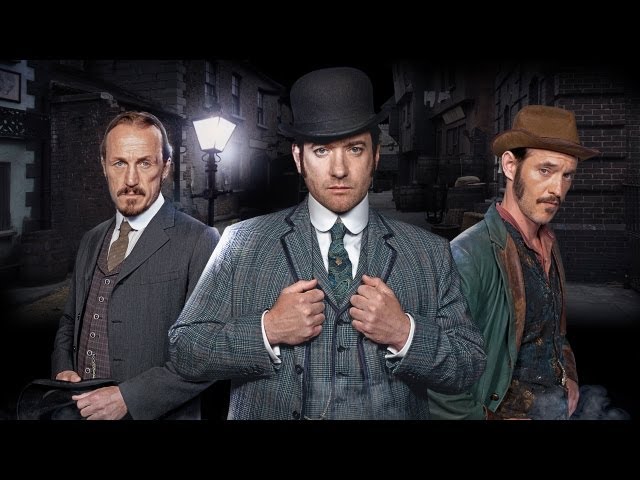 Stoic, gifted and struggling with a difficult past, Matthew Macfadyen's Victorian policeman is the latest addition to our list and an amalgam of his predecessors, all the way down to the bickering sidekicks, sceptical boss and copycat killer. Television's well of maverick lawmen who don't play by the rules shows no sign of running dry: our fictional streets, at least, are safe for a while longer.