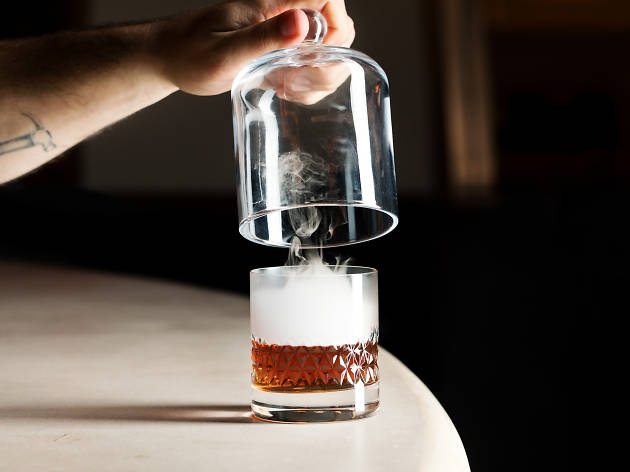 Meet the finalists of Time Out L.A.'s 2018 Bar Awards
Raise a glass and a tiki mug to cheers the best bar and cocktail finalists for Time Out L.A.'s 2018 Bar Awards
It's been a big year for L.A. bars. Since our previous Bar Awards, these distinguished watering holes and industry innovators have continued to fan out across the city, host pop-ups featuring some of the world's most notable bartenders, and even plant roots from a few of the East Coast's finest. But that's not to say the stalwarts went unnoticed, either, as they cemented their status as tried-and-true L.A. icons. Between the old guard and the new—whether we're talking beer bars, cocktail bars or wine bars—this year's competition for Time Out L.A.'s 2018 Bar Awards is pretty fierce. Naturally, we asked the industry's top professionals to vote for who they think came out on top, and we'll all know the winners when they're announced on June 25—in the meantime, check out this year's finalists.
RECOMMENDED: Full guide to Time Out L.A.'s Bar Awards
Bar of the Year sponsored by Hendrick's Gin
Accomplice
Big Bar
NoMad (Giannini Bar)
The Normandie Club
Pacific Seas
Best Legacy Bar sponsored by Flor de Caña
Jones
Musso and Frank Grill
Seven Grand
The Spare Room
The Varnish
Best Wine Bar sponsored by Segura Viudas IO
A.O.C.
Bar Bandini
Bar Covell
Esters Wine Shop & Bar
Mignon
Best New Bar
Bibo Ergo Sum
Broken Shaker
Employees Only
Lono
NoMad (Giannini Bar)
Best Bar-Restaurant Program
The Hearth and Hound
Otium
The Ponte
Providence
Redbird
Best Crew
Big Bar
Harvard & Stone
The Normandie Club
The Spare Room
The Walker Inn
Most Stylish
71Above
Apothéke LA
Bibo Ergo Sum
Broken Shaker
NoMad (Giannini Bar)
Best Cocktail in the City
Cold Hollow at Bibo Ergo Sum
Yo LA Tengo at Everson Royce Bar
Mezcali Me Banana at Melrose Umbrella Co.
Sazerac at The Normandie Club
Russian Tea G&T at Rudolph's Bar & Tea
Most-Instagrammable Cocktail
Pearl Diver at Accomplice
Banana Wintour at Big Bar
Cocktail Explosion at NoMad (Giannini Bar)
Donga Punch at Pacific Seas
Cola at The Walker Inn
And a huge thank you to this year's lineup of incredible industry panelists!
Panelists
Cari Hah, Bar Manager of Big Bar
Morgan McLachlan, Head Distiller of The Spirit Guild
Austin Melrose, Co-owner of Melrose Umbrella Co.
Marcos Menendez, Managing Partner of Room 31
Gaby Mlynarczyk, Bar Director of Accomplice
Cedd Moses, Founder and CEO of 213 Hospitality
Nick O'Connor, Head Mixologist of Apothéke LA
Ashela Richardson, William Grant & Sons Distillers Ltd. Ambassador
Leo Robitschek, Bar Director and Food & Beverage Managing Partner of NoMad
Christiaan Rollich, Head Barman of the Lucques Group
Mark Stoddard, William Grant & Sons Distillers Ltd. Ambassador
Devon Tarby, Partner and Creative Director of Proprietors LLC
Brandyn Tepper, Co-founder of Cocktail Academy
Yael Vengroff, Bar Director of The Spare Room
Ryan Wainwright, Director of Bar Programs at Faith & Flower

Looking for more wine?
The right lighting, knowledgable bartenders, excellent pours—there's a lot that goes into creating a top-notch wine bar.
Head to one of these bottle shops to score a killer bottle.