Itching to get out of town, but not super stoked on camping or shelling out big bucks for an uninspired hotel stay? We hear you. Our favorite short-term alternative living option? A treehouse, of course. Maybe it's nostalgia from our childhood, or some deep-seated desire to commune with nature on a level we rarely get to in 2016. Whatever the reason, we all go nuts over living quarters suspended in the sky, hugged by trees and kissed by the breeze. To stoke your wanderlust, we've created a list of some of the top treehouse rentals worth driving to from L.A. Happy adventuring!
Treehouse Guest House with Farm Stay, Fillmore CA (1 hr from L.A.)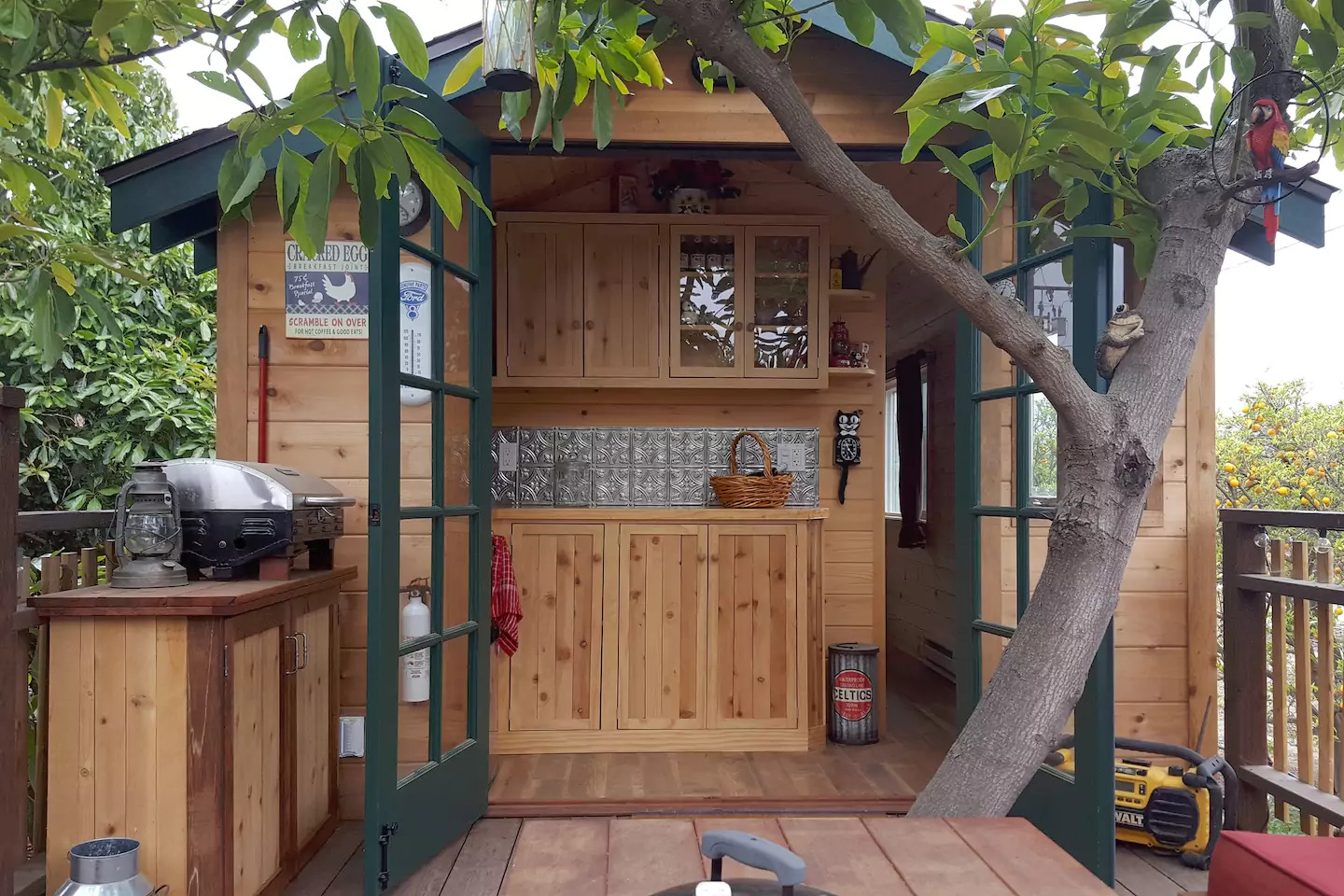 This little treehouse sits on a 10-acre family farm, which means waking up with the roosters before strolling to the orchard to collect fresh eggs. Though the house isn't built into an actual tree, it sits suspended nine feet up in a grove of orange and avocado trees—does it get more California dreamy than that? For the kid in you, there's a pole to slide down and a basket hoist for transporting eggs and fruit. And for the adult in you that needs to relax, ask about the professional massage therapist on-call.
Romantic Rustic Off-Grid Treehouse, Escondido CA (1 hr 50 mins from L.A.)
This treehouse is on the Crown Hill Ranch & Conservation Center property, and all guests must be willing to help plant a tree! If you're in good enough shape to hike to it (and climb the steep bedroom stairs), this little retreat is perfect for visitors who don't need luxurious amenities. There's an outhouse and electricity is limited, but great views are not. Bonus? You can use the wood-fired hot tub anytime during your stay.
Redwood Treehouse Santa Cruz Mtns., Watsonville CA (5 hrs from L.A.)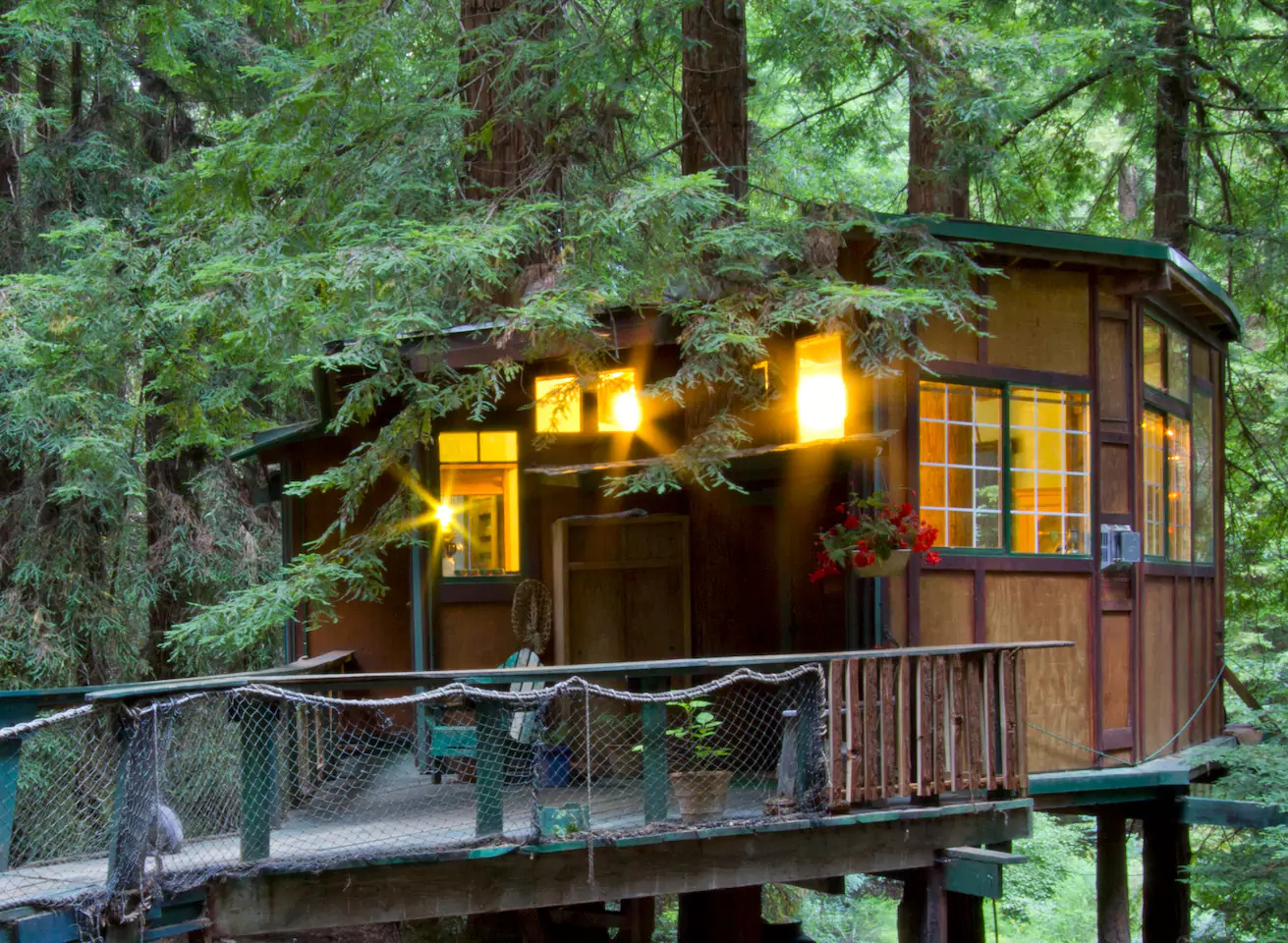 Built by a stained glass artist, this treehouse has its main tree growing directly through the living area (and another through the bathroom!). There's a comfy high-bed, a kitchen with a small stove and refrigerator, a full bathroom with a shower and toilet and a gas stove for heating, along with a TV and DVD player. There's also a 103-degree hot tub on the premises for late night or early morning soaks.
Treehouse Above San Francisco Bay!, Burlingame CA (5 hrs 50 mins from L.A.)
This treehouse—built with love for the host family's kids, now updated for visiting adults only—is a wee home in a 150 year-old oak tree, nestled in a forested canyon. A light continental breakfast is provided, along with a basket for transporting the food up to your tiny porch, which has great views of the San Francisco Bay. A private kitchenette and bathroom sit just 30 feet from the treehouse.
Treehouse, Prescott AZ (6 hrs from L.A.)
This humble little treehouse (with twin bed, desk and dresser) sits in a tree near the shared house, where you'll find a kitchen, two bathrooms, laundry, and living and dining space. There's a 15-foot ladder climb to get up into the treehouse, but once you're there, there's Wi-Fi and a space heater, so you'll be cozy and connected.
Tree House Swallowtail Magic Grove, Petaluma CA (6 hrs 40 mins from L.A.)
This little house sits 30 feet high in a multi-trunked, 110-foot tree standing in a eucalyptus grove. Climb three staircase levels past branches and a tree trunk to a railed deck with views of the grove and a nearby Arabian horse farm. The house boasts a comfy queen bed, front French doors, vintage windows and hanging crystals that refract all that sunlight. One of the tree's trunks juts directly through the floor of the cabin, while the other pokes through the deck in multiple spots. Breakfast is served in the main house, and you can either use a chemical toilet (housed in its own room in the treehouse) or a full rustic bathroom (with shower) in the property's historic barn.
Eagle's Nest Treehouse, Bodega Bay CA (7 hrs 20 mins from L.A.)
This one is a looker; it's been furbished using fallen old-growth redwood logs. On a 400-acre property, you'll feel truly secluded traversing the suspended bridge between two towering Douglas Fir trees (you can also take the 30-foot spiral staircase if you don't get dizzy easily). The house has two sets of French doors, insulated walls, electricity and a propane heater, plus a separate bathroom with a flush toilet. There's a copper-lined shower with floor-to-ceiling windows for a view of the forest below.
Want more? Sign up here to stay in the know.