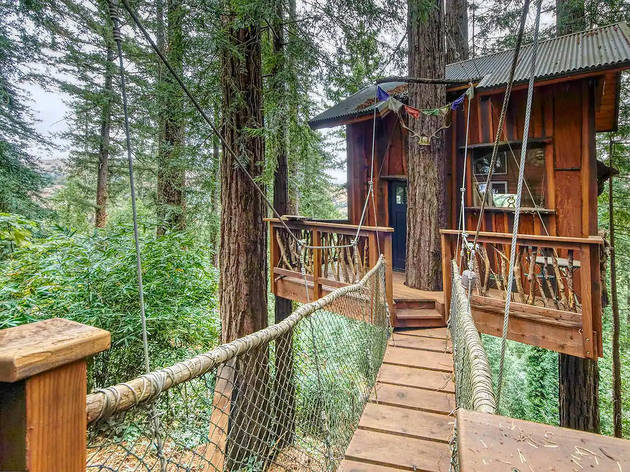 The 8 most amazing treehouse rentals worth driving to from L.A.
Live out your childhood dreams in these treehouses near L.A., including rustic cabins and swanky suites
Itching to get out of town, but not super stoked on camping or shelling out big bucks for an uninspired hotel stay? We hear you. Our favorite short-term alternative living option? A treehouse, of course. Maybe it's nostalgia from our childhood, or some deep-seated desire to commune with nature on a level we rarely get to these days. Whatever the reason, we all go nuts over living quarters suspended in the sky, hugged by trees and kissed by the breeze. To stoke your wanderlust, we've created a list of some of the top treehouse rentals worth driving to from L.A. Happy adventuring!
Here's what you need to know about traveling outside of L.A. right now.
8 amazing treehouse rentals in driving distance of L.A.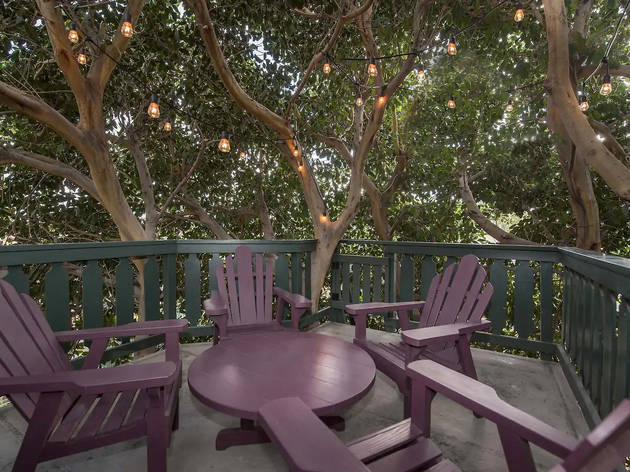 Photograph: Courtesy Airbnb
Treehouse Adventure (Brea)
45min from L.A.; $111
You won't have to stray very far to reach this backyard hangout. This multi-level treehouse features a rooftop patio among the branches and a twisty slide to get back to the ground quickly. You'll find a double bed and small kitchen inside, with a private bathroom detached from the house.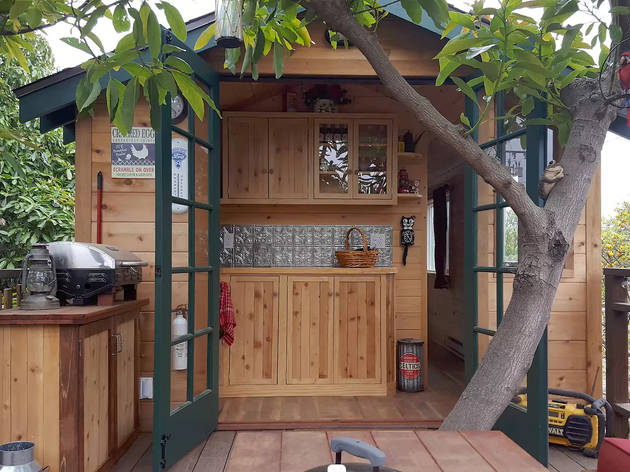 Photograph: Courtesy Airbnb
Treehouse Guest House with Farm Stay (Fillmore)
1hr from L.A.; $188
This little treehouse sits on a 10-acre family farm, which means waking up with the roosters before strolling to the orchard to collect fresh eggs. Though the house isn't built into an actual tree, it sits suspended nine feet up in a grove of orange and avocado trees—does it get more California dreamy than that? For the kid in you, there's a pole to slide down and a basket hoist for transporting eggs and fruit. And for the adult in you that needs to relax, ask about the professional massage therapist on-call.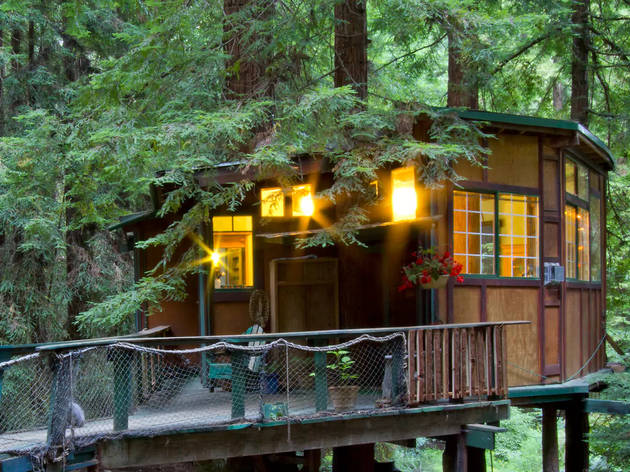 Photograph: Courtesy Airbnb
Redwood Treehouse Santa Cruz Mountains (Watsonville)
5hr from L.A.; $158
Built by a stained glass artist, this treehouse has its main tree growing directly through the living area (and another through the bathroom!). There's a comfy high-bed, a kitchen with a small stove and refrigerator, a full bathroom with a shower and toilet and a gas stove for heating, along with a TV and DVD player. There's also a 103-degree hot tub on the premises for late night or early morning soaks.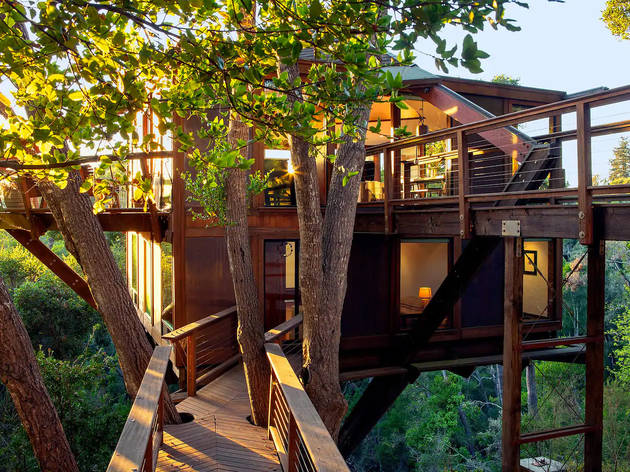 Photograph: Courtesy Airbnb
Peaceful Treehouse with Ocean View (Aptos)
5hr 30min from L.A.; $787
A midcentury treehouse? We're in love. The open kitchen, sweeping views and stylish furniture are far more dream house than rustic cabin, but there are still plenty of treehouse vibes with two levels of walkways to reach the home and a hammock on the patio. It's easily the priciest pick on our list, but the three bedrooms help cushion the cost a little bit.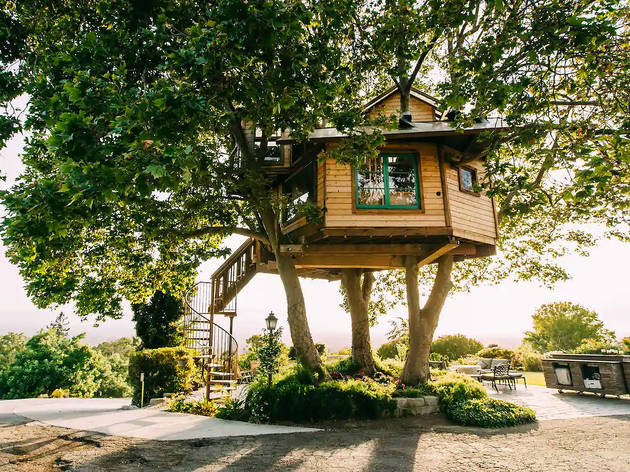 Photograph: Courtesy Airbnb
5hr 30min; $350
With sweeping views of Silicon Valley and a pair of lofted beds, this spot feels like the backyard clubhouse you always wanted to build. Wind up the spiral staircase and you'll find tons of windows here, plus a full bathroom and kitchenette.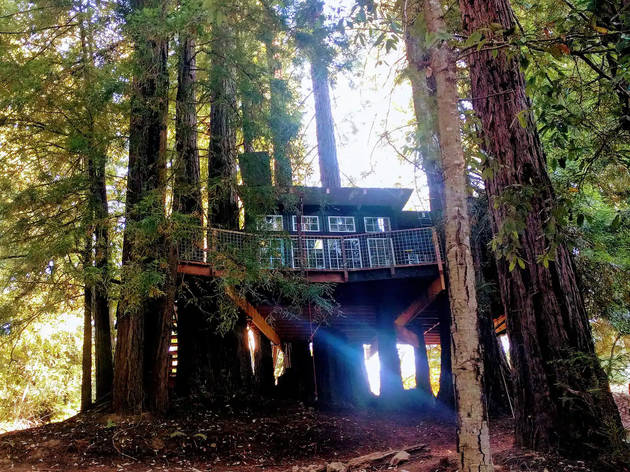 Photograph: Courtesy Airbnb
Romantic Treehouse in the Redwoods (Santa Cruz)
5hr 45min; $380
This Santa Cruz property really emphasizes the "house" part of treehouse: Inside the two-room suite, which includes locally-sourced breakfasts from its B&B host, you'd easily mistake it for a comfy farmhouse. But it's wholly unique from the outside, where it's suspended 14 feet off the ground in a ring of redwoods.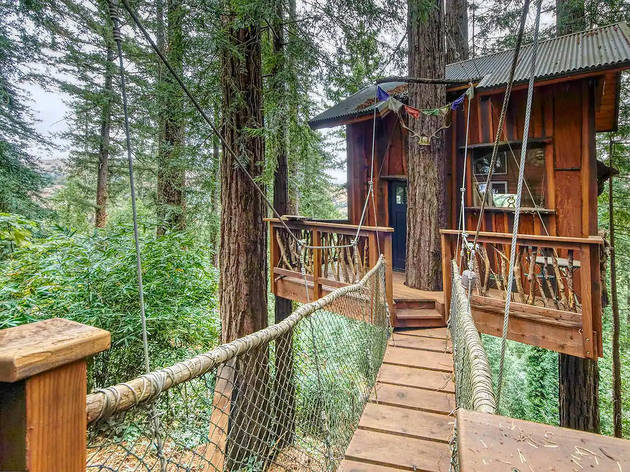 Photograph: Courtesy Airbnb
A Treehouse in the Sky (Woodacre)
6hr 30min; $400
You'll get the best of both worlds with this rental: A three-bedroom with spacious amenities, plus a beautiful treehouse perched 80 feet above the redwoods. Cross the suspension bridge and you'll have access to a hardwood hideaway with a lofted California king bed.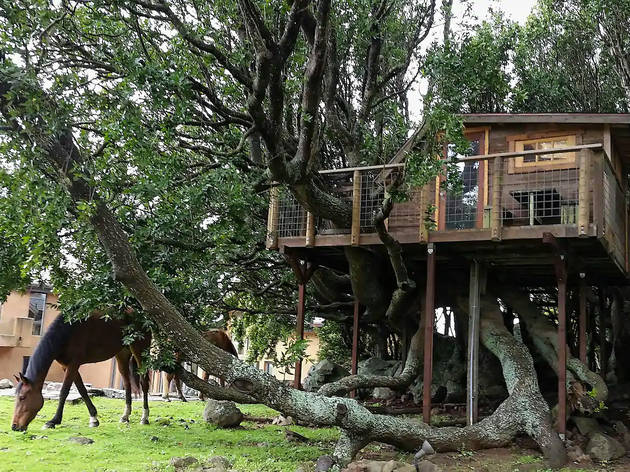 Photograph: Courtesy Airbnb
Danehill Hygge House (Nicasio)
6hr 30min; $500
This cozy treehouse isn't entirely secluded, but it's definitely a retreat: The treehouse is actually a signature suite at the larger Danehill Manor resort. You'll find a queen bed plus a private bathroom and shower in your mid-tree abode, but there are plenty of other amenities on the rest of the reservoir-front property, including dining experiences, horsemanship, dog training, massages, yoga and meditation (though all for an extra cost).