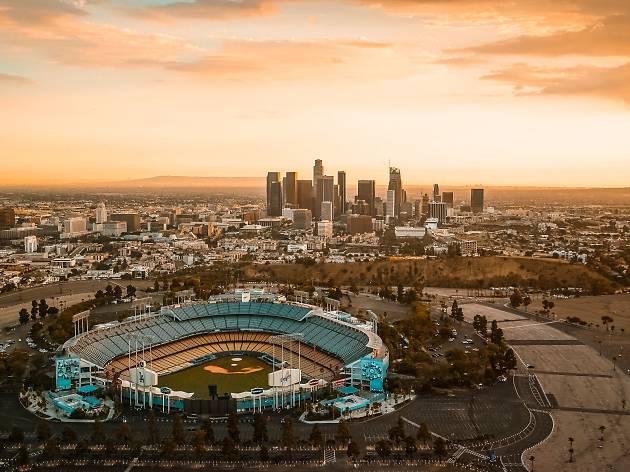 Where to eat at Dodger Stadium and other L.A. sports arenas
There's more to game-day eats than the Dodger Dog. Here are the best food vendors at the Staples Center, Dodger Stadium and more.
There's nothing quite like game day: the rush of adrenaline, the sea of fans sporting your favorite team's colors and, of course, a trip or four to the concessions stands. Whether you're hitting a Dodgers game, repping the Lakers at the Staples Center or cheering at the Angel Stadium of Anaheim, it's a time for ice-cold beer and snacks you can stress-eat when the game gets too close.
While typical ballgame and courtside fare includes peanuts, Cracker Jacks and hot dogs, L.A. has some of the country's best when it comes to eating while catching a game—including California-only craft beer stands, some seriously killer tacos, and sandwiches from James Beard-nominated chefs. Sure, there are places to eat near the park, and team-inspired specials all over town, but with food this good, why even leave the stadium? Here's where and what to eat inside Dodger Stadium, the Banc of California Stadium, the Staples Center and more.
Dodger Stadium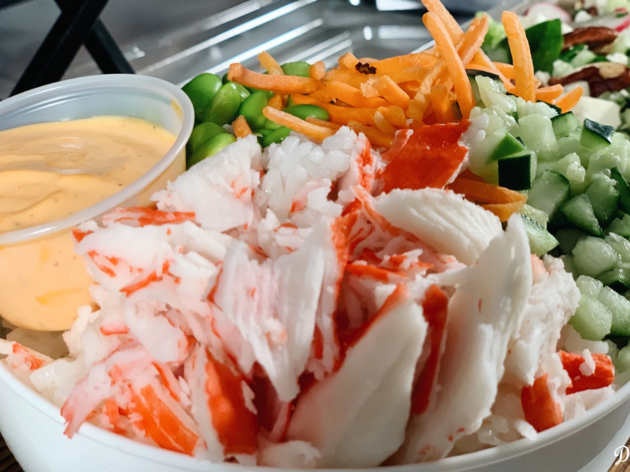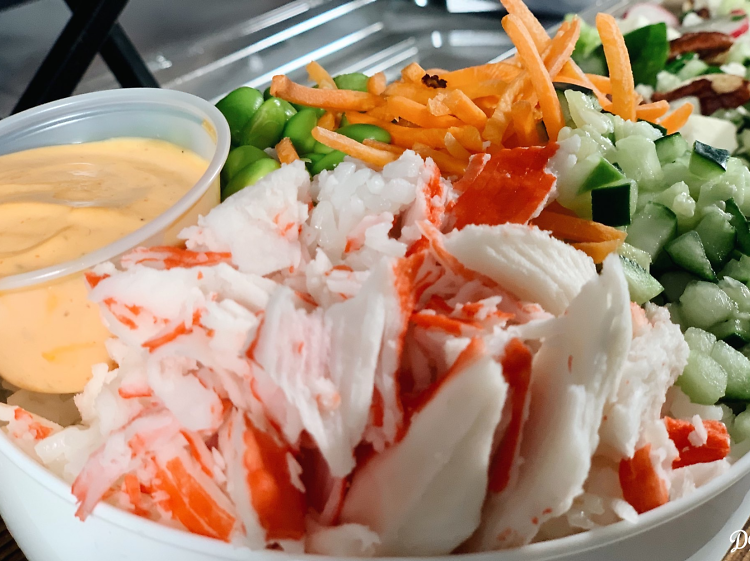 Photograph: Courtesy Dodger Stadium
You've already eaten your way through all the Dodger Dog spinoffs, and at least for the next few games, you never want to see another Dodger Dog again. (Good luck with that.) Enter Base Bowls, the outpost for those looking for anything that's not traditional stadium fare. It's also got one of the strongest drink games in the park: soju cocktails and frozen Kirin beer. Head here for poke bowls, orange chicken and chicken teriyaki (and, if you decide at the last second you do want that hot dog after all, they've got Brooklyn Dogs at the ready). This season they've also unleashed a new item or two: the California Roll Bowl, which includes surimi, Sriracha aioli, edamame, carrots, cucumbers and sushi rice, and the chicken burrito bowl, made with pollo asada, black beans and pico.
Find it: Field 45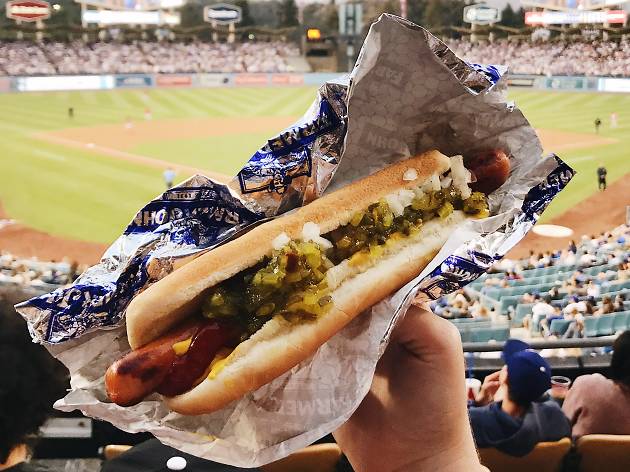 Photograph: Stephanie Breijo
The mack daddy of Dodger Stadium fare, this stand crops up in a few locations and slings some of the ballpark's more memorable items. This is where you'll find classic Dodger Dogs; Doyer Dogs, which come smothered with chili, nacho cheese, jalapeños and onions; the so-craveable garlic fries; Doyer Fries, topped with the trappings of a Doyer Dog; beer; esquite; and soft serve. Whew.
Find it: at Field 22, Field 23 and Top Deck 6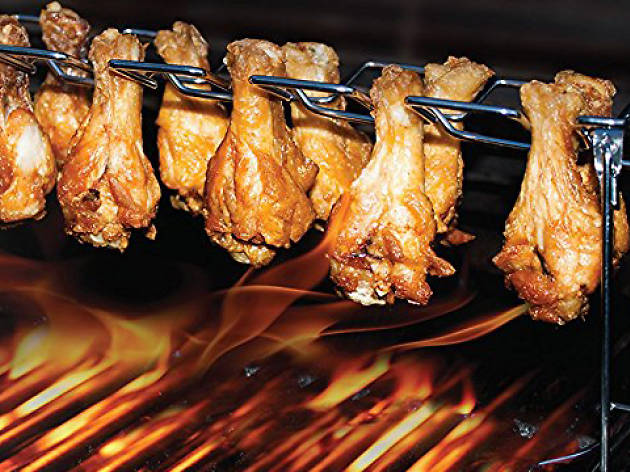 Photograph: Courtesy Jim Beam
Hit this spot for smoked wings cooked in a Jim Beam whiskey sauce, in addition to a few other snackables—namely pork belly tacos and pulled pork sliders—as well as draft beer and a few highball cocktails on draft.
Find it: in Right Field Plaza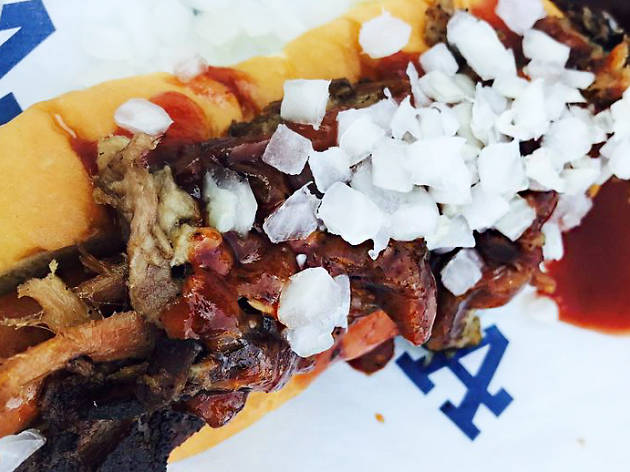 Photograph: Yelp/Vivian H.
Because the more stuffed-in-buns things we eat, the better. Here, the trademark sweet Hawaiian rolls accompany BBQ platters (of pork and beef), plus act as the buns for pulled pork sliders. This is also a spot for grabbing Dole Whip, aguas frescas, the new Dodger Sausage, BBQ pork nachos, a special Hawaiian BBQ-flavored Dodger Dog (pictured), and a giant platter of sticky wings. Mahalo, Dodgers fans.
Find it: at Left Field Plaza
Photograph: Courtesy Dodger Stadium
One of the stadium's top new items goes long, and this is one of the only spots to find it. The new Going Yard Sausage is 16.5 inches long (we hope you brought your appetite) and features a jalapeño, bacon and cheddar sausage  that's topped with roasted corn, avocado relish, grilled onions and crema. This is also where you can catch specials such as ropa vieja, pastrami fries (pictured) and secret-menu crab cake sandwiches. Best follow chef Ryan Evans or Dodger Stadium Food on social media to stay in the know about that rotating specials menu.
Find it: Field 48; Loge level 133 and Reserve Level 4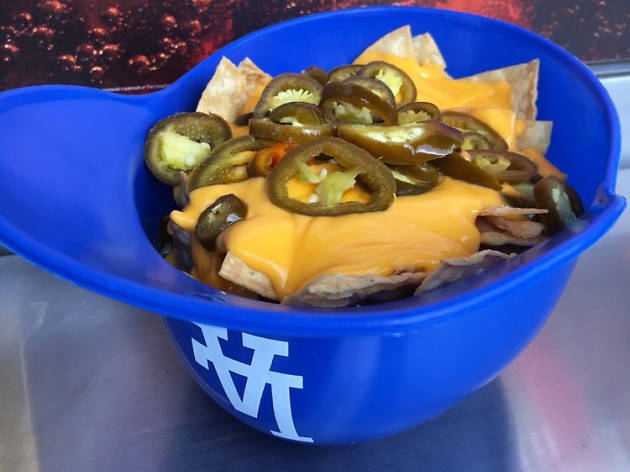 Photograph: Courtesy Yelp/Nina N.
If carne asada fries served in a collectible blue Dodgers helmet don't interest you, what are you doing eating at the stadium? LA Taqueria serves this—one of the team's most fun and branded dining options, hands down—as well as margaritas on tap, nachos in a souvenir helmet, burritos, tempeh nachos and hot churros. C'mon! Hot churros! How are you going to argue with that? At the express outpost, snag nachos, carne asada fries, vegan nachos, burritos and beer.
Find it: Reserve 17, with an LA Taqueria Express locations at Field Lodge 163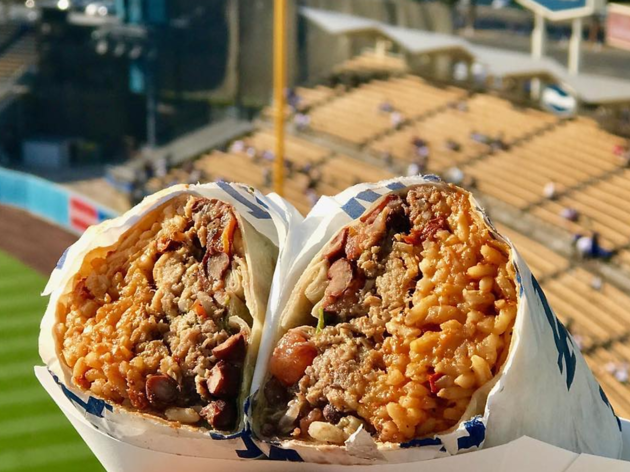 Photograph: Courtesy Dodger Stadium
Where do you go for the stadium's most clog-your-arteries-good eats? Think Blue BBQ, home of the massive pulled pork burrito. It's also where you can snag the new al pastor-inspired Dodger Sausage, plus pulled pork Dodger Dogs, pulled pork nachos, fried chicken buckets, smoked chicken wings, cotton candy, regular Dodger Dogs and, of course, garlic fries.
Find it: Reserve 32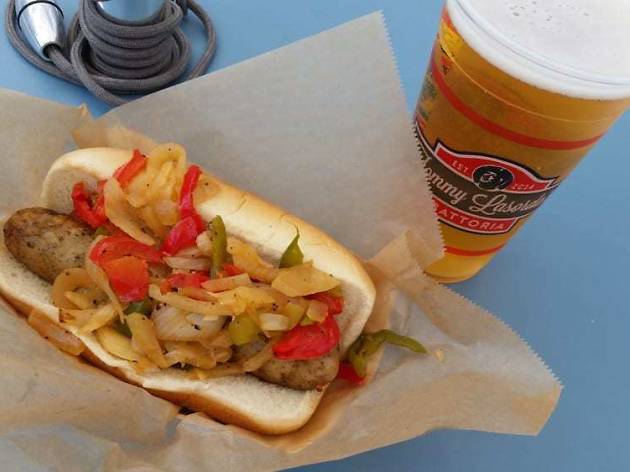 Photograph: Courtesy Yelp/Emil C.
Tommy Lasorda's Trattoria
Is it elegant Italian cuisine? No. Can you sometimes find meatballs in red sauce poured over fries? Absolutely. At this Italian-American red-sauce stand, grab thick-crusted pizza, chicken parm subs, Brooklyn Dogs, garlic fries, Italian sausages and the occasional cannoli. What more do ya want?
Find it: Field 48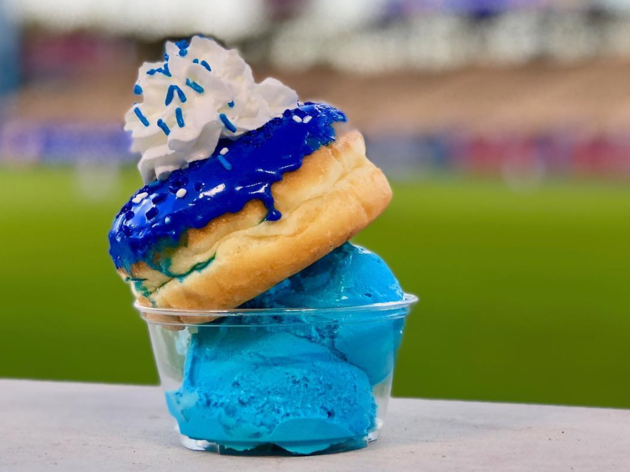 Photograph: Courtesy Dodger Stadium
If you didn't go to a Dodger game and manage to turn your tongue blue, did you really go to a Dodger game? Check this off the to-do list with a visit to Trolley Treats, the stadium's sweets emporium. Churro sundaes, blue ice cream, funnel cakes, soft serve, candied apples and bright blue ICEEs abound.
Find it: at Field 46 and Reserve 2
Staples Center
This Ray Garcia taco concept previously cornered DTLA's upscale-taco market, but that wasn't enough—so the James Beard Award-winning chef expanded B.S. Taqueria to the other end of Downtown with a stall in the Staples Center. At this outpost, expect a pared-down menu and simpler fare that's just as solid: we're talking elote on sticks, carnitas tacos, carne asada tacos, guajillo chicken tacos, chips and guacamole and some melt-in-your-mouth churros. You can also snag margaritas and palomas here, albeit pricey ones.
Find it: on the Main Concourse, next to section 117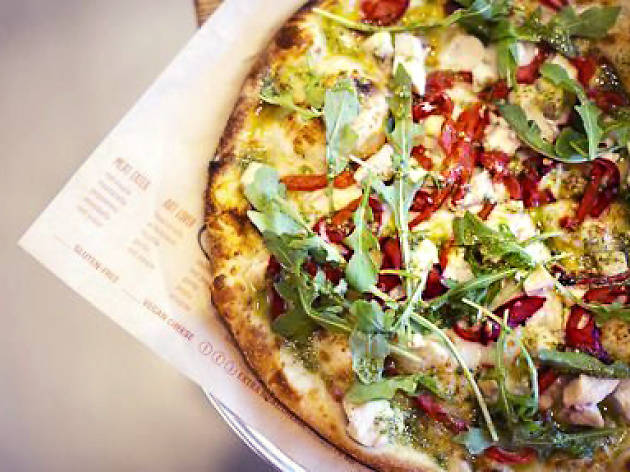 Photograph: Courtesy Blaze Pizza
The Staples Center's Blaze Pizza features a truncated version of the chain's regular menu, but you can still find cooked-in-seconds pies in regular, gluten-free and vegan varieties, with a range of toppings. Note: They're all personal-sized pizzas, and thin crust. See also: salad and cookies.
Find it: Main Concourse, section 109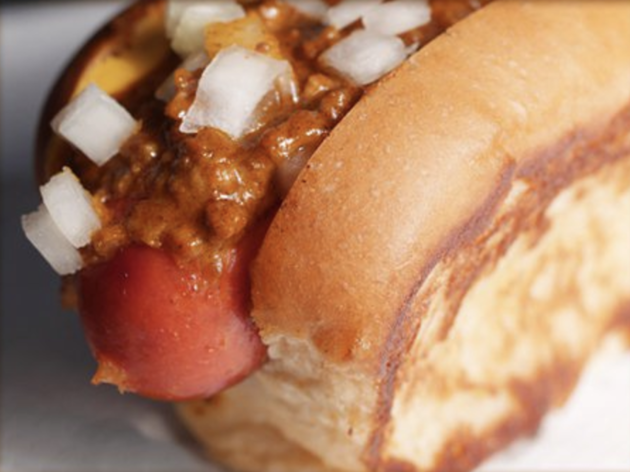 Photograph: Courtesy Dave's Doghouse
Here's where things get weird. You want mac 'n' cheese on a hot dog? Or maybe a California dog—heaped with caramelized onions—is more up your alley? Feel free to add bacon on top, too, because at this point, why wouldn't you? This hot dog shack's got two stands slinging ultra-topped dogs, plus nachos, draft beer and even hot chocolate. It's nothing fancy, but it'll squash those hot dog cravings you get every time you watch sports. There are classics like a chili dog, too, but c'mon—let's get weird.
Find it: on the Main Concourse at sections 102 and 112
This quintessential L.A. brewery has its own outpost here, so of course you can find more than a few varieties of Golden Road brews on draft—and a signature cocktail. This is a spot for gastropub fare, including stuffed garlic bread, fried calamari, poke nachos, salads and hand-battered corn dogs. Honestly, just typing the words "stuffed garlic bread" has us hungry.
Find it: on the Main Concourse, across from section 118
Chef Ludo Lefebvre's fried-chicken concept is one of our top picks at this venue, and it's clear why: It isn't every day you've got the option of fried chicken, honey lavender biscuits and herbs de Provence-sprinkled chicken strips from one of the country's top French chefs. Want an even sweeter finish? Grab the sizeable sweet-and-salty ice cream sandwich for dessert.
Find it: on the Main Concourse, across from section 119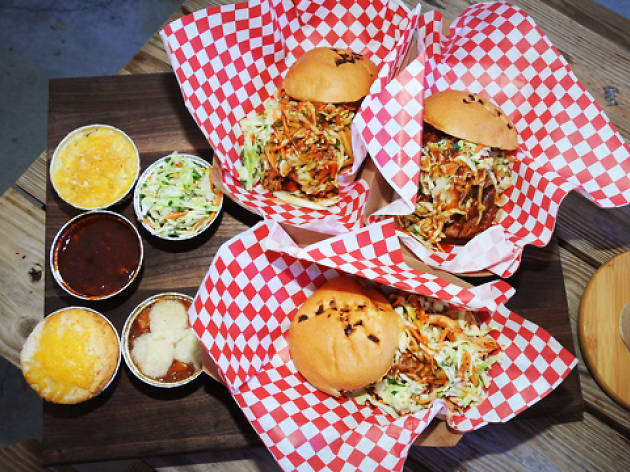 Photograph: Courtesy LA Live
One of the few upper-deck food stalls worth a stop, this BBQ stall serves some of the stadium's most massive meals—and they're messy, too, so grab a napkin. Grab all the napkins. Then you can dig into hulking coleslaw-stacked brisket and pulled pork sandwiches without fearing too much mess and humiliation—unless one of the cameras catches you.
Find it: Upper Concourse, across from section 325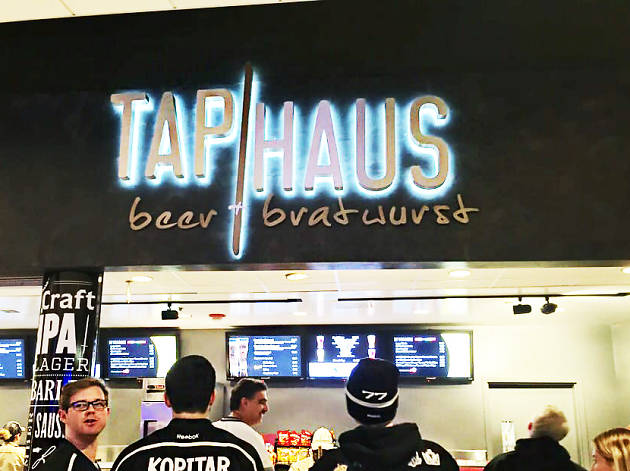 Photograph: Courtesy Yelp/Heather P.
You've got not one but two Tap Haus stalls to choose from, both slinging a range of craft beer on draft. If you're feeling peckish, grab a Shock Top brat or a Shock Top spicy brat (made with Shock Top beer, naturally), a Downtown Dog or a stacked-high pretzel sandwich.
Find it: on the Main Concourse, next to sections 113 and 118
Banc of California Stadium
True to its brick-and-mortar's ethos, the satellite location in this stadium not only serves gourmet gutbombs; it also serves some of the best craft beer in the game. Stop by this stand for duck-fat fries, a classic burger, a massive sriracha burger, a decadent grilled cheese, deep-fried Oreos, and local beer from the likes of Modern Times, Mumford Brewing and Three Weavers Brewing Co.
Find it: on the 200 Level, near section 233
The lines are usually long at this Texas-style Compton mainstay serving ribs, brisket, chicken and more of pitmaster Kevin Bludso's smoked goods, so don't be surprised by a line at the new stadium, too. But just as it is at Bludso's in Compton and more recently in Hollywood, the BBQ at the stadium is worth the wait. Look for BBQ sandwiches, a tri-tip plate and sides like greens, cole slaw and mac 'n' cheese—and don't skip the banana pudding.
Find it: on the 200 Level, near section 227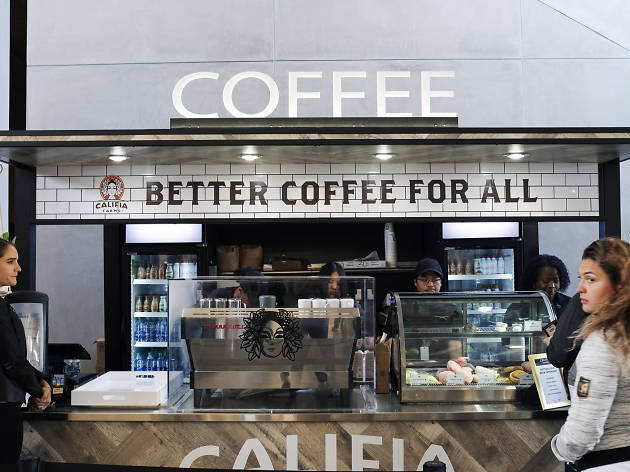 Photograph: Courtesy Califia Farms
Need a caffeine fix? This is your destination. What began as an almond-milk company is fast enterting the coffee space, and at their stand—the first sports partnership for the company, period—you can find a range of espresso-based drinks all made with 100 percent Arabica beans that've been sourced via Direct Trade. There's even a matcha option, and you can bet there's almond milk aplenty. You can also find the cold brew in the stadium's multiple markets.
Find it: on the 200 Level, near section 229
This tiny, beloved DTLA taco stand has not one but two stalls in this stadium: one's an express stand, and each serves barbacoa, chicken, pork, and veggie tacos on fresh corn tortillas. This is also a spot to grab chips and guac, plus cold beer and candy.
Find it: on the 200 Level, behind the Supporters Section and near section 219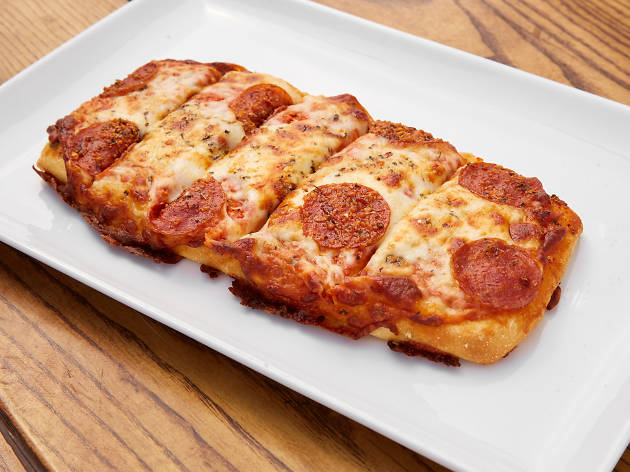 Photograph: Courtesy Banc of California Stadium/Ryan Tanaka
If you miss elementary school pizza days, this is the stand for you. The stadium bakes French bread pizzas onsite, then tops them with cheese, vegetables and pepperoni for all your nostalgia needs.
Find it: on the 200 Level, behind the Supporters Section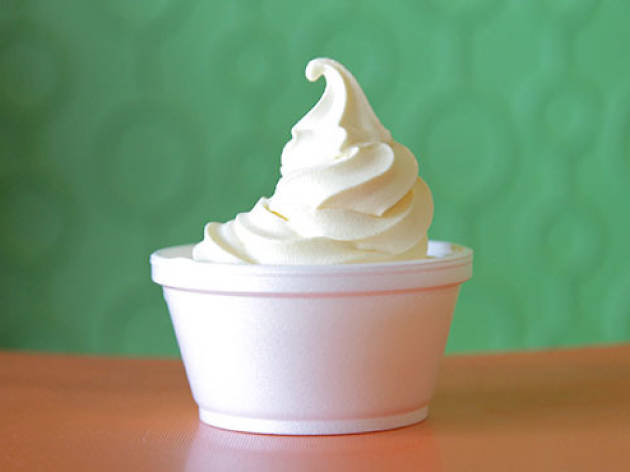 Photograph: Jakob N. Layman
Disneyland, be damned. OK, we don't really mean that, but this stadium's a much nearer drive for most of us and, let's face it, the lines will probably be shorter here than in the Happiest Place on Earth. Of course there's more than your classic Dole Whip here: You can also nab frozen, chocolate-dipped pineapple, plus pineapple juice and a few other snacks.
Find it: on the 200 Level, near section 107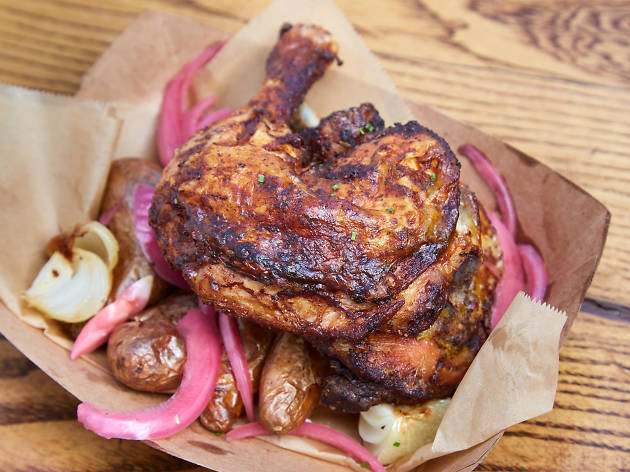 Photograph: Courtesy Banc of California Stadium/RyanTanaka
Sporting two rotisseries in one location for your carniverous pleasure, LA Rotisserie is one of the stadium's more unique options. Watch the meat twirl slowly as it roasts to tenderness perfection for a rotating menu that includes highlights such as hand-carved porchetta sandwiches and plates of half chickens served over seasoned potatoes.
Find it: at the 200 level, near section 208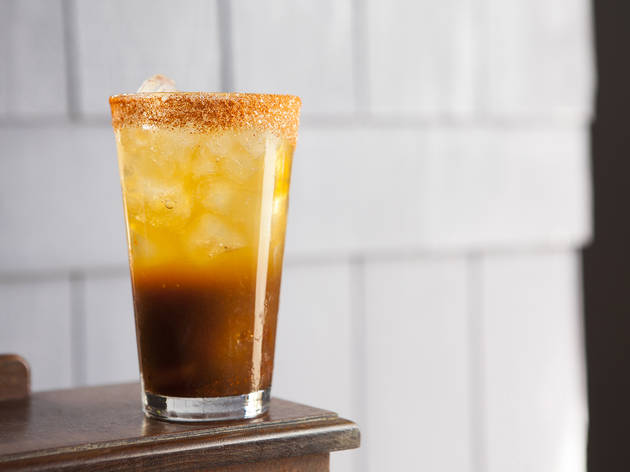 Photograph: Jakob N. Layman
Margarita and Michelada Carts
This bar on wheels serves classic, specialty and frozen margaritas—perfect for a hot day of soccer, if you ask us—and they're all served in a keepsake mason jar. It's also where you'll find micheladas, chili-lime peanuts, chicharones and craft beer.
Find it: on Level 200 near sections 225 and 218; on Level 300 near section M3; and on Level 400 near the Supporters Section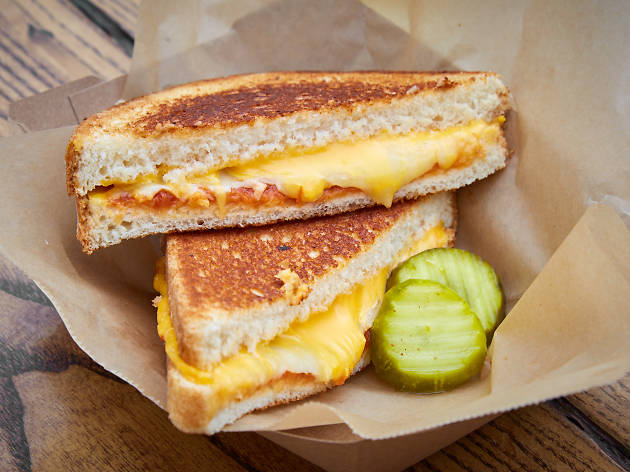 Photograph: Courtesy Banc of California Stadium/RyanTanaka
Cheese fans, rejoice: This is where to find great grilled cheese. This stand specializes in hot pressed sandwiches, most served on locally made bread from OC Baking and utilizing cheese from California. The menu includes opptions like beer-braised short rib and cheddar; turkey and basil; and a triple cream and peppadew marmalade grilled cheese.
Find it: on the 200 level, behind the Supporters Section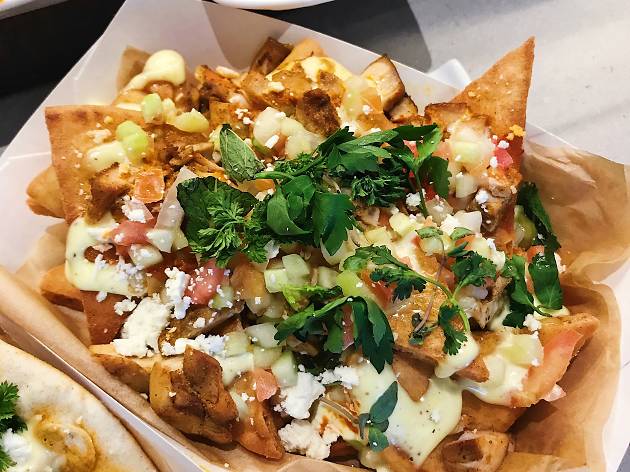 Photograph: Stephanie Breijo
Who says stadium food has to be heavy? This stall leans Mediterranean with items such as pita-chip nachos piled with feta; falafel pita pockets; and chicken shawarma. Wash it down with this stand's selection of 24-ounce beers.
Find it: on the 200 Level, near section 217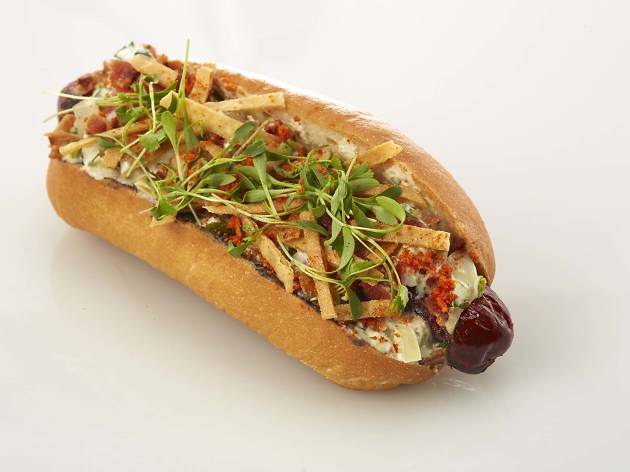 Photograph: Courtesy Seoul Sausage Co.
Founders Chris Oh, Ted Kim and Yong Kim began nearly a decade ago with a Korean hot-dog food truck, and my, look how they've grown. They've spread to Hawaii, San Jose and Oxnard, but you can find them locally in the city's new stadium serving Korean-inspired street food such as kalbi pork sausage with kimchi, and smothered fries.
Find it: on Level 200, near section 229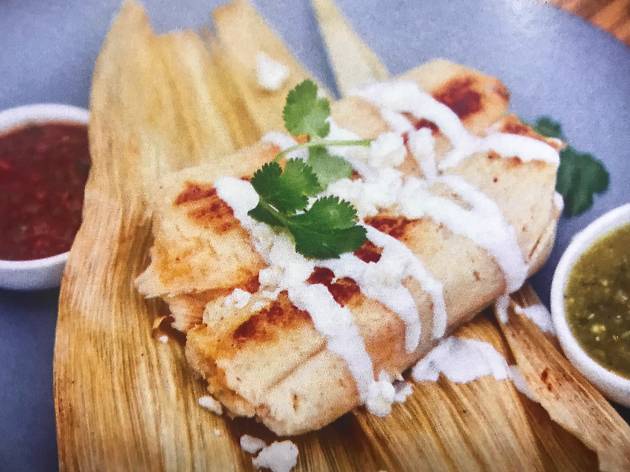 Photograph: Courtesy Banc of California Stadium
We get that some of these sandwich creations are massive and eye-catching, but sometimes all you really want (or need in this life) are some tamales. Fortunately for you, the stadium has three mobile tamale carts serving chicken, spicy pork and cheese-and-green-chile tamales—and beer.
Find it: on Level 300 near section M2 and the Supporters Section, and on Level 500 aboce section 235
Angel Stadium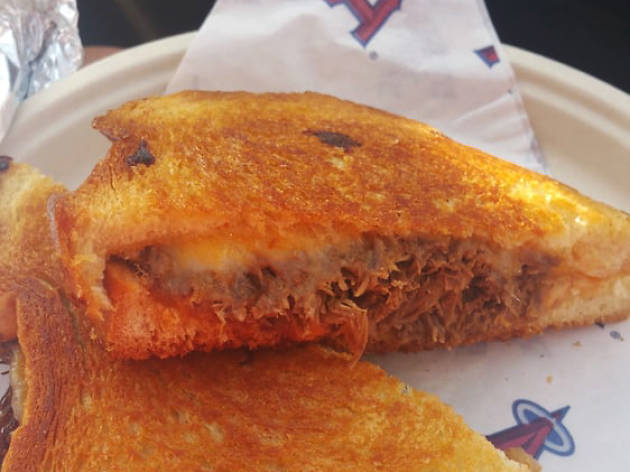 Photograph: Courtesy Yelp/Tosh I.
Ooey, gooey and one of the stronger options for vegetarians and omnivores alike, the Big Cheese serves melty sandwiches that go beyond the average cheese-and-bread combo. Look for Cubano grilled cheese sandwiches, short rib grilled cheese sandwiches, veggie grilled cheese sandwiches and, well, you get the idea.
Find it: Terrace Level, section 211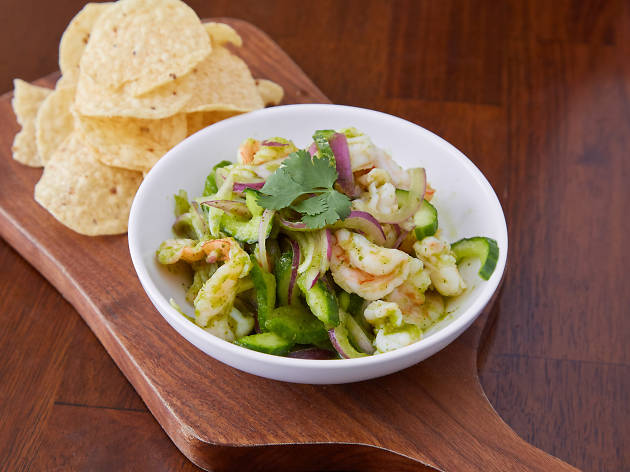 Photograph: Courtesy Angel Stadium/RyanTanaka
Head here for premium draft beer and a taste of Mexico, including ceviche, shrimp aguachile and nachos—the latter can even come served in a collectible Angels helmet, if you so choose.
Find it: section 260 with a small outpost at section 237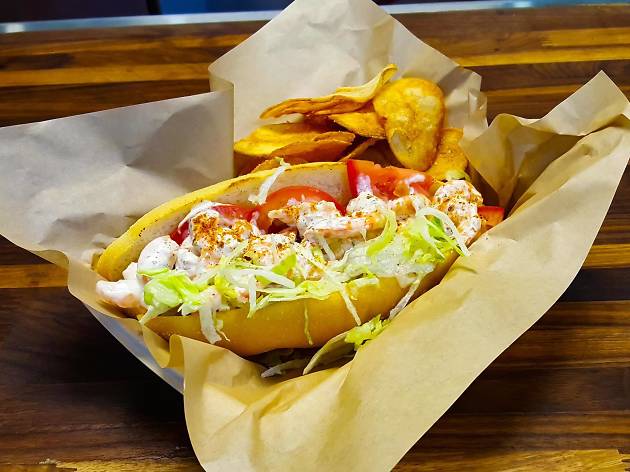 Photograph: Courtesy Anaheim Angels
Those looking to keep things fresh should stop by the Change-Up Kitchen, where the player-inspired menu rotates every month. We're talking Japanese curries, sushi and katsu sandwiches in ode to Shohei Ohtani; Philly fare such as cheesesteaks for Mike Trout; and Italian food for Mike Scioscia.
Find it: section 226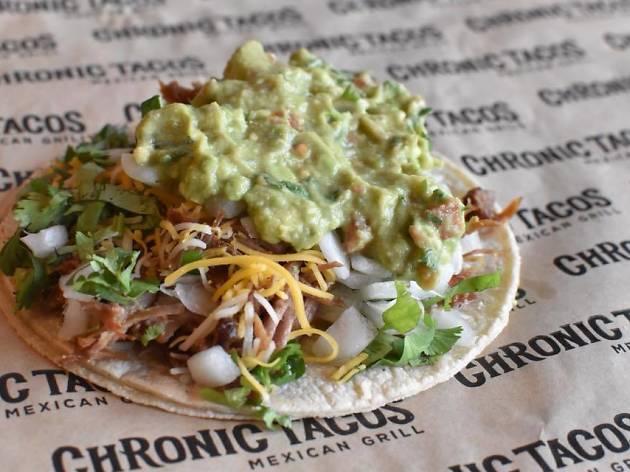 Photograph: Courtesy Chronic Tacos
Any Angeleno knows you can never have too many tacos—and so does the team behind Chronic Tacos. Grab tacos—we're talking carne asada and pollo asado—as well as burritos, burrito bowls and chips and guac, plus beer, nachos and even peanuts.
Find it: in sections 223 and 420
Photograph: Courtesy Yelp/Chris C.
Bring an appetite and lean into the weirdness for hot dogs and sausages under some freaky, fun topping combos: pastrami, cheddar and a chipotle aioli; braised beef short rib chili and onions; mac and cheese; pinto beans; elote; blue cheese crumbles; and sour cream.
Find it: Section 127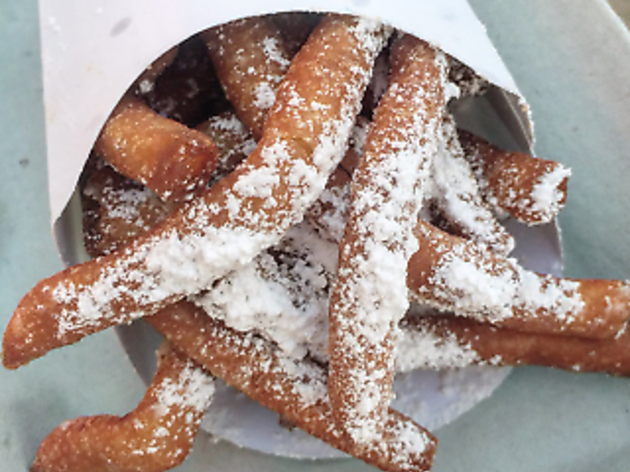 Photograph: Courtesy Yelp/Lana N.
Angel Stadium is poitively littered with fry stands slinging just about any variety of French fry you can imagine. Stop by these carts and stalls for classic fries, sweet potato fries, chili cheese fries, garlic fries, carne asada fries, nacho fries—and even funnel-cake fries, which can come topped with powdered sugar, whipped cream and strawberries.
Find it: in sections 103, 130, 207, 244, 317, 334, 416, 420
Photograph: Courtesy Anaheim Angels/RyanTanaka
While LA Rotisserie's focus is undeniably the roast Jidori chicken—available in half-chicken or sandwich form—it's also got salads and other sandwich options, such as the Santa Maria-style steak sandwich topped with garlic herb butter and salsa roja.
Find it: in section 114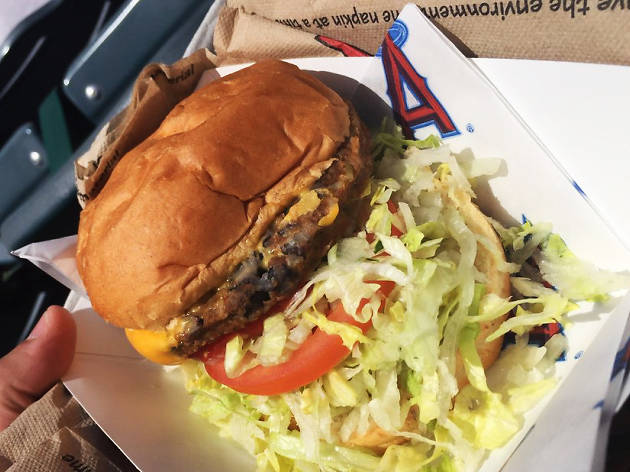 Photograph: Courtesy Yelp/Aileen R.
Vegetarians, rejoice: This stall serves a handful of vegan and vegetarian-friendly items, including a black bean burger, veggie dogs, veggie nachos and hummus. There's beer here, too, making it a one-stop shop.
Find it: in the Third Base food court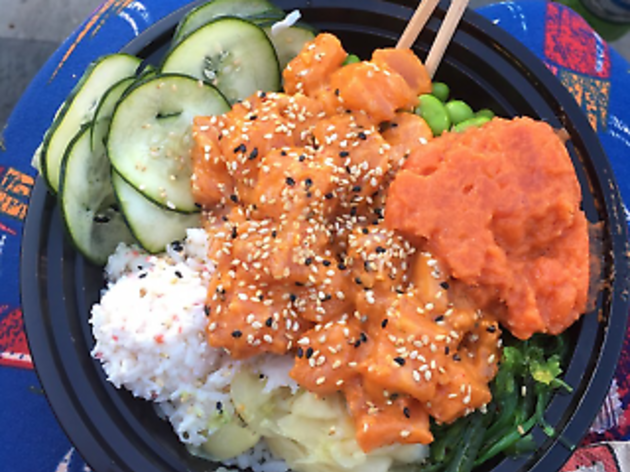 Photograph: Courtesy Yelp/Elizabeth B.
You do the Oke Poke and you don't turn yourself around, but you do order a giant poke bowl, a heaping pile of poke nachos or even a poke burrito stuffed with firecracker salmon, spicy tuna, edamame and more. Thirsty? This is also one of the only places in the stadium where you can find frozen cocktails—or, if you're looking for something non-alcoholic, shaved ice.
Find it: Third Base Food Court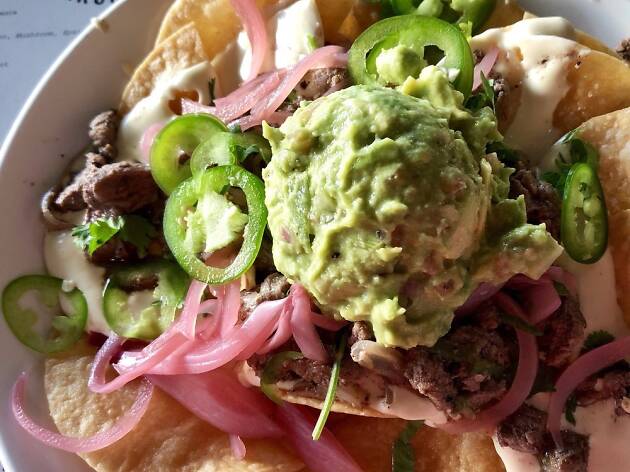 Photograph: Courtesy Yelp/Chris C.
Saint Archer Brewing Co. Restaurant
San Diego's Saint Archer Brewing Co. set up an outpost in Angel Stadium, and the food's just as eclectic and fun as the beer. Find dishes like al pastor nachos, Thai sticky ribs, ice cream sandwiches, salads, massive pretzels, and kung pao drumsticks, not to mention ciders, pale ales, wheat beers, IPAs and a full bar.
Find it: in section 348
Show more
Los Angeles Memorial Coliseum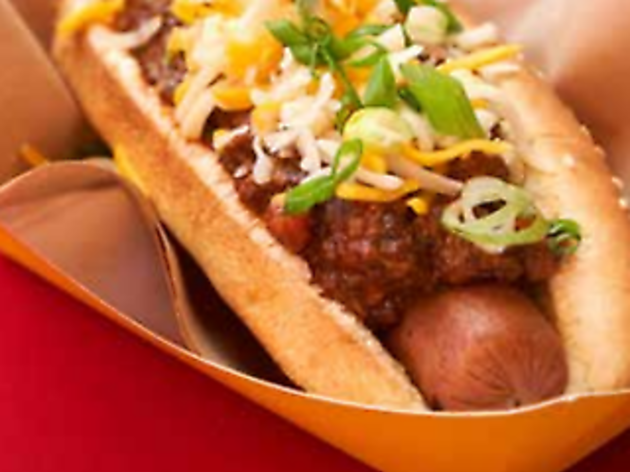 Photograph: Courtesy Los Angeles Memorial Coliseum
This is where you can nab some of the Coliseum's hearty greats: loaded nachos and jumbo dogs slathered in toppings. It's also a surprisingly good value for stadium fare: tons of food for around $10 a dish.
Find it: just inside Gate 4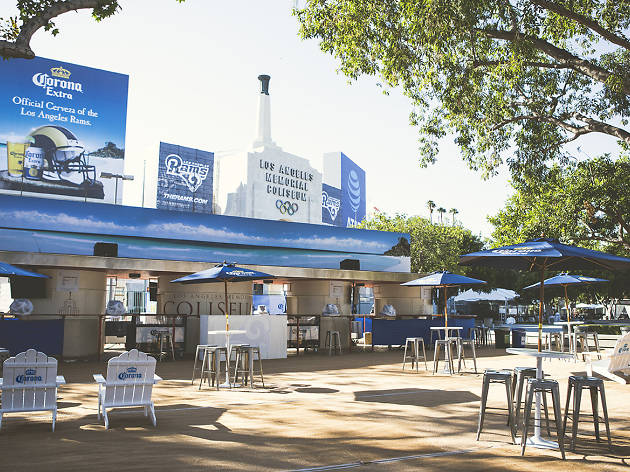 Photograph: Courtesy Upshot/Andrew Kuang
This pops up only during Rams games, and you can usually catch it opening two to three hours before kickoff. As the name suggests, you can bet there'll be Corona here, but at this beach-inspired stand—complete with lawn chairs and umbrellas—you can find a full bar, plus premium drinks such as margaritas.
Find it: at Gate 1, on the south end of the Peristyle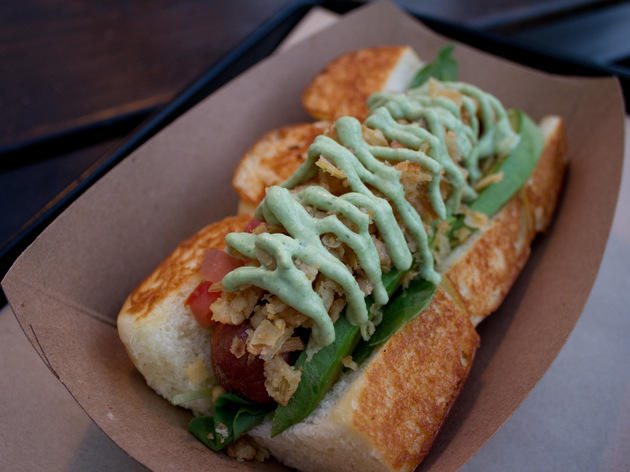 There's a full Dog Haus Biergarten just a few blocks from the stadium—at Figueroa and Jefferson, to be exact—but if you're looking for the immediate satisfaction of gourmet sausages served between griddled King's Hawaiian rolls, well, then you're still in the right place.
Find it: in the food court, just to the left of Gate 11
Photograph: Courtesy Trejo's Tacos
Vendors rotate frequently, but you can almost find a few choice food trucks parked at the end of the stadium. Past options have included Trejo's Tacos, Pink Taco, Slammin' Sliders and Baby's Badass Burgers.
Find it: at the Olympic Gateway, by the East End Zone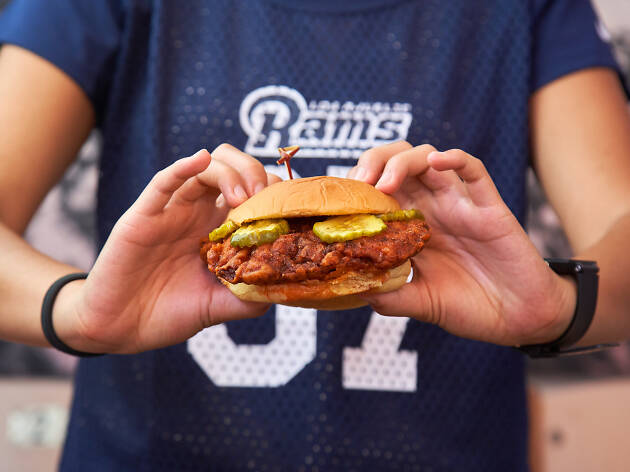 Photograph: Courtesy Los Angeles Memorial Coliseum/Ryan Tanaka
This hot-chicken trend finally hit the Coliseum, which means you can blame your tears on the spice of the sandwich whether the Rams win or lose. Stop by LA Hot Chicken for the cayenne-flecked fried chicken in sandwich form on potato rolls. Think you can take the heat? Order the extra-hot variety, made with ghost peppers and Szechuan chillies.
Find it: at the field tunnel, near aisle 13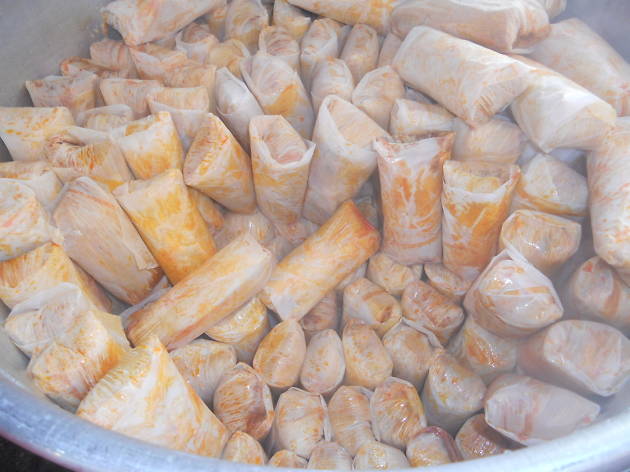 Photograph: Courtesy Placentia Tamale Festival
Sure, nachos are sold at almost every upper-level stand here, and tacos abound in and out of the stadium, but Pancho is where you go for these, plus hearty tamales and fresh guacamole.
Find it: in the food court, just to the left of Gate 11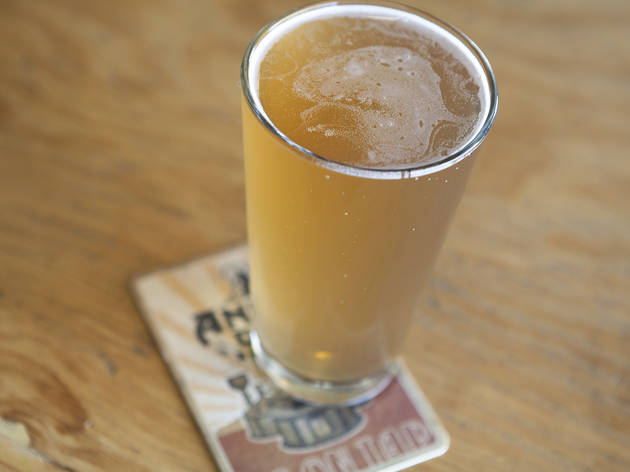 Photograph: Jakob N. Layman
Taste of California Craft Beer
Take a multi-city tour of California's brews, and the most you'll have to travel is from one side of the Coliseum to the other. This pour station features beers from San Diego (Ballast Point) and of course L.A. (options such as Angel City, 3 Weavers and Golden Road), and makes its way to Northern California with breweries like Sierra Nevada.
Find it: at the Peristyle, near the East End Zone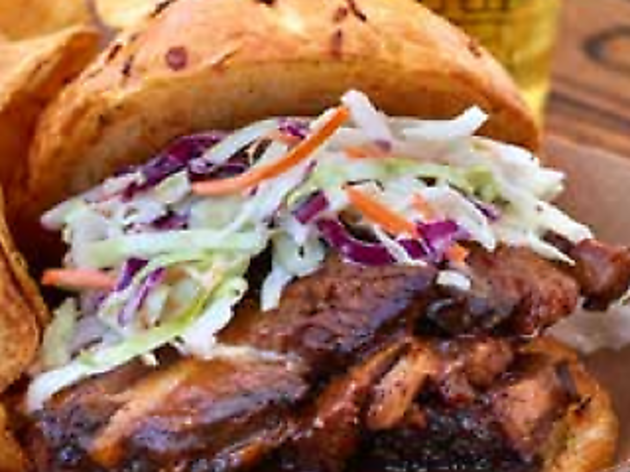 Photograph: Courtesy Los Angeles Memorial Coliseum
Those looking for meaty, smoky, sauce-slicked dishes on game day should bee line to the food court because that's where USC Smokehouse piles mounds of North Carolina-style pulled pork onto sandwiches. If you're craving something beefier, opt for the thick slices of brisket piled onto buns.
Find it: in the food court, just to the left of Gate 11
Trying to sort out which food trucks to try near the stadium?
In a city as sprawling as Los Angeles, food trucks offer a vital oasis for hungry travelers in search of a quick bite or late-night snack.
Best selling Time Out Offers