Holiday gift guide: The best Christmas gift ideas for foodies
Find unique Christmas gift ideas in our holiday gift guide to treat everyone on your list, from the locavore and the coffee nerd to the booze hound.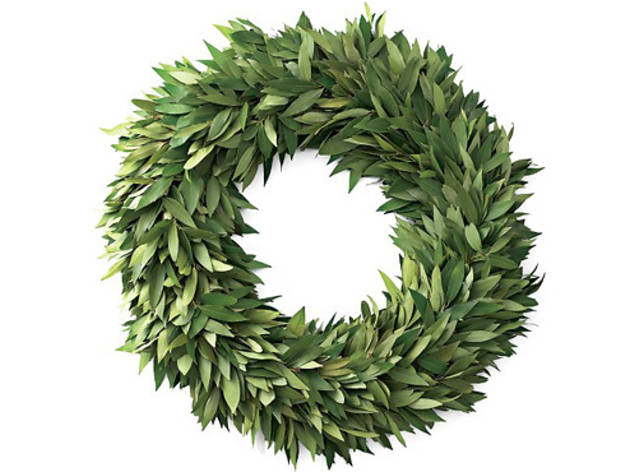 1/12
Holiday gift guide: Bay leaf wreath16-inch wreath, $28. Available at Cookbook. Deck the halls with this wreath of dried bay leaves from an organic farm in Medocino. Hang in your kitchen all-year round and pluck from the edible decoration to use in cold weather soups and stews.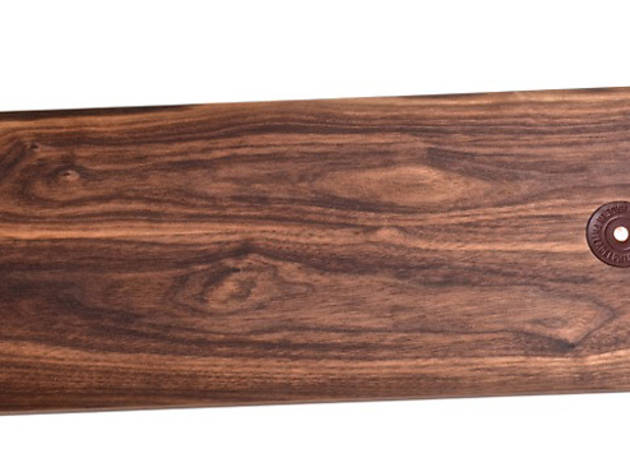 2/12
Photo Courtesy Garde
Holiday gift guide: Cutting board with leather strapLostine black walnut rectangle, $115. Available at Garde. Made in the USA—in Philadelphia, to be exact—this black walnut cutting board is a made-to-last staple for the kitchen and pretty enough to hang up (thanks to the attached leather strap) or lay out (cheese and crackers never looked so good) for holiday entertaining.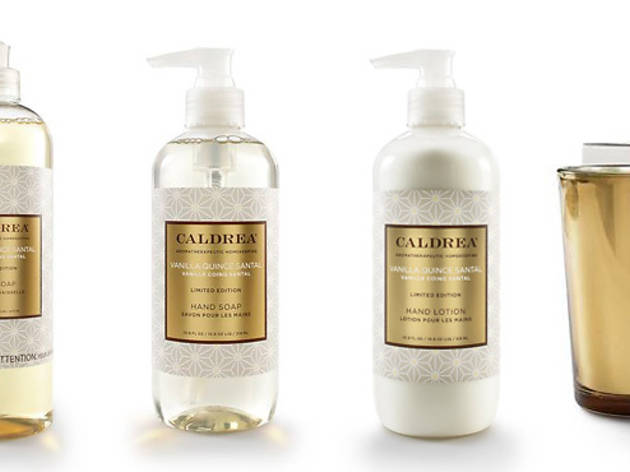 3/12
Photo Courtesy Caldrea
Holiday gift guide: Vanilla quince kitchen soap setFrom left: 16 oz. dish soap, $9; 10.8 oz. hand soap, $11; 10.8 oz. hand lotion, $11; 8.1 oz candle, $30. Available at Lamill. The holiday bird has been carved and eaten, pudding and pies served and dirty dishes stacked high. You can't wait to break out the sponge with Caldrea's pretty (smelling, too) holiday edition of vanilla and quince-scented soaps, lotion and candle.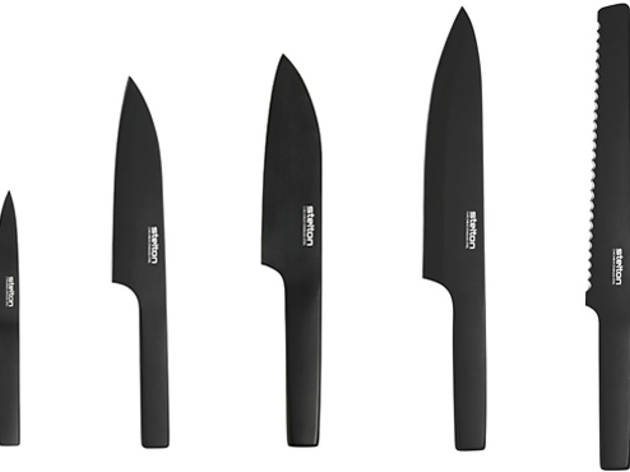 4/12
Photo Courtesy A+R
Holiday gift guide: Knife setFrom left: 7.9" paring knife, $75; 9.3" chef's knife, $80; 10.6" Santoku, $99; 13.5" large chef's knife, $120; 14.7" bread knife, $100. Available at A+R.  Knives as functional as they are sleek in this matte black stainless steel set from Denmark's design-forward Stelton.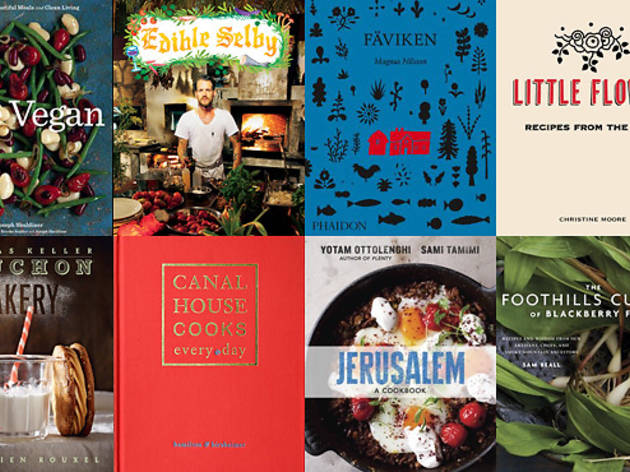 5/12
Holiday gift guide: CookbooksClockwise, from top left: Pure Vegan, $29.95; available at Chevalier's Books. Edible Selby, $35; available at Cookbook. Fäviken, $49.95; available at Vroman's. Little Flower: Recipes from the Café, $25; available at Little Flower Candy Co. Bouchon Bakery, $50; available at Diesel, A Bookstore. Canal House Cooks Everyday, $45; available at Joan's on Third. Jerusalem, $35; available at Joan's on Third. The Foothills Cuisine of Blackberry Farm, $60; available at Skylight Books. If you can't make the pilgrimage to chef Magnus Nilsson's 12-seater or fork over the $995+/night in the Smoky Mountains, do the next best thing. Take a trip to Sweden and the South with Fäviken and the Foothills Cuisine of Blackberry Farm and stock your library with the newest cookbooks from Yotam Ottolenghi and Canal House. Don't miss titles from local heroes the Institute of Domestic Technology's Josheph Schuldiner, Little Flower's baking queen Christine Moore and Cookbook, whose Echo Park market was featured in photog Todd Selby's new release of photos, illustrations and recipes from food world royalty.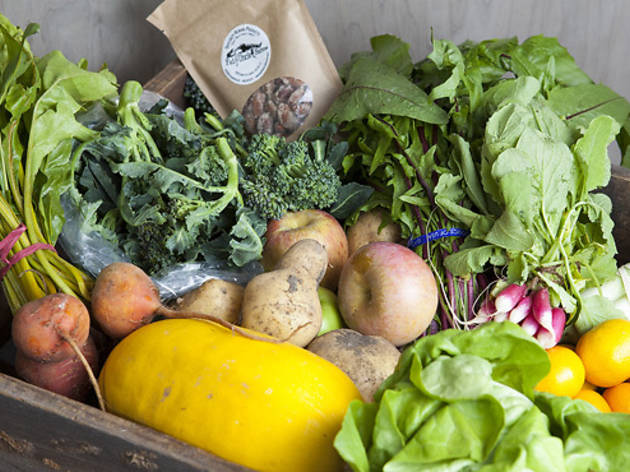 6/12
Photograph: Jakob N. Layman
Holiday gift guide: Produce boxMore to Love produce box for 3-5 people, $60/week. The Produce Project. Give the locavore in your life his own CSA-style produce box to bring the garden into his kitchen and holiday table. The Produce Project fills each box with the best of the season from local farmers—December sees Windrose Farm heirloom potatoes, Garcia Organic Farms Satsuma tangerines and Italian yellow beans from Rutiz Family Farms—with recipes, all ready for weekly pickup at Handsome Coffee Roasters and Paper or Plastik Cafe.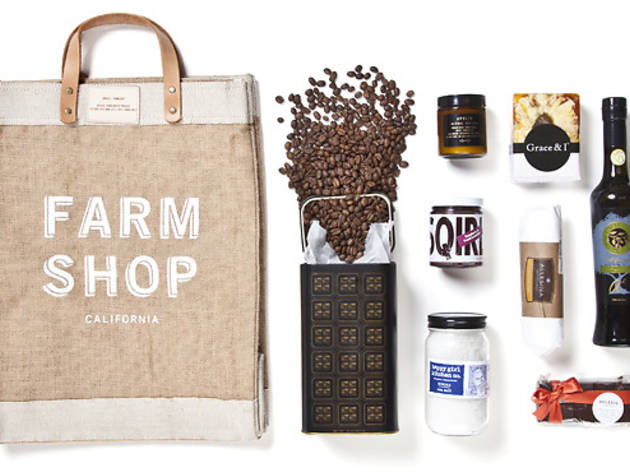 7/12
Photograph Courtesy Farmshop
Holiday gift guide: Limited edition all-in-one bag for the locavore$198. Available at Farmshop. Santa Monica's culinary mecca Farmshop teams up with LA-based menswear company Apolis for a one-of-kind gift bag that your sister, mom or hostess will love. Spread the made-in-CA cheer with locally-produced edibles: Lamill Farmshop blend coffee, Happy Girl Kitchen Co. Sonoma sea salt, Valerie Confections candied orange chocolate bar, Bozzano Olive Ranch olive oil, Alle-pia salami, Grace & I dried fruit + nut press and Sqirl preserves. The leather handled bag that keeps on giving—you'll be the chicest one stocking up on farm eggs and farmstead milk—also includes a cypress and fig–scented travel candle. Purchase in-store or online.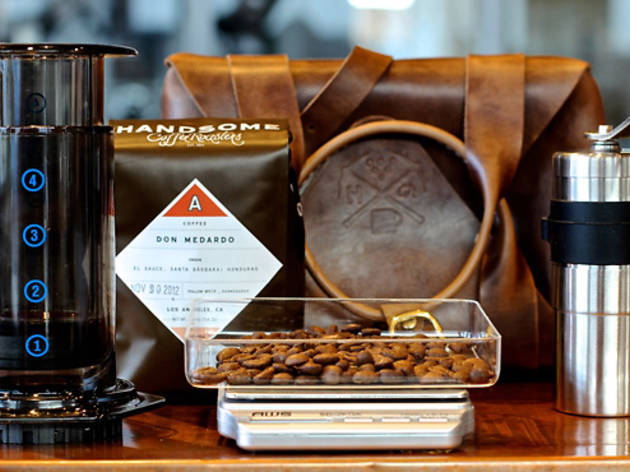 8/12
Photo Courtesy Handsome Coffee Roasters
Holiday gift guide: Limited edition all-in-one bag for the coffee nerd$325. Handsome Coffee Roasters. Coffee nerds never have to risk bad coffee with this travel kit that ensures freshly ground, perfectly pulled and brewed (and eco-friendly) espresso on-the-go. The travel kit includes an Aeropress, scale, Porlex mini hand grinder, 12-ounce bag of made-in-LA Handsome Coffee Roasters coffee beans—all in a hand-sewn, water-resistant leather bag. Order online at Handsomecoffee.com or 3sixteen.com.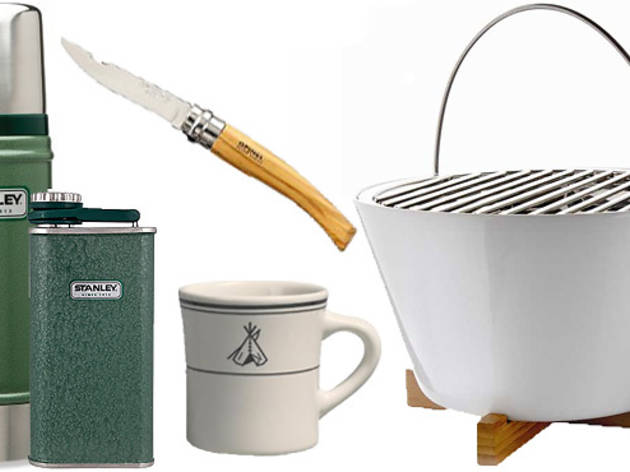 9/12
Holiday gift guide: The Great Outdoors for him — Indoor camping gearFrom left: Stanley 1/2-quart vacuum bottle, $29; Stanley classic flask, $20; Opinel no8 olive wood foldable knife, $35; Pendleton teepee mug, $13.25; all available at Broome Street General Store. Eva Solo table grill, $295; available at A+R. You've heard of glamping. Take stylish outdoor gear indoors with the classic Stanley thermos and flask, PDX's Pendleton teepee mug and an olive wood-handled Opinel pocket knife. Grilling in December? Danish-based Eva Solo's indoor table makes grilled rib-eyes—and s'mores—a cinch. Roughing it never looked so good.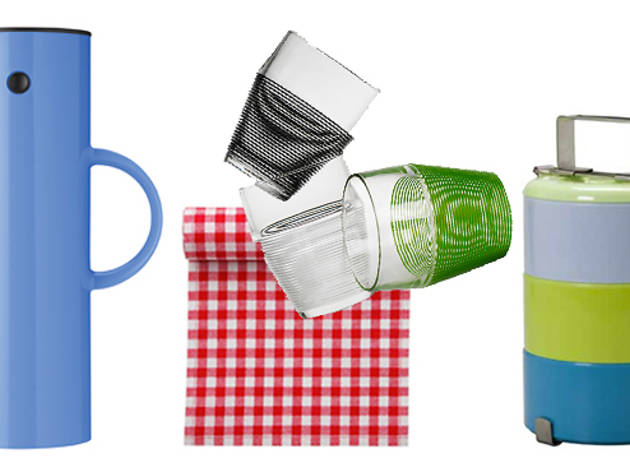 10/12
Holiday gift guide: The Great Outdoors for her — Global bazaar picnic setFrom left: Stelton vacuum jug, $75; My Drap napkins, 1 roll of 30 napkins, $30; Timo Termo glasses, set of 4, $78; bento box, $36. Available at Plastica.  Give the gift of picnicking in style with this stylish set of must-haves including a Scandinavian-designed pitcher, heat-resistant and silicone-gripped tumblers, rip-and-use disposable cloth napkins and a portable bento box.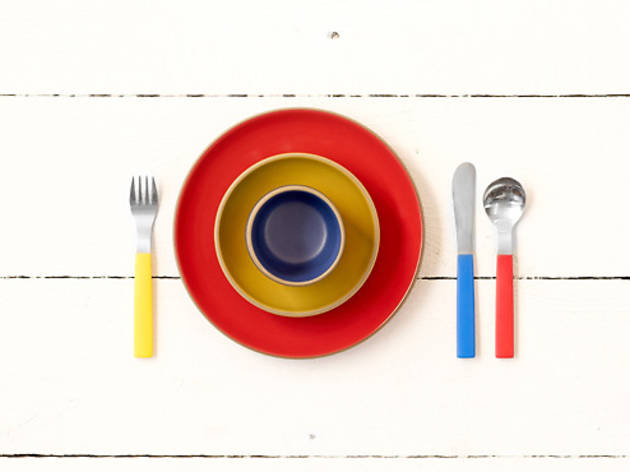 11/12
Photo Courtesy Heath Ceramics
Holiday gift guide: Kids dinnerware3-piece set with flatware, $135. available at Heath Ceramics. Forget cutesy animal prints and unsightly trays, your gourmand-in-training can enjoy spaghetti and (grass-fed) meatballs on coveted Heath plates of his/her own. The NorCal company's three-piece set includes plate, bowl and cup (plus, optional flatware set) in bright blueberry, lemon zest and apple.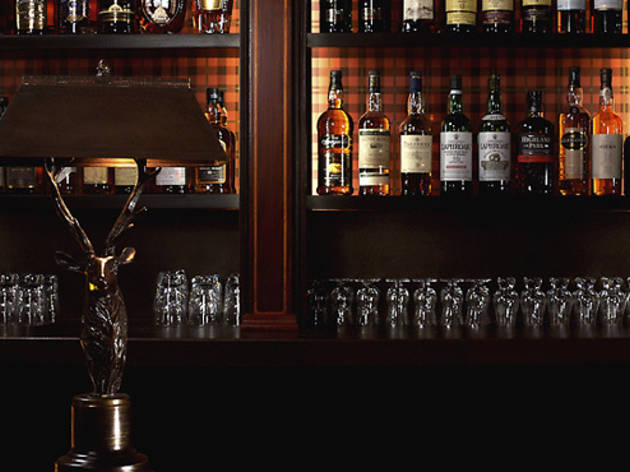 12/12
Photo Courtesy Seven Grand
Holiday gift guide: Whiskey Society membership1-year VIP membership, $99. Seven Grand. "I should never have switched from Scotch to Martinis." Follow the wise words of Bogie and stick with the good stuff—nothing says "man" (or "night cap") quite like Scotch. Get schooled in all things peaty and barrel-aged—and explore lesser known bottles—at monthly tastings of rare whiskeys at Downtown's Seven Grand, which carries 400+ bottles of the brown spirit. Membership includes admittance at all Whiskey Society events, priority seating and a plus one.
wined and dined
and
toasted
, now it's time to gift the food lover in your life. Whether you're shopping for your coffee-obsessed brother, locavore girlfriend, Scotch-loving S.O. or hostess with the mostest, there are enough Christmas gift ideas to last more than four courses and all-season long.
RECOMMENDED: Complete holiday gift guide