Haunted places in LA: Get spooked at 13 real haunted spots
From ghost sightings to strange noises, check out these 13 haunted places in LA for some real scares
Call us old-fashioned, but we like our haunted places authentic. We've searched the spookiest nabes for horror hot spots—and consulted our friends over at Ghost Hunters of Urban Los Angeles (GHOULA).
Founder Richard Carradine has been collecting tales of LA haunted spots for years, and every month (on the 13th, naturally) GHOULA hosts Spirits with Spirits mixers at some of the city's spookiest venues. "We have two rules on where we meet—it's got to serve alcohol and it's got to be haunted," he says. (Check out GHOULA's cool events this month, including a free alfresco screening of classic horror films and a Haunted Red Line Tour.)
Ready to scare yourself silly? Here's your handy guide to the 13 most haunted places in LA, from an abandoned mental ward to legendary bars, hotels and theaters where ghosts of the past still rattle a few chains.
The abandoned Rancho Los Amigos Hospital
Founded in 1888 as the County Poor Farm, this pioneering hospital was a haven for the city's destitute and mentally ill. And it sat on hundreds of acres of property that also included a farm, a dairy, a zoo and a pauper's graveyard. In the late '50s, the farm, dairy and mental health wards were closed down (the main hospital now sits in a sprawling nearby complex, renamed the Rancho Los Amigos National Rehabilitation Center). The old mental ward remains creepily fenced up and totally abandoned. Trespassers are warned back by around-the-clock security, but that doesn't stop thrill-seekers from sneaking in—and later sharing their spooky stories and videos on the Internet. Old office furniture, files and even mummified body parts have been found here: In October 2006, U.S. Marines who were using the abandoned building for drills found a freezer in the morgue containing legs, feet and brain bits. "I never thought of hospitals as haunted places but we have had a lot of nurses come to our gatherings just to tell us crazy stories about the local hospitals they work in and the many spirits of former patients wandering the halls," says Carradine. Fright enthusiasts beware, even during daylight hours, the winding rooms in the complex are pitch black and the flooring is faulty. Adding to the mystery, little to nothing is known about why the hospital abandoned its eerie mental ward.
Pasadena's "Suicide Bridge"
The haunting and hauntingly beautiful Colorado Street Bridge in Pasadena was completed in 1913, claimed its first suicide in 1919 and has been racking up the bodies ever since. "There are 102—and counting—documented suicides of people jumping off the bridge. Pasadena doesn't like the notoriety, so when the count would get too high they would knock off some numbers," says Carradine. "The number of suicides is actually much higher, even with the fences that are up now." And Carradine has heard ghost stories aplenty. "People have seen a man leaping off a rail, but when they go to help, no one's there. There's also a woman seen crossing the bridge, cars swerving to miss her, but then she vanishes." Carradine's even had his own spooky brush with the bridge. "It was nighttime, and I was walking with a friend in the tunnel underneath the bridge," he recalls. "There's a series of six lights illuminating the path, and as we passed the first light, it went out. The second light went out as we passed. Each light went out as we passed by. By the time we got to the end, it was just total darkness behind us."
Legend has it that the ghost of Marilyn Monroe still haunts her old stomping grounds. "There was a famous mirror in the lobby where people would take pictures and claim they could see Marilyn's reflection above them," Carradine says of the full-length mirror that once hung in Monroe's poolside suite, and then in the lobby where it has since been removed (kill-joys!). On the 9th floor, you can hear the late actor Montgomery Clift—who lived in suite 928 for three months while filming From Here to Eternity—practicing on his trumpet. "Guests have asked the hotel staff to tell the person in the next room to stop playing in the middle of the night," Carradine says. "But the room was actually vacant." What's more? Lights and faucets are known to turn on and off on their own and the switchboard gets calls from vacant rooms.
Read more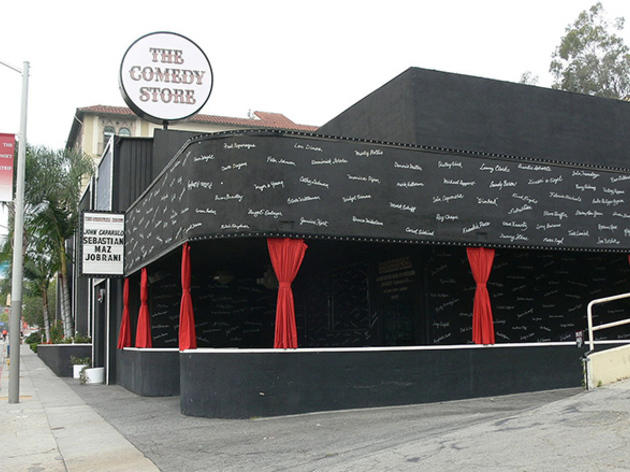 Before this popular Sunset Strip comedy club appeared on the scene in 1972, it was Ciro's restaurant, one of Hollywood's hippest clubs during the 1940s and 1950s. Its owners had a close affiliation with the mob and the building still has peepholes in the upper walls of the main room that once allowed mobsters to see who was coming and going. Mickey "The King of the Sunset Strip" Cohen used the club as his base of operations. "West Hollywood was a gangster-run place with gun fights in the streets," says Carradine. "The basement of the club was where they would take care of problem people. There is still a hole in the stairway that fits a gun, to shoot anyone going up or downstairs." Carradine says employees have claimed to hear voices, cries and even snarls coming from the basement. "After years of denying the ghost stories, the Comedy Store is now embracing its past and even started tours of the haunted basement," he adds.
Read more
The beloved Silent Movie Theatre has a complicated history worthy of a blockbuster drama. The original owner, John Hampton, started the theater in 1942, showing his personal film collection at a time when most studios were destroying old silent prints. Hampton used toxic chemicals in his bathtub, above the theater, to preserve his films—unwittingly exposing himself to toxins that hastened his demise in 1990 from cancer. Hampton's mentee Lawrence Austin took over the theater. But one night in 1997, while visitors were watching a film, Austin was shot to death in the lobby by a hitman. The whole thing turned out to be a murder-for-hire conspiracy hatched by Austin's lover and theater projectionist James Van Sickle, who later claimed that Austin signed the theater over to him in a hand-written will. Police weren't buying it. Van Sickle and the hitman are currently serving life in jail. "We had a woman come to our last Spirits with Spirits event who was actually there that night when the shooting happened," says Carradine. "She saw his body lying there and hasn't been back since." Austin's ghost is said to still haunt the lobby; and Hampton's ghost can be heard roaming the second floor, where he once lived.
Read more
Back when it was the Hollywoodland sign, this icon to celluloid fantasy also served as a beacon to suicidal Angelenos—most notably Broadway stage actress Peg Entwistle. Trouble just seemed to follow Entwistle. Raised by her actor father, she lost both her mother and stepmother early in life and had a series of broken personal relationships. As an actress, Entwistle enjoyed critical reviews, and even shared the stage with Humphrey Bogart, but she was forever cast in the role of comedic ingénue and could only snag small film roles. On September 18, 1932, a hiker found the blond, blue-eyed actress' crumpled body in a ravine below the Hollywoodland sign. Police surmised that she climbed a workman's ladder to the top of the 45-foot letter "H" and jumped to her death. Visitors to the area say they still see the actress haunting the sign, and sometimes pick up the scent of her gardenia perfume.
Read more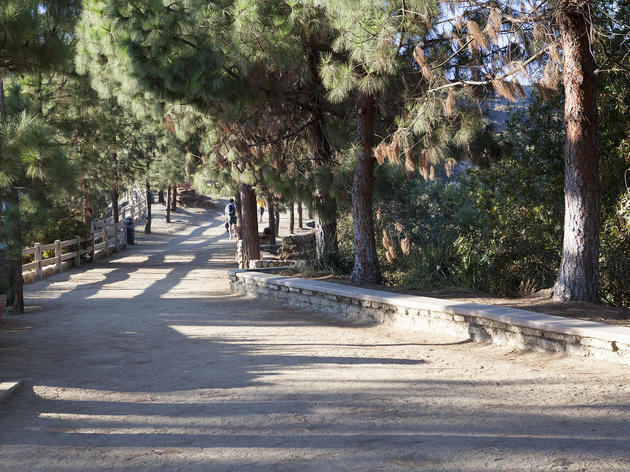 What, you don't know about the sad tale of Doña Petrenilla? It's a ghost story that's been oft-told by writer Michael Imlay and the good folks at Creepy LA, but it bears seasonal repeating. In the late 1800s, wealthy land owner Don Antonio Feliz died suddenly from small pox. As legend has it, when his beloved 17-year-old niece Doña was cheated out of her uncle's will, she put a nasty curse on the land and its owners. Since then, untimely deaths and ill omens have befallen the land's deed holders, including Griffith J. Griffith, its last owner, who donated 3,105 acres to the city before going to prison for shooting and maiming his wife. True believers say they've seen young Doña in a white dress on horseback, haunting the trails. "A couple of park rangers have told me that they've seen ghosts and things in the park," says Griffith Park security officer Thomas Davey. "There are definitely stories. But I've been here for four-and-a-half years and haven't seen anything myself."
Read more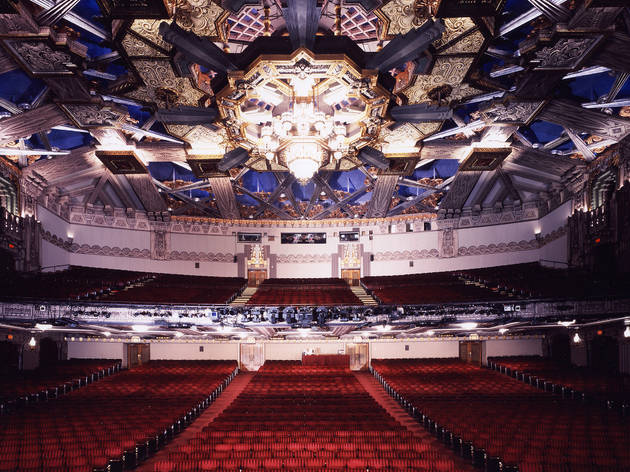 When charmed businessman Howard Hughes owned the infamous Pantages Theatre, he built a door that connected his office directly to one of the theater balconies, where he would go to think in the dark. Hughes' ghost is a notorious workaholic, and is said to be seen in his former office on the second floor. "During the restoration in 2000, people said they saw a man stepping off the balcony, walking along the scaffolding, and standing over a worker to inspect his work. When the guy turned to ask the man what he wanted, the figure vanished," says Carradine. Seems like Hughes is still looking after his theater. The Pantages is also host to a female presence who died during a show in 1932. "During a cast recording once, microphones were set up in the theater and they heard someone singing in the mic when no one was on stage." Some say the woman who died was an aspiring singer who's living out her unrealized dreams of performing at the Pantages.
Read more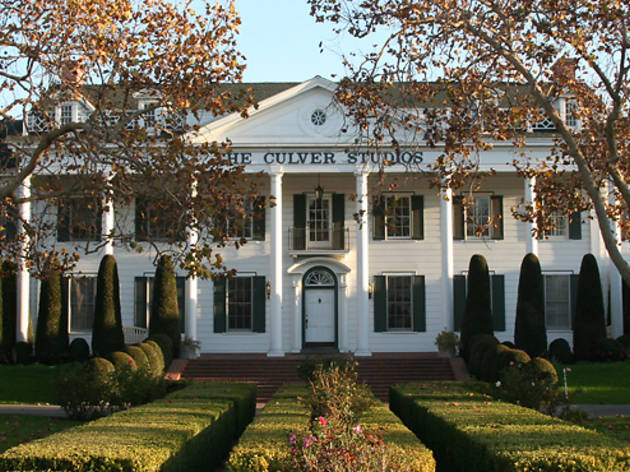 The studio complex where such legendary Tinseltown films as Gone with the Wind and Raging Bull were filmed was built in 1918 by silent movie pioneer Thomas Ince. Ince died in 1924, after falling ill on newspaper mogul William Randolph Hearst's yacht during a star-studded cruise and dinner, celebrating Ince's 42nd birthday. While the official cause of death was listed as heart failure, legend has it that Ince was actually shot and killed by a jealous Hearst, who was supposedly aiming at (and missed) Charlie Chaplin, who had eyes for Hearst's mistress Marion Davies. Some say Ince's ghost still shows up for work at his beloved former studio, and can be seen and heard walking through walls and criticizing management.
Read more
Vogue Theatre
The famously haunted theater opened in 1936 and is now home to the oversized, DJ-blaring Supperclub. For years, rumors abounded that the spot was previously home to an elementary school that burned down to the ground in 1901, killing 25 school children and their beloved teacher, "Miss Elizabeth," who allegedly still haunts the theater. "I've talked to the current owners and we know it's a haunted place but at this point we are unsure about what stories are true and which ones are fabricated," Carradine says. "Apparently there was never a schoolhouse in that location and before it was a theater it was a shop." The most famous ghost? A projectionist named Fritz, who worked at the theater for 40 years and died of a heart attack in the projection room in the '80s.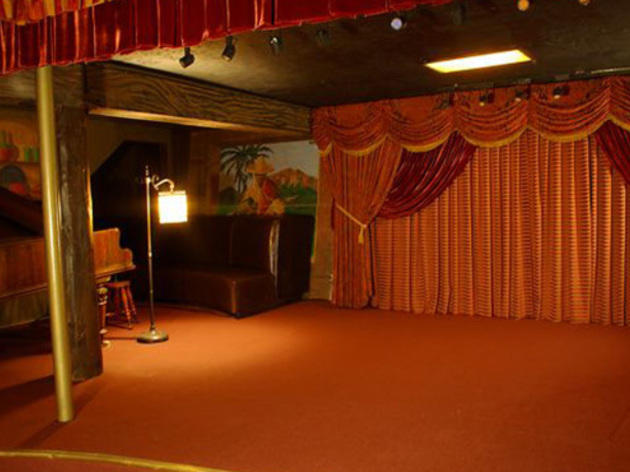 This basement bar, below the Townhouse restaurant in Venice, was a true speakeasy during Prohibition. Back in the day, the speakeasy kept the hooch flowing via underground tunnels, which are now used as utility corridors. Some say former proprietor Frank Bennett, who owned the bar from 1972 until his passing in 2003, still haunts his favorite corner booth, across from the bar. "Venice was a real crazy place historically, in terms of alcohol and bars, especially during Prohibition," Carradine says of the area. "This bar is a weird anomaly, it's one of the oldest bars in LA with one of the newest ghosts," he says about Bennett, who still watches over his beloved underground watering hole.
Read more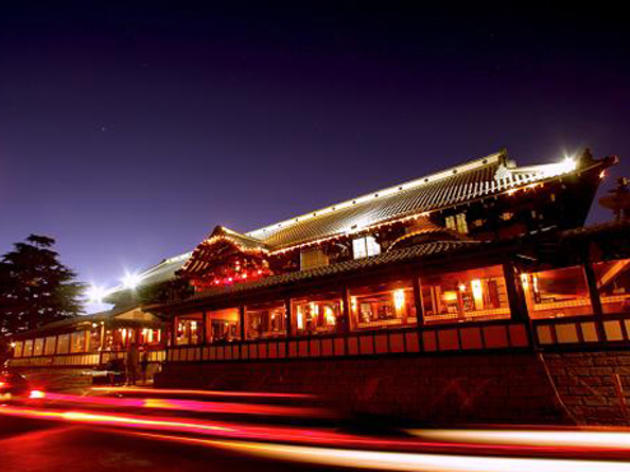 This gorgeous Japanese restaurant at the top of Sycamore Avenue in Hollywood features sweeping views of the LA cityscape—the perfect vantage point for resting souls. Pull up a barstool next to the phantom of a former bartender who has been spotted around the bar. The restaurant also serves as the perfect backdrop for events and weddings, if you don't mind a little company in the bridal suite. "There have been sounds of a crying bride; and a woman in white has been seen up there," Carradine says. Legend has it that the ashes of former property owner, Thomas O. Glover, are buried in the inner garden courtyard and that he still watches over his property. Rumors abound about silhouettes of a man and woman seen strolling the family-owned property and the unexplainable sounds of crashing plates (and you thought that was just a clumsy waiter).
Read more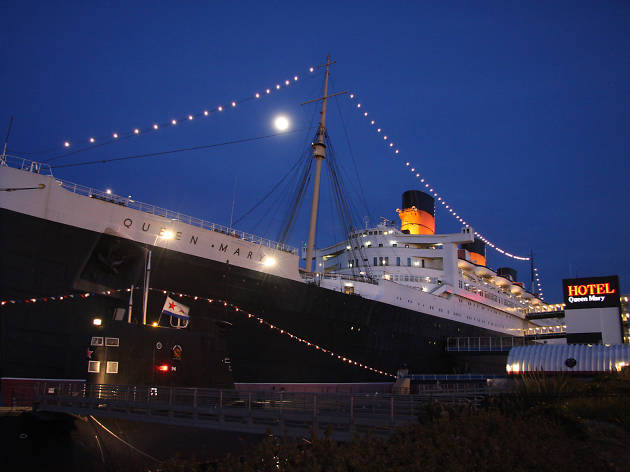 Sure, they milk the spook factor for all it's worth every Halloween, but the Queen Mary in Long Beach is certifiably haunted according to the countless visitors who claim to hear voices and rattling chains during tours and overnight stays. The Queen Mary certainly has a past that's ripe for modern-day hauntings. She started life as a luxury liner, setting forth on her maiden voyage from Southampton, England, in 1937, and hosting everyone from Bob Hope to Winston Churchill. But when WWII began, the Queen Mary was drafted into service as a ferry ship, carrying thousands of troops into battle areas. The fancy lady was stripped of her chic facade, painted a camo grey and dubbed the "Grey Ghost." After years of service in war, and at her majesty's whim, the Queen Mary was eventually sold to a tour operator and sent to retirement in Long Beach, where she's been a floating hotel and event spot since 1967. According to the late psychic and ghost hunter, Peter James, who led tours around the Queen Mary, almost all areas of the ship including the second class pool deck and engine room 13 are known to be haunted.
Read more