Behind the scenes of the NGV Triennial
How do you start a new Melbourne art tradition and make a blockbuster?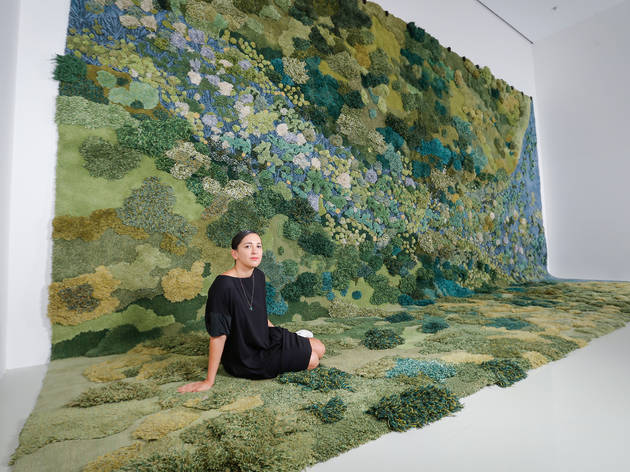 One hundred artists and designers from more than 30 countries will take over the four floors of the National Gallery of Victoria's St Kilda Road HQ this summer, for the inaugural NGV Triennial. We shadowed three key personnel to witness how this behemoth exhibition comes together.
The curator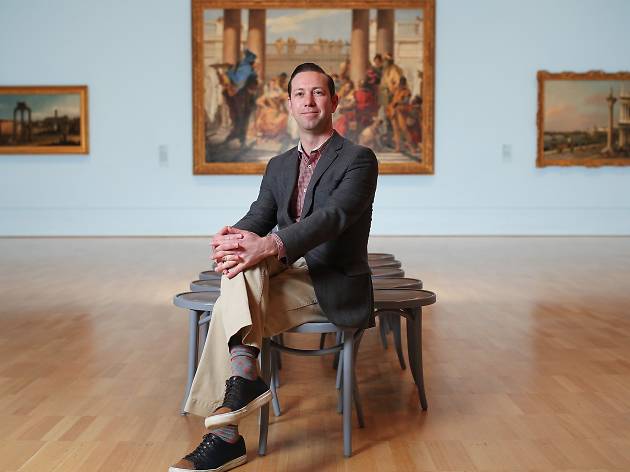 Photograph: Graham Denholm
Simon Maidment is standing at one end of a boardroom table covered with a model version of NGV International's galleries. He's pensive. In front of him lie the fruits of four years of work, in corflute form: a miniature spread of the supersized exhibition that will open on December 15. Polypropylene walls are blu-tacked so that the model is somewhat modular, but what we're looking at is probably the final layout.
In one 'gallery', a tiny plastic figurine gazes at petite paper versions of artworks glued to the walls; in another, silver cardboard reflects a floor-afixed print-out of sworling forms that looks like a galaxy. A behemoth Buddha, supine in slumber, presides over the NGV forecourt. Blu-tacked laminate labels with names of artists are affixed to gallery walls: Yayoi Kusama; TeamLab; Reko Rennie; Candice Breitz; Xu Zhen.
Many of the artists and artworks in the NGV Triennial were chosen by Maidment, NGV's senior curator of contemporary art, but that's really just the beginning of his job. For some of the new works (20 were commissioned from artists by the NGV for the Triennial) Maidment and his team take a hands-on 'producer' role. For example, Maidment invited Brazilian designers Fernando and Humberto Campana (Estudio Campana) to work with Northern Territory collective Yarrenyty Arltere Artists, and then brokered their relationship with both the project manager – Australian designer Elliat Rich – and Indigenous manufacturing outfit Centre for Appropriate Technology. The result is an embroidered dome-like structure, titled 'Victoria Amazonica'. "We've essentially project-managed that work from the ground up," Maidment says.
Even for existing works, the curator's role can be integral. One of Maidment's early picks, German artist Josephine Meckseper, was initially slated to present one of her vitrine pieces, which had been recently acquired by the NGV, but has ended up devising a whole-of-room installation of complementary elements – including a patterned perspex floor, a mirrored wall, and a new narrative video work – after ongoing dialogue with the curator. "In some cases, you're looking at ways in which the artwork can be sort of extended or extrapolated upon," says Maidment.
The next step for the curator is working out how, where and alongside what to present each piece in the exhibition (working in tandem with the NGV exhibition design team). "It's a big show with some big ideas, and some really significant makers. The challenge is to give a bit of breathing space to each of the works."
The ultimate 'finesse' is the creation of an 'experience' (or in the case of a large exhibition like the Triennial, a series of experiences) that audiences will not only find moving, stimulating and enjoyable, but will return for – often several times over the exhibition's four-month duration.
Truth be told: the NGV Triennial will be too big to absorb in one visit. Bearing this in mind, Maidment has organised 'zones' of experience, each of which offers a choreographed promenade through one gallery to the next – ideally never too overwhelmed, or conversely, bored.
Pointing to the ground-floor temporary exhibition galleries (where Dior is currently in exhibition, and before that Van Gogh), which is themed around 'the body', Maidment says, "Really it's thinking about, well, if someone comes to this part of the show, what is the series of experiences they're going to have? And making those in some way coherent, or an interesting interplay. A lot of my job is to do with choreographing that experience."
The designer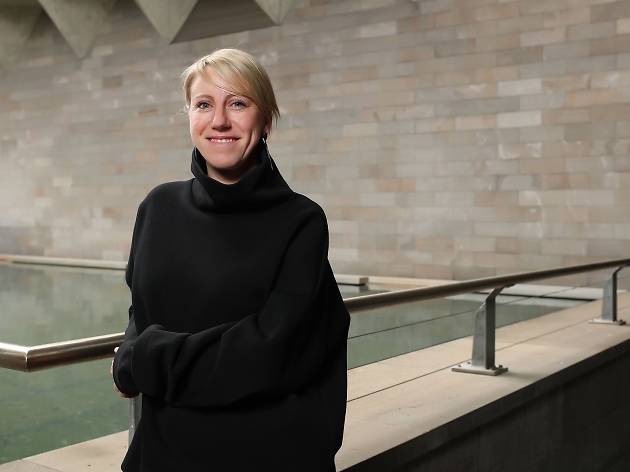 Photograph: Graham Denholm
If all goes to plan, the first work you see when you enter NGV's St Kilda Road building for the Triennial will set the tone of your subsequent experience. Exhibition designer Ingrid Rhule (manager of her department) elucidates her vision: "The Campana brothers' 'Vitória Régia' aims to collect people together under its dome – they'll lay back or relax on brightly coloured furniture and look up at this marvellous structure, with the light coming through beautiful, intricate weavings [by the Yarrenyty Arltere Artists]. It's playful, and welcoming – and it's next to the water wall, a natural gathering and meeting point."
Thinking about the way visitors encounter the Triennial – each work, and as a whole – is always at the front of Rhule's mind – and to an outsider listening in, it's not always clear where her and Maidment's roles begin and end. As he says, "the conceptualising of the exhibition experience is pretty symbiotic between us."
Rhule describes her role as a twin set of the practical and the visionary: "Understanding the artworks, their conditions and materiality; understanding how they can be displayed, but also how we can take them further." She and her team might suggest reversing the order of two works, or moving one to another level of the gallery. They lead on matters such as lighting, wall colour, materials and fittings; but also more oblique design concerns, such as the angle from which a viewer will approach a work, or the first thing a person sees as they enter a gallery. Rhule says, "As a designer, you always have to have the human experience front of mind."
The artist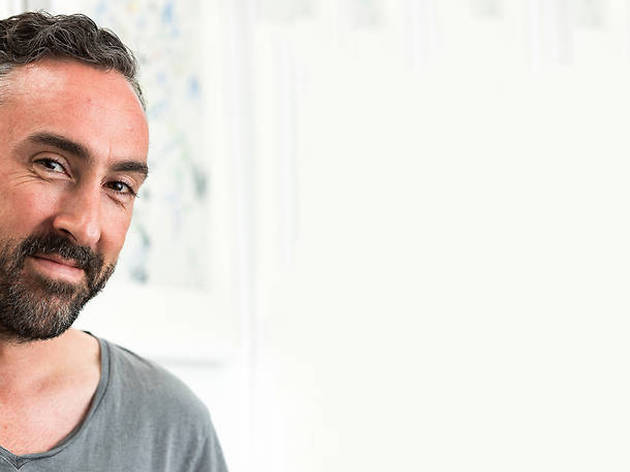 Photograph: supplied
Tom Crago has been working on his Triennial piece for longer than Maidment or Rhule or anyone at the NGV; in developer parlance, roughly 216 "human months". As CEO of Australian video game developer Tantalus Media, Crago is in the happy position of being able to assign staff to his virtual reality work 'Materials', and that's his estimate of how many hours have been spent – by him and others – over the last five years. And that's just the coding part. To put it into perspective, Tantalus's Wii U version of The Legend of Zelda: Twilight Princess took 660 human months.
'Materials' is the culmination of Crago's PhD at the Victorian College of the Arts and almost two decades in the videogame industry, first at Adelaide developers Ratbag and then at Tantalus. "I'd made video games for a long time, but I felt as though I hadn't had the opportunity to leave the mark that I wanted to leave," he says. "I wanted to do something quite different to regular video games; something at the intersection of art and philosophy – but using the power of the video game medium."
Crago looked to the art world for inspiration, and commissioned six of his favourite artists – Mark Rodda, Viv Miller, Indigo O'Rourke, William Mackinnon, Kate Tucker and David Shea – to create new works that could be integrated into the virtual reality of his game.
It started with a ship: an oil painting by Mark Rodda, produced after about 500 draft sketches. Crago commissioned a prop-builder to make a model of that ship in cardboard, paper and foam; Tantalus's coders then made a 3D computer model based on that, using "tens of thousands of polygons". This "vast, improbable ship" is where viewers will find themselves once they don their headset.
Crago is guarded about the details of the experience, but participants will be seated and wearing an Oculus Rift headset, using a controller to navigate the virtual reality of the ship, 'collecting' fragments (designed by Viv Miller) that have aural qualities (by VCA sound designer David Shea) as they go. The whole experience should last 15-20 minutes.
"It's meant to be a very personal experience," says Crago. "We talk a lot about social games – this is an 'anti-social' game. Actually the experience you have will be unique: the composition that you form, aesthetically and aurally, will be something just for you."