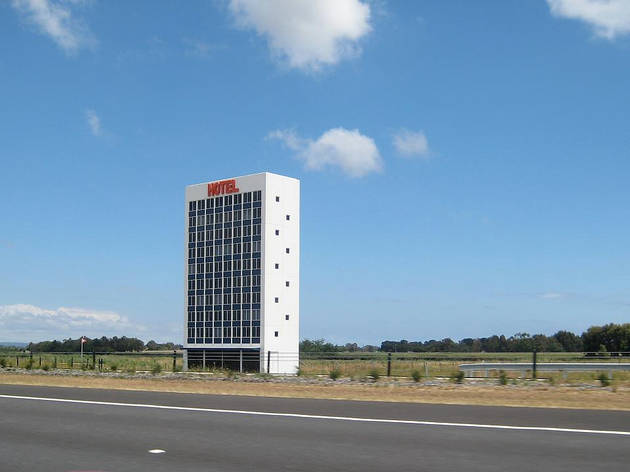 Where to find Melbourne's best public artworks
Melbourne is packed with galleries, but the city's greatest is the great outdoors
Public art is wonderfully accessible but also quite often devisive. Out in the open for all to see, it's common for public artworks to attract opinions from art critics right through to Joe Blow – and that's fantastic.
As Australia's cultural capital, Melbourne is dotted with public artworks that add to our city aesthetically as well as explore deeper themes. We've rounded up our favourite public artworks and the stories behind them – and created a handy map so you can go out and spot them all.
RECOMMENDED: Where to find the best street art in Melbourne.
Melbourne's best public art
Where to find it: On the lawns between Hamer Hall and Arts Centre Melbourne, Southbank.
German-born Australian sculptor Inge King is a Melbourne institution. From her thirties until her death in 2016 at the age of 100, King lived in Melbourne, and her thumbprint is all over the city, with several of her most recognisable artworks dotted around our streets. Perhaps her most famous is 'Forward Surge', the imposing five-metre-tall black steel waves that stand on the lawn between Arts Centre Melbourne and Hamer Hall. They weren't designed as part of a playground, but you'll often see young kids trying to climb to the top before the slope becomes too steep and they fall back down to earth. You'll also sometimes see skateboarders there, although Melbourne city council would prefer you didn't. The sculpture was listed on the National Trust register since 1992 and in 2018 was listed by the Heritage Council of Victoria as a place of cultural significance.
Where to find it: On the corner of Dodds and Grant streets (right next to ACCA), Southbank.
This work is better known by its not-particularly PC nickname – 'Yellow Peril' – and might just be the most controversial public art in Melbourne. Created by Sydney artist Ron Robertson-Swann, the abstract sculpture was created for Melbourne's City Square, the plaza between Melbourne Town Hall and St Paul's Cathedral that's currently closed for the construction of the new Town Hall station. Its minimalist style attracted plenty of criticism from the local media, who thought its price tag of $70,000 was totally unreasonable. Even Queen Elizabeth II – who opened the City Square in 1980 – apparently made a suggestion that it was too yellow and should be painted "a more agreeable colour". The sculpture moved to its current position outside the Australian Centre for Contemporary Art in Southbank in 2002, where it still stands. And we have to say, it looks pretty wonderful against a backdrop of rusted steel. Maybe Her Majesty should take another look next time she's in town?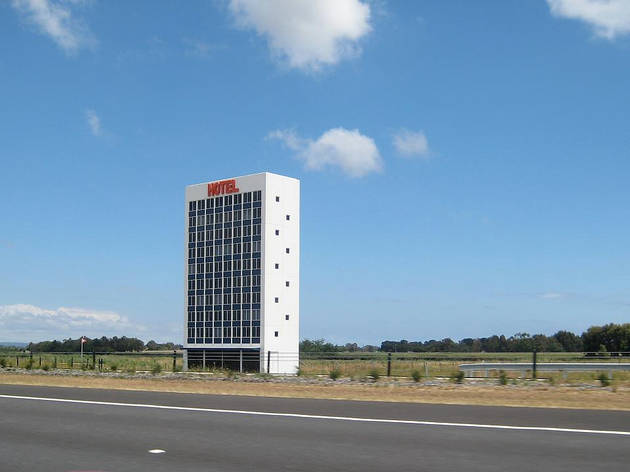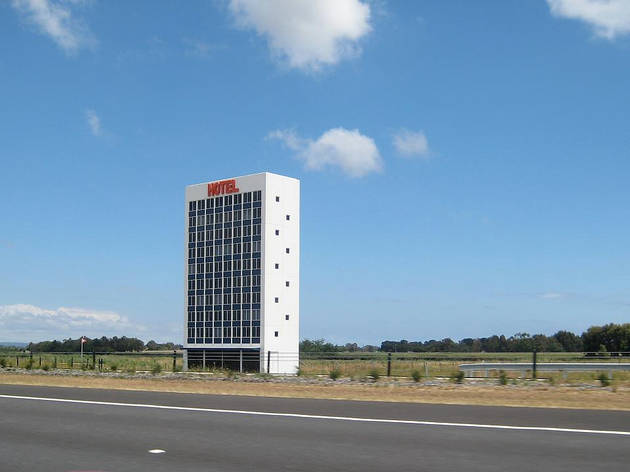 Photograph: Rory Hyde
Callum Morton, 'Eastlink Hotel' (2007)
Where to find it: On the Eastlink toll road, near the Greens Rd exit.
For generations (well, since 2007) travellers on Melbourne's Eastlink road have asked the question "What the heck, is that a real hotel just in the middle of nowhere?!". 'Eastlink Hotel' is a public artwork by Melbourne-based artist, Callum Morton, who created the work as "a giant folly". And he's been effective in that endeavour, turning heads and baffling motorists for years with the playful work that realistically recreates a generic but utterly nonfunctional hotel building. Fun fact: 'Eastlink Hotel' also appears on the cover of Violent Femmes' 2019 album, Hotel Last Resort.
Where to find it: On the grounds of Heide Museum of Modern Art, Bulleen.
One Inge King sculpture was never going to be enough for this list. 'Rings of Saturn' was completed three decades after 'Forward Surge' but is just as impactful. The stainless steel sculpture, made of encircling rings, stands in a fair quieter location in the gardens of Heide Museum of Modern Art in Bulleen. It reaches four and a half metres up to the sky.
Where to find it: Outside the State Library of Victoria, on the Swanston street side.
The best public art is often designed as a direct response to the site where it's installed, which is certainly true of this work. The Dutch-born Australian artist Petrus Spronk created his bluestone masterpiece in 1992, installed out the front of the State Library of Victoria. It represents a corner of the library emerging from the pavement like an archaeological discovery. It's also a favourite among skaters thanks to its long, smooth edge (which has been worn down a bit over the years and is usually speckled with wax).
Where to find it: Enterprize Wharf, Melbourne. Next to Queens Bridge.
Two giants of Australian sculpture (both have other significant works scattered around Melbourne) joined together to create this mid-'90s work that stands proud on the Enterprize Wharf on the Yarra River, opposite Crown Casino. The artwork is made up of five totem-like figureheads sitting atop Cyprus pine trunks. They represent a dragon, a woman, a bird, a man and a lion.
Where to find it: Outside the GPO building in Bourke Street Mall, Melbourne (the Elizabeth Street end).
It's pretty difficult to miss British artist Simon Perry's clam-like oversized pink purse sitting just outside the GPO in Bourke Street Mall. Called 'The Public Purse', Perry's red granite sculpture speaks specifically to the area as a commercial hub – and a shopping destination – and also functions as a seat where you might wait for friends. Unfortunately, we're reliably told there's no cash inside, so you'll have to look elsewhere if your own reserves are depleted from a full day of shopping.
Where to find it: On the of Swanston Street and Bourke Street Mall, Melbourne.
Just a hop and a skip away from 'The Public Purse' are these three creepy life-sized sculptures of whimsically skinny businessmen waiting at the set of lights on the corner of Bourke and Swanston streets. What most Melburnians probably don't know is that they're named after three early pioneers of the city: John Batman, Charles Swanston and Robert Hoddle. Melburnians probably also don't know that the sculptures are a gift from the Republic of Nauru to celebrate the 150th anniversary of Melbourne.
Where to find it: Outside the riverside entrance to Southgate, on Southbank Promenade. Roughly opposite from Arbory Bar and Eatery.
Deborah Halpern's sculpture inspired by Ophelia from Hamlet is synonymous with Melbourne. So much so that in 1996 it was picked by Tourism Victoria as the official "face of Melbourne" and appeared all over marketing campaigns for several years. The colourful, Picasso-esque mosaic has been a favourite at Southbank since it was installed in the early '90s and, after a major restoration in 2012, was moved to a more prominent position just outside Southgate shopping centre's riverside entrance.
Where to find it: Behind the Port Phillip Ferries terminal on Harbour Esplanade, Docklands.
It's not the most creative of titles, but you couldn't accuse John Kelly of lacking imagination in his execution of this whimsical bronze sculpture featuring a Holstein Fresian cow stuck up a gumtree. The sculpture was previously shown at Champs de la Sculpture on the Champs-Élysées in Paris and now lives permanently in Docklands. The cube-like cows have long featured in Kelly's work and were inspired by a rumour that William Dobell created papier-mâché cows during World War II to help disguise Australian airfields to fool Japanese airforce pilots. There's no evidence that they actually existed, but Kelly has got plenty of mileage out of the story.
Where to find it: By the river at Birrarung Marr, Melbourne. Near the Stapley Memorial Drinking Fountain.
One of Halpern's other Melbourne landmarks is the earlier mammoth mosaic 'Angel', which was commissioned to celebrate the bicentenary of Australia's colonisation. It's pretty enormous and initially stood in the National Gallery of Victoria's moat on St Kilda Road, but made the move in 2006 to the more low-profile site of Birrarung Marr.
Where to find it: On the Sandridge Bridge, Melbourne.
You're probably familiar with Lebanese artist Nadim Karam's ten stainless steel sculptures that loom over the historic Sandridge Bridge on the Yarra River. But we wouldn't be surprised if you've never noticed that, much like the trains that used to make their way across their bridge, nine of the ten sculptures are actually motorised and move across the bridge, several times a day, at a speed of 1.5 kilometres per hour.
Show more
Prefer your art indoors?
Getting up close to world-class art shouldn't cut a healthy slice out of your salary. We know that, and thankfully, so do many of Melbourne's best art galleries. From small commercial galleries to the big players, we've rounded up our favourites spots for looking at art when the wallet is thin.