Where to find the best street art in Melbourne
Don't let one of the world's biggest (and free!) living art exhibitions pass you by... look up, look around and look a little deeper next time you pound the pavement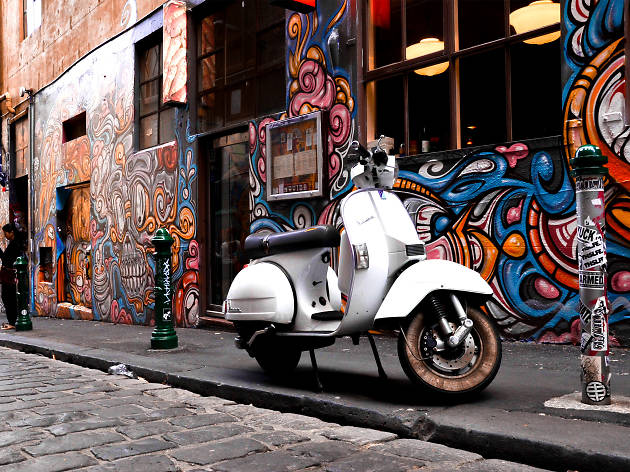 Sure, street art covers almost every nook and cranny of our creative, colourful city, but there are more highly concentrated clusters than others. These are the street art hotspots that any self-respecting 'grammer should be snapping. Here's where to find the city's street mural hotspots, in all their spray-painted laneway glory. Continue your art journey through Melbourne at these free galleries, or purchase your very own piece of art at one of these weird and wonderful shops.
Hosier Lane
Opposite Federation Square and joining Flinders Lane with Flinders Street, the cobblestoned Hosier Lane is arguably the central point of the city's street art scene. Spend a long while checking out every little bit of this overflowing art cluster – a creative mark has been left on almost anything with a surface and sometimes it's the smaller, easily-overlooked pieces that really astound.

Union Lane
It's smack bang in the middle of the shopping precinct (just off Bourke Street Mall) and it's a long lane – about 550 metres – but it's still possible to walk right past if you're not careful. You won't find this lane leading to any cafés or bars – its sole attraction is the ever-changing montage of artworks that cover almost every inch, and that's reason enough to take a walk through.

Finaly Avenue
Find 280 Queen Street and then discover the street-scale canvas that lives behind it – a kaleidescope of visual expression.

Degraves Street
Follow this Euro-style laneway past the hub of coffee shops and eateries, to find a concentration of street art at its end.

Corner of Flinders Lane and Cocker Alley
Find Cocker Alley from the corner of Flinders Lane – this narrow offshoot runs between warehouses, with ventilation shafts and broken windows woven into the landscape as part of the artworks.

122 Palmerston Street
A wall that borders the small park in Palmerston Street, Carlton, has been turned into a street art gallery with murals painted on the southern wall of a building on Canning Street, which overlooks Palmerston Street.

Centre Place
Find it between Collins Street and Flinder Lane and feast your eyes on some of Melbourne's most high-profile and elaborate stencil work and graffiti art.
Find more free art in Melbourne
Getting up close to world-class art shouldn't cut a healthy slice out of your salary. We know that, and thankfully, so do many of Melbourne's best art galleries. From small commercial galleries to the big players, we've rounded up our favourites spots for looking at art when the wallet is thin.
Read more