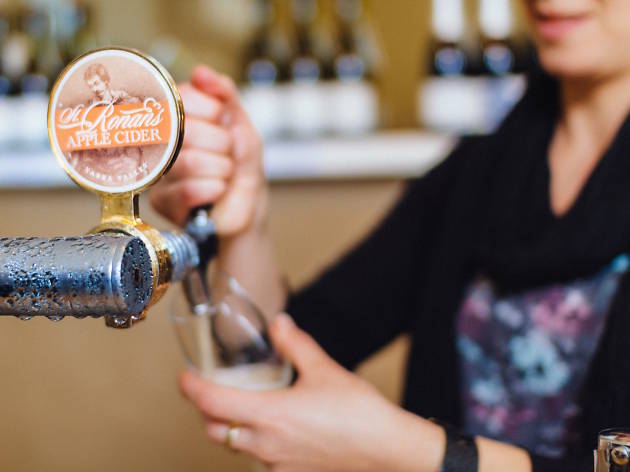 Aussie Brewery Tours
Want to learn more about your favourite brews? Hop on the bus and get set for a day of tastings at the Yarra Valley Cider and Ale Trail
You're well aware that the Yarra Valley is home to some of Australia's finest wineries. But if it's beer and cider that holds a special place in your heart, then you'll be pleased to know that the region is also becoming a hotspot for craft breweries and ciderhouses. They're all out there waiting to be tasted, and there's no better way to do it than on the Yarra Valley Cider and Ale Trail by Aussie Brewery Tours.
Why, exactly? For a start, you don't have to worry about driving. But more importantly, as we soon learn, the tour guides really know their stuff. This tour is just as much about tasting beer and cider as it is learning about how brewers and cidermakers create the perfect drop. It's fascinating stuff, and in a craft beer town like Melbourne, it means that you'll leave armed with enough insider knowledge to impress even the biggest beer nerd.
The journey begins at Napoleone Brewery and Ciderhouse; a business which began in the 1940s as an orchard, and which, in the last decade, has branched into boutique, award-winning cider and beer. Our tour guide, Scotty, takes our small group through eight different varieties of beer and cider, which range from a dark chocolate and espresso-infused Breakneck Porter to a wonderfully balanced apple and pear cider. As we sip, Scotty imparts plenty of wisdom on the process of beer- and cider-making, swapping between practical information on how hops work, to weird and wonderful anecdotes (did you know that the first person to introduce hops into beer-making was a German nun called Hildegaarde in 1150)?
Then it's back on the bus – first to St Ronan's Cider at Badger Creek Blueberry Winery (yep, we tried blueberry wine and champagne), then to Hargreaves Hill Brewery, where we fill up on tasting paddles and a gourmet lunch. At this point, we're wondering how the tour costs just $160; terrific value for the lunch and the many drinks along the way.
We continue meander through the green hills of the Yarra Valley. Next it's to the Coldstream Brewery; a quaint little brewery pub, and later, to the Public Brewery; a microbrewery with a big, friendly beer garden worth travelling for.
By the time we're back on the bus, the sun is setting on the Yarra Valley. By this time, our group is livelier than ever (though not as rowdy as we might've expected; after all, the number one rule on the tour was not to become a dickhead several beers in) – and full of a new appreciation for beer and cider (as well as the beer and cider itself).
If you're a casual beer-lover, a huge cider nerd or you're hoping to brew your own someday, then Aussie Brewery Tours is the way to go.
Aussie Brewery Tours Yarra Valley Cider and Ale Trail. Pick-up and drop-off at Federation Square, Melbourne 3000. 1300 787 039. www.aussiebrewerytours.com.au. Mon, Thu-Sun 9am-5.30pm. $160 per person.
Try more of Melbourne's best beer
Everything you need to know about craft beer: where to get it, who's brewing the best and what you should be drinking at any occasion.
Best selling Time Out Offers