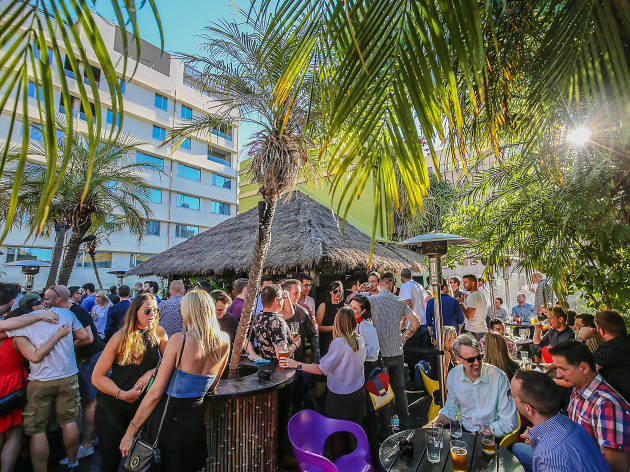 Drink in the decadance in this Bourke Street Mall watering hole
You'll never find yourself alone in the Carlton Club. Once a byword for dodgy and now one of the few worthwhile pubs on Bourke Street mall, it's usually busy with a clientele ranging from girls in cocktail dresses to bogans in their best Ed Hardy shirts. But there's another, quieter company that's often looking over your shoulder – a collection of exotic animals, dead, stuffed and adorning the walls of every room. It's hard to imagine where they all came from, but they're certainly eye-catching: there are peacocks and parrots, shadow boxes filled with specimens biological and botanical and an ostrich wearing an enormously long pearl choker.
Over near the obligatory decks, half a giraffe juts from the wall, long-lashed and serene looking, with a small bird perched on one long-dead ear. In the dining room, things get even stranger – there you'll find an array of (possibly fake) half-animals in odd poses, painted bizarre colours and looking rather more likely to put you off your dinner than whet the appetite.
Decadence was clearly a watchword for whoever designed the current fit-out, and the effect by daylight can be cloying. There are mirrors galore and candles burning at all times, red velvet coating every available surface and gold-painted ceilings. Fortunately there is a deck area that catches a fair amount of sun filtering between nearby buildings and is better suited to daylight sessions.
Evenings, particularly in the winter, are when the wildly over the top Carlton Club décor begins to make sense (you know, to whatever extent a dead, pearl-sporting ostrich can). The deep-backed, rounded booths are perfect for frittering away the hours over cocktails and the music, though loud, is usually unobjectionable.
---
Venue name:
Carlton Club
Contact:
Address:
193 Bourke St
Melbourne
3000

Opening hours:
Sun-Wed 3pm-late; Thur-Sat noon-late
Transport:
Nearby stations: Flinders St; Melbourne Central; Parliament
Rating Breakdown
5 star:

0

4 star:

0

3 star:

0

2 star:

0

1 star:

2
I wish I could give this place zero stars. I would not recommend this place to my worst enemy. It was awful. I guy shoved my boyfriend and stepped on my foot. It hurt but we didn't think anything of it - until a bouncer came and without any explanation began to escort my boyfriend out. I was treated with no respect as I followed them out. I was brushed off when I demanded to know the ludicrous reason my sober and polite boyfriend was being treated like scum. Apparently the guy who had earlier assaulted us was the manager and was apparently offended by that incident. I would not have it so we stood outside the venue and argued with five bouncers until they brought this insolent manager out to explain himself. I felt so disrespected. It was truly disgusting.
The worst place ever!! Never go!! Huge lines for bathrooms and tofu try to step outside and they kick you out. So so bad. Never go.