The best late-night bars in Melbourne
Here's our hour-by-hour guide to classy fun after midnight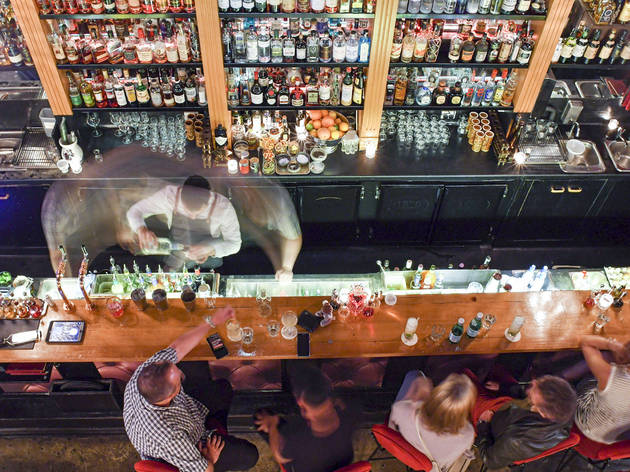 Just because it's the small hours and you're up for a drink, it doesn't mean you want to be yelling over the music in a nightclub. Thankfully, there's plenty of places in Melbourne to enjoy a quiet(ish) beverage until sunrise – and with the 24-hour public transport network operating on weekends, it's easier than ever to get home.
For more nocturnal fun, check out our guide to late-night bottle shops and late-night dining.
Late-night drinking in Melbourne
2
With absinthe in the afternoon or Martinis after midnight, this laneway retreat is only too happy to come to the party.
3
Vernon Chalker's long-standing bar is a louche basement lounge with serious thing for gin.
4
Dark and deeply inviting, this party-ready dive bar is a favourite among the Melbourne booze community once they've poured their last drinks for the night. Come for the craft beers, shots of whisky and the Everleigh's bottled cocktails.
5
Downstairs, it's all about whisky, beer and hot wings. Upstairs, at sister bar Little Blood, tequila and mescal take centre stage.
6
Sazeracs, absinthe, oysters and smoky barbecue: Le Bon Ton delivers the best bits of New Orleans in one handy Collingwood package.
7
A warren of rooms and a broad verandah welcome you at this late-night lair, hidden above Captain Melville. Tell bar staff what you're craving and they'll whip up just the thing.
8
Two tiers of multicoloured fun await at this Shanghai-inspired speakeasy, home to inventive cocktails with a savoury edge.
10
Union Electric is marked only by a fat rusted lightning bolt pinpointed by globes and a small door that opens onto the paved alley. This bar is a good time, and so are the vaguely tropical cocktails: the Kaiju with Scrumpy Cider, Green Chartreuse, and Suntory Whisky kicks goals all year round with the super fresh flavour.
Tomorrow's breakfast sorted
We scoured Melbourne to find the best cafés to bring you a guide to 40 of the best.