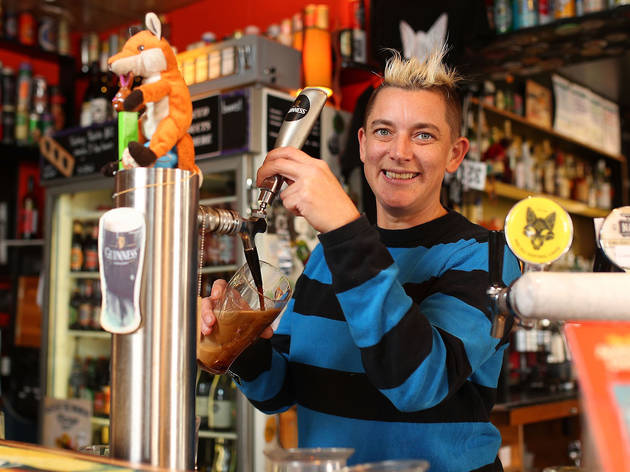 Quit your job, become a... publican
What's it really like to run a pub in Melbourne?
Clodagh Harris is one third of the publicans who run The Fox in Collingwood. Along with Tracy Walsh and Bridie Harrop, they have built the Fox into well-loved fixture of the northside pub scene. Many regulars come multiple times a week to taste test the latest addition on the taps or the generous serves of pub grub. We chat with Harris on her favourite parts of the job, and what it takes to be a decent publican.
Clodagh, how did you get to become a publican?
I've been friends with the Fox co-owners Tracy Walsh and Bridie Harrop for a long time, and we'd also worked together. We got to a point when we wanted to be our own bosses and run our own venue. We pooled our savings and started the Fox ten years ago in October 1997. All three of us have been there from day dot, and it's great that we can still all work together.
What's the best part of your job?
Meeting the interesting people who walk through our door, serving them, and definitely tasting the beers. I can't complain about that. Tracy's a wine-lover and writes the wine list, while Bridie looks after the bands and entertainment, so we've each got our own favourite parts about the work.
What qualities make a good publican?
The main thing is you have to create a nice, welcoming environment for people. People go out to have fun, so you have to be able to set the right conditions for people to have a good time. It's also about the little things like noticing what regulars like to drink and remembering their names. At the end of the day, we're in the service industry, so we have to be good at looking after people.
You guys have been passionate about putting a spotlight on women in the industry, like with the annual Women and Beer event at Good Beer Week. Why have you made this a tradition at the Fox?
When I started working in Australia it was very hard to get a management role in the industry. It's changed since then, and the Women and Beer event highlights the great female talent that often goes unnoticed in the brewing industry. We work with the Pink Boots Society – which aims to educate more women to go in the industry – and we figured if we're filling our taps with female brewers, why not get female DJs and musicians in and host a party?
And what makes a great pub to you?
A place that makes people feel welcome, with great beers and food. When we started we wanted to the classic big pub meals, but since Tracy is vegetarian, we also wanted to make sure that vegans and vegetarians have more to eat than a bowl of chips and a salad.
Check out Melbourne's best pubs
Melbourne is a city that really knows how to do pubs. From beer halls with more than 50 craft beer taps to cozy locals with a great fireplace, there's a pub for every occasion.
Best selling Time Out Offers