The 50 best pubs in Melbourne
Time Out gives you the lowdown on Melbourne's best pubs in every corner of this great drinking city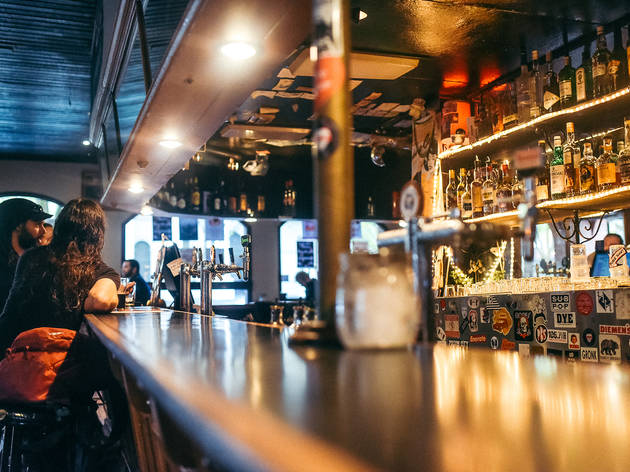 Pubs are as integral to Melbourne as trams and coffee – a supporting beam in the architecture of our great city, and one from which to hang other fundamentals of our character like music, food and footy.
The pubs below are the ones that stand out as supporters of that culture. Some of them have taken home gongs at the Time Out Pub Awards. Others have been named among Melbourne's best live music pubs, gastropubs or best pubs to watch the AFL. We hope you have as much fun exploring Melbourne's pub scene as we do. Bottoms up!
1
One of only five pubs in Melbourne awarded five stars by Time Out, the Marquis ticks every box.
Read more
2
It's all about the steaks at this gorgeous revamped gastropub from chef Sean Donovan.
Read more
3
There's always something wild on pour at the Alehouse, one of the best beer schools in town.
Read more
4
One of Melbourne's best pitmasters has taken over the old North Fitzroy Star, with delicious results.
Read more
5
The cosiest beer bunker in town has music and hospitality in its DNA, plus the best Philly cheesesteaks around.
Read more
6
After all these years, this Brunswick legend still offers the best in free live music and community good times.
Read more
7
Collingwood's late-night dance hall brings craft suds (from 50 taps!) to the party.
Read more
8
This mature local has a spectacular craft beer offering with many special releases on tap and growlers to take away. The new menu includes hot dogs and burgers.
Read more
10
The new Lincoln has a fresh attitude and a flair for casual quality, and the food is bloody good too.
Read more
Show more
1
Watch the footy with Cape Grim steaks and plenty of elbow room at this refreshed old colonial.
Read more
2
The kids at the GB celebrate a new deck, an improved kitchen and spiked milkshakes.
Read more
3
Here they fight the good fight for craft beer with a wink and a smile.
Read more
5
Since a revamp in 2015 the Tree has been providing craft beer, trivia and wood-fired pizza for all.
Read more
6
More than just a pub, The National is an Asian eatery of considerable style.
Read more
7
Melbourne's first 100 per cent craft beer pub is still kicking goals in Richmond.
Read more
8
A modern party pub overflowing with greenery and AFL fans.
Read more
Looking for more Melbourne pubs?
Who won Pub of the Year? Which boozer was crowned Melbourne's Best Beer Pub? Check out all the winners from our 2016 Pub Awards.
Read more