Seven great spots to watch the AFL Grand Final
Where to watch the big game live and loud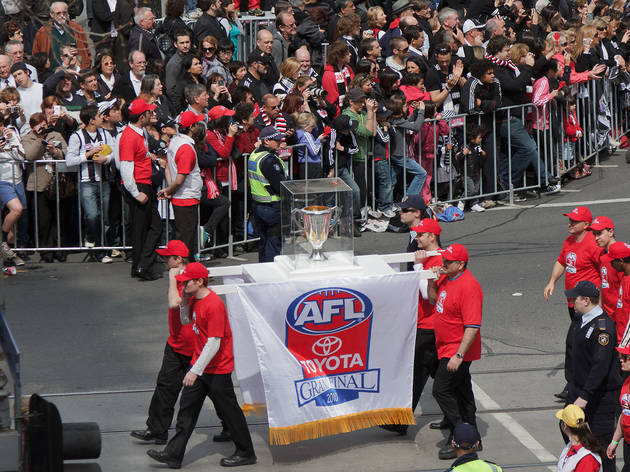 Across the sports bar, in the beer garden and in every room of this corner pub you'll find more than 20 TVs screening the big game. The doors will swing open at 11am and after the game there will be DJs to keep the party going. You can also warm up to the game at the annual Sportman's Lunch on Thursday September 28, with guest speakers Dane Swan Kevin Bartlett Billy Brownless.
This Bourke Street pub will swing open its doors from 8am so you can get in early and start warming up for the game.Where ever you are in the venue you'll be able to catch the action on big screens. On level one they'll be hosting a pre-game buffet breakfast with bubbles, beer and wine from 9am. The rooftop, where you can watch the game on a huge jumbotron screen, will be open from 10am with a $30 all-you-can-eat barbecue from noon.
The AFL Grand Final will be screened live and loud, with happy hour drinks from siren to siren, live entertainment and a hard-to-beat atmosphere. Stick around after the final goal to check out Fitzroy's newest rooftop overlooking Brunswick Street.
Book in with a group at this Hawthorn pub to ensure you've got great views of the game. Head to the beer garden so you don't miss out on the action on the projected screen. The pub will also be giving out free footy snack platters with any bookings for 10 or more, complete with party pies, sausage rolls, panko crumbed calamari and cocktail sausages.
This pub located just back from St Kilda's foreshore is set to be electric with Grand Final fever. They'll be opening up both floors, hosting happy hour specials from bounce to siren, with $5 pints and wines and $10 cocktails. The game will be screened on a huge projector upstairs, and there will also be plenty of screens downstairs.
Want to watch the game on your own screen, but still want the atmosphere of a pub? Book a booth at the Middle Park Hotel, where you'll get your own private screen.
7
Usher in the Grand Final with happy hour cocktails from siren to siren, big screens and great counter meals. There will also be live acoustic music from 7pm and a live percussion and sax band from
9pm to keep the celebrations going.