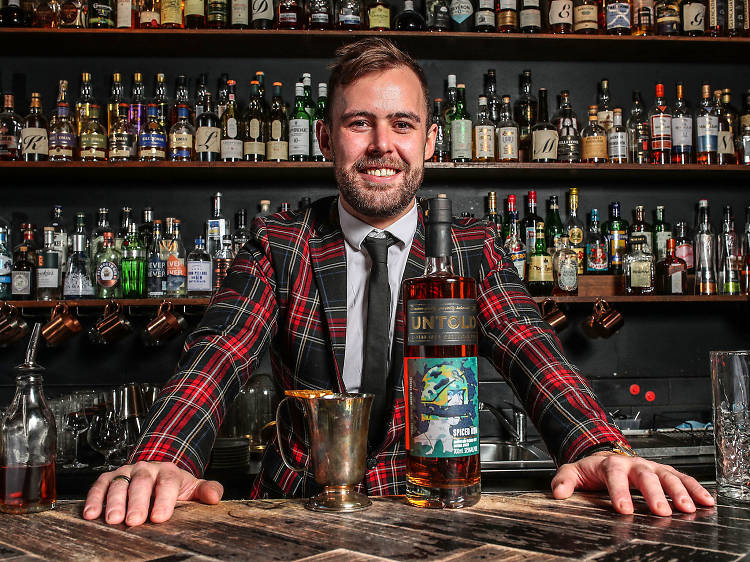 Photograph: Graham Denholm
Nicky Craig has made a cocktail paying tribute to his first experience of this iconic Melbourne bar
---
Cocktail: A Tale UNtold
Ingredients:
30ml Untold Rum
30ml overproof rum
15ml spent coffee-infused agave
20ml lemon stock
15ml egg white
2 drops Mr Bitters Cacao & Macadamia bitters
1 drop pimento bitters
Macadamia and almond praline

Method:
Dry shake, then shake with ice and fine strain into a metal goblet. Garnish with macadamia and almond praline.
---
Nicky's story
"I walked into Eau de Vie for the first time in November 2015. It was merely hours after landing in Australia for the first time. I'd worked in bars for six years in Edinburgh and two in Kuala Lumpur, and I'd just spent six weeks in Mexico and three in California before coming to Melbourne. It's a beautiful bar to walk into. It was super busy, a Saturday night, music was pumping, there were people everywhere, and behind the bar was a friend I knew from Scotland. He asked what I felt like drinking and my response was, 'whisky, and refreshing'. Moments later he presented me with a smoky riff on the Lion's Tail cocktail.
"A week later I was working behind the bar, and I've worked there ever since. The Melbourne hospitality industry is incredibly welcoming. At Eau de Vie, we try to focus on having that friendly feeling when anybody walks in the door. A lot of bars across the world are doing amazing things in terms of creativity but they fall short in the basics of hospitality, which is service.
"The inspiration behind A Tale Untold was to remember that first drink I had at Eau de Vie, with a focus on local products. Using Untold Spice Rum instead of whisky in a Lion's Tail gives it more complexity, a little bit more spice. I used the spent coffee granules from the coffee shop around the corner for my coffee-infused agave. Melbourne-made Mister Bitters chocolate and macadamia bitters enhance the rich flavours of the drink, which is balanced by our housemade lemon stock. A drop of pimento bitters (to stay somewhat true to the Lion's Tail) adds spice, and egg whites are for texture."
---