Win a trip to Jamaica with Red Stripe
Drink a Red Stripe beer and you could be partying down in Montego Bay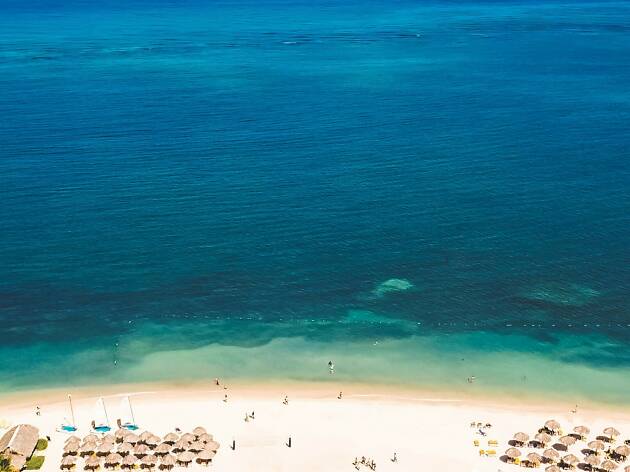 Red Stripe is a smooth, full bodied amber lager from the sandy beaches of Jamaica where it was first brewed, over 90 years ago. Named after the red stripe that used to run down Jamaican police uniforms, Red Stripe is an unpretentious drop that goes down nice'n'easy.
Fans of the beer have the opportunity to win a once-in-a-lifetime trip to Jamaica in July 2019. The prize includes return economy flights, hotel accommodation in Montego Bay, and daily activities.
To win one of two trips for two people, simply purchase a Red Stripe from a participating venue, take a creative photo with the Red Stripe promotional coaster that you'll receive with your purchase, and post it to Instagram, tagging #RedStripeAus and the venue where you bought your Red Stripe. Remember to have your Instagram set to public. The two most creative posts will win.
The competition is open from February 1 to May 19, 2019. The prize trip must be taken on July 17-21, 2019, and cannot be changed, transferred or redeemed for cash. Go here for more information and terms and conditions.
So, where can you enjoy Red Stripe and get that promotional coaster? Here's the list:
Lona Pintxos
St Kilda has more to offer than just beaches, with Lona Pintxos proving you can find authentic Spanish cuisine outside the CBD. Pintxos (bite-sized bar snacks) are the star here, with everything from cumin-spiced lamb ribs to fish tacos available to pair with a Red Stripe beer.
Easey's
Only in Melbourne would a bar think to plonk an old train carriage on top of an office block. Easey's specialise in burgers, beers and all things fried and not reccommended by your doctor.
Serenity
This pub and bistro in Docklands boasts a strong pasta list on their all-day menu and plenty of gluten-free and vegan options. The daily three-hour happy hour for beers on tap extends to Red Stripe.
Tessie Pearl Hotel
The fun in South Wharf can be found at Tessie Pearl Hotel along with hand-stretched pizza and soft shell crab burgers.
Vic Bar
Rap, hip hop and RnB are the go at the Vic Bar on Friday and Saturday nights. Abbotsford's popular party bar has drinks specials every day of the week, and ice cold Red Stripe.
Yellow Bird
Café bar Yellow Bird in Windsor has been bringing the Mexican party for more than ten years and they don't look like slowing down anytime soon.
Jack and Bones Island Bar
Jack and Bones Island Bar prides itself on being Melbourne's "only Hawaiian bar", but that's not its exclusive focus. Among the tiki drinks you can get yourself a taste of Jamaica's famous brew.
Carringbush Hotel Abbotsford
This self-described "damn fine pub" is also sustainably minded. The pub features a plant-based menu, 21 beer taps (and no packaged beer), eight wine taps and reusable metal straws to help keep the bar as green on the inside as Abbotsford is on the outside.
Mint-o-Mustard
It can be easy to forget about Docklands but do so at your own peril. Mint-o-Mustard is an Indian restaurant and bar sitting pretty on the harbour at New Quay promenade. If you can't handle the heat head to the bar to quench the spice with a cold one.
The Barkly Hotel
Tucked in the corner of Barkly and Grey Street, this is a locals' bar down on street level that does a hangover brekky and eight-dollar pizzas, and a rooftop bar for when you need a side of Vitamin D with your Red Stripe beer.
Death or Glory
It's always summer in Chapel Street's Death or Glory bar, with a surfboard on the wall, beach shack untreated wood booths and '60s band posters on the walls. The beer list is always interesting and includes Red Stripe.
Hendriks Lilydale
If you find yourself in Lilydale and in need of a feed then direct your legs towards Hendriks. This all-day eatery serves classic café and pub fare as well as a range of woodfired pizzas and beers on tap, including Red Stripe.
Watermark
For brews with a view head down to Watermark where you can enjoy a schooner of Red Stripe while overlooking Victoria Harbour. The big and bright venue is also perfect for parties with plenty of space for guests.