When you think of mini golf, what's the first thing that comes to mind? A creaky windmill? A creepy clown's face with a gaping mouth? That scene in The Simpsons where Homer and Marge get it on in the mini golf course where Bart was conceived?
Friends, I stand here before you as a mini golf convert. Holey Moley – a colourful fun house of 27 wacky themed holes, neon lights, crazy cocktails and pumping pop music – is a place where putting dreams are made of.
I booked into nine of Holey Moley's 27 holes, having no idea what to expect. But on arriving at the CBD venue (which was formerly raging nightclub Sorry Grandma), the plethora of puns, writ large in neon signage on the walls, were a clue that I was in for a silly, fun time.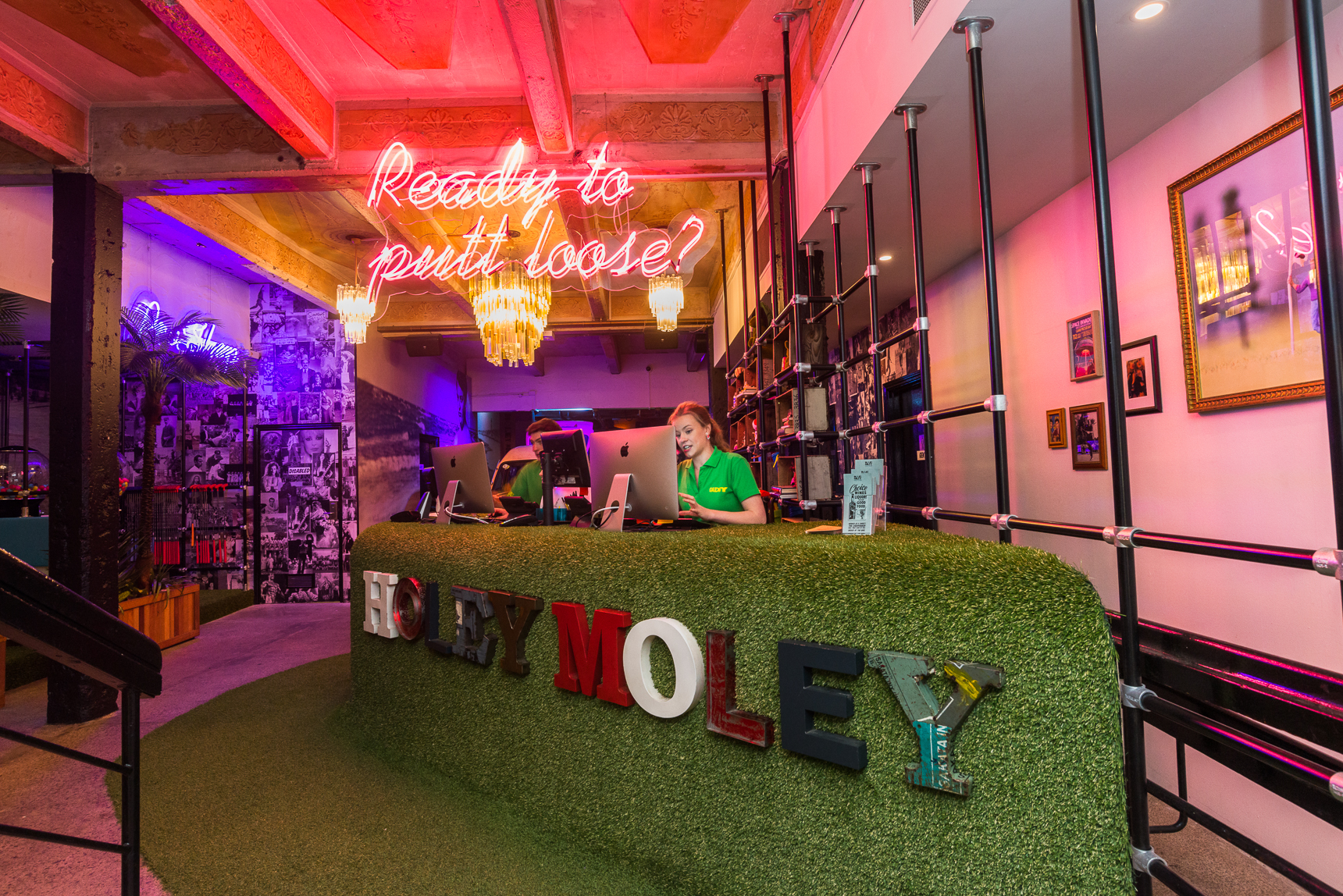 Club in hand, visor on head, I dodged a teenage birthday party to find my way to the beginning of the course. Little did I know that my first hole would also be my favourite…
1. Sorry Ms Jackson (I Am Surreal)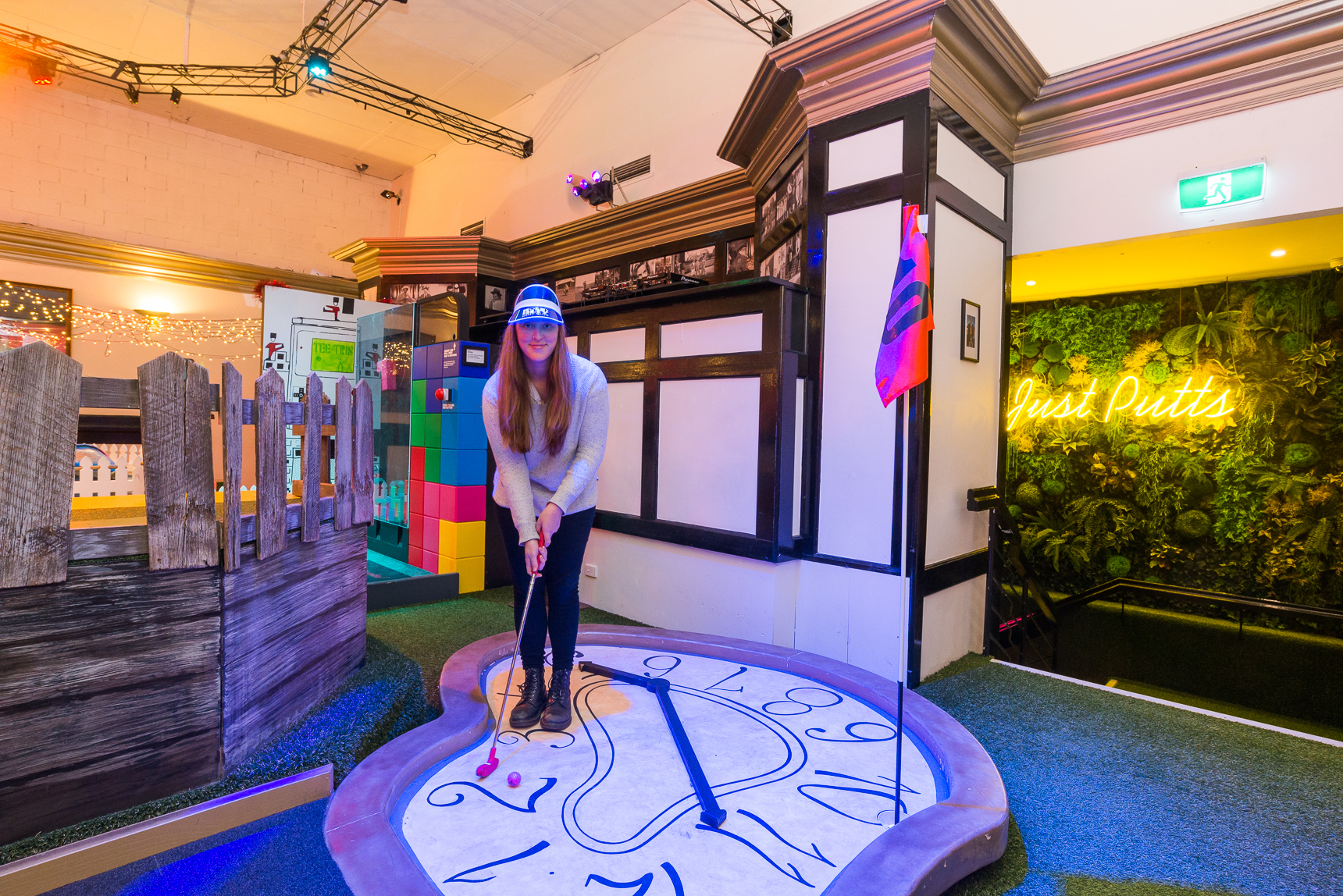 Par: 2
My score: 2
Beginner's luck, or secret skills? Either way, my first hole in my mini golf odyssey immediately became my favourite. 'Sorry Ms Jackson (I Am Surreal)' isn't the most elaborate course, but the ridiculous pun name – combining a hip hop classic and an artistic movement of the early 20th century – piques my interest immediately. Plus, the fact that I manage to navigate Dali's melting clock to meet the par on my first attempt is a huge confidence boost.
Pun: 10/10
Fun: 8/10
---
2. Teetris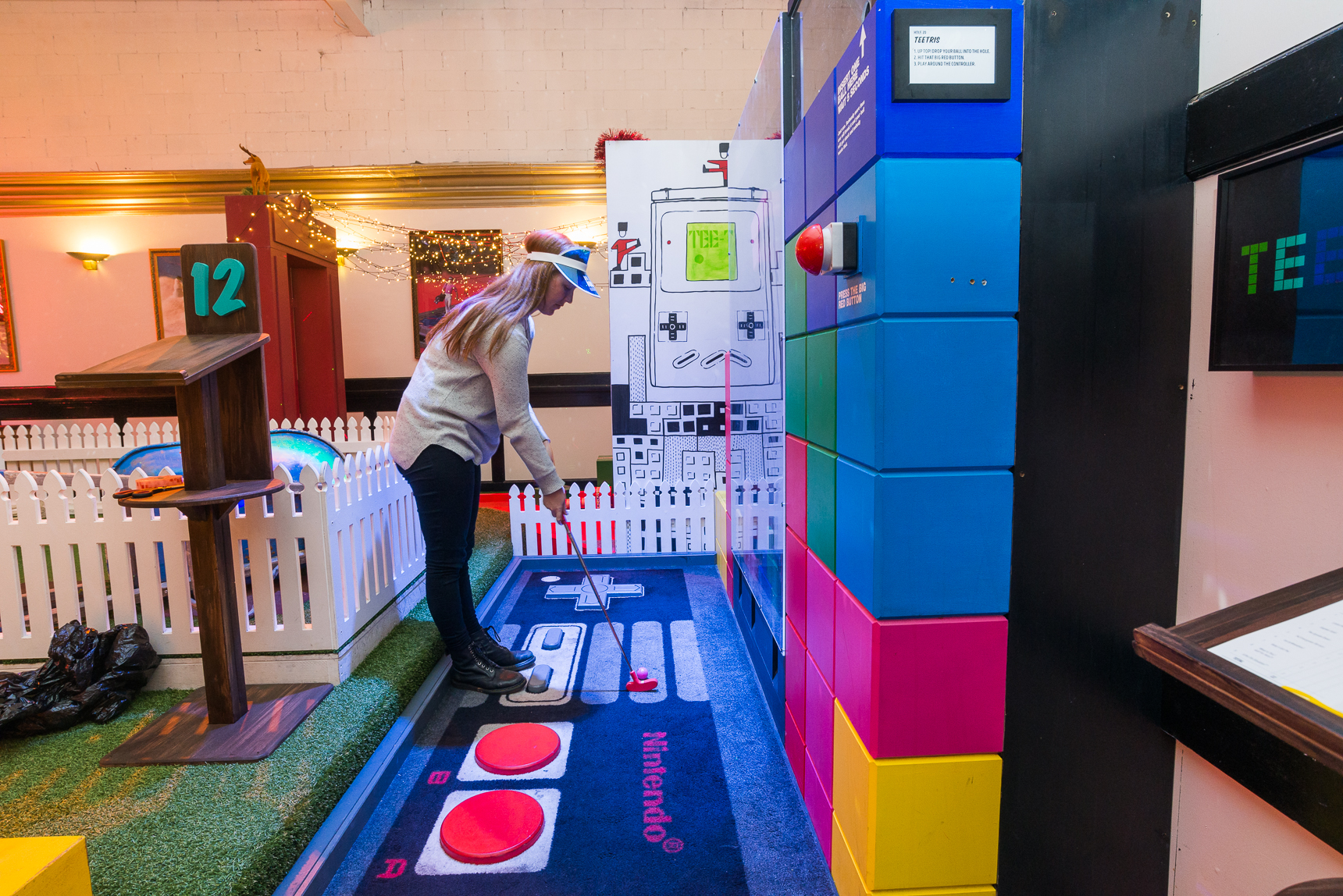 Par: 3
My score: 1
The '80s-tastic 'Teetris' hole comes up a close second in the ranking to 'Ms Jackson' for two reasons: firstly, the excellent nostalgia factor, and secondly, its sheer creativity. Pop your ball in a hole, press the button at the right time and boom! – the ball pops out right near the hole. Or in my case, rolls right freaking in there. Hole in one!
Pun: 2/10
Fun: 9/10
---
3. The Yellow Brick Green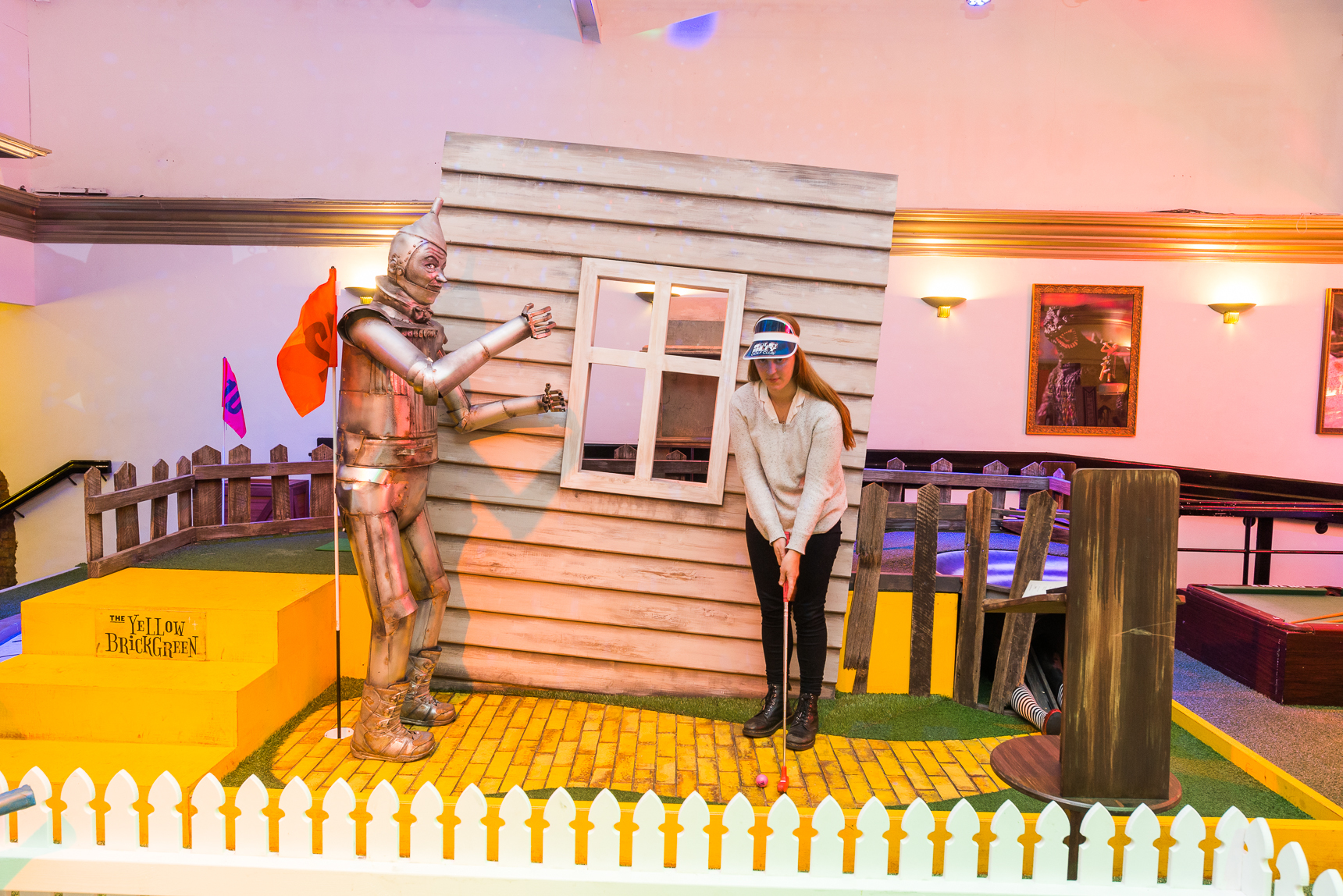 Par: 3
My score: 2
I'm not ashamed to admit that I'm a terrible sportsperson. But apparently, I am amazing at mini golf. My journey to Oz (via a very cool tornado) revealed that this could be my calling; the Spice Girls blares from the speakers, my ball sails through the legs of the Tin Man and into the hole, and I'm feeling the fantasy. I believe I score what is called a 'birdie': one shot under mother flippin' par.
Pun: 3/10
Fun: 8/10
---
4. O Christmas Tee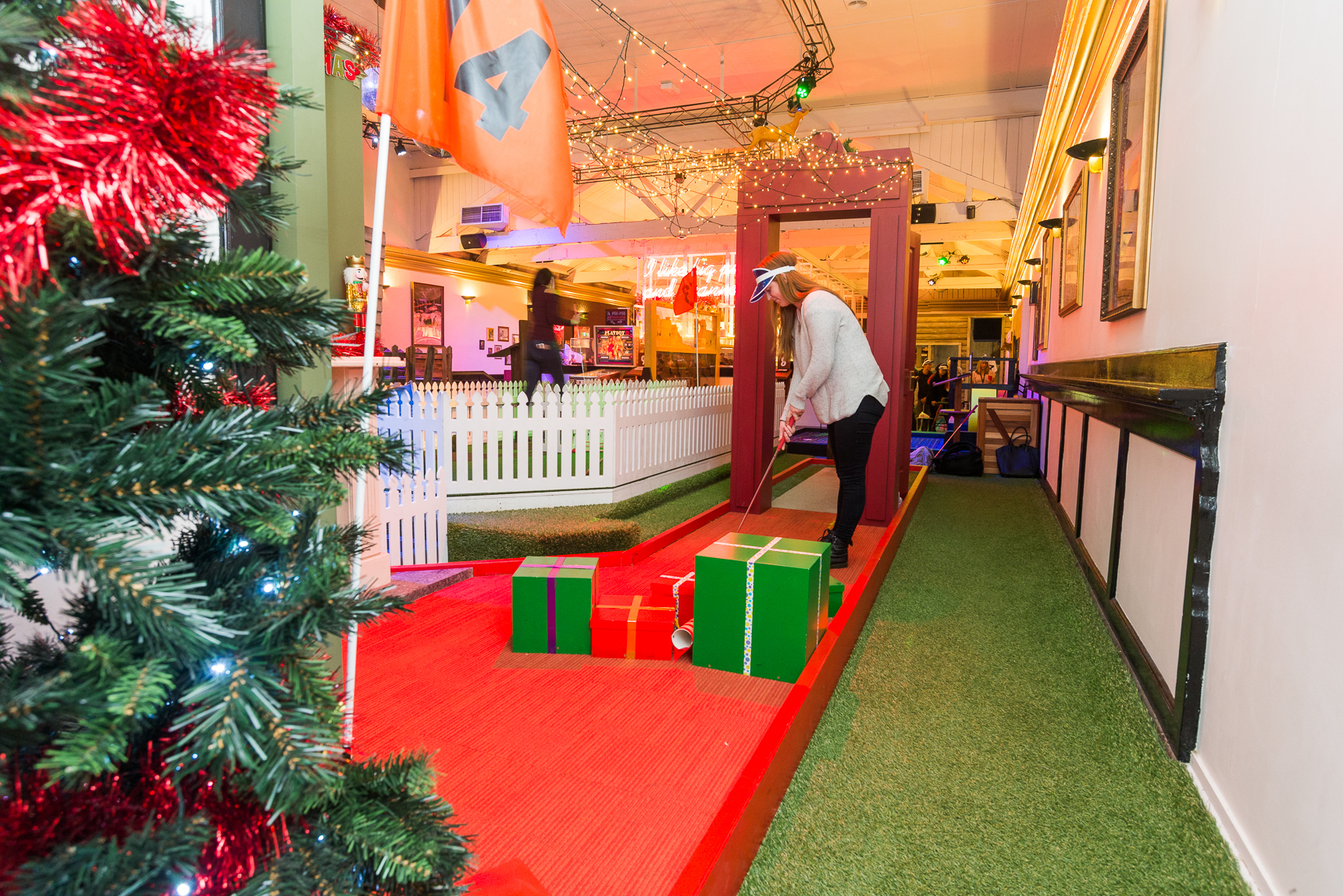 Par: 3
My score: 2
An admission here: I'm not the biggest fan of Christmas. But while yuletide cheer generally eludes me, I'm all about 'O Christmas Tee'. Its long stretch towards a tinselled tree through a narrow roll of wrapping paper is a great way to test out your precision.
Pun: 6/10
Fun: 8/10
---
5. Barbie's Scream House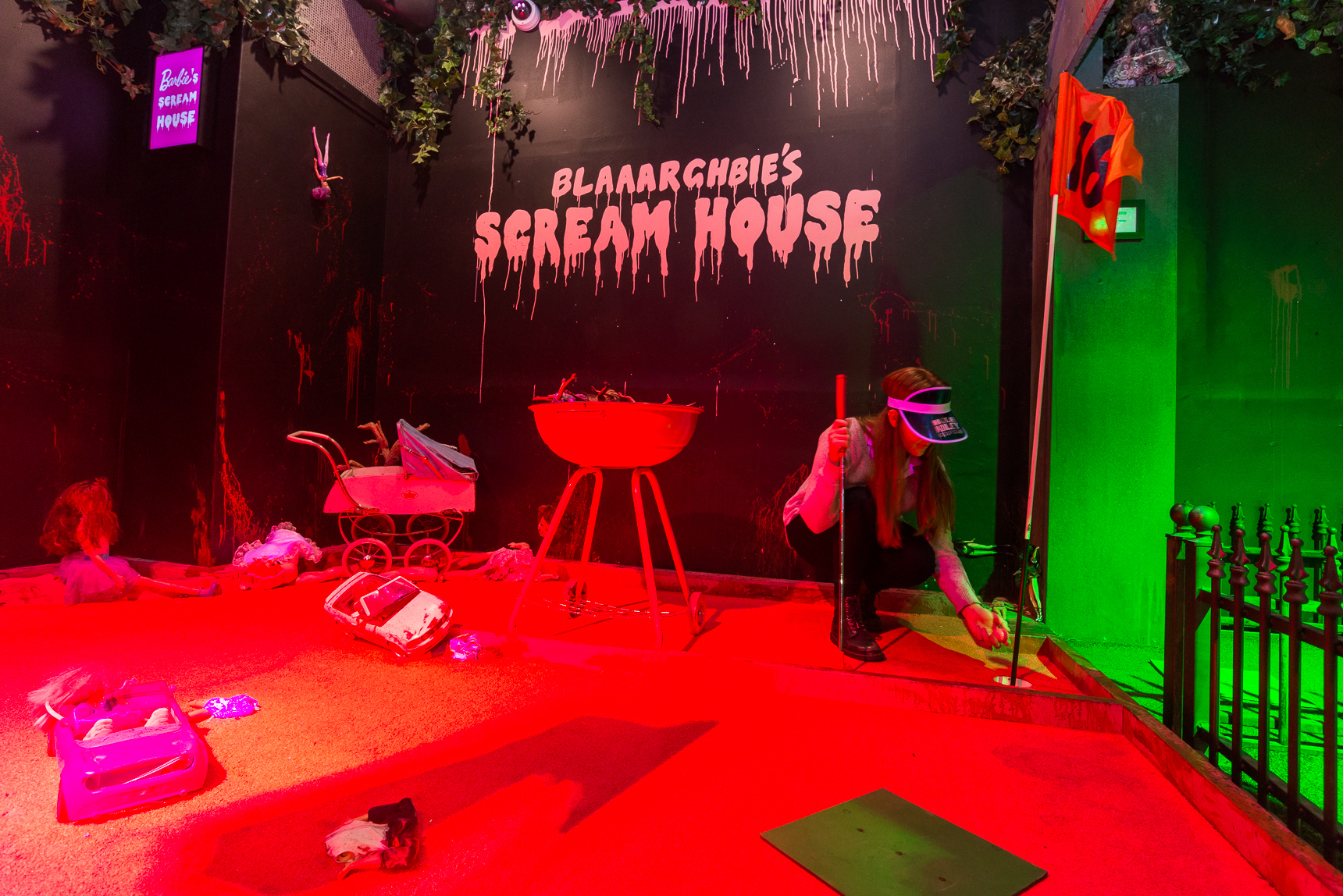 Par: 3
My score: 3
This horror-themed Mattel nightmare, drenched in red light and featuring overturned cars, contorted plastic dolls and blood splatters, is exactly the kind of madness I hoped to encounter at Holey Moley. It's possibly also the most difficult course (except of course if you're also a secret mini golf wizard).
Pun: 7/10
Fun: 7/10
---
6. Par for the Corpse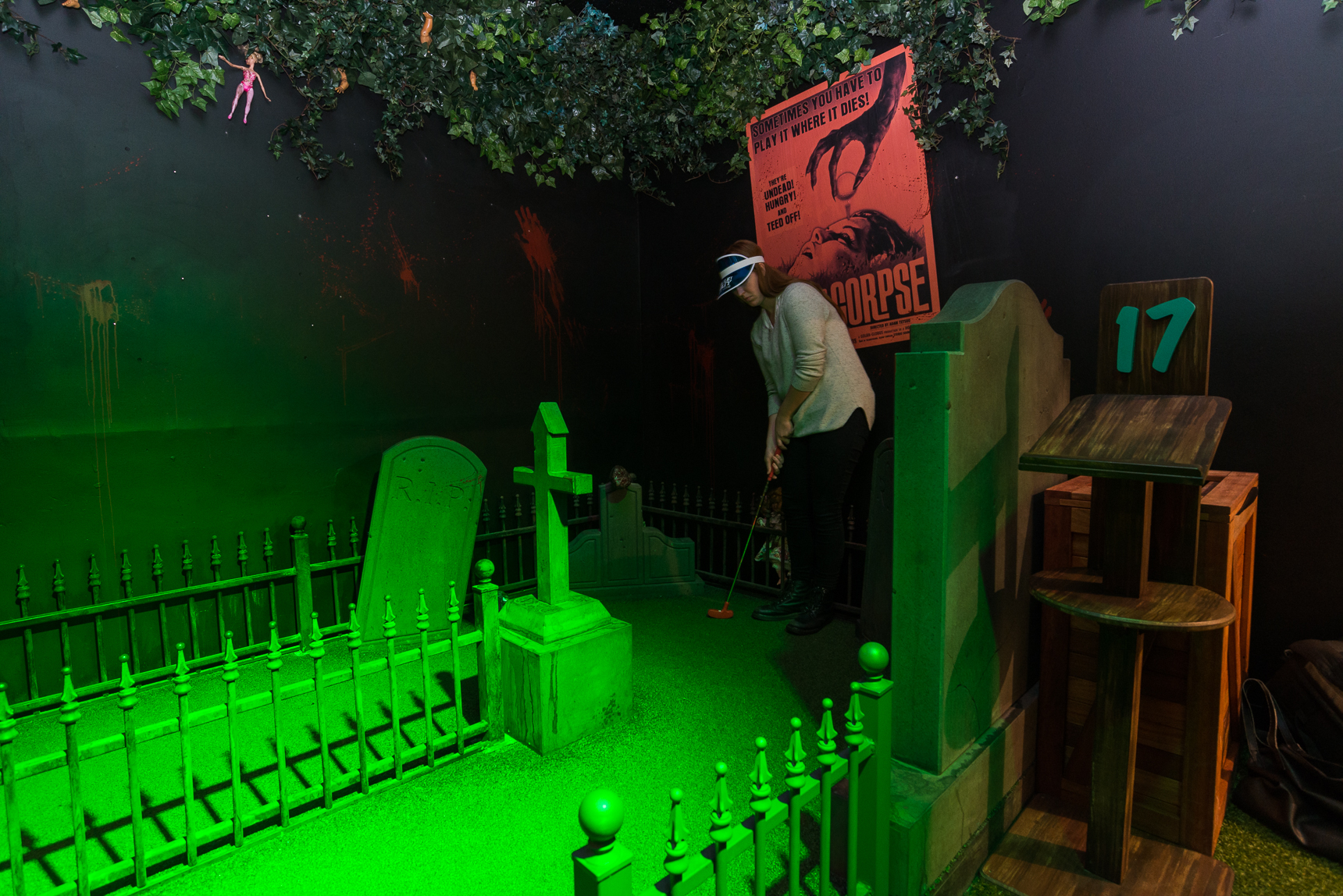 Par: 2
My score: 4
Lurid green light drenches a blood-stained graveyard in Barbie's spooky sister course. It's an undeniably cool design, but the actual golfing challenge feels kind of basic, especially compared to the finicky Christmas Tee hole or the Teetris gimmick.
Pun: 7/10
Fun: 6/10
---
7. Park Life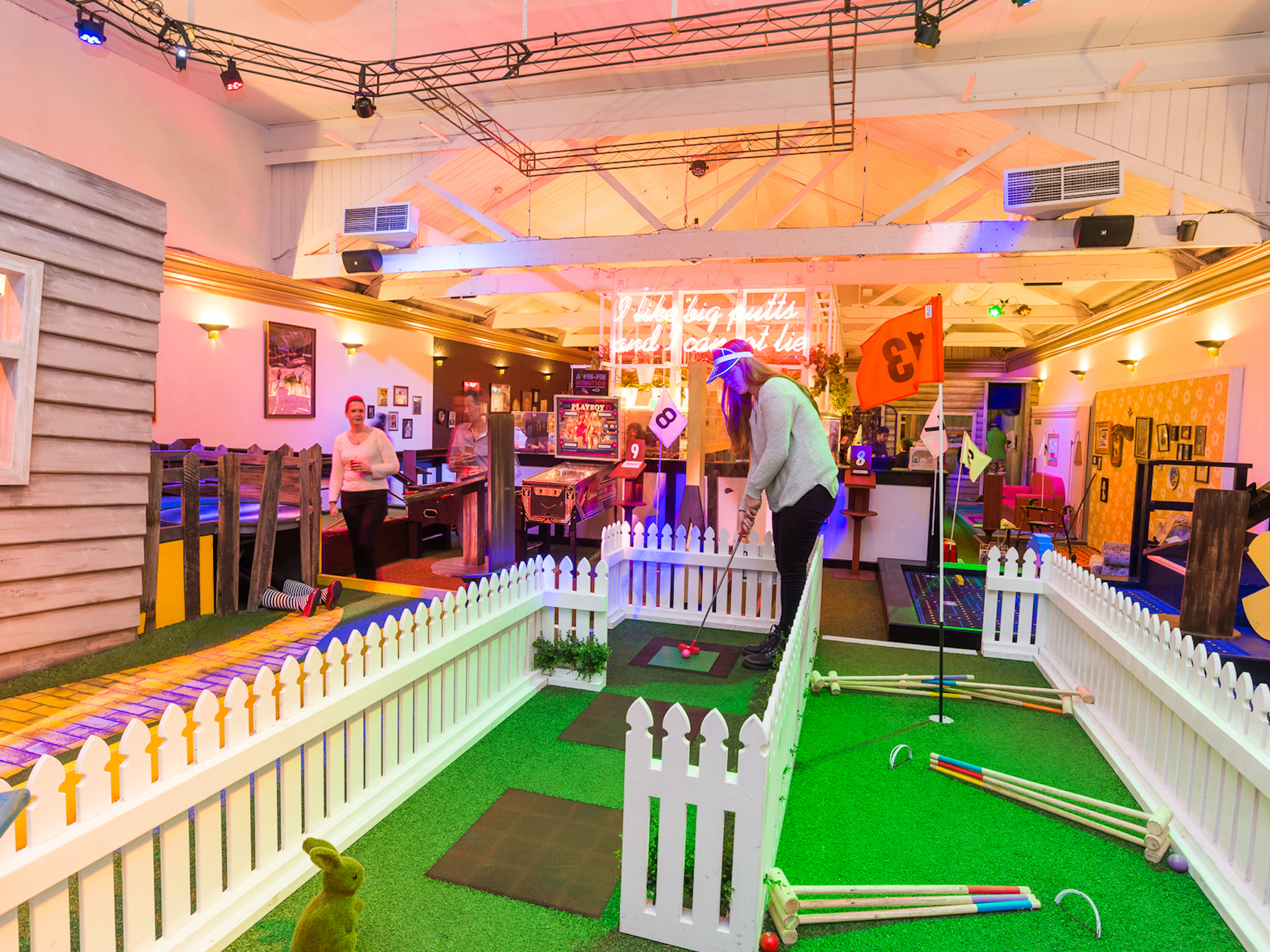 Par: 4
My score: 4
Extra points here for the deceptively easy design of 'Park Life' – it ain't easy getting past those pesky croquet mallets. Big points deducted for the name of the course; c'mon mini golf game-masters, you've done better than this!
Pun: 1/10
Fun: 5/10
---
8. An In-Tents Experience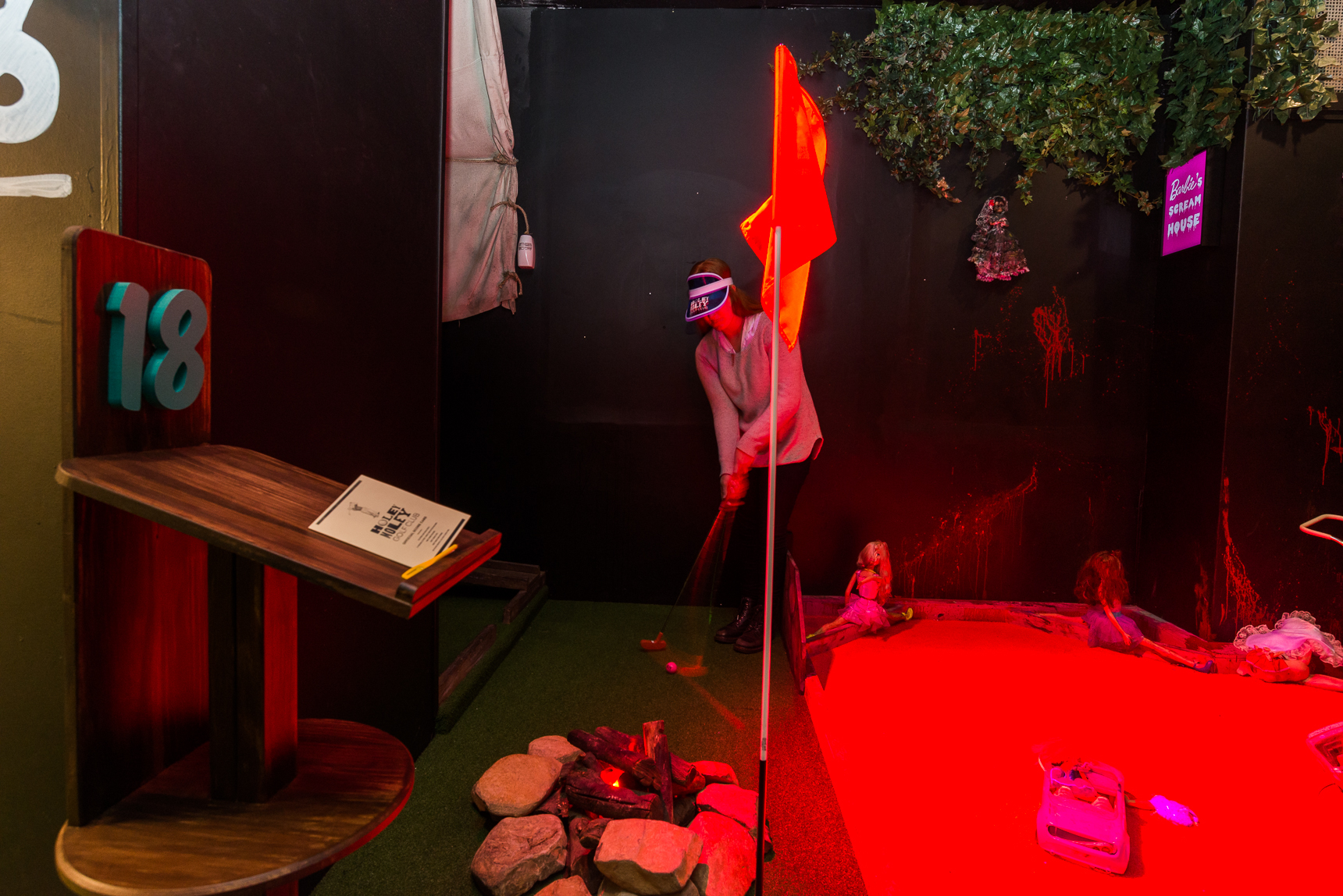 Par: 3
My score: 2
You may think from this photo that I'm in Barbie's Scream House here; but no, I've gone camping and apparently having 'An In-Tents' experience. Except, I'm really not. There's nothing surprising about this dark and uninspiring hole (except for the lingering feeling of amazement that once again, I'm under par. At this point, I'm changing my social profiles to 'works at: professional mini golf').
Pun: 5/10
Fun: 3/10
---
9. The Glory Hole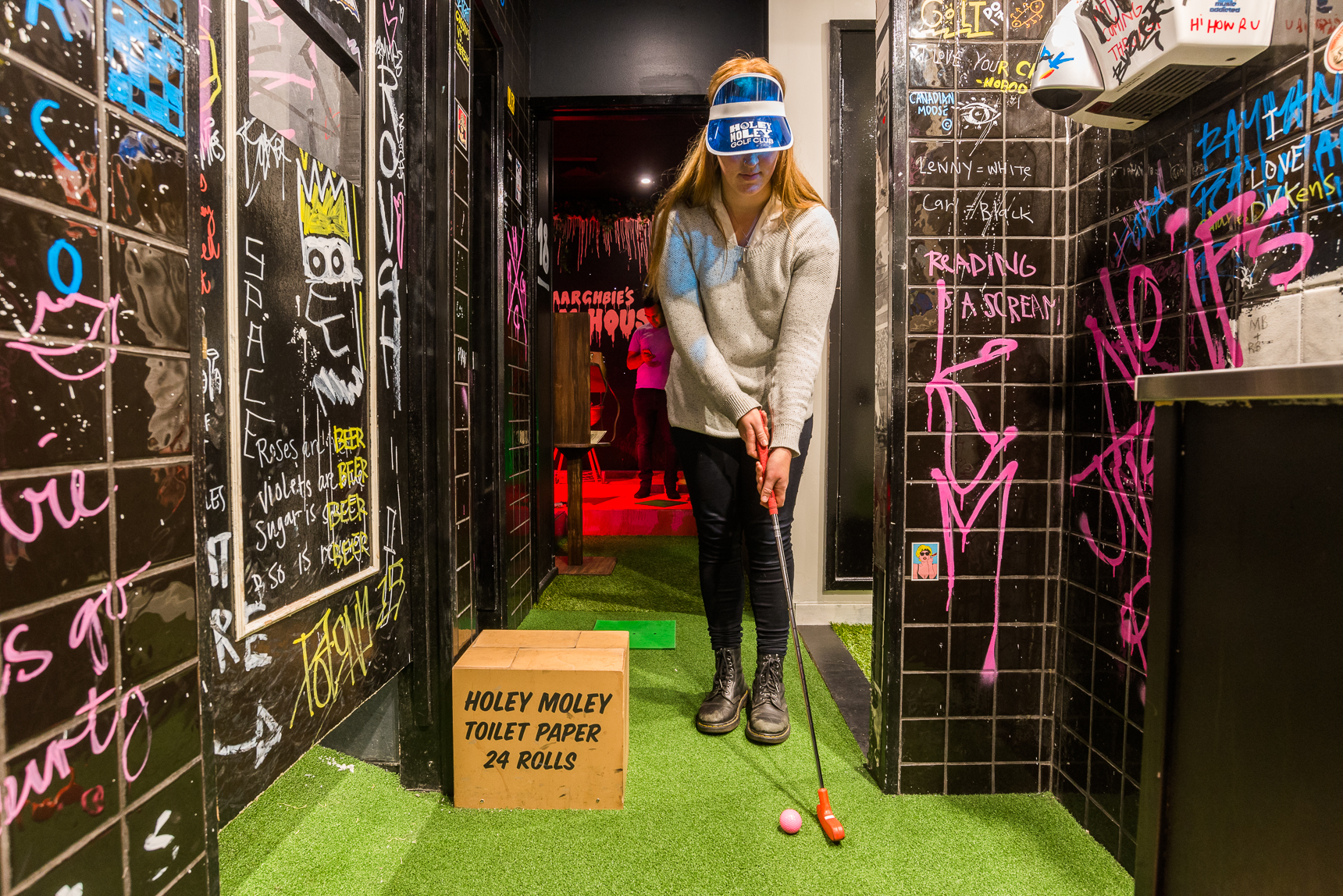 Par: 2
My score: 6
I'm going to be real here and admit that I sucked at 'The Glory Hole' (as awful as the second half of that sentence sounds). The point of the final hole is to hit the ball through a locked toilet cubicle and through a pair of legs – and it's infuriatingly difficult. Maybe I'm just bitter, but for a final hole, you'd expect something a little more thrilling (and the graffiti on the cubicle to be a little less lame).
Pun: 6/10
Fun: 2/10
---
But these are mere qualms on what was a tee-rific afternoon. The good times at Holey Moley are infectious, from the so-bad-they're-good puns to the thirst for golfing glory. Once you're in the spirit, you won't even think twice before ordering teeth-grittingly sweet cocktails from the upstairs bar, such as the Happy Gilmoreo, a dangerously drinkable blend of raspberry liqueur, vodka, Bailey's, milk, chocolate sauce, crushed oreos and whipped cream. Whether it's a sugar high or the high of discovering a talent I never knew I had, I leave Holey Moley with a sense of childlike elation.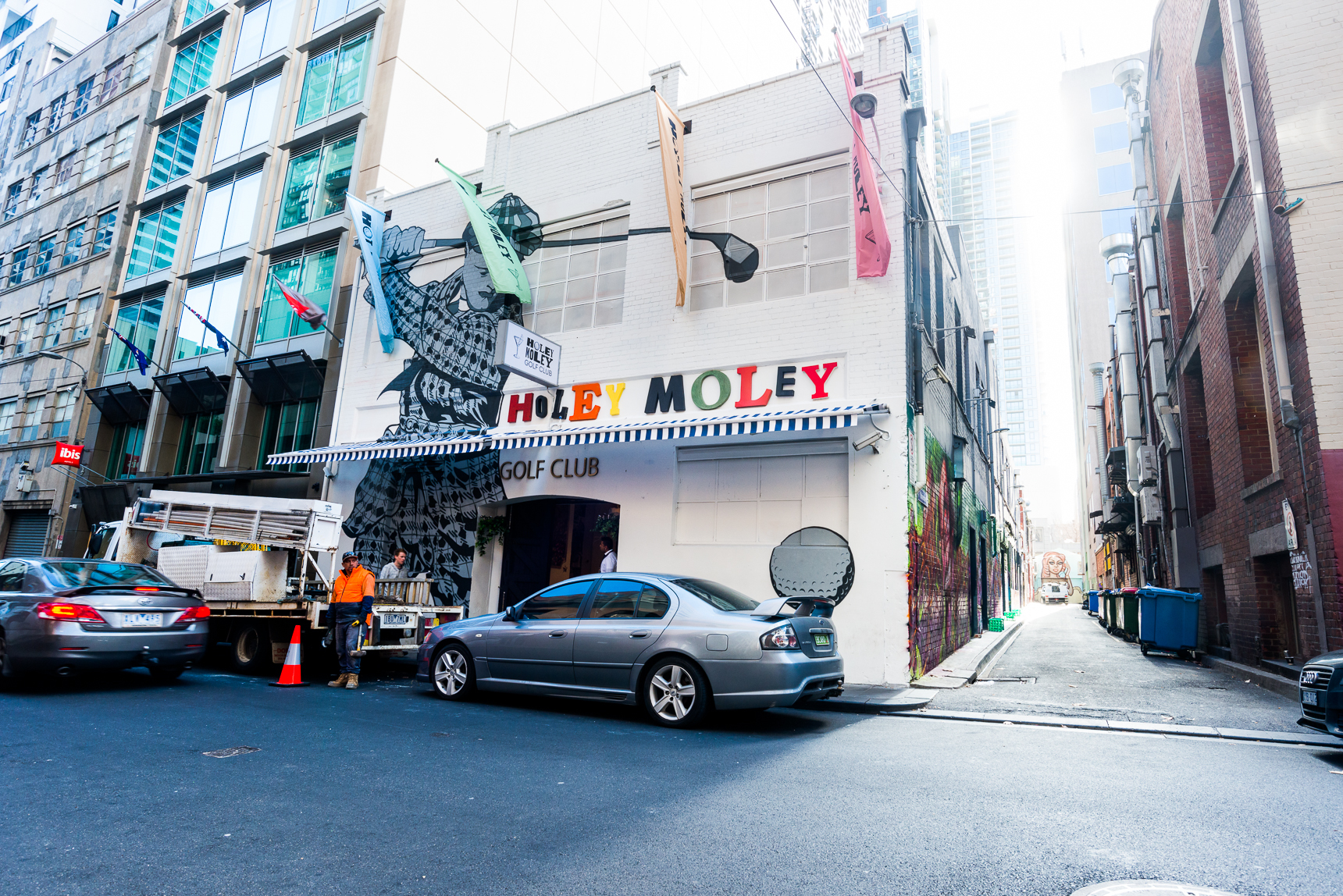 Melbourne is full of bars that combine drinking with fun activities, including video games and board games.
Tick off the best of the city with our bucket list of 50 things to do in Melbourne before you die.