50 things to do in Melbourne before you die
Want to really, properly know our great city? You'll never be wondering what to do in Melbourne again with our definitive list of the people, the places and the things that define our city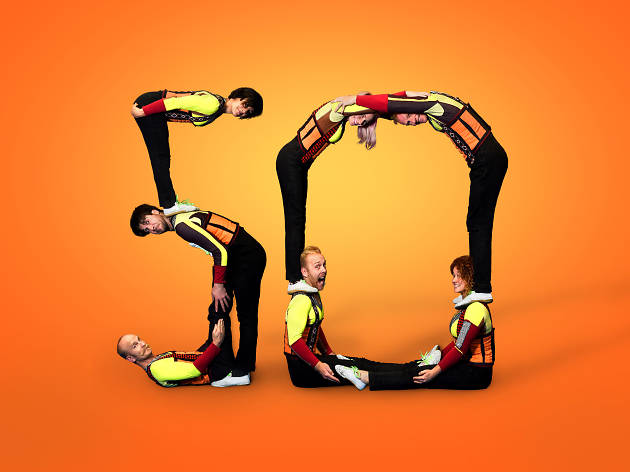 Melbourne is a city that doesn't give all its secrets away in one go. To crack its mysteries, you need a keen eye, a bit of time and a healthy sense of curiosity. To help you out (and to celebrate 50 issues of our magazine) we've decided to share our ultimate bucket list: 50 fun things to do in Melbourne, plus what makes the city great, from the food to the festivals and everything in between. For a deeper look into two of our greatest pastimes – eating and drinking – browse our guides to Melbourne's 50 Best Restaurants and 50 Best Bars.

RECOMMENDED: See the best events happening in Melbourne today
50
This Art Deco icon is a creative hive that was built in the '20s. Exploring its ten storeys is an unparalleled shopping adventure: you'll find boutique retailers, jewellers, art studios and bespoke tailors. Top picks include RetroStar (a small department store for vintage clothes and accessories), Brendan Dwyer (bespoke cobbler), L'uccello (specialist haberdasher) and Mattt (studio and retailer for beautifully designed and crafted handmade satchels). Piece of trivia: this was the last building in town to have lift operators.
Read more
49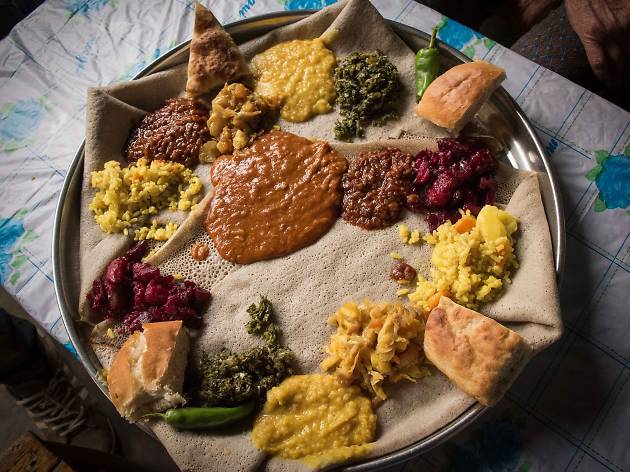 Eat Ethiopian food in Footscray
Footscray's Ethiopian community has made the western suburb the go-to place for your injera and stew fix. Get your crash course in vegetarian-friendly Ethiopian at Addis Abeba (220 Nicholson St), Dinknesh Lucy (227 Barkly St) for a hearty meal that's kind to the wallet, and Cafe Lalibela (91 Irving St) for the Ethiopian coffee ceremony.

Nine reasons we love Footscray.
47
Watch the world flutter by at the butterfly room, visit the colourful residents of the aviary and trek through the Trail of the Elephants to visit the close-knit family of big-eared beauties. The Zoo Twilights program of concerts is always a summer highlight; pack a picnic dinner and enjoy a balmy evening listening to some of your favourite local and international acts, backed by a lion's roar. Go early to secure pole position.
Read more
46
This not-for-profit eatery has become an institution for its delicious vegetarian dishes and its pay-as-you-feel business model, which supports disadvataged members of the community. There are outlets across the city, but by far the most atmospheric is under the spires of the Abbotsford Convent.
Read more
45
The trek up the many rickety, wooden flights of stairs is entirely worth it for the time capsule pool hall at the top. Book one of the full-sized snooker or pool tables for a piddling eight bucks during the day or $16 at night and while away a few hours with your mates. Try the old school milkshakes (no "freakshakes" here, baby).
Read more
44
Public singing can be a daunting prospect, but Charlton's open-mic karaoke set up is a guaranteed good time. Ease into it with a round of pool or a boogie at the bar next door if you wish, but make sure you belt out a song before the night is over. Prefer rapping over singing? Give Boney's hip-hop karaoke your best shot.
Read more
43
The ballroom above Flinders Street Station is the white whale of any curious Melburnian. A time warp of the city's history, the now-derelict ballroom was last used as a theatrette in the late 1980s, but hasn't seen a waltz since the 1970s. Generally the only way to see it is during Open House Melbourne in July.
Read more
42
Built in 1927, this tribute to Moorish architecture was saved from dereliction and Christian Revivalists by rock'n'roll. The Forum is now host to something the biggest names in rock (Everyone from Nick Cave to Courtney Barnett have played there over the years), comedy and theatre. Stepping out onto the Forum floor is an exercise in wonder – the ceiling is cerulean blue and dotted with tiny lights to mimic the night sky, while the walls form the façade of a gothic courtyard. Want more of Melbourne's best music venues?
Read more
41
Walk to the top of Ruckers Hill in Northcote...
... and watch the sun set over the city.
10
Antons is a shopping institution for the left-of-centre. Drawing inspiration from the golden days of Hollywood, Antons' Melbourne-made suits are a blessing for everyone who baulks at the idea of being a corporate drone, but needs to look sharp for work. Try on a pair of the high-waisted, wide-legged women's trousers, a shirt that properly tapers to the female form, pair it with a hand-crafted silk tie and some of Antons' cufflink curiosities and you'll leave feeling as glamorous as Marlene Dietrich.
We also like:
Metropolis Books
Where do you go when you want a Bill Murray colouring in book, post cards of tattooed ladies, a book about the influence of the occult on rock and roll, and a kids' book about yearning to be a pink, glittery unicorn?

Wunderkammer
Wunderkammer is a German word meaning cabinet of curiosities and a bang on description for this shop. Slightly creepy and totally fascinating, it's stocked with scientific instruments, taxidermy, medical ephemera from yesteryear, maps, globes and real skeletons.

Read more
9
Don't be one of those people who only loves footy on Grand Final Day. Rug up, get a pie, a hot jam doughnut and a beer, yell like a bastard, heckle the umpires and have a right old laugh at the little tackers having a crack during half-time.
Book now
Read more
8
Halfway between the streets and the sky is Lui Bar – home of stunning city views, top-notch bar snacks by Vue de Monde's Shannon Bennett and a life-affirming Martini made with macadamia fat-washed vodka.
Read more
7
Wear a piece of Melbourne fashion
Alpha60 is a local label that epitomises Melbourne's penchant for comfortable yet stylish gear, with plenty of baggy cuts and dark colours. Designer Alex Cleary, who founded the label with his sister Georgie, says "not only do we have to look stylish in Melbourne – we have be somewhat practical [for the weather]. Want to fit into Melbourne? Just add layers."

Kuwaii is another defining Melbourne label. Founder Kristy Barber produces all her clothing and footwear locally – and they're meant to last a lifetime. "The girls of Kuwaii are consumers with a conscience. They care about beautiful things, but they are also very savvy about what they buy. We're also known for being a colourful brand, which stands against the idea that Melburnians only wear black!"
6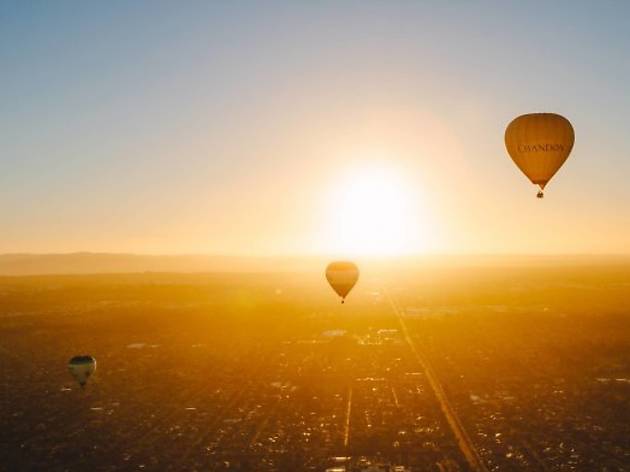 Soar above the city in a hot air balloon
If you get up early enough on a clear morning, you'll see a handful of hot air balloons floating serenely above the city, greeing the sunrise. Chances are, you dream you'll be up there one day – why not do it now?
5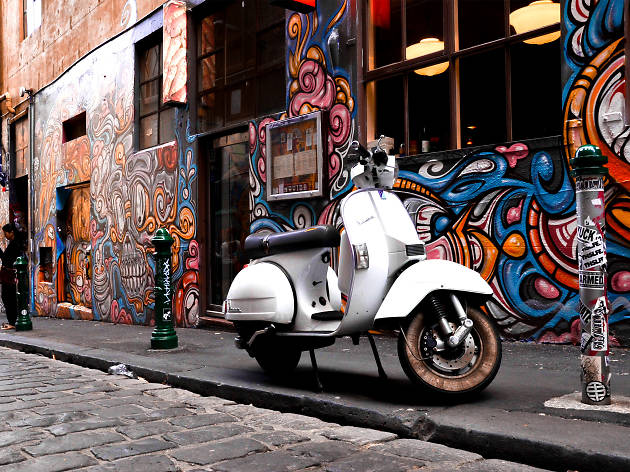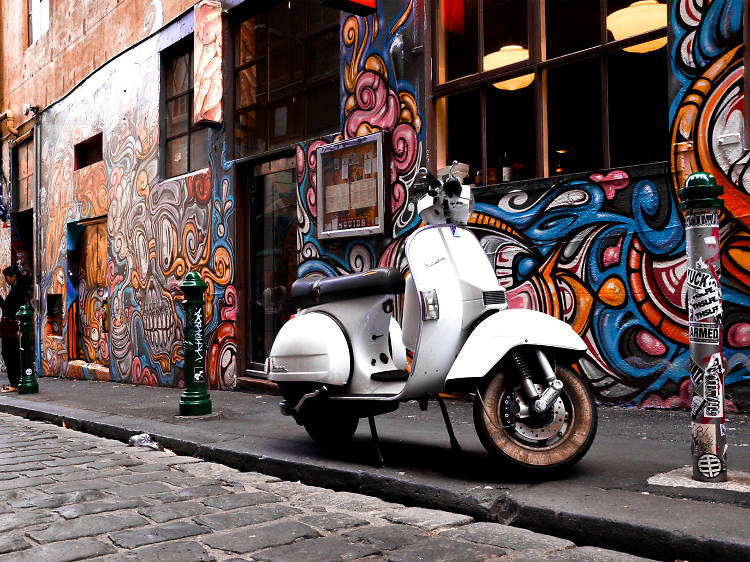 Hang with the tourists at Hosier Lane
We know it's not the edgiest thing you can do in Melbourne, but no one can deny that our laneways are home to some of the country's best pieces of street art. If you can't handle all the flashing cameras, then head off the beaten track and track down street art in some of these alternative locations.
4
Enjoy the serenity of Yarra Bend
You'd hardly notice you're in the city on the Yarra Bend Park, which winds through the heart of Melbourne and out into the eastern suburbs. Take the green, hilly journey from the city into Kew, or even as far as Bulleen, and you won't see a car for hours. Prefer to walk? Check out our top five Melbourne trails.
3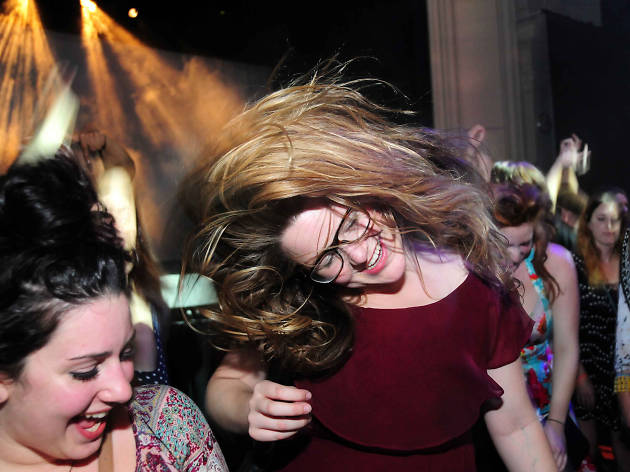 See all the art at one of Melbourne many festivals
A well-curated arts festival will make a city's residents experience familiar spaces in new ways. Never is this more evident than with the luminous White Night festival in February, or with the Comedy Festival in April, Melbourne Fringe in September or Melbourne Festival in October. If you normally enjoy catching a show or two, then make this the year that you go deeper; we're talking parties in the festival hubs, free talks and events and two or three shows in a night (but never four... trust us on that).
2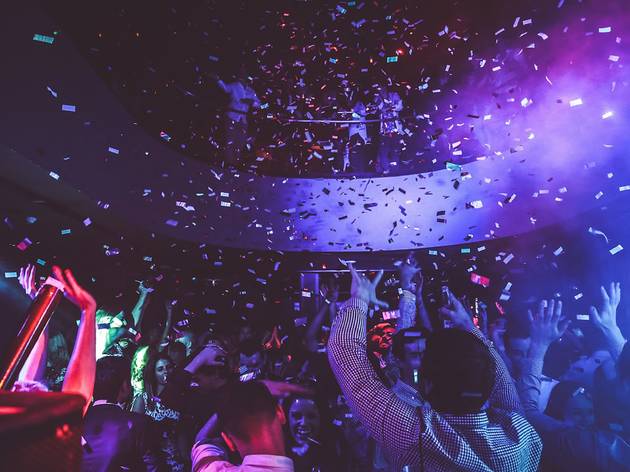 Dance until dawn
While our friends up in Sydney fight the good fight against the nightlife-crushing lockouts, Melburnians are dancing until the small hours nearly every night of the week. No self-respecting techno fan hasn't emerged like a vampire from Revolver on a Monday morning. On a Saturday night, head to Laundry for a sweaty hip-hop party, or get down to some old-school disco at Andee Frost's legendary 'House deFrost' at the Toff in Town. Be sure to check out which Melbourne DJs are playing at Boney and Howler.
1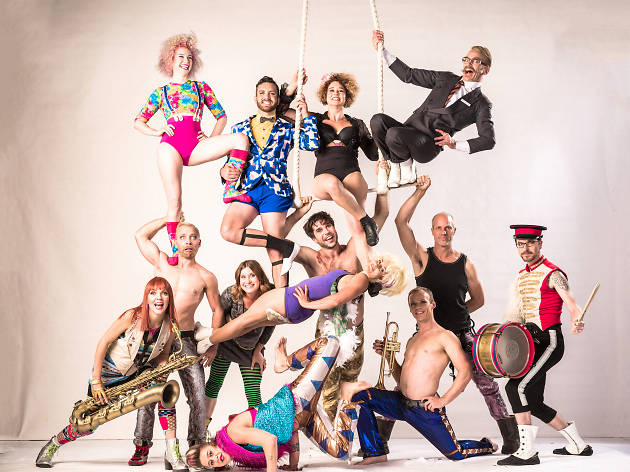 See a show by Circus Oz
Circus Oz has been pushing boundaries of circus, running community outreach programs and making political statements with their work since 1978. Seeing their Big Top appear at Birrarung Marr every winter is quintessentially Melbourne – and their shows never disappoint. Their most recent show, TwentySixteen, was directed by another Melbourne marvel: Anni Davey (read our full interview).
Need more? Take a look at this
Wondering what to do in Melbourne this week? We can help. Check out our guide to all the fun things to do in Melbourne, from free events to exhibitions, theatre shows, live music and more.
Read more