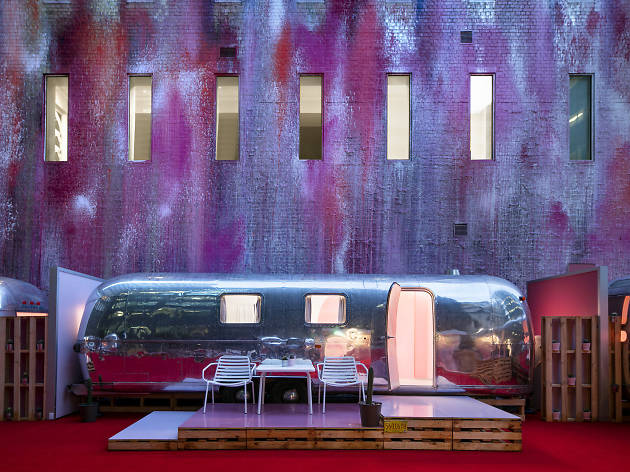 Time Out says
It seems we can't get enough of our high-altitude experiences in Melbourne
Notel is a collection of six luxury '70s Airstream caravans sitting on top of a car park on Flinders Lane. Whoever said we'd reached peak Melbourne clearly did not anticipate this.
Launched in 2016, Notel had been two years in the making. It's the brainchild of James Fry, who owns the three-level car park with his dad. "I had a million ideas of what I wanted to do with the space," says Fry. "I tossed around rooftop cinemas, restaurants and even a pool, but I wanted something totally different."
And different it is. When we visit, the cabins – which Fry sourced from the west coast of the United States – gleam in the late afternoon sun, reflecting the bursts of pink paint sprayed onto the concrete walls. They're flanked by office buildings. Further out is the Yarra, then the Eureka Tower.
Curiously, all the city noise fades away when we enter the caravan. The interiors (designed by Melbourne-based architects Edwards Moore) are surprisingly spacious. The white lights, clean, curved lines and pink cushions lend a calming retro futurist aesthetic, and the room definitely earns its five stars: expect a queen size bed (with bamboo sheets!) a free mini bar with Paul Louis bubbles, gourmet chocolate and chips, premium bathroom products and a private deck.
The rooms are $399 per night, and $449 gets you the airstream 'with benefits', which includes a private outdoor spa with spectacular city views. Oh, and all guests receive free parking – Fry does own the carpark, after all.
Details
Users say